Support our show by joining our club!
♦10% off in store merch
♦ Access to our growing digital library
*We are slowly building digital content, so bear with us!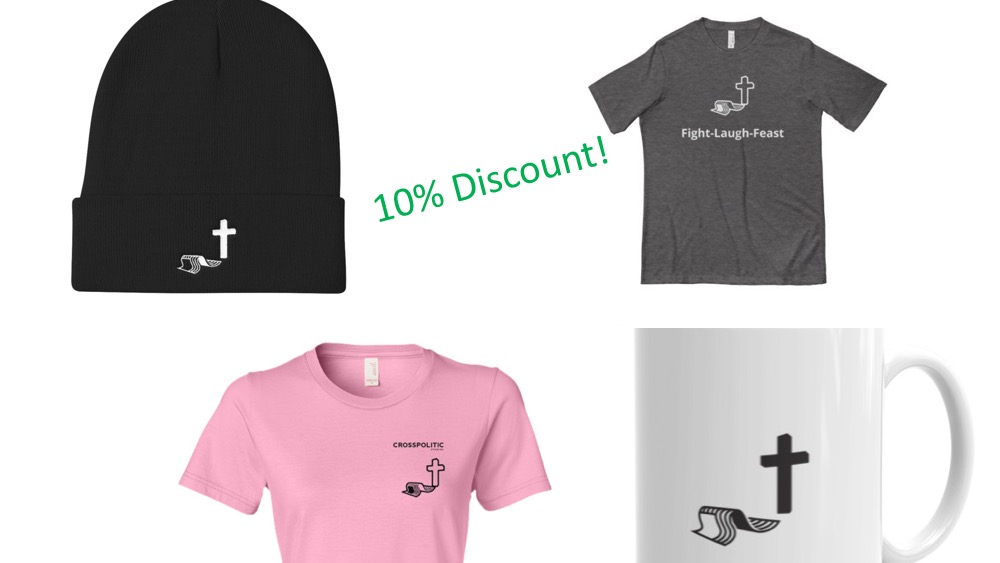 Frequently Asked Questions
What comes with the membership?
Free book from Canon Press*
Free book from Roman Roads*
10% in store discount on Merch (excluding coffee)
Insider content including our Shotgun Worldview Series, sneak preview NRBTV shows, and more.
*While supplies last.
Can I upgrade after signing up?
Yes, you can upgrade at any time after signing up. Either go through your PayPal account or email us if there are any problems making adjustments.
Why CrossPolitic Club?
Since we have started the show, we have had a number of listeners ask how to donate to CrossPolitic Show and Podcast. Because we wanted greater freedom on the air, we choose not to go the 501c3 route.  Non-profit status can lawfully restrict free speech thanks to the IRS, so that is the reasoning behind our decision.  We knew this would make it challenging for our listeners to donate to us, but we felt this was the right decision given our culture desperately needs an unadulterated gospel declared in all aspects of our life–culture, politics, family, church, etc…  So this club is there to facilitate your non-tax deductible membership dues.  As we grow our abilities, content, and capacity, as a result of your membership dues, we hope to make the club more valuable.  But how cool will it be, that you were among the first wave of members who helped CrossPolitic fall out of the nest and learn to fly.  Lord bless your kindness!
Don't Be Shy
If we didn't answer all of your questions, feel free to drop us a line anytime.
Folks we started CrossPolitic with blood, sweat, and a couple donations from some close friends for mics and basic equipment in the summer of 2016.  Our first show was released the last week in September 2016 and since then we have grown far beyond our expectations. We are grateful to God for this response. In fact your response has encouraged us to grow more.  We have grand plans to start doing live shows, flying in notable guest, build our own studio, produce even more content, two or more shows per week, etc…  We have had a number of people ask how they can help us financially, and we have always pointed them to buy our merch (don't stop!). Regular contributions are a powerful way to help us out, since they provide us with a stable and predictable monthly revenue stream.  So please consider this non-tax deductible club membership.  If you have a larger amount you want to give us, please email us at contact@crosspolitic.com.  Of course if you want to help, but don't have money, please reach out to us and let us know how you might be able to help.  As always thanks for listening.  Lord bless