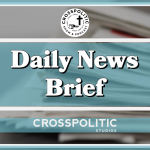 This is Toby Sumpter with your CrossPolitic Daily News Brief for Thursday, September 3, 2020.
Only 60 days until the pandemic is over. 
Today you will hear how Live Action released a new video, the Kennedy streak is over in Massachusetts, Democrats don't know math, Pelosi got a hair cut, Ilhan Omar is calling for an apology, and Trump deserves one this time. 
David Bahnsen writes on Facebook: "One of the things that just infuriates me about President Trump is that while he often takes credit for things he had nothing to do with, he also often refuses to take credit for things he did! Why in the world this administration and campaign is not informing Americans repeatedly that $1.128 TRILLION (with a "T") in profits have been repatriated back onshore since his corporate tax reform bill passed. 
I realize most leftists will continue the lie that those tax cuts were for the rich (my taxes went UP), but some are not lying as much as just not super smart people. But what all people, left and right, smart and not smart, can and would appreciate is knowing that the corporate tax bill brought almost $1.2 trillion back to the United States. Do you think that capital has come in handy in the COVID contraction?
Taking credit where not deserved is dishonest; but not taking credit where it is deserved is campaign malpractice."
A new Live Action Video dropped last week on The Center for Medical Progress youtube channel. It really should go viral. 
https://twitter.com/obianuju/status/1300954928375050242?s=21
The video documents once more using some of the old David Dalieden undercover videos alongside new courtroom questioning how Planned Parenthood and other abortion providers circumvent the Federal partial-birth abortion ban in order to deliver living babies and harvest their body parts. They have skirted the law by feigning the intention of murdering and dismembering the baby before it is born, while allowing for babies to be born partially dismembered while still alive in order to preserve the organs which can be sold for research and such. 
But remember, the same states that continue protecting these barbaric practices really care about the lives of black people, and they just want you to wear a mask in case it might help save a life. Excuse us if we are doubtful of your good intentions. Also, perhaps we ought to begin intending to follow these tyrannical shut down laws, while we often actually fail to do so. Oops. 
Link to the video in the notes: https://www.youtube.com/watch?v=POdbu4bp5rQ&feature=youtu.be
Leah Barkoukis at Town Hall.com says the Kennedy Political Dynasty is Over. 
https://townhall.com/tipsheet/leahbarkoukis/2020/09/02/kennedy-concedes-to-markey-n2575508
On Tuesday, the Senate race in Massachusetts was between Rep. Joe Kennedy and incumbent Sen. Ed Markey. This race was viewed by many as the option between Establishment Democrats and the hard Progressive Left. Kennedy, the establishment favorite, lost, becoming the first Kennedy to lost a race in Massachusetts in history. 
Within hours after the polls had closed, Kennedy conceded the race, garnering only 46 percent of the votes, while Markey had 54 percent. 
"Tonight is more than just a celebration of a movement," Markey said in his victory speech. "It is a reaffirmation of the need to have a movement, a progressive movement, of young people demanding radical change, demanding justice. A movement giving voice and power to young people when for far too long they were ignored." Markey is a supporter of the Green New Deal and Medicare for All. Even Trump noted the significance on Twitter, pointing out that Pelosi had backed Kennedy, but he wasn't extreme enough on taxes or the 2nd amendment. 
And AOC was quick to cheer the victory: "Congratulations Ed Markey – yours is a victory for the progressive movement for 21st century policy, and for the Green New Deal [earth emoji]. She also thanked and praised everyone who got out the vote. 
https://americanmind.org/essays/democrats-versus-the-vote/
Hans von Spakovsky writes at the American Mind about a recent New York Times piece speculating that "President Trump's litigiousness and unfounded claims of fraud have increased the likelihood of epic postelection court fights."
The problem? Democrats and progressives are the ones trying to force all-mail elections or huge increases in absentee balloting while simultaneously eliminating safeguards against abuse and fraud.
The Times story cites law professor Richard Pildes's count of at least 160 lawsuits filed by "party organizations, campaigns and interest groups." And the article notes breathlessly that the Trump campaign and the Republican National Committee "are involved" in 40 of them, and some of them "in response to Democratic lawsuits." For those familiar with basic arithmetic, the "litigiousness" is on the other side of the political aisle. Perhaps the Times didn't bother to do the math.
In 2012, the Times published a story entitled "Error and Fraud at Issue as Absentee Voting Rises." That story concludes—correctly—that "votes cast by mail are less likely to be counted, more likely to be compromised and more likely to be contested than those cast in a voting booth, statistics show." The rejection rate for absentee ballots, according to the New York Times in 2012, is "double the rate for in-person voting." But it's definitely Trump's litigiousness that is leading to post-election court fights. 
This is why we need Weapons for this War. Which is why we want to invite you to our first annual Fight Laugh Feast Conference in Nashville October 1-3. We've put together a package that is full of feasting and psalm singing, hearty fellowship, and a line up of speakers Douglas Wilson, George Grant, Glenn Sunshine, Rod Martin, myself, and Jeff Durbin and David Bahnsen – also a special Darren Doane after hours meet and greet. All committed to showing you how God's Word is a sharp sword to take with you into every battle, from politics to business to education and family and much more. Please join us this October 1st through the 3rd as we seek to build a rowdy Christian culture for God's glory and our good. Go to Fightlaughfeast dot com and register today.
https://ijr.org/pelosi-responds-criticism-visit-sf-hair-salon/
Nancy Pelosi got her hair cut on Monday. That's the story. 
She got her hair cut inside a hair salon. Without a mask. In San Francisco. Which is illegal in the Socialists Republic of California. 
The uproar was big enough that Pelosi's office issued a response claiming that Nancy Pelosi always wears a mask and complies with COVID requirements. 
The business owner shared her reaction to Pelosi's salon visit during a Fox News interview. Salon owner Erica Kious told Fox News that independent stylists who work for her rent salon chairs.
"I was like, are you kidding me right now? Do I let this happen? What do I do?" the salon's owner said, adding, "It was a slap in the face that she went in, you know, that she feels that she can just go and get her stuff done while no one else can go in, and I can't work."
The San Francisco mayor's office guidelines insist "any service that requires your customer to remove their face covering are not permitted at this time," according to The Hill.

https://disrn.com/news/philadelphia-mayor-photographed-dining-indoors-after-issuing-order-for-local-restaurants-to-only-serve-outdoors/
Pelosi is not alone: Philadelphia Mayor Jim Kenney is facing strong criticism, particularly from local businesses in his city, after a photograph was taken Sunday of Kenney dining indoorsat a restaurant in Maryland.
Marc Vetri posted a picture of Mayor Kennedy on Instagram: Hi @phillymayor !!! Glad you're enjoying indoor dining with no social distancing or mask wearing in Maryland tonight while restaurants here in Philly close, suffer and fight for every nickel just to survive. I guess all your press briefings and your narrative of unsafe indoor dining don't apply to you. Thank you for clearing it all up for us tonight. 🙏
Mayor Kennedy replied on Twitter saying: "I know some are upset that I dined indoors in a restaurant in Maryland yesterday. I felt the risk was low because the county I visited has had fewer than 800 COVID-19 cases, compared to over 33,000 cases in Philadelphia… I'm sorry if my decision hurt those who've worked to keep their businesses going under difficult circumstances…"
https://thehill.com/homenews/media/514707-ilhan-omar-calls-on-joy-reid-to-apologize-over-comments-called-islamophobic
Ilhan Omar is calling for an apology from Joy Reid after she described Muslims that encourage violence as "radicalizing" young people and asked whether Trump is any different.
Some called the comments 'blatant islamophobia' and Ilhan Omar said "this kind of casual Islamophobia is hurtful and dangerous. We deserve better and an apology for the painful moment for so many Muslims around our country should be forthcoming."
So… it's Islamophobia to say that some Muslims preach violence? 
https://twitter.com/andrewhclark/status/1300883503400333313?s=21
Anybody remember that famous press conference where Trump said there were very fine people on both sides? Anybody? Anybody remember how he said was not talking about white supremacists but just normal Americans that didn't want monuments torn down. And Trump asked the press where it will stop? Will they demand that the Washington monument come down next?
Everybody laughed and said Trump was crazy and overacting. In fact, comedian John Oliver joined the laughter:
[clip: https://twitter.com/SteveGuest/status/1300870890876526600?s=20]But on Monday, Mayor Muriel Bowser of Washington DC said, John Oliver, hold my beer. 
She released a report on Twitter called DC Faces, tasked with evaluating public spaces to ensure the namesake's legacy is consistent with #DCValues. She added that she looks forward to reviewing and advancing their recommendations. 
Turns out on Page 22 there's a list of recommendations for removing, relocating, or contextualizing various monuments. There are 8 on the list: Christopher Columbus, Benjamin Franklin, and wait: Thomas Jefferson, and lo, the Washington Monument and the George Washington statue. 
We await the profuse apologies of the press and we hope that John Oliver hasn't been eating any. 
https://disrn.com/news/nyc-passes-1000-shootings-for-year-nearly-double-same-point-last-year/
Finally, we note that New York City passed 1000 shootings for this year on Sunday, almost double the number it was this time last year. Peter Heck at Dscrn news notes: The last time New York City passed the 1,000 shootings mark was in 2015 when there were 1,138 recorded for the entire year. New York City is currently on pace for more than 1,500 shootings in 2020.
So we end somewhat where we began. You cannot treat human beings in the womb like tissue, like animals to be harvested and expect your culture to carry on peacefully. Those lies, the lies that cover up that kind of bloodshed of the innocent, bleed into everything. That guilt bleeds into everything. But guilt is irrational. Shame is irrational. But it builds like an electric charge in a culture. It must detonate. It must be released somehow. But in the meantime it accumulates in more lies, in hypocrisy, in careening and capricious policies, but the end result is always the same: more violence, more bloodshed, more destruction. You cannot celebrate the murder of babies and expect anything different. And yet, never forget that there is mercy for this bloodshed. There is forgiveness for anyone who will turn to Christ. He was crushed for our iniquities. He was bruised for our offenses. He was wounded for our transgressions. The cross is the place where all the static goes to die, all the enmity, all the guilt, all the shame. If we will look to Him, all our guilt and shame can be detonated there. By His stripes, we are healed. 
This is Toby Sumpter with Crosspolitic News. You can find this and all of our shows at Crosspolitic.com or on our app, which you can download at your favorite app store, just search "Fight Laugh Feast". Our app is the only way to get In the Bullpen with Mark Dewey. Support Rowdy Christian media, and become a Fight Laugh Feast Club Member, and for a limited time you can get your very own Fight Laugh Feast t-shirt and access to tons of extended discussions with George Grant, Sho Baraka, David French, C.R. Wiley, Erick Erickson, Maj Toure, Doug and Nancy Wilson, Walter Williams, Gary Demar, and our very own Worldview Shotgun Series. You also get $100 off your registration for our first annual Fight Laugh Feast Conference, where we hope to meet many of you in Nashville, TN October 1st through the 3rd. Go to fightlaughfeast.com to register now. Have a great day. https://flfnetwork.com/coming-soon/