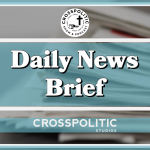 This is Toby Sumpter with your CrossPolitic Daily News Brief for Thursday, September 3, 2020.
Only 59 days until the pandemic is over. 26 days until the Fight Laugh Feast Conference in Nashville. 
Today you will hear how Trump has trolled the lefty voting game, new studies suggest that steroids help COVID-19 patients, the world bids adieu to the greatest Met of all time, the CDC claims to be America's new landlord, Antifa supporter who shot a Prayer Patriot in Portland gets the royal treatment on VICE, and yet another medical study confirms very low infection fatality rate for COVID 19. 
By the way we have a new email address for all the daily news brief listeners: news at crosspolitic dot com is a great way to share articles and stores with us that may end up in our daily or weekly shows: news at crosspolitic dot com
https://abcnews.go.com/Politics/trump-encourages-supporters-vote-illegal/story?id=72791833
In the battleground state of North Carolina Wednesday, Trump trolled the Democrats by encouraging people to vote by mail and then also go to the polls on Election Day, amid the ongoing coronavirus pandemic, in order to personally verify that their vote has been counted.
"They will vote and then they are going to have to check their vote by going to the poll and voting that way because if it tabulates then they won't be able to do that. So, let them send it in, and let them go vote," Trump said Wednesday in an interview with a North Carolina news station WECT.
He continued: "And if the system is as good as they say it is, then they obviously won't be able to vote. If it isn't tabulated, they will be able to vote. So that's the way it is, and that's what they should do."
Most of the media took the bait and ran around in tight circles shrieking for most of the day on Thursday, repeating the mantra: it's illegal to vote twice, while crossing themselves and sprinkling holy water on their heads. 
In other trolling news, the White House presser on Thursday featured a video loop of Nancy Pelosi going into the San Francisco hair salon without a mask last Monday. 
https://www.reuters.com/article/us-health-coronavirus-steroids/steroids-cut-death-rates-among-critically-ill-covid-19-patients-major-study-finds-idUSKBN25T20D
Treating critically ill COVID-19 patients with corticosteroid drugs reduces the risk of death by 20%, an analysis of seven international trials found on Wednesday, prompting the World Health Organisation to update its advice on treatment.
"The evidence shows that if you give corticosteroids …(there are) 87 fewer deaths per 1,000 patients," she told a WHO social media live event. "Those are lives … saved."
https://www.mlb.com/news/tom-seaver-dies-at-75
Tom Seaver, nicknamed "The Franchise," known as the greatest Met of all time, died Wednesday. 
Seaver pitched in the Major Leagues for 20 seasons, winning 311 games and recording a 2.86 ERA. A 12-time All-Star (10 times from 1967-77), he struck out 3,640 batters, which currently ranks sixth all-time but was third, behind only Nolan Ryan and Steve Carlton, at the time of his retirement in 1986. Seaver led the National League in strikeouts five times from 1970-76, and he and Christy Mathewson are the only pitchers to record 300 wins, 3,000 strikeouts and an ERA below 3.00. Seaver's 16 Opening Day starts is a Major League record. His number 41 was the first to be retired by the Mets organization in 1988, and he was inducted into the Baseball Hall of Fame in 1992 with the third highest percentage of votes in Hall of Fame voting history. Perhaps his most famous season was 1969 when he led the Mets to their miracle championship. 
Tom Seaver was 75.
This is why we need Weapons for this War. Which is why we want to invite you to our first annual Fight Laugh Feast Conference in Nashville October 1-3. We've put together a package that is full of feasting and psalm singing, hearty fellowship, and a line up of speakers Douglas Wilson, George Grant, Glenn Sunshine, Rod Martin, myself, and Jeff Durbin and David Bahnsen – also a special Darren Doane after hours meet and greet. All committed to showing you how God's Word is a sharp sword to take with you into every battle, from politics to business to education and family and much more. Please join us this October 1st through the 3rd as we seek to build a rowdy Christian culture for God's glory and our good. Go to Fightlaughfeast dot com and register today.
https://mises.org/power-market/cdc-americas-new-landlord
The Centers for Disease Control and Prevention, operating under the US Department of Health and Human Services, has asserted jurisdiction over private residential leases nationwide. It intends to curtail evictions until at least the end of the year, and in fact its new directive threatens federal criminal penalties against landlords who ignore tenant "declarations" made using CDC forms.
The CDC official said: Congress has delegated broad authority to HHS, the Surgeon General and CDC, to take reasonable efforts to combat the spread of communicable diseases, and frankly I think it makes sense for those authorities abroad because we don't know for any given situation or scenario what steps will be needed to stop the spread. I think, in this particular order, the CDC has made a very compelling case that it is quite problematic at this particular time. It's focused on this particular pandemic, which is obviously the uniquely powerful grasp in the nation's entire history in terms of the effect it's had that for a bunch of reasons in particular, that the home has been sort of the focal point of people social distancing and building, sort of a safe space themselves over the past few months, and also the fact that if people get kicked out, they may end up in overcrowded congregated living facilities or homeless shelters, and that is a potential recipe for a big spread of COVID-19.
Under the CARES Act, only renters in federally-backed rental units were protected from eviction. "This covers any rental unit in United States, so long as the renter meets those requirements, where they've demonstrated that they are at risk of becoming evicted," an official said. There's also currently a moratorium on evictions for federally-backed, single family home mortgages.
https://dailycaller.com/2020/09/03/michael-reinoehl-portland-antifa-jay-bishop-shooting/
Self-identified Antifa supporter, Michael Forest Reinoehl, age 48, was interviewed by VICE, scheduled to air Thursday night, apparently admits to shooting Aaron Danielson, the Patriot Prayer supporter who died Saturday night from a gunshot wound to the chest. 
"I had no choice. I mean…I had a choice. I could have sat there and watched them kill a friend of mine of color. But I wasn't going to do that,"
"You know, lots of lawyers suggest that I shouldn't even be saying anything, but I feel it's important that the world at least gets a little bit of what's really going on," Reinoehl told VICE.
Reinoehl has not been arrested or charged in the case.
One immediately wonders about the vastly different treatments of an Antifa shooter and Kyle Rittenhouse who also claimed self-defense for shooting three people during riots in Kenosha. Rittenhouse has been arrested and demonized by the media, even categorized as a mass shooter by Facebook and therefore comments defending Rittenhouse are apparently now banned and considered defending terrorism. Twitter has likewise suspended a number of journalists for tweeting that Kyle Rittenhouse did nothing wrong. But Reinoehl gets the golden boy treatment by VICE. Hmm…
https://www.acpjournals.org/doi/10.7326/M20-5352
A new study came out September 2 from the Annals of Internal Medicine studying the Infection Fatality Rate of COVID-19. And lo, it continues to confirm what many epidemiologists outside the mainstream media bubble have been saying for months.  
For example, back in March, John Ionnidis from Stanford calculated that the COVID-19 Infection Fatality Rate was somewhere around .2%
The new study says: Our random-sample study estimated 187 802 cumulative infections, to which 180 hospitalizations were added. The average age among all COVID-19 decedents was 76.9 years (SD, 13.1). The overall noninstitutionalized IFR was 0.26%. In order of magnitude, the demographic-stratified IFR varied most by age, race, ethnicity, and sex (Table). Persons younger than 40 years had an IFR of 0.01%; those aged 60 or older had an IFR of 1.71%. Whites had an IFR of 0.18%; non-Whites had an IFR of 0.59%.
.26% — wow. That's a little more than double the flu but many times lower than some of the panic induced reports speculated early on. 
"By now, multiple studies from Europe, Japan, and the U.S. all suggest that the overall fatality rate is far lower than early estimates, perhaps below 0.1 to 0.4%, i.e., ten to forty times lower than estimates that motivated extreme isolation," Dr. Scott Atlas, a senior fellow at Stanford University's Hoover Institution, told lawmakers in early May, referring to the infection rate.
The CDC actually published it's best guess of the IFR back in May, and it's best guess? .25%. 
Back in May. 
This is Toby Sumpter with Crosspolitic News. Remember to send us stories and articles that you think we should cover to news at crosspolitic dot com. You can find this and all of our shows at Crosspolitic.com or on our app, which you can download at your favorite app store, just search "Fight Laugh Feast". Support Rowdy Christian media, and become a Fight Laugh Feast Club Member and for as long as the CrossPolitic gods smile upon the land, get your very own Fight Laugh Feast t-shirt and access to tons of extended discussions with George Grant, Sho Baraka, David French, Voddie Baucham, C.R. Wiley, Tom Ascol, Erick Erickson, Maj Toure, Doug and Nancy Wilson, Walter Williams, Gary Demar, and our very own Worldview Shotgun Series. You also get $100 off your registration for our first annual Fight Laugh Feast Conference, where we hope to meet many of you in Nashville, TN October 1st through the 3rd. Go to fightlaughfeast.com to register now. Have a great day. https://flfnetwork.com/coming-soon/