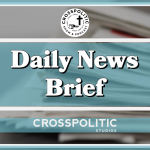 This is Gabriel Rench with your CrossPolitic Daily News Brief for Wednesday, September 9th, 2020.
We are going to talk public health crisis, public teacher bonuses, corona lockdowns, and another stimulus package…
Before I get started, I want to make you aware of a new email address for all the daily news brief listeners: news at crosspolitic dot com is a great way to share articles and stores with us that may end up in our daily or weekly shows: news at crosspolitic dot com
Sen. Warren, Dems propose legislation to declare racism a public health crisis
https://www.foxnews.com/politics/sen-warren-dems-propose-center-on-anti-racism-in-health
According to Fox news:
"A trio of Democrats on Thursday introduced legislation to declare structural racism a public health crisis and to create a federal government center to tackle racial disparities in health care for Black communities and other minorities.
Sen. Elizabeth Warren, D-Mass., teamed up with Rep. Ayanna Pressley, D-Mass., and Rep. Barbara Lee, D-Calif., to unveil their plan to require the federal government to begin actively developing "anti-racist health policy." The lawmakers pointed to the coronavirus pandemic and police brutality ‒ which has set off a summer of racial unrest in America ‒ as reasons to pass the legislation."
If you remember, we have mentioned this during our shows, that the way our political leaders have been interpreting their powers during a health crisis, that anything can go. Why is racism not a health crisis, why is being a conservative not a health crisis? The Mayor of Richmon declared a state of emergency to justify the removal of a Stonewall Jackson statue, so what would prohibit the mayor of your town declaring presbyeterian baptized babies a state of emergency and require you to "mask" up. 
Texas teachers could see double-digit raises under program to retain top performers
https://www.foxnews.com/us/texas-teachers-raises-incentive-allotment-bill
Also according to Foxnews:
"Thousands of teachers in Texas will receive raises over the next five years as part of the state's plan to retain and reward high-performing educators.
More than two-dozen selected districts will get about $40 million as the result of 2019's Teacher Incentive Allotment bill, according to the Texas Education Agency.
"This is a game changer for us as a rural community," Matthew McHazlett, superintendent of the La Pryor Independent School District, said in a statement. "While a long process, it has been incredibly rewarding to see our teachers receive this recognition."
That recognition comes in the form of a "life-changing" raise of up to $30,000 a year, he said.
The program requires participating districts to implement systems that will rank teachers as "recognized," "exemplary" or "master."
Master-ranked teachers can generate an additional $12,000 to $32,000 in revenue for their districts – 90 percent of which must be paid into teacher salaries. Exemplary teachers carry an additional $6,000 to $18,000, and recognized teachers $3,000 to $9,000, according to authorities."
We have seen the silliness of grade inflation, how about teacher performance inflation. 
My patients suffered because of Michigan Gov. Gretchen Whitmer's illegal lockdown
https://www.usatoday.com/story/opinion/voices/2020/09/07/gretchen-whitmer-lawsuit-michigan-lockdown-illegal-column/3453141001/
In an Op-ed in USA Today, Jordan Warnsholz wrote a serious critique of the Governor of Michigan, Gov. Gretchen Whitmer unconstitutional shutdown. It is important to note that Jordan is a physician assistant and owner of both the Wellston Medical Center in Wellston and Primary Health Services in Ludington, Michigan. He is a client in a lawsuit challenging the governor's use of emergency powers and is represented by the Mackinac Center for Public Policy.
I will paste snippets of his article and encourage you to read the rest of the article linked in my notes. 
"Whitmer's power grab started a few months into the pandemic. After initially declaring a state of emergency in March and issuing a series of orders to shut down the state's economy, the governor illegally chose to extend these emergency orders unilaterally. In doing so, she broke the law and the Michigan Constitution, which gives that power to the legislature."  
Gov. Whitmer shutdown, similar to orders in other states, included a ban on "non-essential" medical surgeries. Jordan provides us with three cases that happened under his watch: 
1) "Take the story of an elderly woman who I see quite often. Before the pandemic hit, she needed a routine procedure that would have restored blood flow to her leg and allowed her to walk. Whitmer's order outlawed that procedure.
The woman's condition worsened until she lost all blood flow to her leg, turning it purple and leaving her in excruciating pain. She called me in a panic, and I was able to get her into emergency surgery. She was hours away from losing her leg altogether.
2) Another one of my patients had emergency surgery for kidney stones, but could not receive critical follow-up care because of the governor's orders. Sure enough, he wound up right back in the hospital with an infection, sepsis and kidney failure, which landed him in critical care for weeks.
3) One of my patients came to see me when he felt like he had nowhere else to turn. The governor's orders prevented him from getting regular treatment for his diabetes. By the time he came to me, he was in a full-on medical emergency. He told me about an odor coming from his foot — it turned out to be gangrene. His kidneys were in full-blown failure. 
We rushed him to the nearest hospital, but it was too late. His foot had to be amputated. And then, just days later, he died from complications."
Jordan will be testifying today before the Michigan Supreme Court regarding his experience during the shutdown. So pray for him and his lawyers, as they work to restore the constitution of Michigan. 
Senate GOP unveils slimmed-down coronavirus bill, with McConnell pushing for vote this week
https://www.foxnews.com/politics/senate-gop-coronavirus-relief-bill-mcconnell
"Senate Republicans unveiled a new "targeted" coronavirus relief proposal Tuesday, aiming for an opening vote on the floor this Thursday, Senate Majority Leader Mitch McConnell announced.
The slimmed-down package is expected to spend about $300 billion in federal aid, according to McConnell's office. The bill includes an extra $300 per week in unemployment benefits through Dec. 27 — down from the $600 weekly boost that expired at the end of July — a second round of Paycheck Protection Program funds to small businesses worth $258 billion, $105 billion for schools and colleges, and McConnell's liability protection plan that would limit lawsuits against businesses from employees or customers who contract COVID-19."
"A spokesperson for Pelosi said two poison pills are McConnell's plan for business immunity to shield them from coronavirus lawsuits and school vouchers."
How about a package that bans government from shutting down its citizens livelihoods.  
Join us at our first annual Fight Laugh Feast Conference in Nashville this October 1st through 3rd. The theme of our conference is Weapons for this War and we are excited to bring all our friends together for some good fellowship in a crazy 2020. We will kick the whole thing off with beer (punch for the kids) and psalm singing the first night, followed by a slate of speakers committed to driving the nails of the gospel into your everyday life including Pastor Douglas Wilson, Pastor George Grant, Jeff Durbin, Rod Martin, Dr. Glenn Sunshine, Pastor Toby, and more. The conference will conclude with a massive Fight Laugh Feast Network mashup, with representatives from all your favorite shows all on one show, fighting, laughing, and feasting. And then we really will feast together, with food trucks bringing in dinner to close out the conference.  Rowdy Christian media meets the conference world – not for the faint of heart.  Registration is limited, so don't wait, sign up for our first annual Fight Laugh Feast Conference in Nashville October 1st through 3rd. Go to Fightlaughfeast.com and register today.
This is Gabriel Rench with Crosspolitic News. Support Rowdy Christian media by joining our club at fightlaughfeast.com, downloading our App, and heading to our first annual Fight Laugh Feast Conference in Nashville this October 1st through the 3rd. With your partnership, you are providing us with the resources to compete with the mainstream media. Go to fightlaughfeast.com to take all these actions. Have a great day. Lord bless