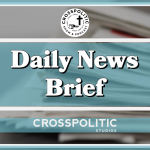 This is Toby Sumpter with your CrossPolitic Daily News Brief for Tuesday, September 15, 2020.
Today you will hear about fires that have raged across the West and Governor Inslee's insolence, a Hong Kong virologist claims she knows where COVID-19 came from, an usual winner emerged in a New Hampshire Republican primary, Governor Wolf hits a speedbump in court, no one is watching the NFL, and Sudan votes to end Sharia Law. 
Remember: If you come across a news story you think we might need to cover, please send it to: news at crosspolitic dot com. This is a great way to share articles and stores with us that may end up in our daily or weekly shows: news at crosspolitic dot com
https://www.cnbc.com/2020/09/12/fires-in-oregon-california-and-washington-spread-death-toll-rises.html
The fires have killed at least 33 people across the states and dozens more are missing. More than 1 million acres of land in Oregon have been burned and at least 10% of the state's population is in evacuation zones. The state has dealt with the worst destruction as blazes have already decimated two towns.  
In Oregon, more than 40,000 people have fled their homes and many are still missing, according to Gov. Kate Brown. The state is preparing for a "mass fatality event" and expects to see high winds on Sunday that will make fighting the fires more difficult. 
Authorities said a man has been arrested and charged with arson in connection with a fire in southern Oregon that has burned hundreds of homes. Oregon's state fire marshal Jim Walker, who has served since 2014, has resigned after being placed on administrative leave on Saturday afternoon, according to the state police department. The police department said it was "conducting an internal personnel investigation."
Washington Gov. Jay Inslee said the amount of land burned by the fires in just the past five days amounts to the state's second-worst fire season following the season in 2015, and said the fires should be called climate fires, not wildfires. Fires in the state destroyed most of the homes in the town of Malden and killed a 1-year-old boy. 
"This is not an act of God," Inslee said. "This has happened because we have changed the climate of the state of Washington in dramatic ways."
Inslee said it's "maddening" that Trump denies climate change is fueling the fires: "The only moisture in eastern Washington was the tears of people who have lost their homes … and no——w we have a blow torch over our states in the West, which is climate change."
https://nypost.com/2020/09/11/chinese-virologist-says-she-has-proof-covid-19-was-made-in-wuhan-lab/
Dr. Li-Meng Yan, a scientist who says she did some of the earliest research into COVID-19 last year, made the comments Friday during an interview on the British talk show "Loose Women."
When asked where the deadly virus that has killed more than 900,000 around the globe comes from, Yan — speaking via video chat from a secret location — replied, "It comes from the lab — the lab in Wuhan and the lab is controlled by China's government."
In April, Yan reportedly fled Hong Kong and escaped to America to raise awareness about the pandemic.
Now, she said, she is planning to release scientific evidence to prove that the virus was made inside a lab in Wuhan.
"The genome sequence is like a human fingerprint," she told the talk show. "So based on this, you can identify these things. I use the evidence … to tell people why this has come from the lab in China, why they are the only ones who made it."
Yan added, "Anyone, even if you have no biology knowledge, you can read it, and you can check and identify and verify by yourself."
https://www.foxnews.com/politics/transexual-satanist-anarchist-picks-up-gop-sheriff-nh-county
A self-described "transsexual Satanist anarchist" has won the Republican nomination for the sheriff's job in Cheshire County, N.H. — a victory she says proves "the system is utterly and hopelessly broken."
"I'm running for sheriff because I oppose that very system, and the sheriff has the most hands-on ability in Cheshire County to oppose that system," she said. "The system that let you down by allowing me — the freaking transsexual Satanist anarchist — be your sheriff candidate is the same system I'm attacking. I'm sorry, and I know it hurts to hear, but that system is a lie."
According to the outlet, DiMezzo comes from a group of libertarian activists that has produced candidates before. DiMezzo hosts an internet radio show where she is referred to as a "She-Male."
DiMezzo said in her blog post that her victory in the primary was an argument for anarchism because of how "clueless the average voter is."  She garnered 4,211 votes, easily beating a traditional candidate who received only a few hundred votes, election results show.
"Sweet Satan, how can you not be an anarchist?!" she wrote. "Between 75 and 80 percent of the primary voters — the ones alleged to be more politically aware than the average voter — were completely and totally ignorant of who they were voting for! What is the percentage with the average voter? 90 percent? 95 percent? These people are deciding who gets to rule you," she said, before calling on Cheshire County to secede from both New Hampshire and the U.S.
This is why we need Weapons for this War. Which is why we want to invite you to our first annual Fight Laugh Feast Conference in Nashville October 1-3. We've put together a package that is full of feasting and psalm singing, hearty fellowship, and a line up of speakers Douglas Wilson, George Grant, Glenn Sunshine, Rod Martin, myself, and Jeff Durbin and David Bahnsen – also a special Darren Doane after hours meet and greet. All committed to showing you how God's Word is a sharp sword to take with you into every battle, from politics to business to education and family and much more. Please join us this October 1st through the 3rd as we seek to build a rowdy Christian culture for God's glory and our good. Go to Fightlaughfeast dot com and register today.
https://www.pennlive.com/news/2020/09/wolfs-pandemic-shutdown-ruled-unconstitutional-by-western-pa-judge.html?fbclid=IwAR02P1QEf3uDiQkwlogXCLuKi6uJ8nX12lAuvVpXyK-G36PozqGxRUhrMjo
A federal judge in western Pennsylvania has ruled that the coronavirus-related shutdown imposed by Gov. Tom Wolf is unconstitutional for reasons including violating the First Amendment Right to assemble.
U.S. District Court Judge William Stickman IV said the limits on gatherings of 25 people indoors and 250 out of doors, as well as the stay-at-home and business closure components of the orders issued by Wolf and Health Secretary Dr. Rachel Levine were both unconstitutional.
The suit was brought by four western Pennsylvania counties and several Republican state lawmakers
It was filed during the "red phase" when many businesses were closed as the result of Wolf's order.
A spokeswoman for Wolf said he was reviewing the decision and had no immediate response.
"The court closes this opinion as it began, by recognizing that defendants' actions at issue here were undertaken with the good intention of addressing a public health emergency," Stickman wrote. "But even in an emergency, the authority of government is not unfettered. The liberties protected by the Constitution are not fair-weather freedoms — in place when times are good but able to be cast aside in times of trouble."
Pennsylvania's Gov. Tom Wolf does not intend to let a federal judge shoot down his orders aimed at containing the spread of COVID-19 without putting up a fight.
A spokeswoman said Wolf is disappointed with the U.S. District Court Judge William Stickman IV's ruling, issued Monday, that the governor's stay-at-home order and business closure order issued in March and later suspended, along with limitations he placed on social gatherings of 25 people indoors and 250 outdoors as unconstitutional.
They "will seek a stay of the decision and file an appeal," said Wolf spokeswoman Lyndsay Kensinger.
https://disrn.com/news/nfl-season-opener-sees-double-digit-ratings-drop/
Last Thursday's opening game of the NFL's 2020-2021 season saw a 13% decrease in viewers from last year's season opener.
The game between the defending champion Kansas City Chiefs and Houston Texas drew 19.3 million TV viewers on Thursday night. With streaming viewers included, the total viewers of Thursday's game amounted to 20.3 million viewers (as opposed to 22.75 million viewers in 2019's opener).
ESPN confirmed it will broadcast when players protest and will air the "black national anthem" during upcoming games. Week 1 of the 2020-2021 NFL season continues on Sunday. The season's first Monday Night Football action is set for September 14.
https://disrn.com/news/nbcs-sunday-night-football-ratings-plummet-nearly-30-compared-to-2019
According to Deadline, Sunday Night Football plummeted to 14.81 million viewers, losing of 28% in their ratings and a sharp decline of 23% in viewership compared to 2019.
This was pretty striking given that the Cowboys have the largest national fan base and the Rams are in the second largest media market in the league. Considering the additional talent that both teams possess, the game should have performed extremely well in the ratings.
For further context, the 33-3 drubbing of the Pittsburgh Steelers by the then-reigning Super Bowl champion New England Patriots for last year's opener pulled in 22.2 million viewers on SNF.
https://www.opendoorsusa.org/christian-persecution/stories/sudan-ends-30-years-of-islamic-law-historic-move-abolishes-death-penalty-for-leaving-islam/?utm_campaign=coschedule&utm_source=facebook_page&utm_medium=Open%20Doors%20USA&fbclid=IwAR02P1QEf3uDiQkwlogXCLuKi6uJ8nX12lAuvVpXyK-G36PozqGxRUhrMjo
After 30 years of Islamic law, which, among many other injustices, made leaving Islam illegal, Sudan's transitional government handed down a historic decision for the Muslim-majority nation—removing Islam as the country's official religion. The revolutionary move comes as part of a peace deal leaders signed with rebel groups. 
It also comes after millions of prayers for the church in Sudan. After Sudan's former dictator, Omar al-Bashir, seized power in 1989, he implemented and strictly enforced Sharia law—churches were demolished or confiscated by the government and believers have been arrested and tortured. If someone wanted to leave Islam to follow Jesus, it was considered apostasy and was a crime punishable by death.
Sudanese Prime Minister Abdalla Hamdok and Abdel-Aziz al-Hilu, a leader of the Sudan People's Liberation Movement-North rebel group, signed a declaration in the Ethiopian capital, Addis Ababa.
The step is the latest in a string of decisions made by the government to repeal laws that violated human rights. The changes come in response to demands made during months of street protests, which led to Bashir's ousting in April 2019 and the installation of the transitional government.
The declaration signed by government leaders and rebel groups calls for a democracy: "For Sudan to become a democratic country where the rights of all citizens are enshrined, the constitution should be based on the principle of 'separation of religion and state,' in the absence of which the right to self-determination must be respected," the document states.
Last week's signing of a peace declaration is meant to end years of war in Darfur and Sudan's southern South Kordofan and Blue Nile states, which killed at least 300,000 and displaced 2.7 million people in Darfur alone, according to the UN.
As you might expect, the peace agreement and move to end 30 years of Islamic law has not gone uncontested. Islamist groups loyal to al-Bashir have challenged recent government decisions, insisting Sharia should remain in force and calling on the army to step in and "defend the law of God."
This is cause for great rejoicing, but the separation of church and state, democracy, and self-determination are not religiously neutral standards. You cannot pull these things out of thin air. Who says the right of self-determination is a good thing? The majority of the Sudanese? Well what if the majority prefer sharia law? These democratic virtues are actually Christian virtues. The right of self-government or self-determination is a God-given right. 
Christians must not tip-toe around this topic. The Triune God gives freedom to every man. He does this in Christ centrally, but even his law is what provides the greatest freedom the greatest number of people, even people of different religions. This is because all men are made in the image of God. But if we will not acknowledge this, our attempts at neutrality will always ultimately be co-opted by other religions, as currently the leftist religion of solidarity with Mother Earth is trying to grab the steering wheel of America.  
This is Toby Sumpter with Crosspolitic News. Remember to send us stories and articles that you think we should cover to news at crosspolitic dot com. You can find this and all of our shows at Crosspolitic.com or on our app, which you can download at your favorite app store, just search "Fight Laugh Feast". Support Rowdy Christian media, and become a Fight Laugh Feast Club Member and for as long as the CrossPolitic gods smile upon the land, get your very own Fight Laugh Feast t-shirt and access to tons of extended discussions with George Grant, Sho Baraka, David French, Voddie Baucham, C.R. Wiley, Tom Ascol, Erick Erickson, Maj Toure, Doug and Nancy Wilson, Walter Williams, Gary Demar, and our very own Worldview Shotgun Series. You also get $100 off your registration for our first annual Fight Laugh Feast Conference, where we hope to meet many of you in Nashville, TN October 1st through the 3rd. Go to fightlaughfeast.com to register now. Have a great day. https://flfnetwork.com/coming-soon/