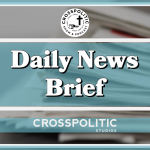 This is Gabriel Rench with your CrossPolitic Daily News Brief for Wednesday, September 16th, 2020.
Before I get started, I want to make you aware of a new email address for all the daily news brief listeners: news at crosspolitic dot com is a great way to share articles and stores with us that may end up in our daily or weekly shows: news at crosspolitic dot com
Coronavirus test prices charged by some hospitals and labs stun consumers, spur questions
https://www.usatoday.com/story/news/health/2020/09/15/covid-test-prices-hospitals-scrutiny-congress-insurers-consumers/3472304001/
"When Lisa Robertson sought coronavirus testing for her college athlete daughter, a pediatrician recommended a small, independent pharmacy in Arlington, Virginia.
Preston's Pharmacy charged $35 to take a nasal swab specimen and sent it off to a lab, Principle Diagnostics, for quick results. The lab billed her insurance company $864 – more than eight times what the federal Centers for Medicare and Medicaid Services reimburses for COVID-19 tests.
Robertson was surprised her insurer, a Blue Cross and Blue Shield plan with robust benefits for federal employees and retirees, paid the full amount, via a check that she forwarded to the Bethlehem, Pennsylvania-based lab.
It's a question more are raising. There have been 85 million tests administered, and congressional mandates require insurers to pay the full cost of testing, no matter how much hospitals or labs bill. As routine testing expands to workplaces, universities and professional sports leagues, labs may have found a lucrative niche amid the pandemic.
In July, the House Energy and Commerce Committee sent inquiries to 10 laboratories and hospitals about COVID-19 test prices that ranged from $300 to $6,000."
Follow the money. 
Man Arrested For Starting Wildfire With Molotov Cocktail, Gets Released From Jail, Starts 6 More Fires: Police
https://www.dailywire.com/news/man-arrested-for-starting-wildfire-with-molotov-cocktail-gets-released-from-jail-starts-6-more-fires-police
"A man who was arrested in Oregon after allegedly using a Molotov cocktail to start a wildfire was later released from jail but rearrested less than 24 hours later for allegedly starting six more small fires.
Domingo Lopez Jr., 45, was arrested after using a Molotov cocktail "to start a small brush fire," the Portland Police Bureau said in a statement Monday.
"On Sunday, September 13, 2020 at 4:35p.m., East Precinct officers were dispatched to assist Portland Fire and Rescue with a brush fire in the 9600 block of East Burnside Street," the statement reads. "Officers saw that a section of grass along the I-205 freeway was burning. Firefighters extinguished the fire. No one was injured and no structures were damaged."
"About an hour later, East officers were flagged down by a witness who pointed out the suspect in a nearby tent," the statement continues. "Officers arrested the suspect, who confirmed he lit the fire with the device."
Authorities booked Lopez Jr. into the Multnomah County Detention Center "on charges of Reckless Burning and Disorderly Conduct in the Second Degree," the statement adds. "Arson investigators are also doing follow-up to see if other charges are warranted."
The Portland Police Bureau later reported that the same suspect was arrested just hours later for allegedly starting more fires after being released from jail.
The suspect was cited six additional times on counts of Reckless Burning and was transported to a hospital for a mental health evaluation."
I don't think the arson has the mental issues, I think it is the liberl judicial system in Oregon that has the mental issues. 
Have you signed up for our club yet? The state of news and mainstream media is appalling. They support marxist Black Lives Matter, they are a campaign lacky for the Biden campaign, and they will attack any conservative Christian who does not back down from the leftist agenda. When we started CrossPolitic about four years ago, we never imagined God opening the doors that He has to us in such a short amount of time. We are currently on Directv (channel 378), Xfinity, a couple local TV stations, Facebook live, Youtube, and of course, our bread and butter, our weekly podcast. Between all these platforms we get about one million views or listens per month. We have bootstrapped this ministry, and we are really starting to take off through your generous participation in our Club membership. Our club membership is the way we are going to grow the Network and Lord willing become a formidable voice in our cultural battles. We really do need Christians engaged in politics, and with your club membership we will do this for years to come. So support rowdy Chrsitian media by joining our club and you get, depending on your club level, a free t-shirt, access to our club content, discounts to our conference, coffee mug, bag of our delicious Sovereign roast and more. 
OHIO HIGH SCHOOL FOOTBALL PLAYERS SUSPENDED FOR CARRYING FLAGS ON 9/11 
https://www.outkick.com/ohio-high-school-football-players-suspended-for-carrying-flags-on-9-11/
"Two football players on the Little Miami (OH) High School team have been suspended from the team after they defied school officials and carried a thin blue line and thin red line flags, supporting police and firefighters, onto the field before last Friday's September 11 game.
The two players asked school officials for permission to carry the flags, but they were denied. The players chose to defy the school authorities and the school responded by slapping them with an indefinite suspension.
"We can't have students who decide to do something anyway after they've been told that they shouldn't be doing it," Little Miami Superintendent Gregory Power told WKRC. "We did not want to place ourselves in a circumstance where another family might want a different flag to come out of the tunnel, one that may be [one that] many other families may not agree with from a political perspective."
There is an update to this news article, and the school has reinstated the two students. But here is why I bring this article up. We are succors and think there is actually a possible neutral position that education can take. This is obtuse and lazy thinking. Imagine if the flag was a Black Lives Matter flag, I guarantee that that principle would be leading the flag brigade running out of the tunnel virtue signaling his white guilt until he ran out of steam by the 50 yard line. 
More than 20% of evangelicals embrace concept of "gender fluidity"
https://disrn.com/news/over-20-of-evangelicals-embrace-the-notion-of-gender-fluidity
"LifeWay Research recently found in its "State of Theology" survey that 22% of American evangelical Christians believe that "gender identity is a matter of choice."
That means almost a quarter of those identifying as evangelical in the United States reject the biblical principle first articulated in the book of Genesis that God, "made them male and female."
The survey broke down the results by region and demographics:
Those living in the Northeast are more likely to reject the Biblical teaching on gender.
Those in the 18-34 age group are more likely to embrace the concept of gender fluidity.
Those living in rural areas are more likely to embrace the Biblical teaching of gender.
Those in the 50-64 age group were more likely to reject the concept of gender fluidity.
LifeWay also found that attending church services makes a significant difference in a person's view of gender. Those who go to church once or twice a month, by a 10% margin, are more likely to embrace the idea that God made each person as one of two distinct genders."
Surprise. Regular church goers, you know the ones more likely to believe the bible, tend to reject postmodernism, gender fluidity, and the alphabet people. But I do want to point one thing out. The church has been gender fluid for decades. How many effiminate men are in the pulpit, twirling their limp wrist around, authentically working up the courage to come at as gay in 10 years when they need to boost their retirement package? How many women are in church leadership? Our family households are functioning egalitarian failures, and you are a horrible parent if you require your boy to play football. We have stripped the gender out of God's intended design in the church, the world is just finishing the job. 
Mark Galli, former Christianity Today editor and Trump critic, to be confirmed a Catholic
https://religionnews.com/2020/09/10/mark-galli-former-christianity-today-editor-and-trump-critic-to-be-confirmed-a-catholic/
"Now 68, he had already decided by the time he wrote the 2019 editorial that he would quit the Anglican Church he had attended alongside his wife, Barbara, for 20 years. His conversion was one reason he decided to retire from Christianity Today on Jan. 3, after 30 years as a writer and editor in the news outlet's stable of publications.
"I'm not rejecting evangelicalism," he said recently in an interview from his home, a few blocks away from Wheaton College, the preeminent evangelical school. "I'm only taking Anglicanism deeper and thicker."
"One thing I like about both Orthodoxy and Catholicism is that you have to do these things, whether you like it or not, whether you're in the mood or not, sometimes whether you believe or not. You just have to plow ahead. I want that. If it's left up to me, I am one lazy son-of-a-bitch. I will not do anything unless someone comes along and says, 'You need to do this. This is really important. This will shape your life. Come on, Galli. Get off your butt.'"
If Galli had one gnawing frustration with Protestant Christianity, it was the ceaseless splintering and divisions. He tried to work toward unity.
It left him exhausted."
So he joined the Roman Catholic church, which is literally responsible for murdering hundreds and thousands of protestants during the reformation, and dont forget the RC catholic abuse scandlas, but hey the protestant church argues with eachother so it looks like Galli would rather be connected to a church that prays to Mary who is dead, canablizes Jesus, and covers up homosexual pedophials.  
This is Gabriel Rench with Crosspolitic News. Support Rowdy Christian media by joining our club at fightlaughfeast.com, downloading our App, and heading to our first annual Fight Laugh Feast Conference in Nashville this October 1st through the 3rd. With your partnership, you are providing us with the resources to compete with the mainstream media. Go to fightlaughfeast.com to take all these actions. Have a great day. Lord bless