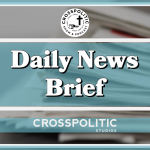 This is Toby Sumpter with your CrossPolitic Daily News Brief for Thursday, September 17, 2020.
Today you will hear about Ohio parents suing over facemasks, Mike Ditka still hits hard, a Santa Clara church backs down after weeks of defying county orders, a financial settlement has been reached with Breonna Taylor's family, Gretchen Witmer is not done with her reign of power, the Big 10 might be playing, and Trump scores a touchdown in the middle east. 
Remember: If you come across a news story you think we might need to cover, please send it to: news at crosspolitic dot com. This is a great way to share articles and stores with us that may end up in our daily or weekly shows: news at crosspolitic dot com
https://www.newsweek.com/ohio-parents-say-masks-school-infringe-religious-beliefs-sue-health-director-1531994?fbclid=IwAR3wVF0aMeVswF7NXsXt-F98Ijqub0xWY5TbWjV1wgREx72H43n2YaG8n_U
A group of more than two dozen Ohio parents are suing the state's health director over an imposed mask requirement at schools, arguing that the mandate infringes upon their religious beliefs and the ability to raise their children as they wish.
Ohio Department of Health (ODH) Interim Director Lance Himes' order signed August 13 names several exemptions from the mandate, including students with a disability, mental health condition or medical condition, or if an "established sincerely held religious requirement" does not permit the use of a mask, according to the order.
But the complaint argues that the plaintiffs' right to the free exercise of religion has been violated by the order's language, which insists upon a "religious 'requirement' rather than a belief.'"
When Jennifer Miller, a parent in Putnam County's village of Leipsic, attempted to use the religious exemption, she was denied by her child's school district.
"The School District relied upon [Himes'] order, and acknowledged that Ms. Miller had a sincerely held religious belief, but that was factually distinct from a 'religious requirement' and that Ms. Miller would need to provide evidence of said 'requirement' to qualify for an exemption," according to the complaint.
Lee Strang, a plaintiff and constitutional law professor at the University of Toledo, told The Cincinnati Enquirer that the school board is acting like a church court, effectively deciding whose religious belief is "OK" and whose "isn't good enough."
"Plaintiffs believe that the wearing of masks in an educational setting is not conducive to learning and causes emotional, psychological and social problems due to the impersonal and unnatural reality that wearing masks creates," the complaint reads.
https://www.foxnews.com/sports/mike-ditka-players-protesting-national-anthem-cant-respect-country-get-hell-out
Back in 2016 when quarterback Colin Kaepernick started protesting racial inequality during the national anthem, Hall of Fame coach Mike Ditka said he should "get the hell out" of the country because he thought that it was a form of disrespect.
When asked about the lastest shows of piety and protest, Ditka said, "Football's football. It's not a complicated thing. You're playing the game, you're enjoying the game. You don't like the game, get out of it." 
"It's not for protesting one way or the other. What color you are, what you think, this or that. You play football. That's it. You're privileged. You got a gift from God that you can play the game because you got a body you can do it with. I don't really understand what you're protesting. I played the game. I coached the game for a long time. It makes no sense to me."
Ditka added: "I would tell those players go to another country and play football there. You don't have to come out. You don't have to come out if you go to another country. You can't! Because the game's only played in this country. And if you can't respect this country, get the hell out of it."
From our news inbox: 
https://www.mercurynews.com/2020/09/11/threat-injunction-santa-clara-church-backs-away-from-indoor-services/
North Valley Baptist Church in Santa Clara, which has racked up $112,750 for defying the local public health order with indoor gatherings, brought its Wednesday church service outside this week once Santa Clara County officials said they planned to file a temporary restraining order against the church, confirmed county counsel James Williams.
"The fact that we were absolutely going to pursue this made very clear that this is not optional," Williams said. "It's essential to our community's safety."
The 3,000-person church resumed indoor services starting in late August, quickly accruing $5,000 fines for its twice-weekly gatherings in a rare yet brazen flouting of stay-at-home rules. In a cease-and-desist letter posted to the church's De La Cruz Boulevard front door, county officials said that leadership did not submit a social distancing protocol, failed to enforce mask-wearing and social distancing and yet allowed parishioners to sing.
Church leadership quickly dug in his heels. In a series of Youtube videos watched by Christians as far afield as North Carolina and Australia, the longtime Pastor Jack Trieber repeatedly defended his decision to host indoor services, arguing that coronavirus' threat has diminished and explaining that he had cut down the church's capacity by half.
"Those fines are not legal. It's a violation of the constitution, and something higher — it's a violation of the word of God to Christians," Trieber said in a video posted Aug. 28.
"I do want to say this — we believe the virus is real," he added.
It wasn't until the county counsel's office informed North Valley's leadership that it was on the cusp of filing a civil injunction this last week — in partnership with the Santa Clara County District Attorney — that the church finally backed down and agreed to not meet in person this last Sunday. 
The Florida-based law firm Liberty Counsel — which has flagged North Valley in its promotions as a church under attack — recently appealed a similar case involving a Pasadena church to the Ninth Circuit Court of Appeals and plans to file a petition to the U.S. Supreme Court this month to review an Illinois-based case
This is why we need Weapons for this War. Which is why we want to invite you to our first annual Fight Laugh Feast Conference in Nashville October 1-3. Actually, we have an important update on the conference: we have moved our venue, from Rocket Town in downtown Nashville to TOA Sports Performance Center in Franklin, TN, just 20 miles south out of town, where we will be free to party without any COVID restrictions. If you are already registered for the conference, you should have an email in your inbox with details about hotels nearby and the website is being updated to reflect this change. And if you're not registered yet, there are only 50 seats left for the conference before it is completely sold out. We've put together a package that is full of feasting and psalm singing, hearty fellowship, and a line up of speakers Douglas Wilson, George Grant, Glenn Sunshine, Rod Martin, myself, and Jeff Durbin and David Bahnsen – also a special Darren Doane after hours meet and greet. Please join us this October 1st through the 3rd as we seek to build a rowdy Christian culture for God's glory and our good. Go to Fightlaughfeast dot com and register today.
https://disrn.com/news/louisville-paying-breonna-taylors-family-12-million-may-charge-officers/
The city of Louisville, Kentucky has announced a $12 million financial settlement with the family of Breonna Taylor, the ER technician who was tragically shot to death by police following a no-knock search warrant.
The $12 million payout marked the largest ever made by police. The city also announced a number of reforms it said it hopes can prevent similar incidents in the future.
"I am deeply, deeply sorry for Breonna's death," said Louisville Mayor Greg Fischer. "…These are significant policy changes on top of many others we have already made, including those that are part of Breonna's Law, as well as changes to policies on use of force and if tear gas would ever need to be used."
One of the three officers involved in the shooting, Brett Hankison, was fired from the department in June, as a result of an investigation into the incident. However, he nor the other two officers, Jonathan Mattingly and Myles Cosgrove, have been formally charged with any crimes.
Kentucky Attorney General Daniel Cameron has announced he continues weighing the evidence and is still considering prosecuting the officers.
Another story from our news inbox:
https://www.freep.com/story/sports/high-school/2020/09/09/gov-whitmer-executive-order-face-covering-football-sports/5765358002/
Gov. Gretchen Whitmer signed an Executive Order 2020-180 on Wednesday, mandating a face covering be worn at all times by "athletes training for, practicing for, or competing in an organized sports when the athlete cannot maintain 6 feet of social distance, except for occasional and fleeting moments."
Swimmers are excluded from this order, but football, soccer and volleyball players are not. So, expect to see players on the field and on the sidelines wearing masks under their helmets when games begin Sept. 18.
This order does not apply to pro sports, though. 
According to a governor's spokesperson, teams like the Lions don't have "to operate nothwithstanding any other provision of the order as long as they do so subject to a CDC compliant safety plan and without live audiences."
A listener who lives in Michigan notes: Students in local schools do not have to wear masks outside for recess. So a child could play soccer outside at school during recess without a mask but then go to soccer practice that evening and be forced to wear a mask. 
Speaking football…
https://www.usatoday.com/story/sports/ncaaf/bigten/2020/09/16/big-ten-football-back-what-we-know-key-questions/5818544002/
The Big Ten's on-again, off-again fall football season is on again for now. The league announced Wednesday morning that with enhanced medical protocols in place, the school presidents and chancellors now believe competition can be conducted safely through the COVID-19 pandemic, starting the weekend of Oct. 24.
But the Big Ten's presidents faced pressure from players, coaches and politicians as well.
https://www.foxbusiness.com/economy/fed-reiterates-pledge-to-keep-interest-rates-low-to-bolster-us-economy
The Federal Reserve concluded its final policy-setting meeting before the November presidential election on Wednesday with a renewed pledge to hold interest rates near zero and keep them there until inflation is consistently rising.
The U.S. central bank, as widely expected, held the benchmark federal funds rate at a range between 0 percent and 0.25 percent, where it has been since mid-March. Updated guidance shows that Fed officials expect rates to remain near-zero through 2023. Officials also changed their projections to reflect a smaller decline in the nation's GDP and a lower unemployment rate of 7.6% at the end of 2020.
The economic projections from individual Fed members showed that a majority of policymakers expect to keep the benchmark federal funds rate at near zero through the end of 2023. One official saw rates increasing in 2022, and four officials saw them increasing in 2023.
https://disrn.com/news/pivot-of-history-trump-facilitates-historic-peace-accords-with-israel-and-two-middle-east-states/
At a ceremony that he declared would "change the course of history," President Trump presided over the signing of diplomatic accords involving the nation of Israel and the United Arab Emirates and Bahrain, both nations officially normalizing their relations with the Jewish state. This means opening the countries for trade, the exchange of ambassadors, and tourism.
The agreements are officially labeled the "Abraham Accords" and involve individual agreements as well as a trilateral declaration of peace between the three nations, with Trump signed each as a witness.
Israeli Prime Minister Benjamin Netanyahu called it a "pivot of history."
"It heralds a new dawn of peace," Netanyahu said. "For thousands of years the Jewish people have prayed for peace, for decades the Jewish state has prayed for peace, and this is why today we are filled with such profound gratitude."
The United Arab Emirates foreign minister Sheikh Abdullah Bin Zayed Al Nahyan acknowledged the "change in the heart of the Middle East" that was occurring, while Bahrain's envoy gave special credit to Trump.
"Mr. President, your statesmanship and tireless efforts have brought us here today and made peace a reality," Abdullatif bin Rashid Al Zayani said.
Trump hinted that there were "five or six" other countries that are currently fostering their own deals with Israel.
This is Toby Sumpter with Crosspolitic News. Remember to send us stories and articles that you think we should cover to news at crosspolitic dot com. You can find this and all of our shows at Crosspolitic.com or on our app, which you can download at your favorite app store, just search "Fight Laugh Feast". Support Rowdy Christian media, and become a Fight Laugh Feast Club Member and for as long as the CrossPolitic gods smile upon the land, get your very own Fight Laugh Feast t-shirt and access to tons of extended discussions with George Grant, Sho Baraka, David French, Voddie Baucham, C.R. Wiley, Tom Ascol, Erick Erickson, Maj Toure, Doug and Nancy Wilson, Walter Williams, Gary Demar, and our very own Worldview Shotgun Series. You also get $100 off your registration for our first annual Fight Laugh Feast Conference, where we hope to meet many of you in Franklin, TN (right outside Nashville) October 1st through the 3rd. Go to fightlaughfeast.com to register now. Only 50 seats left! Have a great day. https://flfnetwork.com/coming-soon/