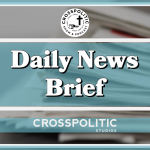 This is Toby Sumpter with your CrossPolitic Daily News Brief for Friday, September 18, 2020.
Today you will hear about the city of Nashville scrambling to cover its hinder parts, Antifa is not a conspiracy theory, except that many who associate with the movement wish it was, and Minneapolis city council is baffled by the lack of police enthusiasm in the city. 
Remember: If you come across a news story you think we might need to cover, please send it to: news at crosspolitic dot com. This is a great way to share articles and stores with us that may end up in our daily or weekly shows: news at crosspolitic dot com
https://www.newsweek.com/nashville-officials-withheld-covid-numbers-restaurants-bars-because-cases-were-so-low-emails-show-1532641?fbclid=IwAR3ZB7Vbfkrxgwr_Ru1EMK52_o7I6rG7WT7Xxqgb90p4thkYFw6Y_U_PpoA
Emails between Metro Health Department and Mayor John Cooper's office in Nashville suggest that there was some reluctance to release COVID numbers. 
According to emails obtained by Fox 17, on June 30, contact tracing conducted by the MHD found construction sites and nursing homes were the cause of most Nashville coronavirus cases. Both categories had over 1,000 cases tied to each of them. At that time, only 22 cases were traced back to bars and restaurants.
"This isn't going to be publicly released, right? Just info for Mayor's Office?" Leslie Waller from the health department wrote on June 30.
Senior Advisor Benjamin Eagles responded: "Correct, not for public consumption."
But the mayor's press secretary Chris Song released a statement Thursday afternoon saying that the tv station's report was aired with "limited information and without context."
"A recent news story by FOX17 Nashville was published with limited information and without context, using screenshots of Metro emails to falsely accuse the Mayor's office and the Metro Public Health Department of withholding public health data that had previously been shared with and published by another local news outlet, the Tennessee Lookout, on August 4th, 2020. Emails from the same thread emphasizing the need to publicly release as much COVID-19 data as possible, which were omitted from the FOX17 story, are attached."
The only problem is that those emails are from the day before, July 29th. The emails in question were sent the following day, June 30.
A month later, Tennessee Lookout reporter Nate Rau asked the health department about rumors circulating that only 80 cases resulted from the city's bars and restaurants.
Rau asked: "The figure you gave of 'more than 80' does lead to a natural question: If there have been over 20,000 positive cases of COVID-19 in Davidson and only 80 or so are traced to restaurants and bars, doesn't that mean restaurants and bars aren't a very big problem?"
As a result, Metro Health Department Official Brian Todd asked five other health officials via email for guidance. "Please advise how you recommend I respond," he wrote.
An unnamed sender, whose contact information was cut out from the emails provided to FOX 17, responded: "My two cents. We have certainly refused to give counts per bar because those numbers are low per site. We could still release the total though, and then a response to the over 80 could be because that number is increasing all the time and we don't want to say a specific number."
Last month, the Nashville Convention and Visitors Corp. estimated that the city's businesses have lost $2.4 billion so far in visitor spending during the coronavirus pandemic and are reportedly losing $100 million every week, according to the Tennessean. Cooper sent a letter last week to Tennessee Governor Bill Lee to request an additional $82.6 million in COVID-19 relief to assist Nashville's tourism industry, music venue, small businesses and expand social resources.
Fight Laugh Feast Conference in Nashville October 1-3. Actually, we have an important update on the conference: we have moved our venue, from Rocket Town in downtown Nashville to TOA Sports Performance Center in Franklin, TN, just 20 miles south out of town, where we will be free to party without any COVID restrictions. If you are already registered for the conference, you should have an email in your inbox with details about hotels nearby and the website is being updated to reflect this change. And if you're not registered yet, there are only 50 seats left for the conference before it is completely sold out. We've put together a package that is full of feasting and psalm singing, hearty fellowship, and a line up of speakers Douglas Wilson, George Grant, Glenn Sunshine, Rod Martin, myself, and Jeff Durbin and David Bahnsen – also a special Darren Doane after hours meet and greet. Please join us this October 1st through the 3rd as we seek to build a rowdy Christian culture for God's glory and our good. Go to Fightlaughfeast dot com and register today.
From a listener in the CrossPolitic Inbox:
https://www.foxnews.com/politics/fbi-director-wray-antifa-cases-real
Is Antifa – short for anti-fascist – a made up, right-wing conspiracy theory? 
FBI Director Chris Wray, appearing at a House Homeland Security Committee hearing Thursday, Wray explained that while Antifa is not an organization in the traditional sense, it is a movement and there have been suspects who claimed to be a part of it.
"Antifa is a real thing. It's not a group or an organization. It's a movement, or an ideology may be one way of thinking of it," Wray said. "And we have quite a number — and I've said this quite consistently since my first time appearing before this committee — we have any number of properly predicated investigations into what we would describe as violent anarchist extremists and some of those individuals self-identify with Antifa."
Wray's words were in response to Rep. Debbie Lesko, R-Ariz., who claimed prominent Democrats have called Antifa a "fantasy." In July, Rep. Jerry Nadler, D-N.Y., dismissed the idea of Antifa violence in Portland as "a myth that's being spread only in Washington, D.C."
Later in the hearing, Rep. Donald Payne, D-N.J., asked for clarification about the nature of Antifa, and Wray explained further.
"Antifa is a real thing. It's not a fiction," Wray reiterated." But it is — it's not an organization or a structure." He again described it as more of a "movement" but again noted that there have been those who self-identify as being a part of it.
Speaking of Antifa…
https://www.wweek.com/news/2020/09/16/portland-protesters-say-their-lives-were-upended-by-the-posting-of-their-mug-shots-on-a-conservative-twitter-account/?fbclid=IwAR284VS8OTI_GkyY_qCpkGjvGsr06I_KgsqmVvb1VJrMgV_1jYakmjVUSR8
On Aug. 7, Black activist Ragina Gray was tackled by Portland police at a protest and charged with disorderly conduct, resisting arrest, and interfering with an officer.
That same day, conservative Portland activist Andy Ngo shared Gray's name and mug shot on Twitter.
"Gray, 30, is charged with interfering with an officer, resisting arrest and more," Ngo wrote on Twitter. "She was arrested at the violent antifa protest in Portland and quickly bailed out. Gray is frequently photographed with kids at protests and rants about white terrorism." The photo was retweeted by 475 people.
Twelve nights later, on Aug. 19, a man showed up on the doorstep of Gray's mother's eastside home. "He was sweaty and nervous looking, and he asked for Ragina by name," says Lucinda Fisher, Gray's mom. "He mentioned [Gray's] son, and I noticed he had a gun in his hand." Fisher slammed the door and called the police.
Gray has no direct evidence that Ngo's robust social media presence is the reason an armed man arrived at her mom's house.
Ngo's prominence has been catapulted by Portland's protests. He is editor-at-large at a Canadian conservative website called The Post Millennial and is also a regular guest on Fox News. Last year, he was assaulted at a Portland anti-fascist march, where masked assailants punched and kicked him in the head. Ngo has more than 700,000 followers on Twitter, many of whom share the belief that Portland protesters are a threat to national security.
Critics call Ngo's posts "doxxing," or posting personal information about people to make their lives unpleasant.
But what Ngo is doing is legal. The mug shots are public records. The arrests happened. And Ngo told Willamette Week that it is his "duty" to report on protesters who have been arrested, "given the risk that violence and riots present to the public."
Ngo wrote WW via email: "I believe my duty as a journalist includes informing the public about individuals who are believed by criminal authorities to be sufficiently dangerous to the public that they meet the standard for arrest."
Portland couple Erin and Phillip Wenzel started their evening Friday, Aug. 14, as they have more than 10 times before that. They donned their protest outfits: full gas respirators, masks, bike helmets, and a bulletproof vest for Philip, who had been in the front of protests as part of the drum line. Erin, a medic toting a first aid kit, usually settled in a few rows behind the line of drummers.
That night, Phillip was arrested. The next morning, Ngo posted his mug shot on his Twitter account, writing that Wenzel was "arrested at the violent #antifa protest." The responses on Twitter were about what you would expect, include unpleasantries and threats. 
On Aug. 18, three days after Ngo posted the mug shot, Phillip Wenzel's boss at Elizabeth Christy Law Firm sent him a letter that the firm had received 50 threatening or harassing communications since his arrest and a couple weeks later sent a second letter informing him that he would be laid off, citing a loss of work leading to a reduction in staff. Elizabeth Christy, managing attorney at the firm, told WW in an email that the layoff had nothing to do with Wenzel's protesting.
Both Wenzels say they now suffer from anxiety. Wenzel shaved his beard to change his appearance and now wears a hat when he walks his dog.
In his response to questions from WW, Ngo contends he is taking on violent criminals that other journalists are afraid to confront.
"If you feel that transparency and public right to know should be outweighed by arrestee rights to privacy, this is a complaint for the Legislature, not for journalists reporting in compliance with state and federal law," he said. "A better question would be, 'Why do some journalists feel compelled to hide the identities of suspected criminals from the public?' Another would be, 'Whose interests does the suppression of criminal arrest data serve?'"
https://www.mprnews.org/story/2020/09/15/with-violent-crime-on-the-rise-in-mpls-city-council-asks-where-are-the-police?fbclid=IwAR1bRNWDhhfhsaBzE4IyuZcrNCkPTBkipvNnUq9NUSwddrnlIRHAjizVD5U
The meeting was slated as a Minneapolis City Council study session on police reform. But for most of the two hours the same City Council that led efforts to defund the police pushed chief Medaria Arradondo to tell them how the department is responding to the violence.  
The number of reported violent crimes, like assaults, robberies and homicides are up compared to 2019, according to MPD crime data. More people have been killed in the city in the first nine months of 2020 than were slain in all of last year. Property crimes, like burglaries and auto thefts, are also up. Incidents of arson have increased 55 percent over the total at this point in 2019.
Council President Lisa Bender, who was among those leading the call to overhaul the department, suggested that officers were being defiant. Her constituents say officers on the street have admitted that they're purposely not arresting people who are committing crimes.
Other council members said officers are telling residents that they are overworked and understaffed. 
Arradondo said around 100 officers have left the department or have taken leave since the beginning of 2020. That's more than double the usual number of officers who either step down from the department or who are inactive each year.
Council members in wards which usually don't see high levels of violence say their constituents are feeling "terrorized."  
But on city council member, Phillipe Cunningham was surprised, "What I am sort of flabbergasted by right now is colleagues, who a very short time ago were calling for abolition, are now suggesting we should be putting more resources and funding into MPD."
Turns out ideas have consequences. 
This is Toby Sumpter with Crosspolitic News. Remember to send us stories and articles that you think we should cover to news at crosspolitic dot com. You can find this and all of our shows at Crosspolitic.com or on our app, which you can download at your favorite app store, just search "Fight Laugh Feast". Support Rowdy Christian media, and become a Fight Laugh Feast Club Member and for as long as the CrossPolitic gods smile upon the land, get your very own Fight Laugh Feast t-shirt and access to tons of extended discussions with George Grant, Sho Baraka, David French, Voddie Baucham, C.R. Wiley, Tom Ascol, Erick Erickson, Maj Toure, Doug and Nancy Wilson, Walter Williams, Gary Demar, and our very own Worldview Shotgun Series. You also get $100 off your registration for our first annual Fight Laugh Feast Conference, where we hope to meet many of you in Franklin, TN (right outside Nashville) October 1st through the 3rd. Go to fightlaughfeast.com to register now. Only 50 seats left! Have a great day. https://flfnetwork.com/coming-soon/