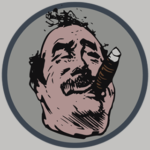 On this inaugural episode of the all new members only (free this time) show "After The Sandwich" from The Patriarchy Podcast, Tony and Joseph get in some much missed Dad Jokes, introduce this new members only show, lament unruly puppies, talk new vehicles, spend quality time on Joseph's "Seven Ditches of Christianity," and discuss the upcoming main season of The Patriarchy Podcast. Oh, and we've got new merch. Have we mentioned the new merch?
Download the "Fight Laugh Feast Network" app from the Apple, Google Play, ROKU, or Amazon Fire app store to hear us each Tuesday.
Support The Patriarchy and get access to bonus content, including "After The Sandwich," behind the scenes material, a t-shirt, coffee, and lots of other great stuff by signing up to be a Fight Laugh Feast Club Member at FightLaughFeast.com using the code PATRIARCHY.
Get some Patriarchy merch by heading over to ConfessionalWear.com and find us in their "Podcast Collaborations."
#BuildFightProtectLead
#ThePatriarchy
#FLFNetwork
ThePatriarchyPodcast on Facebook
PatriarchyPod on Twitter
ThePatriarchyPodcast on Instagram
ThePatriarchyPodcast on YouTube
ThePatriarchyPodcast.com