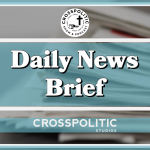 This is Toby Sumpter with your CrossPolitic Daily News Brief for Friday, October 9, 2020.
Today you will hear about the FBI thwarting a plot by Michigan thugs, Kamala Harris' history lesson blows up, the ATF is making up rules about guns again, Trump says he will not participate in an online debate with Biden, and Indiana Republicans are thinking about electing a Libertarian. 
Remember: If you come across a news story you think we might need to cover, please send it to: news at crosspolitic dot com. This is a great way to share articles and stories with us that may end up in our daily or weekly shows: news at crosspolitic dot com
Michigan Militia Gives A Bad Name to All Militias
https://www.detroitnews.com/story/news/local/michigan/2020/10/08/feds-thwart-militia-plot-kidnap-michigan-gov-gretchen-whitmer/5922301002/
Audio Clip 1: 9:33-10:09
This kind of thing is a blow to all the peaceful efforts to hem Governor Whitmer in by law. Like Paul Hill's murder of the abortion doctor, this kind of foolishness sets back the efforts of biblically motivated Christians who want to end the tyrannical regulations peacefully. 
Of course the irony is that if these were BLM or Antifa agitators, conspiring to throw fireworks at police officers or burn down a Target, there would be nothing you could do about it. 
And unfortunately, that kind of double standard breeds this kind of violent scheming. 
At the same time, this video makes it clear that these guys are not even Trumpers. They are simply anarchists.
Audio Clip 2: 0:00-0:1
Kamala Harris Tried to School Pence at the Vice-Presidential Debate
https://dailycaller.com/2020/10/08/kamala-harris-fabricated-honest-abe-history-lesson-supreme-court-vacancies/
Audio Clip 3: 0:50-2:01
The problem is threefold: First, there is no historical record that Honest Abe said anything remotely close to "It's not the right thing to do." 
Second, when Supreme Court Justice Roger Taney died in October 1964, 27 days before the next presidential election, the Senate was not even in session. So there was no point in announcing his nomination at that point – the senate wouldn't even be able to act on it. 
But third, and the real clincher, for why Kamala doesn't really score any points with this, is the fact that Lincoln did nominate his replacement justice the minute the Senate came back into session in December. His nomination, Salmon Chase, was confirmed the very same day. 
 A reminder that all of the talks from this year's Fight Laugh Feast conference: Weapons for This War are up in the Club Member Portal, and if you're not already a club member, what are you waiting for? Go to fightlaughfeast.com and register today and get access to all of the talks: Douglas Wilson, George Grant, David Bahnsen, Jeff Durbin, Glenn Sunshine, and more. Next year's conference has been scheduled for October 14-16 back in Franklin, TN again. Next year's theme is Politics of Sex. More information will be coming out soon, but mark the dates now. In the meantime, check out this year's talks.
ATF Making Up Rules
https://dailycaller.com/2020/10/08/atf-cease-desist-honey-badger-q-ar-pistol-brace/
The Bureau of Alcohol, Tobacco, Firearms and Explosives in August issued a "cease and desist" order to halt the production of the Honey Badger AR pistol, according to a letter from the bureau that surfaced this week
The Q LLC Honey Badger pistol, which fires the .300 blackout cartridge, sports a barrel length under 16 inches and uses a pistol arm brace, which traditionally allowed a firearm to be classified as a pistol under ATF guidelines, even though it is visually similar to a rifle, according the letter.
However, the ATF decided the Honey Badger was not a pistol Aug. 3 and sent Q LLC a notice to cease production
Pistol classification allows citizens to own rifle-style, compact pistols with short barrels without incurring a $200 tax stamp and registration status with the bureau, according to Silencer Central.
The ATF decided that the Honey Badger was a short barreled rifle (SBR) and not a pistol after countless units were purchased by the public, meaning those that own the weapon in question may be considered felons for possessing unregistered SBRs, the letter read. SBRs are regulated by the National Firearms Act and must be registered before one can claim ownership, according to the ATF.
"In response, Q has ceased all production of the Honey Badger Pistol, and submitted a comprehensive letter to ATF and the Department of Justice ("DOJ") stating why we disagree with this classification," the company wrote in an Oct. 6 public announcement.
The ATF determined that the intent of the pistol was to be fired from the shoulder in their Aug. 3 cease and desist letter, which formed the basis of their classification of the weapon as a rifle.
Attorneys for Q responded in a letter Sept. 2, linked in its Oct. 6 announcement, that said "thousands of its customers have always regarded this firearm to be a pistol" and the ATF's ruling would have far-reaching implications on other companies that produce similar AR-style pistols.
The company said it intends to fight the ruling, but advised it's customers that may already own a Honey Badger to take steps to disassemble the firearm and either transfer the upper portion either onto a registered SBR lower or a compliant pistol lower or register the lower portion as an SBR until guidance is offered, according to its public letter.
They warned customers that failure to do so may result in up to 10 years imprisonment or a $10,000 fine, the notice read.
Republican Florida Rep. Matt Gaetz sounded the alarm about a possible looming ATF decision on one type of pistol brace owned by over 700,000 Americans in June, the DCNF reported.
FLF Magazine: We unveiled the brand-new Fight Laugh Feast Magazine at our recent conference: Our Fight Laugh Feast Magazine will be a quarterly issue that packs a punch like a 21 year Balvenie, no ice. We don't water down our theology, why would we water down our scotch? Order a yearly subscription for yourself and then send a couple yearly subscriptions to your friends who have been drinking luke-warm evangelical cool-aid. Every quarter we promise quality food for the soul, wine for the heart, and some Red Bull for turning over tables. Our magazine will include cultural commentary, a Psalm of the quarter, recipes for feasting, laughter sprinkled throughout the glossy pages, and more. Annual subscriptions are $40 – that's for four issues. So sign up and enjoy our Fight Laugh Feast theme park. 
https://flfnetwork.com/product/fight-laugh-feast-magazine/
Trump Won't Participate in an Online Debate
https://disrn.com/news/trump-says-he-will-not-participate-in-virtual-debate/
Audio Clip 4: 0:24-1:20
From our News Inbox: 
Indiana Republicans Might Elect a Libertarian for Governor
https://www.insidesources.com/could-his-mask-mandate-cost-indianas-governor-his-job/
The big question among Indiana Republicans this year is this: Are you voting straight ticket Republican or are you voting "straight Donalds?"
Voting "straight Donalds" means a vote for Donald Trump for president and for Libertarian candidate Donald Rainwater for governor.
For the first time in the history of the state, a Libertarian candidate could conceivably win the Indiana governor's race.
Support for incumbent Republican Eric Holcomb has dropped from 64 percent in May to 36 percent in a September poll of 1,033 likely voters by Indy Politics/Change Research. The Democrat, Woody Myers, came in at 30 percent in the same poll with Rainwater at 24 percent, though many people hadn't heard of him. The remaining 10 percent were undecided.
The Facebook page Indiana Republicans Against Eric Holcomb has more than 4,900 members whose anger at the governor rages throughout the day and often late into the night.
Their biggest complaints are the governor's orders shutting down businesses, his statewide mask mandate issued in July and the fact that he allowed Planned Parenthood to continue performing abortions during the early stages of the shutdown when all other doctors' offices were forced to remain closed.
But they also mention his alleged ties to Communist China, support for tax increases and what they see as a cozy relationship with the state teacher's union.
A listener says that while Rainwater's platform is a fairly traditional and weak pro-life position, he has heard a rumor that Rainwater has promised to sign a complete ban of abortion if came across his desk. 
This is Toby Sumpter with Crosspolitic News. Remember to send us stories and articles that you think we should cover to news at crosspolitic dot com. You can find this and all of our shows at Crosspolitic.com or on our app, which you can download at your favorite app store, just search "Fight Laugh Feast". Support Rowdy Christian media, and become a Fight Laugh Feast Club Member and for as long as the CrossPolitic gods smile upon the land, get your very own Fight Laugh Feast t-shirt and live and archive access to all the talks at our first annual Fight Laugh Feast Conference. Become a member now at fightlaughfeast.com.