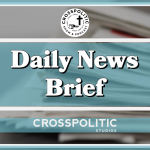 This is Gabriel Rench with your CrossPolitic Daily News Brief for Wednesday, October 28th, 2020.
FLF U Plug
Dr. Thomas Price is offering a fantastic Fight Laugh Feast University course on Theology and Culture. Dr. Price will walk through Foundations in Theological Analysis of Intellectual and Cultural Trends that are impacting Church and Society. Learn to think like Christians in this moment! This class starts October 27th and will only hold 25 households. So don't wait, sign up now!
Why I am voting for Trump. 
First off, there are a number of people, including my Pastor, who have contributed in depth to this discussion, and so I don't need to repeat what has already been said. Below are a couple links that I recommend you check out, that will bring in more important theological ground work to what I am about to say. Especially check out my Pastor's sermon from Sunday.
Uncle Gary response to John Piper: https://americanvision.org/24777/my-response-to-john-pipers-paths-to-ruin-article/
Pastor Doug Wilson's response to John Piper: https://dougwils.com/books-and-culture/s7-engaging-the-culture/john-piper-me-and-the-cool-shame-election.html
Pastor Wilson's sermon from last Sunday: https://www.christkirk.com/sermon/tumultuous-mercies/
So why am I voting for Trump. Let me start off by saying that I did not vote for Trump in 2016 for largely three reasons. First I could not trust him. He was pro-choice in the 90's, and somehow someway he became pro-life by the time he started running for president? I had no evidence that his conviction was genuine. Secondly, in a lot of ways, Trump was Bill Clinton 2.0. President Clinton started building the wall under his administration, he lowered taxes (granted he had a Republican House and Senate), his foriegn policies had similarities to Trump (at least appeared to at the time), his view on tariffs seemed similar to Trump, and he was riddled with sex scandals…just like Trump. Lastly, I did not think Trump was really going to govern as conservative as he has now proven to govern. I saw no predictability in Trump, and when it comes to debates and social media, he is still unpredictable, but in terms of how he actually governs, I now see that I can hang my hat on some Trumpian predictability.  
So, I want to give you some, hopefully, compelling reasons, beyond what I have already linked to, on why Christians should be free to vote for Trump. 
First, Trump has as a track record of appointing conservative justices (even though Gorsuch seems more like a Roberts), lowering taxes (of course more should be done), cutting regulations, standing up for our religious rights (first President to attend the pro-life march), pretty solid foreign affiars policy. 
Secondly, Trump has picked a lot of much needed fights. The peace treaty between the Democratic Party and the Republican Party should have been broken long ago. That treaty was only allowing the Democrats to gain yards in the match, while Republicans were only losing yardage. For decades the Democrats have been plodding away at biblical marriage, LGBT+++, religious rights, and overall slowly destroying the constitution. The Democrats don't want peace, they want power and compliance.  
Lastly, the Democratic Party will take us into full blown moral anarchy with a "power over" government. The Democratic Party will do what they did to Justice Kavanaugh to you, your churches, and anyone Christian who has an ounce of a Christian backbone. The 60 million aborted babies are just the bloody foundation for where they are going, and their satanic lust for raw power will be unleashed if they get full controls of the steering wheel. Now God is in heaven and we are on earth, thank goodness, so their plan will come to nothing if God chooses to intervene in this way, but this is the direction the Democratic Party wants to go. The Democratic Party wants to destroy American history, our form of government, and anything that smells like faithfulness to our Christian heritage and to our God. Trump, with all his faults, his agenda is not to destroy American, our way of worship, nor our republic. 
As Christians, our goal is to leave quiet and peaceable lives, and this pandemic has shown us how bankrupt the church is, and how spineless and ineffective the church is against small, petty tyranny. The only way the church will recover her moral authority, and regain the ability to stand strong against principalities and powers, is through reformation and revival. The church needs to repent and believe in our Lord Jesus Christ. The church needs to repent of worshiping like the world does, ignoring the Psalms in our worship, and throwing concerts where only the professionals are heard in worship. The church needs to repent of ignoring the whole counsel of God, picking and choosing bible verses like it is a choose your own adventure novel. Lastly, pastors and elders need to lead their congregations in this repentance by stepping down where the bible requires, and where there is no need of stepping down, then preach the hell out of the gospel, grow a backbone, and let the sparks fly. We are on the sunny side of the cross. Jesus is Lord, He is Risen, death where is your sting, grave where is your victory? It is finished because Jesus died for your sins, rose again from the dead, and He now sits at the right hand of God our Father. 
So, dont be afraid of the world and those who can kill you, be afraid of the one who can cast your soul into hell. As Kanye said in his interview with Joe Rogan this last week, yes it is 2020 and I am quoting Kanye favorably, "When you remove the fear and love of God, you create the fear and love for everything else." 
Romans 8:31 What then shall we say to these things? If God is for us, who can be against us? 32 He who did not spare His own Son, but delivered Him up for us all, how shall He not with Him also freely give us all things? 33 Who shall bring a charge against God's elect? It is God who justifies. 34 Who is he who condemns? It is Christ who died, and furthermore is also risen, who is even at the right hand of God, who also makes intercession for us. 35 Who shall separate us from the love of Christ? Shall tribulation, or distress, or persecution, or famine, or nakedness, or peril, or sword? 36 As it is written:
"For Your sake we are killed all day long;
We are accounted as sheep for the slaughter."
37 Yet in all these things we are more than conquerors through Him who loved us. 38 For I am persuaded that neither death nor life, nor angels nor principalities nor powers, nor things present nor things to come, 39 nor height nor depth, nor any other created thing, shall be able to separate us from the love of God which is in Christ Jesus our Lord.
Closing
This is Gabriel Rench with Crosspolitic News. Support Rowdy Christian media by joining our club at fightlaughfeast.com, downloading our App, and heading to our first annual Fight Laugh Feast Conference in Nashville this October 1st through the 3rd. With your partnership, you are providing us with the resources to compete with the mainstream media. Go to fightlaughfeast.com to take all these actions. Have a great day. Lord bless