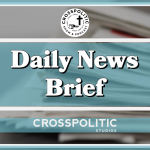 This is Toby Sumpter with your CrossPolitic Daily News Brief for Thursday, October 29, 2020.
Today you will hear how Poland has nearly banned abortions, how one man protested Wales' non-essential sales policy, congressional hearings for Twitter and Facebook, Van Morrison releases a new Covid protest song, and Kanye envisions choirs of hundreds of thousands. 
Remember: If you come across a news story you think we might need to cover, please send it to: news at crosspolitic dot com. This is a great way to share articles and stories with us that may end up in our daily or weekly shows: news at crosspolitic dot com
From our news inbox:
Poland Has Nearly Abolished Abortions
https://www.bbc.com/news/world-europe-54642108
Poland's top court has ruled that abortions in cases of fetal defects are unconstitutional.
Once the decision comes into effect, abortions will only be allowed in cases of rape or incest, or if the mother's health is at risk.
A legal challenge against the 1993 law permitting abortion in cases of severe fetal disabilities – which accounts for 98% of abortions carried out in Poland – was launched by MPs from the ruling nationalist Law and Justice party last year.
A majority of the court's judges were nominated by the same party.
Almost all legal abortions in Poland are performed on the grounds of fetal defects, so this ruling, according to the BBC, effectively bans abortions in Poland. 
Bishops and lay Catholic groups have been challenging the governing Law and Justice party to impose a stricter law to protect unborn babies. In 2016 an estimated 100,000 people, mostly women, protested to block an attempt to tighten the law. Activists again held socially distanced protests against the proposals earlier this year
Late last year a group of governing party and far-right MPs decided to ask the court to decide the issue. 
There were just over 1,000 legal abortions in Poland last year, although feminist groups estimate between 80,000 and 120,000 Polish women a year seek an abortion abroad.
From another listener in our news inbox:
One Man Protests Wales' Ban on Non-Essential Items by Going to the store in His Skivvies
https://www.foxnews.com/food-drink/man-wears-underwear-supermarket-wales-nonessential-items
In this specific situation, yes, at least a little bit of clothing certainly seems essential.
A man in Wales claims he wore only underwear to a local Tesco supermarket in order to protest the country's ban on the sale of nonessential items amid the pandemic, as seen in footage shared to social media over the weekend.
In the video, Christopher Noden, from Newport, is seen walking into the store in just his boxer briefs and a mask. Noden is then approached by a security guard who tells him he can't enter, only for Noden and his wife, Dawn, to question why he's required to wear clothes if clothes themselves are indeed "nonessential."
One day after the government upheld its decision, Noden appeared on "Good Morning Britain" to defend his actions after footage of his visit to Tesco went viral online.
"It felt like I was going to prove my point," Noden said during the program, explaining that he got the idea after his wife came across an online meme that joked about clothing being a nonessential item, per Wales Online. He added that he and his wife couldn't believe that clothing has been deemed nonessential, especially for premature babies who may need certain items.
"So I said 'Come on then, let's prove the point in Wales you can go shopping without your clothes on and there's nothing you can do about it,'" he said.
During Online Congressional Hearing with Mark Zuckerberg and Jack Dorsey, Neither Could name a single high profile Democrat/liberal who has been censored by Twitter or Facebook:
https://twitter.com/Cernovich/status/1321554564114362368?s=20
A reminder that all of the talks from this year's Fight Laugh Feast conference: Weapons for This War are up in the Club Member Portal, and if you're not already a club member, what are you waiting for? Go to fightlaughfeast.com and register today and get access to all of the talks: Douglas Wilson, George Grant, David Bahnsen, Jeff Durbin, Glenn Sunshine, and more. Also, if you want to rock your Fight Laugh Feast bona fides visit rowdychristian.com for shirts, hats, hoodies, postmill coffee, etc. Also: did you hear we started a new magazine? Four issues a year for forty bucks. https://flfnetwork.com/product/fight-laugh-feast-magazine/
Van Morrison Releases Three New Songs in Protest
Van Morrison, the 75-year-old singer announced the upcoming release of three new songs — "No More Lockdown," "Born to Be Free" and "As I Walked Out" — calling on the government to stop "taking our freedom" and bashes the worldwide lockdown to prevent the spread of Covid-19. "Morrison makes it clear in his new songs how unhappy he is with the way the Government has taken away personal freedoms," a post says on his website. Morrison says, "I'm not telling people what to do or think, the government is doing a great job of that already. It's about freedom of choice, I believe people should have the right to think for themselves."
"No more lockdown/No more government overreach/No more fascist bullies/Disturbing our peace," Morrison sings on "No More Lockdown." "No more taking of our freedom/And our God-given rights/Pretending it's for our safety/When it's really to enslave."
In launching a campaign to "save live music" last month, Morrison spoke against the "pseudoscience" surrounding the coronavirus and claimed that socially distanced live events were not viable. "I call on my fellow singers, musicians, writers, producers, promoters and others in the industry to fight with me on this," he wrote in a since-deleted post on his website. "Come forward, stand up, fight the pseudo-science and speak up." 
Speaking of musicians speaking up, Kanye West was on Joe Rogan last week and 
Kanye Envisions A Gospel Choir
Kanye gets it. Now he just needs the Psalms and some Kuyperian style theonomy – all of Christ in all of Scripture for all of life. The NBA for God. Good. Now apply that vision to education, business, government, family, marriage, the arts. Get to work, church. 
This is Toby Sumpter with Crosspolitic News. Remember to send us stories and articles that you think we should cover to news at crosspolitic dot com. You can find this and all of our shows at Crosspolitic.com or on our app, which you can download at your favorite app store, just search "Fight Laugh Feast". Support Rowdy Christian media, and become a Fight Laugh Feast Club Member and for as long as the CrossPolitic gods smile upon the land, get your very own Fight Laugh Feast t-shirt and live and archive access to all the talks at our first annual Fight Laugh Feast Conference. Become a member now at fightlaughfeast.com.