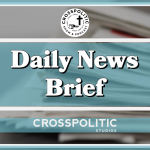 Daily News Brief 11/02/2020
This is Gabriel Rench with your CrossPolitic Daily News Brief for Monday, November 2nd, 2020.
No quarter November is here! My Pastor took one of the more plain-jane months and turned it into one of my favorites. Make sure you check out his blog during this month! 
Also, I hope you join us Tuesday night for some CrossPolitic election coverage. We will have friends from all over the US calling in to update us on how their states are doing. Our election coverage will kick off at 8pm PAC time. So, tune in live on our app (Just click on the live stream banner), or of course Facebook and Youtube. 
FLF U Plug
Dr. Thomas Price is offering a fantastic Fight Laugh Feast University course on Theology and Culture. Dr. Price will walk through Foundations in Theological Analysis of Intellectual and Cultural Trends that are impacting Church and Society. Learn to think like Christians in this moment! This class starts October 27th and will only hold 25 households. So don't wait, sign up now!
COVID-19: Do We Have a Coronavirus Pandemic, or a PCR Test Pandemic?
https://aapsonline.org/covid-19-do-we-have-a-coronavirus-pandemic-or-a-pcr-test-pandemic/
According to the Association of American Physicians and Surgeons:
"It is not so easy to culture a virus, and cultures of SARS-CoV-2 are not routinely done. Unlike in previous epidemics (SARS-CoV-1, H1N1 influenza, Ebola, or Zika), World Health Organization (WHO) guidance has no requirement or recommendation for a confirmatory test in COVID-19.
There is surprisingly little information on the false positive rate of PCR tests for COVID. That all lab tests have false positives should not be controversial, but this idea "has been entirely rejected by governments and the medical establishment, writes Mike Hearn.
Having great-sounding numbers, say a specificity of 99 percent, is not enough. For all tests, the predictive value of a positive test depends on the prevalence of disease. If most of the persons tested are free of disease, a positive test may be more likely to be a false than a true positive. This could at least partially explain the reports of large numbers of asymptomatic carriers of SARS-CoV-2.
Failure to recognize the problem of false positives has consequences—such as possible quarantining of uninfected with infected individuals.
Coronavirus is not a pseudo-epidemic. Many thousands have died. But the dreaded "second wave" might be a surge of false positive tests that are inevitable in mass screenings of healthy persons."
If you look at the nationwide data, you actually see cases skyrockets while the death rate has remained flat. So, there is something to this "second wave" theory.   
Transgender who identifies as a deer is now in charge of Twitch censorship: 'I have power'
https://www.theblaze.com/slightly-offensve/trans-deer-twitch-moderator?rebelltitem=1#rebelltitem1
In a recent episode of Slightly Offens*ve, Elijah Schaffer offered a "daily dose" of madness as he discussed a new member of the Twitch moderation team: a transgender who identifies as a deer and who openly threatened to ban Twitch users with less "diverse" opinions.
Calling all Americans to take back our constitutional freedoms
"I have power, they can't take it away from me," bragged Steph Loehr, also known as FerociouslySteph. "And honestly there are some people that should be afraid of me, and they are because I represent moderation and diversity and I'm gonna come for harmful people. If you're a really sh**ty person – I'm gonna stand up against you. Period. And Twitch is endorsing me to do that."
"At least mental illness has a name, and that name is apparently Steph Loehr," said Elijah. He played videos of Loehr explaining how she likes to "prance around and eat grass," as well as having a "deergasm."
"This is the state of free speech online. This is who's censoring you," added Elijah.
Mailchimp will now ban users that it deems, at its "sole discretion," have sent "false, inaccurate, or misleading" info
https://disrn.com/news/mailchimp-newsletter-service-will-now-deactivate-accounts-sending-false-inaccurate-or-misleading-emails
According to Disrn.com: 
"Mailchimp, the largest mass email service in the world with 69% market share, will now "not allow the distribution of content that is … materially false, inaccurate, or misleading in a way that could deceive or confuse others about important events, topics, or circumstances."
Determining whether content is "false, inaccurate, or misleading" is in Mailchimp's "sole discretion," the Terms of Use update says."
Club Plug
It is news of big tech manipulation that should make you want to join our club. The state of news and mainstream media is appalling, and by the grace of God and your club memberships, our goal is to take over the CNN/FOX embargo. We really do need Christians engaged in politics, and with your club membership we hope to do this for years to come. Also, our conference registration is closed, and now the only way to catch our conference is to livestream it… and you guest it, only club members So support rowdy Chrsitian media by joining our club and you get, depending on your club level, a free t-shirt, access to our club content, discounts to our conference, coffee mug, bag of our delicious Sovereign roast and more. 
Mag Plug
As many of you already know, we have started a magazine! Order a yearly subscription for yourself and then send a couple yearly subscriptions to your friends who have been drinking luke-warm evangelical cool-aid. Every quarter we promise quality food for the soul, joyous wine for the heart, and some Red Bull for turning over tables. Our magazine will include cultural and theological commentary, a Psalm of the quarter, recipes for feasting, laughter sprinkled through out the glossy pages, and more. Our goal is to produce a high-quality quarterly mini-book-like experience. Early bird subscription is $40, if you sign up before January 1st.
More Than 30 Million Mail Ballots Still Outstanding With Only One Day Until Election
https://www.newsweek.com/more-30-million-mail-ballots-still-outstanding-only-one-day-until-election-1543918
According to Newsweek: 
"With just a day to go before the election, more than 31 million mail ballots remain outstanding.
More than 94 million ballots have been already been cast in the 2020 election as of early Monday morning, according to the U.S. Elections Project, which tracks the early vote closely.
Almost two-thirds of those early votes were cast by returning mail ballots (59,961,024) while 34,045,137 were in-person votes.
But the data also shows that 31,385,941 mail ballots are yet to be returned.
NEWSWEEK SUBSCRIPTION OFFERS >
Not all states report party affiliations, but those that do include key battleground states Pennsylvania and Florida. Among the states reporting party registration, far more Democrats have returned mail ballots than Republicans ahead of November 3, but they also have more outstanding mail ballots.
According to the data, 8,096,924 Democratic mail ballots remain outstanding, compared to 5,646,271 Republican mail ballots."
13 Battleground states to watch
https://www.cbsnews.com/news/2020-presidential-election-battleground-states-to-watch/
Arizona
Iowa
Ohio
North Carolina
Georgia
Florida 
Nevada
Texas
Minnesota
Wisconsin
Michigan
Pennsylvania
New Hampshire
Keep an eye out for these states and tune into our coverage on election night, as we will share our amazing insight…or actually have friends like Steve Deace call in and gives us a hand. 
Closing
This is Gabriel Rench with Crosspolitic News. Support Rowdy Christian media by joining our club at fightlaughfeast.com, downloading our App, and heading to our first annual Fight Laugh Feast Conference in Nashville this October 1st through the 3rd. With your partnership, you are providing us with the resources to compete with the mainstream media. Go to fightlaughfeast.com to take all these actions. Have a great day. Lord bless