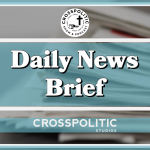 This is Toby Sumpter with your CrossPolitic Daily News Brief for Thursday, November 5, 2020.
Today you will hear about the election, we'll talk a little about voter fraud, an update on the shooting in Vienna, and close out with a cheery note about the new youngest member of congress. 
Remember: If you come across a news story you think we might need to cover, please send it to: news at crosspolitic dot com. This is a great way to share articles and stories with us that may end up in our daily or weekly shows: news at crosspolitic dot com
Trump Campaign Advisor Says the Math Still Points to Trump Winning Arizona
https://twitter.com/CortesSteve/status/1324128709092192258?s=20
Audio Clip
As it currently stands, late Wednesday, Biden would have exactly 270 electoral votes if he takes Nevada and Arizona, making Pennsylvania irrelevant. But if Trump does in fact take Arizona, that would likely leave Pennsylvania as the battleground state. 
But all of that assumes a completely straight reading of the election results. If you caught the CrossPolitic Live Election night coverage, we talked to Patrick Colbeck former State Senator in Michigan who was monitoring polls in Detroit, who noticed that a number of voting machines were illegally connected to the internet ripe for compromise, listen:
https://www.youtube.com/watch?v=BwNSX6gFMd0
1:56:04-1:58:40
Others, like Michael Anton at the American Mind, noted surface level questions:
https://americanmind.org/post/game-on-for-the-coup/
"Throughout the day the president was also outperforming his expected result in key states such as Arizona, Georgia, Michigan, Minnesota, Nevada, North Carolina, Pennsylvania, and Wisconsin. He even, for a time, looked like he was within striking distance in Virginia, a state Hillary Clinton won by five points in 2016. At one point the New York Times's "meter" had Trump's chances in North Carolina at 92%. The needle was also sliding in the president's direction in Arizona and Georgia, among others.
And then, suddenly, the counting stopped in at least five states (or parts of states): Georgia, Michigan, Nevada, North Carolina, Pennsylvania, and Wisconsin; all but one with a Democratic governor (coincidence, surely!). When has that ever happened? Well, it happened in Broward County, Florida, in 2018, when a dodgy Democratic election official appeared to be intervening, illicitly, on her party's behalf. The process only got back underway when the state's (Republican) governor intervened and had her removed from the process.
But getting back to last night, some time in the wee hours, additional ballots were "found" and added to early totals which had Trump ahead. To no one's surprise, those votes were overwhelmingly—literally as much as 100% in some batches—for Biden. According to Nate Silver, no one's idea of a Trumpist, one tranche of 23,277 votes that turned up in Philadelphia were "all for Biden." Absent some kind of harvesting or fraud (or both), that's a logical and statistical impossibility.
Through the night, all such ballots came from heavily Democratic areas posting unusually, improbably high turnout. 85% in Milwaukee? A city that turned out at only 61% in 2016, and even with Obama on the ballot in 2012, at 71%? But 85% for Sleepy Joe? According to one report, seven Milwaukee precincts returned more presidential votes than they have registered voters. Turnout in Wisconsin overall is alleged to have been 89.25%, more than five standard deviations for the state's mean turnout since 1960—another statistical impossibility."
On the one hand, Christians should not be carried about by every rumor or conspiracy. On the other hand, Christians should not be naïve or foolish. Is it at least plausible that the full court press to bring every charge and accusation against Trump over the last four years could be involved in underhanded election dealings? Yes, that seems very plausible. Has it been proven, not to my knowledge. But it seems very reasonable for Trump's team to ask for judges to examine these key states to see if there is any evidence of fraud. 
A reminder that all of the talks from this year's Fight Laugh Feast conference: Weapons for This War are up in the Club Member Portal, and if you're not already a club member, what are you waiting for? Go to fightlaughfeast.com and register today and get access to all of the talks: Douglas Wilson, George Grant, David Bahnsen, Jeff Durbin, Glenn Sunshine, and more. Also, if you want to rock your Fight Laugh Feast bona fides visit rowdychristian.com for shirts, hats, hoodies, postmill coffee, etc. Also: did you hear we started a new magazine? Four issues a year for forty bucks. https://flfnetwork.com/product/fight-laugh-feast-magazine/
Lone Gunman in Vienna
https://www.reuters.com/article/us-austria-attack/vienna-gunman-rampaged-alone-intelligence-was-fumbled-austrian-minister-idUSKBN27K20E?il=0
Large quantities of mobile phone footage have confirmed that the jihadist who killed four people in a rampage in Vienna on Monday was the only gunman, but Austria fumbled intelligence on him, Interior Minister Karl Nehammer said on Wednesday.
Austria arrested 14 people aged 18 to 28 on Tuesday in connection with the attack and is investigating them on suspicion of belonging to a terrorist organisation, he said. But it would also have to investigate its own actions, he added.
"Before the terror attack began, according to the information currently available, some things also went wrong," Nehammer told a news conference.
In July, neighbouring Slovakia's intelligence service had handed over information suggesting the attacker had tried and failed to buy ammunition there, Nehammer and a top ministry official, Director General for Public Security Franz Ruf, said.
"In the next steps evidently something went wrong here with communications," said Nehammer, who called for the formation of an independent commission to examine the errors made.
After receiving the tip-off from Slovakia, Austria's domestic intelligence agencies at the federal and provincial level made the necessary checks and sent questions back to Bratislava, Ruf said.
The gunman, who was shot dead by police within minutes of opening fire on crowded bars on Monday evening, was a 20-year-old with dual Austrian and North Macedonian citizenship. Born and raised in Vienna, he had already been convicted of trying to reach Syria to join Islamic State and had spent time in jail.
Members of the public had handed in more than 20,000 mobile phone videos that the authorities analyzed before coming to the conclusion that there was only one gunman, Nehammer said, putting an end to lingering confusion on that point.
Switzerland has also arrested two men in connection with the attack. Its justice minister said the two were "obviously friends" with the gunman.
Ruf said Austria was in contact with Switzerland and another country that he declined to identify over the investigation.
North Macedonia said on Tuesday three people were somehow involved in the attack and all had dual Austrian and North Macedonian citizenship. It identified them only by initials.
25 Year Old from North Carolina New Youngest Member of Congress
https://www.dailymail.co.uk/news/article-8912223/Rising-Republican-star-Madison-Cawthorn-25-tweets-cry-lib-wins-election.html
Rising Republican star Madison Cawthorn on Tuesday tweeted 'cry more, lib' after he was elected to represent a western North Carolina U.S. House district. 
The 25-year-old will become the youngest member of Congress. He first drew attention after defeating Trump's preferred candidate in an upset in the June GOPprimary runoff. 
Cawthorn, who was left partially paralyzed from a car accident, then delivered a speech at the Republican National Convention in August during which he stood up from his wheelchair with the help of a walker.
Following his win Cawthorn tweeted: 'Cry more, lib.' He later added: 'From the bottom of my heart, Thank you. All glory goes to God and I am excited to serve each and every member of this district. Thank you!'
In a statement he said: 'This election showed that we're a divided people. 
'Americans are hungry for leadership that appeals to our highest aspirations, and that's precisely what I intend to do.' 
Democratic Rep. Alexandria Ocasio-Cortez, now 31, was 29 when she was elected. Madison becomes the youngest person to be elected to Congress in at least 50 years. He is the youngest Republican ever elected to Congress. 
Cawthorn turned 25 in August, which is the constitutionally mandated age to be eligible to serve in the House of Representatives. 
Missouri Republican Josh Hawley, 40, is the youngest senator.  
Cawthorn added: 'The days of AOC and the far left misleading the next generation of Americans are numbered. Tonight, the voters of Western North Carolina chose to stand for freedom and a new generation of leadership in Washington.' 
The rising GOP star's win in the 11th Congressional District allows him to fill a vacant seat previously held by Republican Rep. Mark Meadows, who left to serve as President Donald Trump's chief of staff. 
Cawthorn defeated Democrat and retired U.S. Air Force Col. Moe Davis, 62. Davis said: 'The voters have spoken and while I'm disappointed, I respect their decision.' 
In June, Cawthorn made national headlines when he unexpectedly beat real estate agent Lynda Bennett, a Trump-backed candidate, to win the Republican nomination for former House Rep. Mark Meadows' seat. 
Following that win he said Donald Trump called from Air Force One to congratulate him.  
'He congratulated me. He was talking about how amazing of a victory it was. He defined it as beautiful, you know. Just talking about how impressive it was that we were able to overcome just so many large obstacles that we did,' Cawthorn said.
'I believe, you know, the president recognized that we ran a campaign that was very difficult to beat and also that we are someone who can really help ease this partisan divide that's going on in our country right now and help bring a lot of our voters together,' he said.
This is Toby Sumpter with Crosspolitic News. Remember to send us stories and articles that you think we should cover to news at crosspolitic dot com. You can find this and all of our shows at Crosspolitic.com or on our app, which you can download at your favorite app store, just search "Fight Laugh Feast". Support Rowdy Christian media, and become a Fight Laugh Feast Club Member and for as long as the CrossPolitic gods smile upon the land, get your very own Fight Laugh Feast t-shirt and live and archive access to all the talks at our first annual Fight Laugh Feast Conference. Become a member now at fightlaughfeast.com.