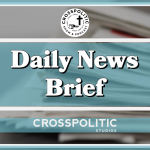 Daily News Brief: Wednesday 12/02/2020
This is Gabriel Rench with your CrossPolitic Daily News Brief for Wednesday, December 2nd, 2020.
We are going to sort through the business fallout of the COVID panic, but first I want to bring your attention, thanks to a Daily News brief listener, to what the Human Rights Campaign wants Biden to accomplish if he gets in office. 
Human Rights Campaign: BLUEPRINT FOR POSITIVE CHANGE 2020
https://hrc-prod-requests.s3-us-west-2.amazonaws.com/Blueprint-2020.pdf?mtime=20201110185320&focal=none
Among many recommendations, they want the Department of Education to pass a regulation that would make room to refuse the accreditation of institutions that do not meet "neutral" standards of "science" based curriculum and do not have appropriate non-discrimination policies. Here is the summary of what they want Biden to push: 
Ensure consistent administrative implementation of Bostock v. Clayton County across all agencies enforcing civil rights statutes and provisions;  
Revise restrictions on transgender individuals to return to an inclusive policy of military service;  Establish an interagency working group to address anti-transgender violence;  
Appoint openly-LGBTQ justices, judges, executive officials and ambassadors;  
Establish uniform data collection standards incorporation sexual orientation and gender identity into federal surveys;  
Establish an interagency working group to protect and support LGBTQ rights globally;  End discrimination against gay and bisexual blood donors;  
Prohibit the practice of conversion therapy as a fraudulent business practice;  
Rescind and replace regulations restricting coverage of Section 1557 of the Affordable Care Act; 
and  Eliminate discrimination against beneficiaries in charitable choice and faith-based initiatives. 
Club Plug:
Here is the thing. If this Human rights trash makes it deeper into our society, cancel culture is going to increase exponentially, and mainstream media will be their accomplice in all this. It is amazing watching the media not only go soft on Biden, but to make excuses for him, finish his sentences, and wipe his drool as he stumbles through his interviews and his speeches. The mainstream media is like a man who thinks he can self identify as a women. Just because you self-identify as a true and honest news organization, does not mean you are true and honest, nor "news" either. I am going to start calling CNN, FOX, MSNBC, etc… tranny-news organizations. Which is why we need your help to grow the Fight Laugh Feast Network. We can't do with is with our our club members, and this Christmas we need you more than ever as we head into the new year. The best way you can help is by becoming a Fight Laugh Feast club member today. Many of you already have, and we can't thank you enough, but if you're tired of legacy media cramming their pagan worldviews down your throat and social media censoring views they don't approve of, support CrossPolitic as we build a Christian Media Platform and Network committed to the Lordship of Jesus Christ. So, Support Rowdy Christian Media and become a fight laugh feast club member today. Go to Fightlaughfeast.com.
28 of the biggest corporations battered by the coronavirus
https://www.nydailynews.com/careers-finance/sns-stckr-big-businesses-bankrupt-coronavirus-20200819-fqoeeincqvhwjbhincbw2sfkga-photogallery.html
"More than 3,600 companies filed for bankruptcy between January and June of this year as the coronavirus pandemic caused widespread shutdowns, cratered demand, and thrust the United States into a recession. In June 2020 alone, there was a 43% spike in Chapter 11 bankruptcy filings over the same month in 2019, according to Epiq's bankruptcy filing statistics."
Connecticut Governor Imposes $10,000 Fine for Businesses Violating COVID-19 Rules
Big Boy drops Michigan franchise for refusing to comply with COVID restrictions
https://www.nydailynews.com/coronavirus/ny-covid-sandusky-big-boy-loses-franchise-refuse-comply-restrictions-20201128-mbsds6koxrb7peh5qz22acn6su-story.html
A Michigan restaurant had its franchise license terminated, after refusing to comply with state-issued coronavirus restrictions.
On Friday, the Facebook page for a Big Boy restaurant in Michigan's Thumb region announced that, "We have been contacted by corporate Big Boy and they are planning on taking legal action against us."
Big Boy Restaurant Group is a burger chain headquartered in Warren, Mich., in the Detroit metropolitan area. The Sandusky location was one of four restaurants in the state that received citations for offering indoor dining, a violation of the newly enacted restrictions to control the spread of the deadly coronavirus.
Earlier this week, the head of the state's Department of Health and Human Services, Robert Gordon, issued new orders on indoor activities in an effort to control a recent surge in COVID-19 cases in Michigan.
Starting at 12:01 a.m. on Nov. 18, gathering spaces such as gyms for group activities, theaters, schools and universities, and restaurants for indoor dining were ordered to shut down for three weeks. Outdoor dining, takeout and food delivery services were not affected.
In a GoFundMe page created by Troy Tank, part owner and operations manager for the Sandusky location, he writes that, "We have decided to remain open for dine-in and continue to serve the community and customer base that we love."
Big Boy's corporate office told the owners that they had 24 hours to comply with the order, but they refused.
"We had already decided we weren't going to do that," Tank told The Associated Press, adding that the business suffered financially when it had to shut its doors early in the pandemic.
"Our backs were against the wall, and we knew we were going to have to fight," he said.
According to the Detroit Free Press, Big Boy's chief operating officer Bob Scavo said that the corporation and its franchisees didn't approve the actions of the "rogue franchisee," and that "we have taken the steps to terminate" the franchise agreement.
Patrick Blake, a spokesman for the corporation said that "Big Boy's number one priority is … the safety of customers and staff." The Sandusky restaurant's actions "are not representative of Big Boy standards," Blake added, according to the AP.
On Friday, the eatery updated its Facebook cover photo with the image of the Big Boy sign blacked out — its name for the past 35 years.
The GoFundMe page was renamed to "Sandusky Family Restaurant (formerly BB) Fund."
"As true American patriots all of us here at [the restaurant] encourage you to join in our fight to keep our most basic everyday freedoms intact," Tank wrote.
Big Picture
https://www.marketwatch.com/story/restaurants-and-retailers-have-regained-the-most-jobs-since-the-coronavirus-crisis-but-theres-a-catch-2020-08-07
As of August:
"The economy shed a record 22.2 million jobs in March and April after large swaths of the U.S. were shut down to curb the spread of Covid-19, according the Labor Department's survey of business establishments. The survey is considered the most accurate measure of U.S. employment."
https://www.pewsocialtrends.org/2020/09/24/economic-fallout-from-covid-19-continues-to-hit-lower-income-americans-the-hardest/
"Age is also associated with people's ability to pay their bills or rent or mortgage since February. Fully 35% of adults ages 18 to 29 and 30% of those ages 30 to 49 say they have had trouble paying their bills during this time. This compares with 22% of those ages 50 to 64 and 10% of those 65 and older. About one-in-five or more adults ages 18 to 29 (25%) and 30 to 49 (21%) have had trouble paying their rent or mortgage. This is significantly larger than the share among those 50 to 64 (15%) and 65 and older (4%)."
Their report goes on to say: 
"More than four-in-ten lower-income adults (44%) say they have used money from a savings or retirement account to pay their bills during this time, and about a third or more have borrowed money from friends or family (35%), gotten food from a food bank or charitable organization (35%), or received government food assistance (37%). Among middle-income adults, 33% say they have used money from a savings or retirement account to pay their bills, 11% have borrowed money from family or friends, 12% have gotten food from a food bank or charitable organization, and 7% have received government food assistance. While much smaller shares of upper-income adults say they have drawn on these resources, 15% say they used money from a savings or retirement account to pay their bills since the coronavirus began."
BLS data:
https://www.bls.gov/cps/effects-of-the-coronavirus-covid-19-pandemic.htm
In July, 31.3 million people reported that they had been unable to work at some point in the last 4 weeks because their employer closed or lost business due to the coronavirus pandemic—that is, they did not work at all or worked fewer hours. This figure was down from 40.4 million in June and 49.8 million in May. The figure for July represented 12 percent of the civilian noninstitutional population, down from 16 percent in June and 19 percent in May. (See table 3.)
Whole Foods CEO blasts socialism: It's 'trickle-up poverty' that 'impoverishes everything'
https://www.washingtonexaminer.com/news/whole-foods-ceo-blasts-socialism-its-trickle-up-poverty-that-impoverishes-everything
"The CEO of one of the nation's largest grocery chains criticized socialism and the private universities that openly attack capitalism.
"We have to recognize that some of the progressive insights are important, and they shouldn't go away, but we can't throw out capitalism and replace it with socialism. That will be a disaster," Whole Foods CEO John Mackey said during an event organized by the American Enterprise Institute this week. "Socialism has been tried 42 times in the last 100 years, and 42 failures. It doesn't work. It's the wrong way. We have to keep capitalism. I would argue we need conscious capitalism."
Mackey expressed the belief that capitalism needs to be explained in a more articulate manner.
"It needs to evolve. Otherwise, the socialists are going to take over — that's how I see it, and that's the path of poverty," Mackey said. "They talk about trickle-down wealth, but socialism is trickle-up poverty. It just impoverishes everything. That's my fear, that the Marxists and socialists, the academic community is generally hostile to business. It always has been. This is not new."
Mackey explained that he has been heckled during speeches at college campuses and has even been disinvited by school leadership despite the fact that it's usually only the professors who are upset rather than the students.
"But the professors are very skeptical. Their arms are crossed, and they want to argue with me about it," he said.
The CEO suggested that more "business people" should be teaching at colleges.
"Intellectuals teach, mostly intellectuals, who've never actually been in business at all, right? It's very interesting," Mackey said. "And [it's the intellectuals] who don't actually understand business, who don't particularly understand entrepreneurship, and, actually, can oftentimes be hostile toward the very thing they're teaching. So that's a particular challenge.""
Closing
This is Gabriel Rench with Crosspolitic News. Support Rowdy Christian media by joining our club at fightlaughfeast.com, downloading our App, and head to our annual Fight Laugh Feast Conference next fall. With your partnership, together we will fight outdated and compromised media, engage news and politics with the gospel, and replace lies and darkness with truth and light. Go to fightlaughfeast.com to take all these actions. Have a great day. Lord bless.