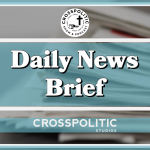 This is Gabriel Rench with your CrossPolitic Daily News Brief for Wednesday, January 13th, 2021.
2021 just told 2020 to hold my beer. Airbnb telling you who can stay at your house? Forced vaccinations at LA public schools, an update on my Moscow legal troubles, and more.
But first, and I rarely do a plug at the beginning of a daily news brief, I think this is more important than ever. The democrats have the House, Senate, and Executive Branch for the next two years, and possibly four years. As you have begun to see, the democrats are going to use their power in the next two years to cancel conservatives from big tech, financial processing companies like Stripe, book publishers canceling conservative Senators like Josh Hawley, stripe your first Amendment rights, 2nd amendment rights, and more. Everything is on the table, and COVID is the potion that they will use to accomplish their goals. 
This is why it is so important that you join our club, subscribe to our magazine, and join us at our events this year. Our club membership is central to delivering our content without the threat of being canceled. We need thousands of club members to be able to compete with mainstream media, and we cannot do this without you. We need an army of club members supporting us, so we can freely declare the Lordship of Christ over politics. When joining our club, you will get a Fight Laugh Feast club t-shirt (made by Rowdy Christian Clothing), access to our club portal, and more as you upgrade your club membership. Go to www.FightLaughFeast.com to join!
Just so this is not totally self serving, if you dont join our club, join Babylon Bee and Discrn.com club…find some Christian media arms to support, get behind them, and encourage them to be strong and courageous as we fight mainstream media. 
My Moscow Dismissal
Legal Oversight Forces City Of Moscow To Drop Misdemeanor Charges For Alleged Pandemic Violations Against 5 People From September's Psalm Sing
https://pullmanradio.com/legal-oversight-forces-city-of-moscow-to-drop-misdemeanor-charges-for-alleged-pandemic-violations-against-5-people-from-septembers-psalm-sing/
"The city issued a press release on Friday announcing the decision to drop the charges.  City Attorney Mia Bautista dropped the cases because of an omission in the emergency order.  The order allows a default exemption for expressive and associative activity that is protected by the U.S. Constitution including free speech, assembly, and religious activity.  The city's pandemic order applies to every person in Moscow but doesn't specifically apply the order to all expressive and associative activity that is protected by the constitution.  Moscow City Council's Administrative Committee will begin reviewing recommendations on Monday to eliminate the default exemption.
City Supervisor Gary Riedner says the omission is unfortunate and has resulted in confusion.  He apologizes for the city staff's role in causing the confusion but is proud of the city attorney for discovering the omission.  Riedner says dismissing the cases is the right thing to do.
Bautista says that her decision to drop the cases does not impact the validity of the city's pandemic order for activities that aren't exempt."
Ok so this is over right? Wrong. Our city council is going to vote next Monday night to repeal the 1st amendment exemptions. 
Moscow mayor's emergency powers could see changes
https://dnews.com/coronavirus/moscow-mayor-s-emergency-powers-could-see-changes/article_8b795d29-051f-5e7c-add4-57b7a2ddb79c.html
"Activities like speech, assembly and religious activity would not be exempt from public health emergency orders under Moscow city code if the city council approves the proposed code change at next week's council meeting."
So the council is going to meet next Monday the 19th, to potentially repeal the section in the Health Emergency order that specifically protected our first amendment rights. Next, they are going to takeaway our 2nd amendment rights, then the 4th, then the 5th, and so on. Laughable.
The council believes they are above the constitution and they think their powers can trump the constitution. You cant reason with ignorance.
"City Supervisor Gary Riedner said in the release that the mayor and City Council intended the order to apply to all persons in the city, regardless of the nature of activities."
This is patently false. They wrote the Health Resolution. They past the resolution on July 2nd, extended it in August, and then on September 23rd two days before they arrested me. The wrote the resolution, they voted again and again to extend the resolution. They knew of the exemption. 
"Bautista said Monday that Moscow police officers "acted in a lawful manner" at the September City Hall event."
And another quote down the stream in the article:
"Bautista said Monday that Moscow police officers "acted in a lawful manner" at the September City Hall event."
No they did not. Here we have the city attorney acting like a spokesman for the city. This is just crazy. The cops were not enforcing the resolution correctly and they were not honoring there oaths to uphold the constitution. 
"City Supervisor Gary Riedner said in the release that the mayor and City Council intended the order to apply to all persons in the city, regardless of the nature of activities."
Again, no they did not. They wrote the resolution and extended several times before they had me arrested. Look, our country is in bad shape, and praise God for making this clear. My city council and local prosecutor are playing games and pretending ignorance. Our states do the same, and of course God just lit the federal government's hair on fire…which is kind of fun and sad to watch at the same time. So, We know the plays we need to run, and it should be clearer than ever. Find a good church, build family and provide a christian education for your kids, be an entrepreneur, and do all to the glory of God. 
North Idaho Sheriff Letter
Incoming Kootenai County Sheriff Will Not Enforce Dictates on Healthy Citizens. 
From Sheriff Robert B. Norris:
I make this commitment to you, the citizens of Kootenai County. The Kootenai County Sheriff's Office will not enforce an unenforceable law or executive mandate on its citizens. It is not law enforcement's job to get between you, your health and your doctor. Period. Enforcing criminal sanctions on otherwise law-abiding people goes against the fundamental principles of the U.S. and Idaho Constitutions.
It should be pointed out there is no provision in our Constitution that suspends people's rights during a 'declared emergency.' It is my opinion that the facts are becoming clear with Covid 19- certain risk groups should take extra precautions, but the vast majority of healthy people who contract Covid-19 will experience flu symptoms and recover from the virus..
We trust citizens to assess their own risk and take the necessary precautions based on their own risk factors. The Kootenai County Sheriff's Office (KCSO) role in our community is not to count how many people are in your home or how a private business conducts itself to make a living for the business or its employees. The Kootenai County Sheriff's Office will never interfere with religious gatherings.
I, and all members of KCSO, salute and will support the dedicated medical professionals who are on the front lines caring for those who have become seriously ill during this pandemic.
My job as Sheriff is first and foremost to secure and protect the safety and rights of our citizens. The men and women of the KCSO will continue to keep the peace and foster a strong and vibrant relationship within the community.
Sheriff 
Robert B. Norris.
#NorthIdahoNews
Post sponsored by: North Idaho News
Where the News gets their news for North Idaho.
Fight Laugh Feast Rally
It is time to take a stand. But to stand, requires courage, and courage requires repentance. What we need is reformation and revival in our churches, in our families, in our communities, in our businesses, and in our government. Every square inch needs the blood of Jesus. We need to cease this moment, where all our sins, fears, and failures have been exposed by God through this plague, and gather to sing Psalms, to feast, to get strengthened, to be encouraged, and equipped to lead America back to Jesus who is King of kings and Lord of lords.
Governor after governor instituted some sort of shutdown, ignoring your constitutional rights. There was one governor, one state, that did not buckle and join the crowd of governors driven by fear. Governor Kristi Noem has stood strong through this pandemic, and so we are bringing our first annual Fight Laugh Feast Rally to Rapid City, South Dakota April 29th, 30th, and May 1st. Join us in the land of the free, the home of the brave, as we learn to Love God, Sing Psalms, and Defy Tyrants. Go to flfnetwork.com/rally/ to sign up now!   
Club members get $100 off to this conference, which also includes $100 for your spouse/friend. So, if you have not joined the club, do so now, then email us at contact@fightlaughfeast.com for your discount codes. 
We have Steve Deace, Sheriff Daryl Wheeler, Pastor Doug Wilson, President Ben Merkle, Pastor Toby, and more. Tickets sold out at our last event in Franklin, TN, so dont wait.
Airbnb reviews reservations leading up to presidential inauguration
https://disrn.com/news/airbnb-reviews-reservations-leading-up-to-presidential-inauguration
According to Disrn.com:
"In an effort to prevent potentially violent demonstrations, Airbnb is reviewing reservations in the greater Washington, D.C., area prior to President-elect Joe Biden's inauguration.
Any individuals associated with last week's riot at the Capitol will be banned from renting through the online service. Additionally, Airbnb is expanding existing security checks for potential renters prior to the inauguration."
What caught my eye about this, is that Airbnb is going to sort through the guest that you have allowed to stay at your house, and tell you if they are acceptable guest or not. Get off big tech, pass Go, and move on.
BLM Activist Calls for 'Race Offender Register' To Bar People from Future Employment
https://www.westernjournal.com/blm-activist-calls-race-offender-register-bar-people-future-employment/?fbclid=IwAR3FTIsVIQmlkCd8DXGe68JqF4N2SB-EniMkJ2rGHqvcScBZ7vTxEH-jRGE
"Calls are being made to create a "race offender register" in which those accused of racism can be punished.
In Britain, the idea is being pushed by Sasha Johnson of the Taking the Initiative Party, which had its roots in the Black Lives Matter movement.
A similar idea has been proposed in the U.S., where a Change.org petition wants anyone convicted of a race-related crime to be punished by remaining on the registry for years.
Johnson's proposal for Britain focuses on what are known as "micro-aggressions," which can be considered as small manifestations of possible discrimination.
"It's similar to the sex offenders register," she told the Daily Mail."
So, if I voted for Trump, should I be on the list? If I say homosexuals need to repent and believe, should I be on the list? 
L.A. county public schools superintendent says students must receive COVID-19 vaccine in order to attend school
https://disrn.com/news/la-county-public-schools-superintendent-says-students-must-receive-covid-19-vaccine-when-it-is-available-to-them-in-order-to-attend-school
"Children attending Los Angeles county public schools must receive the COVID-19 vaccine when it becomes available to them or they will not be able to attend school, district Superintendent Austin Beutner said Monday.
Requiring the vaccine will be "no different than students who are vaccinated for measles or mumps," Beutner said.
He did not advocate for keeping schools closed until children can receive the vaccine, but rather said the state of California should set and explain standards for schools to reopen. Then, schools that meet the standards should be required to open.
Of the two COVID-19 vaccines currently available in the U.S., only one has been studied in children under 18. The Pfizer/BioNTech vaccine study included people 16 and older. Moderna vaccine studies only looked at COVID-19 vaccine use in adults."
Closing
This is Gabriel Rench with Crosspolitic News. Support Rowdy Christian media by joining our club at fightlaughfeast.com, downloading our App, and head to our annual Fight Laugh Feast Conference next fall. With your partnership, together we will fight outdated and compromised media, engage news and politics with the gospel, and replace lies and darkness with truth and light. Go to fightlaughfeast.com to take all these actions. Have a great day. Lord bless