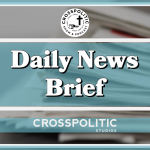 This is Toby Sumpter with your CrossPolitic Daily News Brief for Friday, January 22, 2021.
Today you will hear about the history of presidential executive orders, Diane Feinstein is nice and reasonable, Alan Dershowitz weighs in on the Senate impeachment, more Antifa violence in Portland and Seattle, and we do some inauguration poetry analysis.
Remember: If you have a news story you think we might need to cover, please send articles and links to [email protected]
Two National Events: Fight Laugh Feast Rally in Rapid City, South Dakota, April 29, 30, May 1 & the Fight Laugh Feast Conference in Nashville, TN, October 1-3. Why a rally in South Dakota in April? Because we want to stand with Kristi Noem – the only Governor in the Union to not overstep her authority. And we also want to encourage you wherever you are. Many churches are not meeting, many Christians feel all alone. But you're not alone. So the theme of the Rally in South Dakota is Love God, Sing Psalms, Defy Tyrants. Gather with likeminded Christians who love freedom, confess Jesus Christ is Lord, and be equipped to stand firm in these insane days. Go to FLFNetwork.com forward slash rally. 
Calling for Unity, Biden Orders Girls to Suck it Up When Boys Use Their Bathrooms and Compete Against Them in Sports
https://www.dailysignal.com/2021/01/21/after-inaugural-rhetoric-on-unity-biden-signs-divisive-transgender-executive-order/
In one of Biden's first executive orders, he has mandated the tranny agenda:
Ryan Anderson explains: "Boys who identify as girls must be allowed to compete in the girls' athletic competitions, men who identify as women must be allowed in women-only spaces, health care plans must pay for gender transition procedures, and doctors and hospitals must perform them."
This is basically the unity of rape – which is no unity at all. You can call it unity all day long, but what you are demanding is submission. Which just goes to show that leadership and submission are inescapable concepts. The only question is who is leading and by what standard and who is submitting and by what standard. Now would be a good time for states, counties, and athletic associations to inform President Biden that they will be pursuing unity with his executive order by shredding it and ignoring it entirely.  
Executive Orders by President
https://www.presidency.ucsb.edu/statistics/data/executive-orders
Diane Feinstein Forgets Its 2021
https://www.breitbart.com/politics/2021/01/20/dianne-feinstein-defends-ted-cruz-josh-hawley-over-electoral-college-objections/
The California Democrat was asked Tuesday about Republicans who objected to the Electoral College results that Congress certified early Jan. 7, after a pro-Trump insurrection that resulted in five deaths had been cleared from the Capitol. Republican Sens. Ted Cruz of Texas and Josh Hawley of Missouri led the objections to President-elect Joe Biden's victory even after members of Congress were forced to hide from the rioters, and have faced calls for censure or punishment as a result.
Feinstein, however, defended their right to object, calling Senate debate the "highest-level dialogue" in democracy.
"I think the Senate is a place of freedom," Feinstein told reporters at the Capitol. "And people come here to speak their piece, and they do, and they provide a kind of leadership. In some cases, it's positive, in some cases, maybe not. A lot of that depends on who's looking and what party they are. But it's an important place to have this kind of dialogue. It's probably the highest-level dialogue that you get in an electoral body."
Senate Minority Leader Chuck Schumer (D-NY) — who will soon take over as Majority Leader — recently pushed Feinstein out of her leadership position on the Senate Judiciary Committee after she was perceived as having been too civil toward Supreme Court Justice Amy Coney Barrett and toward Republican colleagues on the committee.
Alan Dershowitz Says Trump Can't Be Impeached as a Private Citizen
https://www.wsj.com/articles/no-you-cant-try-an-impeached-former-president-11611167113?mod=hp_opin_pos_2
Now that Donald Trump is a private citizen, the Senate should dismiss the article of impeachment against him for lack of jurisdiction. The Constitution is clear: "The president . . . shall be removed from office on impeachment . . . and conviction"—not by the expiration of his term before the impeachment process is complete. It also mandates that "judgment in cases of impeachment shall not extend further than to removal and disqualification"—not or disqualification.
When the Constitution was written, several states allowed impeachment of former officials. The Framers could easily have included that provision, but they didn't. They also explicitly chose to prohibit the British practice of trial by legislature—excepting only impeachment—and "bill of attainder," any punitive legislative act against a specific person. The courts have held that the punishments prohibited by the Bill of Attainder Clause include disqualification from holding office. Moreover, the Constitution requires the chief justice to preside "when the president of the United States is tried."
No former official has ever been convicted by the Senate, and only one has been impeached. Secretary of War William W. Belknap was indisputably guilty of numerous impeachable offences, to which he confessed as he resigned his office hours before the House unanimously impeached him in 1876. The Senate voted in favor of a procedural motion affirming its jurisdiction to try Belknap's impeachment. But two dozen senators who believed he was guilty voted to acquit on jurisdictional grounds. A close vote nearly a century and a half ago doesn't establish a binding precedent."
Share Plug
Is CrossPolitic a blessing to you? Is it like a bracing shot of your favorite Torani syrup? Is it like your favorite cactus that you just want to cuddle – but you're just not sure it's safe? Is CrossPolitic like your crazy uncle that's usually right, but hasn't showered since Y2K? Welcome to what we call rowdy Christian media. One of the most significant ways you can help us (and we need a LOT of help!) is by sharing this news brief or your favorite show with someone you think would appreciate it. Tell someone about the Fight Laugh Feast App. And last of all, become a Fight Laugh Feast Club Member. We want to grow the Fight Laugh Feast Network into a full blown News and Entertainment Network, coming at you with truth, goodness, and beauty (and Torani syrup) 24/7. Thanks to all of you who have already shared our content and become club members. 
Antifa Riots in Seattle and Portland Upon Biden's Inauguration https://www.koin.com/news/protests/inauguration-protests-portland-01202021/

PORTLAND, Ore. (KOIN) — Crowds of people across Portland turned violent on Inauguration Day, smashing windows at the Democratic Party of Oregon and later targeting the Immigrations and Customs Enforcement facility where federal officers declared an unlawful assembly. 
A crowd of around 150 people gathered at Revolution Hall in Southeast Portland around 2 p.m. Less than an hour later, a few officers on bicycles rode into the parking lot and were quickly surrounded by dozens of people, Portland Police said. The group took one officer's bicycle. More officers arrived and they got the bicycle back but the crowd wouldn't let the officers leave. Police said reinforcements came and they seized some long poles and a large knife from people in the crowd before setting off a smoke canister to escape. 
The protesters then began marching down SE Stark Street. They eventually reached the Democratic Party of Oregon's headquarters on NE 9th Ave where they smashed windows and left graffiti. Some dragged dumpsters into the street and lit their contents on fire. 
Similar riots broke out in Seattle. 
As Jason Rantz pointed out, "Though Antifa activists used Twitter and Facebook (but not Parler) to openly plan their non-violent block parties, sharing flyers detailing their peaceful plans to burn property, some locals and news outlets were caught off guard by the sheer love and sunshine the groups provided the Pacific Northwest."
A Little Inaugural Poetry Criticism
https://spectator.us/book-and-art/amanda-gorman-inauguration-let-down-terrible-poem/
Amanda Gorman, 22, the youngest ever poet to recite at a presidential inauguration was full of poise and style, and all the pundits from Michelle Obama to Oprah lavished their praise, but Melanie McDonagh writes at the Spectator: the trouble was the actual poem. 
"Amanda was given the theme of America United. 'The Hill We Climb' is the result. Without pretending to be in the F.R. and Queenie Leavis league when it comes to literary sensibility, I couldn't make sense of it. I mean, I got bits of it, I got the sentiment, I got the stream of consciousness, the emotion, I got the sub-Martin Luther King flow. But trying to make the whole thing cohere, structurally and grammatically — and in terms of sense — was another matter.
I may be wrong, of course, and willfully dim. God knows I get things wrong myself. Maybe this is how poetry works now. But let me show you a little of what I mean. Here's the text, with a few comments interspersed:
'When day comes, we ask ourselves, where can we find light in this never-ending shade?
The loss we carry. A sea we must wade.
(How does 'The loss we carry. A sea we must wade' follow from the first line about finding light, unless it's simply to make 'wade' rhyme with 'shade'?)
We braved the belly of the beast.
(Eh?)
We've learned that quiet isn't always peace, and the norms and notions of what 'just' is isn't always justice.
And yet the dawn is ours before we knew it.
Somehow we do it.
Somehow we weathered and witnessed a nation that isn't broken, but simply unfinished.
(Alliteration — 'weathered and witnessed' — doesn't mean the two verbs make sense or work together.)
We, the successors of a country and a time where a skinny Black girl descended from slaves and raised by a single mother can dream of becoming president, only to find herself reciting for one.
(This is a weird sentence. You get the gist, of course. But where does the 'We' that begins the line go in search of a verb? If the sentence began with 'a skinny black girl…can dream of becoming president, only to find herself…' it could sort of work. But following on from the 'We, the successors…' it doesn't. Sorry.)
Of course what McDonagh is assuming here in her comments and questions is a standard. She's assuming that some words and phrases really do communicate better than others, that some arrangements of words are more beautiful than others. While I agree with McDonagh entirely, I'm afraid most folks will take her for a racist old dinosaur, and unfortunately, many in the church don't even know what she's talking about. Long ago we let poetic drivel into our worship services, under the veneer of rock bands and lisping, teary-eyed worship leaders. We taught the world that truth and beauty are not objective, and that sentimentality covers a multitude of poetic sins. If you can make people feel a certain way, it justifies all kinds of cringe and cliché. 
Psalm of the Day: Psalm 42
https://www.christkirk.com/music/as-the-hart-psalm-42/
O my soul, why are you grieving? 
Why disquieted in me?
Hope in God your faith retrieving,
He will still your refuge be.
I again shall laud His grace,
For the comfort of His face
He will show His help and favor
For His is my God and Savior.
Now that's poetry, and it's not just sentiment. It's truth married to goodness, but it isn't emotion-less – it's fully human, fully embedded in human experience. But it's sentiment disciplined – it's emotions discipled by poetic form, by the limits of language, but still expressive, still raw, still honest. And this is why we need the Psalms. We need to learn to pray like this, and we need to learn to express like this. We need truth, goodness, and beauty bound together. We need courage and joy and history. We need Christ, who teaches us how to hold these things together. 
This is Toby Sumpter with Crosspolitic News. You can find this and all of our shows at Crosspolitic.com or on our app, which you can download at your favorite app store, just search "Fight Laugh Feast". Support Rowdy Christian media, and become a Fight Laugh Feast Club Member and get your very own Fight Laugh Feast t-shirt and access to all the talks at our first annual Fight Laugh Feast Conference as well as many exclusive behind the scenes interviews as well as our very own Worldview Shotgun Series. We still have a few Fight Laugh Feast tumblers left for club members at 25$ a month or more. Go to FightLaughFeast.com. Have a great day.