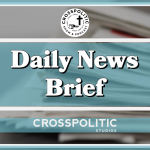 This is Toby Sumpter with your CrossPolitic Daily News Brief for Tuesday, January 26, 2021.
Today you will hear about two men who have died and met their Maker, Rand Paul wrangles with George Stephanopolous, churches are defying court orders, and MSNBC invokes the high authority of Nicki Minaj?
Remember: If you have a news story you think we might need to cover, please send articles and links to [email protected]. 
Two National Events: Fight Laugh Feast Rally in Rapid City, South Dakota, April 29, 30, May 1 & the Fight Laugh Feast Conference in Nashville, TN, October 1-3. Why a rally in South Dakota in April? Because we want to stand with Kristi Noem – the only Governor in the Union to not overstep her authority. And we also want to encourage you wherever you are. Many churches are not meeting, many Christians feel all alone. But you're not alone. So the theme of the Rally in South Dakota is Love God, Sing Psalms, Defy Tyrants. Gather with likeminded Christians who love freedom, confess Jesus Christ is Lord, and be equipped to stand firm in these insane days. Go to flfnetwork dot com forward slash rally. 
Hall of Fame Baseball Legend Hank Aaron Died Last Friday, He Was 86
https://youtu.be/QjqYThEVoSQ
Hank Aaron finished his career with 755 homeruns and over 2297 RBIs. Aaron played in the majors for 23 years from 1954 to 1976. He played for the Milwaukee and Atlanta Braves and finished his career with the Milwaukee Brewers. He lost the homerun title to Barry Bonds, he still holds the RBI record. 
Vin Scully Called Hank Aaron's 715th Home Run on April 8th, 1974
And we assume that Mr. Aaron said some similar words as he passed into his reward this last week. Thank God it's all over with. 
Larry King Has Died at 87
Larry King, the Brooklyn-bred man who became cable TV's most well-known talk show host, died Saturday. He was 87.
"For 63 years and across the platforms of radio, television and digital media, Larry's many thousands of interviews, awards, and global acclaim stand as a testament to his unique and lasting talent as a broadcaster," the company said.
Over the course of more than five decades in radio and TV broadcasting, half of it spent hosting CNN's "Larry King Live," and by his count, he interviewed more than 60,000 subjects, and when his run on cable ended in 2010, he segued to the internet with "Larry King Now," a daily talk show on Hulu from Ora TV, and became an active presence on Twitter. 
Along with his trademark suspenders, King was known for his live interviews and viewer call-in segments. He never seemed to run out of questions.
"I don't even understand it myself," he told Toronto's Globe & Mail in 2003. "It's incessant with me. Who, what, where, when, why, never leaves me. I'm just insatiably curious, which helps in my job. I'm the kind of person you don't want to sit next to on an airplane. I'll drive you nuts!"
He was married 8 times to 7 women – apparently he drove them nuts too. 
Here he is interviewing Billy Graham in 1988:
https://www.youtube.com/watch?v=wMUhnCJln1A
Signs Off for the Last Time
https://www.youtube.com/watch?v=MePOhOIVozk&feature=youtu.be
So long, Larry, and I pray that you met Christ before the end. 
Rand Paul Refuses to Cow to George Stephanopoulos on Election Fraud
https://thefederalist.com/2021/01/24/watch-rand-paul-take-on-george-stephanopoulos-over-election-integrity-and-voter-fraud/?fbclid=IwAR11fZuDjKlEbAbSUIiFmf2WhivkaR7kMXzB2vS3LSC7AemV6whgmWe2TYs
Speaking of not being cowed: Keep Praying Faithful Churches & Pastors
https://www.ktvu.com/news/calvary-chapel-pastors-appear-in-contempt-of-court-case
SAN JOSE, Calif. – A South Bay church that's repeatedly defied a county health order barring indoor gatherings was back in court on Thursday.
Calvary Chapel San Jose has racked up over $1 million in fines as the county tries to force the place of worship to comply with the health order.
"We know that this is a battle that's going to be won in prayer," said Carson Atherley, a youth pastor at Calvary Chapel San Jose.
Atherley and senior pastor Mike McClure took the stand Thursday in the contempt case brought against them for continuing to hold indoor church services despite a Santa Clara County health order that prohibits the gatherings to help stop the spread of COVID-19.
"We understand that the coronavirus is real. We understand that people need to be cautious, especially if you're older than 70. But we have a First Amendment right in this country to gather together, to meet in person, the right to assemble," said Robert Tyler, the attorney representing Calvary Chapel San Jose.
Also, Keep Pastor Reaume & Trinity Bible Chapel in Ontario in Your Prayers
CrossPolitic has heard from members of the church that went back to in-person worship this last Sunday in defiance of court orders. 
Share Plug
Is CrossPolitic a blessing to you? One of the most significant ways you can help us (and we need a LOT of help!) is by sharing this news brief or your favorite show with someone you think would appreciate it. Tell someone about the Fight Laugh Feast App. And last of all, become a Fight Laugh Feast Club Member. We are building a platform that Lord-willing cannot be cancelled by big media. And your support is helping to make that possible. Thanks to all of you who have already shared our content and become club members. 
If You Want to Read a Long Form Thoughtful Post-Mortem on Trump & 2020, Try Angelo Codevilla in American Greatness
https://amgreatness.com/2021/01/19/clarity-in-trumps-wake/
The COVID-19 virus is no plague. Though quite contagious, its infection/fatality rate (IFR), about 0.01 percent, is that of the average flu, and its effects are generally so mild that most whom it infects never know it. 
Like all infections, it is deadly to those weakened severely by other causes. It did not transform American life by killing people, but by the fears about it that our oligarchy packaged and purveyed… 
[For example] … Pyramiding such soft numbers, mathematical modelers projected millions of deaths. Scary for the unwary, but pure fantasy.
For example, the U.S. Institute for Health Metrics and Evaluation (IHME), which modeled the authoritative predictions on which the U.S. lockdowns were based, also predicted COVID-19 deaths for Sweden, which did not lock down. On May 3, the IHME predicted that Sweden would suffer 2,800 COVID deaths a day within the next two weeks. The actual number was 38. Reporting on COVID has never ceased to consist of numbers as scary as they are soft…
Having seized powers, the oligarchs used them as weapons to disrupt and disaggregate the parts of American society they could not control.

But only President Trump's complaisance made this possible. His message to the American people had been not to panic, be mindful of the scientific facts—you can't stop it, and it's not that bad—while mitigating its effects on vulnerable populations. But on March 15, Trump bent, and agreed to counsel people to suspend normal life for two weeks to "slow the spread," so that hospitals would not be overwhelmed. Two weeks later, the New York Times crowed that Trump, having been told "hundreds of thousands of Americans could face death if the country reopened too soon," had been stampeded into "abandoning his goal of reopening the country by Easter." He agreed to support the "experts'" definition of what "soon" might mean. By accrediting the complex of government, industry, and media's good faith and expertise, Trump validated their plans to use COVID as a vehicle for enhancing their power.
Meanwhile, Speaking of Grasping for Power… An MSNBC Host Speaking of the Senate's Duty to Impeach Trump, invokes none other than… Nikki Minaj…?
https://twitter.com/SaraGonzalesTX/status/1353339683615502336?s=20
https://www.youtube.com/watch?v=v96bG-P2MjQ
I get what I desire, it's my empire
And yes, I call the shots, I am the umpire
I sprinkle holy water, upon a vampire
In this very moment, I'm king
In this very moment, I slayed Goliath with a sling
This very moment I bring
Put it on everything, that I will retire with the ring
And I will retire with the crown, yes
Here's the facts: It is not whether you will have poets, the question is which poets will you have? Will you have Nicki Minaj with her sewer rhymes and vain repetitions, or will we have the Word of God, the poetry of God, and the hymns and psalms of the saints? Martin Luther said to sing anything was to say it twice, and perhaps poetry is the same. Good poetry assumes the truth, assumes the sharp edges of God's good world. But when you throw truth out the window, all that is left is grasping for crowns and rings and power. 
Some of you might remember that at one of our local Psalm Sing protests this last fall, a counter protestor was blaring loud rap music – and it was none other than… yep, you guessed it, Nicki Minaj. 
https://www.youtube.com/watch?v=Xf5hEwgBsuU
So this is the problem with our nation. It isn't fundamentally that we kill our own babies – though that is certainly wicked. It is not our mass sexual confusion and perversion – and that is also horrific and shameful. But it is the fact that we will not sing our Great Redeemer's praise. Songs will be sung. Poetry will be on our lips. The question is will it be potent poetry and drivel? 
Psalm of the Day: Psalm 119
https://www.christkirk.com/music/thee-let-cry-come-near-psalm-119/
your Father. 
Oh, let thine ordinances help
My soul shall live and praise Thee yet.
A straying sheep, Thy servant, seek,
For Thy commands I ne'er forget.
Let this be your prayer today, that God would not let you forget His commands, that you would be obedient today. You can find audio and video recordings and sheet music for this psalm at Christkirk. Com/music

This is Toby Sumpter with CrossPolitic News. You can find this and all of our shows at Crosspolitic.com or on our app, which you can download at your favorite app store, just search "Fight Laugh Feast". Support Rowdy Christian media, and become a Fight Laugh Feast Club Member and get your very own Fight Laugh Feast t-shirt and access to all the talks at our first annual Fight Laugh Feast Conference as well as many exclusive behind the scenes interviews as well as our very own Worldview Shotgun Series. We still have a few Fight Laugh Feast tumblers left for club members at 25$ a month or more. Go to FightLaughFeast.com. Have a great day.