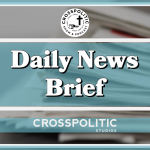 Americans' trust of the media is absolutely in the gutter
https://notthebee.com/article/americans-trust-of-the-media-is-completely-in-the-gutter-and-boy-you-just-hate-to-see-it
And the Bee notes about the Gallup research:
"when political differences are accounted for, the results diverge sharply along party lines: Just 11% of Republicans trust the media, while 68% of Democrats do. But even the Democratic numbers have declined notably in recent years, as have those of Independents."
I can't help but to insert Club plug here. This is sort of self serving, but I cannot think of a better way to fight mainstream media, than by first joining a solid bible believing church, and secondly joining our club. Our goal here, and I hope we are doing a pretty good job of this, is to proclaim the Lordship of Christ over politics, produce quality news and commentary that you can trust, and build a network that surpass unprincipled legacy media like Fox News. So, go to FightLaughFeast.com to sign up and support our efforts.
Texas governor bans Covid-19 vaccine mandates by any employer in state
https://apple.news/AbFpB3TM-RoeortH-jmAnHA
Texas Gov. Greg Abbott on Monday issued an executive order banning all state entities, including private employers, from enforcing vaccine mandates, the latest escalation in the Republican's resistance to public health measures during the Covid-19 pandemic.
The order states that "no entity in Texas" can enforce vaccination against anyone in the state who objects "for any reason of personal conscience, based on a religious belief, or for medical reasons, including prior recovery from COVID-19," according to a news release from the governor's office.
"The COVID-19 vaccine is safe, effective, and our best defense against the virus, but should remain voluntary and never forced," Abbott said in a statement.
Abbott also called on the Texas state Legislature to pass a law with the same effect. The executive order would be rescinded upon the passage of such legislation, the governor's office said.
Southwest, American among Texas businesses defying Abbott to comply with federal vaccine mandate
https://www.statesman.com/story/business/2021/10/12/southwest-american-plan-ignore-abbott-comply-vaccine-mandate/8423456002/
Now according to the Satesman, there is a battle of the gods, and it looks like the federal god won:
"Two of the national's largest airlines — Southwest Airlines and American Airlines — both based in Texas, said Tuesday they plan to follow looming federal guidelines and require that their employees are vaccinated against COVID-19, despite an order from Gov. Greg Abbott that attempts to block such mandates.
Dallas-based Southwest Airlines last week ordered all of its estimated 55,000 employees to be vaccinated against COVID 19 by Dec. 8. That folowed a directive from President Joe Biden, who in September said all private companies with more than 100 workers must require employees to be vaccinated or conduct weekly tests for the coronavirus.
Southwest said in a written statement Tuesday that the president's executive order "supersedes any state mandate or law," saying the company is required to adhere to it despite Abbott's action "to remain compliant as a federal contractor.""
But listen to this. In the same article:
"Amber Gunst, CEO of the Austin Technology Council, said most companies in Texas are unlikely to follow the governor's mandate. Employers don't have the option to defy OSHA standards, both for legal reasons and for insurance-related concerns, she said.
"When the federal government comes in with OSHA and they say, 'this is what we need to do in order to keep employees safe,' companies have to follow those rules in order to be in compliance with OSHA, so I don't really feel that most companies are going to look at the mandate that the governor created and want to adhere to that," Gunst said. "Companies don't have an option to choose to not be in compliance with OSHA. They will have a very strict, and steep price to pay if they're not in compliance with OSHA."
Gunst said she thinks most companies will see Abbott's order "as a nuisance that the governor has created."
The question is a nuisance to who? Who is being the nuisance? Who is forcing people to vax?
The Wallstree Journal captures this gem:
https://www.wsj.com/articles/covid-19-vaccine-mandate-fight-between-texas-and-biden-has-companies-caught-in-the-middle-11634073605
"The Greater Houston Partnership, which represents some 900 companies including Exxon Mobil Corp., JPMorgan Chase & Co., Chevron Corp. and Accenture PLC, said Tuesday that Mr. Abbott's order would make it more difficult for Texas businesses to operate safely. The organization has been generally supportive of Mr. Biden's efforts to require vaccines for large employers."
Texas companies are showing more loyalty to the federal government, than to their state. We be tripp'n.
Joe Biden's Vaccine Mandate Doesn't Exist. It's Just A Press Release
https://thefederalist.com/2021/10/07/joe-bidens-vaccine-mandate-doesnt-exist-its-just-a-press-release/?s=04#.YV9Ab7sLmEY.twitter
According to Joy Pullmann over at The Federalist:
"Yes, we've heard all about Joe Biden's alleged vaccine mandate for private companies employing 100 or more people. It was all over the news even before he announced it on September 9. His announcement has jeopardized the employment of millions of Americans and increased worker shortages in critical domains such as health care.
There's only one problem. It's all a mirage. Biden's so-called vaccine mandate doesn't exist — at least, not yet. So far, all we have is his press conference and other such made-for-media huff-puffing. No such rule even claiming to be legally binding has been issued yet.
That's why nearly two dozen Republican attorneys general who have publicly voiced their opposition to the clearly unconstitutional and illegal mandate haven't yet filed suit against it, the Office of the Indiana Attorney General confirmed for me. There is no mandate to haul into court. And that may be part of the plan.
According to several sources, so far it appears no such mandate has been sent to the White House's Office of Information and Regulatory Affairs yet for approval. The White House, the Occupational Safety and Health Administration (OSHA), and the Department of Labor haven't released any official guidance for the alleged mandate. There is no executive order. There's nothing but press statements.
Despite what you may have been falsely led to believe by the media fantasy projection machine, press statements have exactly zero legal authority.
To impose the public perception of a mandate, the Biden administration is following an unusual rule-making process it also employed earlier this year, called an emergency temporary standard (ETS). The spring ETS rule took nearly six months to issue. Meanwhile, companies are telling reporters their vaccine mandates will have at the latest December deadlines. (For those who can't calendar, that's four months after Biden's non-existent mandate was proclaimed. According to OSHA, an ETS takes up to six months to go into effect after the initial mandate is issued in the Federal Register — which, again, for the proclaimed 100-employee mandate hasn't happened yet.)
Lawyers for big business were blunt about their love for this mandate mirage: "Everybody loves this cover," Minneapolis employment lawyer Kate Bischoff told Bloomberg Law in September. "Many were already looking down the road at doing this, but the fact that they get to blame Biden is like manna from heaven."
Using the ETS procedure instead of normal federal rule-making processes both allows the Biden administration to push its demands faster and without any public input or requirement of responding to public input, which is normally required of even legally laughable federal rule-making like this one would be. That is part of why ETS rules have been overwhelmingly overturned in courts.
Earlier this week, the Wall Street Journal published a letter from Bruce Atkinson making several excellent observations about the nonexistent mandate, including the following:"
"The mandate's nonexistence shields the Biden administration from legal challenges that may ultimately restrict the Occupational Safety and Health Administration's authority. Yet the mandate is still effective at compelling industries and companies into compliance, as it leaves room for any eventual issuance to target noncompliant entities. This implied cudgel is particularly effective on industries and companies that are dependent on federal spending or the goodwill of federal regulators. The nonexistent mandate also allows so-inclined state and local governments and companies to issue their own mandates, seemingly in lockstep with Washington.
The Biden White House has been well-served by presenting a nonexistent mandate as a done deal."
Guitar AD
Have you always wanted to play guitar but didn't know where to start? Learning to play the guitar can be a lonely, confusing and expensive experience. But it doesn't have to be that way. Fight Laugh Feast member David Harsh has created a unique, online monthly membership, that has community, a clear success path, and it's super affordable. David has spent decades of touring, leading worship, and teaching guitar. He's helped thousands of guitar players discover their potential. You may have heard us talk about GuitarSuccess4U. Here's an update. Several of our listeners have joined this membership, and they are having a blast! Maybe it's time for you to hop on board! When you join this membership, you can learn at your own pace, from home, alongside a community of guitarists including worship leaders, hobbyists, retirees, stay-at-home moms and more. Through video lessons, worksheets, and weekly Zoom calls, David will take you step-by-step towards becoming the musician you were made to be.
GuitarSuccess4U is only $29 a month – that's less than a dollar a day, and a fraction of the cost of guitar lessons. Learn more and join now at GuitarSuccess4U.com. That's "Guitar Success," the number "4" and the letter "U," dot com. Join today and get 5 instant bonuses to help accelerate your progress! Head on over to GuitarSuccess4U.com to start your guitar journey. That's Guitar Success, the number "4" and the letter "U," dot com.
A record 4.3 million workers quit their jobs in August, led by food and retail industries
https://www.cnbc.com/2021/10/12/a-record-4point3-million-workers-quit-their-jobs-in-august-led-by-food-and-retail-industries.html
According to CNBC:
"Workers left their jobs at a record pace in August, with bar and restaurant employees as well as retail staff quitting in droves, the Labor Department reported Tuesday.
Quits hit a new series high going back to December 2000, as 4.3 million workers left their jobs. The quits rate rose to 2.9%, an increase of 242,000 from the previous month, which saw a rate of 2.7%, according to the department's Job Openings and Labor Turnover Survey. The rate, which is measured against total employment, is the highest in a data series that goes back to December 2000.
Quits have been seen historically as a level of confidence from workers who feel they are secure in finding employment elsewhere, though labor dynamics have changed during Covid-19 crisis. Workers have left their jobs because of health concerns and child care issues unique to the pandemic's circumstances.
A total of 892,000 workers in the food service and accommodation industries left their jobs, while 721,000 retail workers departed along with 534,000 in health care and social assistance.
"As job openings and hires fell in August, the quits rate hit a new series high, surging along with the rise in Covid cases and likely growing concerns about working in the continuing pandemic," said Elise Gould, senior economist at the Economic Policy Institute."
Now two questions for me arise out of this information. Why are these people quitting, and where are they going?
I could not dig up the answer for where these quitters went, and the best answer I could dig up for why they are quitting coming from the Business, Insider where they speculate:
https://www.businessinsider.com/over-4-million-workers-quit-record-labor-shortage-great-resignation-2021-10
"Workers are likely quitting over work conditions, pay, the virus, or contemplation of their lives."
Bottom line is the government has created a catawampus economy, and screws up all the incentives, this makes it hard to understand what is really going on here.
Pelosi signals big spending package will shrink to $2 trillion
https://www.washingtonexaminer.com/news/congress/pelosi-signals-2-trillion-spending-bill
Facing intractable opposition from party centrists, House Speaker Nancy Pelosi said Democrats will have to "make tighter decisions" on a massive social welfare spending package that is stalled in Congress.
Pelosi, a California Democrat, acknowledged in a press conference Tuesday that the $3.5 trillion package planned by Democrats will have to shrink to about $2 trillion, telling reporters, "The fact is there are fewer dollars to spend, there are choices to be made, and the members have said let's get the results we need, but we will not diminish the transformative nature of what it is."
Pelosi, in a memo to Democrats late Monday, told them caucus members are calling for a spending package that will "do fewer things well so that we can still have a transformative impact on families in the workplace and responsibly address the climate crisis."
Pelosi and Senate Majority Leader Chuck Schumer, a New York Democrat, set an Oct. 31 deadline to advance the package.
Tight race in Virginia gubernatorial showdown with three weeks until election
https://www.foxnews.com/politics/virginia-gubernatorial-showdown-three-weeks-until-election
Tuesday marks three weeks to go until Election Day in Virginia, and the top-of-the- ticket race remains an extremely close contest in one of just two states to hold gubernatorial elections in the year after a presidential contest.
An average of the latest polls in the race indicates that former Democratic Gov. Terry McAuliffe – who's running for his old job – holds a slight, single-digit edge over Republican nominee Glenn Youngkin in a state that President Biden won by 10 points in last year's election and where Republicans haven't won a statewide contest in a dozen years.
The margin-of-error race in Virginia – a one-time key battleground but still competitive state which is seen as a key bellwether ahead of the 2022 midterm elections – has national Democrats on edge as they defend their razor-thin majorities in the House of Representatives and Senate in next year's contests.
"Folks, the Virginia Governor's race is a big deal not just for the Commonwealth but for our country," Biden wrote to supporters in a fundraising email. And McAuliffe asked in a fundraising email last week, "Are we blowing this?"
Virginia and New Jersey's elections for governor always grab outsized attention as they're the only states to hold such contests the year after the presidency's decided. And there's a long-running trend of voters in the commonwealth defeating the gubernatorial nominee of the party that controls the White House. McAuliffe broke with that tradition in 2013 with his election as governor. McAuliffe was unable to run for reelection in 2017 because Virginia governors are barred from serving two straight terms.
And the McAuliffe campaign announced on Tuesday that the biggest name of all – former President Obama – will team up with the former governor on Oct. 23.
Closing
This is Gabriel Rench with Crosspolitic News. Support Rowdy Christian media by joining our club at fightlaughfeast.com, downloading our App, and head to our annual Fight Laugh Feast Conference next fall. With your partnership, together we will fight outdated and compromised media, engage news and politics with the gospel, and replace lies and darkness with truth and light. Go to fightlaughfeast.com to take all these actions. Have a great day. Lord bless