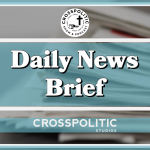 This is Toby Sumpter with your CrossPolitic Daily News Brief for Thursday, May 28, 2020.
Romans 13, Trump, California, and the Supreme Court
https://thehill.com/regulation/court-battles/499484-california-church-going-to-supreme-court-on-in-person-restrictions
Rebecca Klar from The Hill reports: "A church in California is petitioning the Supreme Court to block California Gov. Gavin Newsom's (D) order restricting in-person services amid the coronavirus pandemic. 
The South Bay Pentecostal Church, represented by the conservative law firm Thomas More Society, filed an initial petition over the weekend arguing that the restrictions are a "blatant violation" of the First Amendment.   
"These most essential liberties and fundamental freedoms are prescribed at the very outset of our Bill of Rights. California's four stage Reopening Plan permits manufacturing, warehousing, retail, offices, seated dining at restaurants, and schools to reopen, but bans places of worship from holding church services," Tom Brejcha, president and chief counsel of the Thomas More Society, said in a statement.
"On its face this plan is a blatant violation of the Free Exercise Clause of our First Amendment," he added. 
In a 2-1 decision last week, California's 9th Circuit Court of Appeals found in Newsom's favor against the South Bay United Pentecostal Church. 
Churches in California were ordered to shut when Newsom issued a stay-at-home order on March 19.
On Monday, the governor announced guidelines allowing churches to reopen for in-person services, at 25 percent capacity, with approval from county public health officials, but the Bay Area has yet to lift restrictions on people meeting for worship services. 
A lawyer for the Thomas More Society reportedly said its challenge to the Supreme Court would be amended but go forward. 
"Based on a quick review of the California guidelines for a variety of industries, from food packing to manufacturing to indoor shopping centers, none have anywhere as strict a set of capacity controls as have been put on churches," Peter Breen, vice president and senior counsel of the Thomas More Society, told CNN Monday night. "The next closest appears to be shopping centers, at 50% of capacity."
President Trump last week ordered governors to allow houses of worship to open immediately and warned that he would override them if they did not do so.
And just a quick note on this: submission to the civil government in constitutional republic like America means submitting to the form of government we have as much as it means showing honor and deference to the civil servants we have elected. This means that Christians, taking Romans 13 seriously, must protest injustice and evil and plead with their magistrates to do justice. In Ephesians 5, Paul tells wives to submit to their own husbands in the Lord, as the church does to Christ in everything. Does this mean that the Church never pleads with Christ? Does this mean that the Church never appeals to Christ to deliver us, to do justice, to act? Of course not. The book of Psalms is an inspired book of prayers, an inspired script you might say for the Church to submissively appeal to Christ. Therefore, Christian wives may respectfully follow that example. Many Psalms are songs of praise and honor, but some of them ask: Why do you stand so far off O God? Christian submission means appealing for justice, and therefore, Romans 13 includes Christians appealing to magistrates for redress of injustices. 
Fight Laugh Feast Conference in Nashville October 1-3
Before we getting to the next story, I want to invite you to sign up for our first annual Fight Laugh Feast Conference in Nashville October 1st through 3rd. Rowdy Christian media meets the conference world, and we think the impact will be punchy and peachy. And provocative. Also, we will kick the whole thing off with beer and psalm singing the first night, followed by a slate of speakers committed to driving the nails of the gospel into your every day life including Douglas Wilson, George Grant, Glenn Sunshine, your truly, and more. The conference will conclude a massive Fight Laugh Feast Network mashup, with representatives from all your favorite shows all on one show, fighting, laughing, and feasting. And then we really will feast together, with food trucks bringing in dinner to close out the conference. So please join us this October 1st through the 3rd as we build a rowdy Christian culture for God's glory and our good. Go to Fightlaughfeast dot com and register today.

Elon Musk's Space X Launch 
https://www.spacex.com/launches/
SpaceX was scheduled for a Wednesday, May 27 launch for Falcon 9's launch of Crew Dragon's second demonstration (Demo-2) mission from Launch Complex 39A (LC-39A) at NASA's Kennedy Space Center in Florida. This test flight with NASA astronauts Bob Behnken and Doug Hurley on board the Dragon spacecraft will return human spaceflight to the United States. This is the first time Americans have flown to space on American vehicles since 2011.
The Dragon spacecraft is capable of carrying up to 7 passengers to and from Earth orbit, and beyond. It is the only spacecraft currently flying that is capable of returning significant amounts of cargo to Earth, and promises to become the first private spacecraft to take humans to the space station. The capsule is 26.7 feet tall and 13 feet in diameter. It boasts 328 cubic feet for passengers with an additional 1300 cubic feet in the trunk. 
The launch window was originally scheduled for 4:33 p.m. Eastern Time on Wednesday, but the launch was scrubbed due to unfavorable weather in the flight path. Space X reported that the next launch opportunity is available on Saturday, May 30 at 3:22 p.m. EDT, and there is a further back up opportunity on Sunday, May 31 at 3:00 p.m. EDT. Live coverage of the launch will be available online.
Demo-2 is the final major test for SpaceX's human spaceflight system to be certified by NASA for operational crew missions to and from the International Space Station. SpaceX is returning human spaceflight to the United States with one of the safest, most advanced systems ever built, and NASA's Commercial Crew Program is a turning point for America's future in space exploration. Space X says that these missions are laying the groundwork for future missions to the Moon, Mars, and beyond.
US Declares Hong Kong No Longer Autonomous
https://www.wsj.com/articles/u-s-officially-declares-that-hong-kong-is-no-longer-autonomous-11590596133?mod=hp_lead_pos6
Jessica Donati from the Wallstreet Journal reports: The US State Department has officially determined that Hong Kong is no longer autonomous from China, Secretary of State Mike Pompeo said in a statement Wednesday that holds implications for the future of economic ties and could lead to sanctions against China. 
The State Department is required by the Hong Kong Policy Act to assess the autonomy of the territory from China. It certified to Congress on Thursday that Hong Kong is no longer autonomous. 
"This decision gives me no pleasure. But sound policy-making requires a recognition of reality," Mr. Pompeo said in the statement. "It is now clear that China is modeling Hong Kong after itself."
U.S. endorsement of Hong Kong's special status has served as a seal of approval of the city's role as a global financial center with Western-style rule of law. The new assessment is likely to diminish confidence among U.S. and other foreign businesses in Hong Kong. 
Among the practical outcomes of the special status, the U.S. has permitted exports of advanced technology equipment to Hong Kong that isn't allowed to be sold elsewhere in China. It also has provided U.S. support for Hong Kong's separate representation on global bodies from the World Health Organization to the Asian Development Bank.
The 1992 Hong Kong Policy Act has allowed the U.S. to treat Hong Kong as a separate entity from mainland China and required the State Department to assess on at least an annual basis the autonomy of Hong Kong from the People's Republic of China.
Each year since then, with support from Congress, the U.S. president has certified that Hong Kong retains its semi-autonomy and as such is entitled to treatment in trade, investment and other commercial affairs akin to an independent country.
Mr. Pompeo cited Beijing's intention to unilaterally and arbitrarily impose national-security legislation on Hong Kong as a motivating factor for the decision. He said the U.S. government continues to stand with the people of Hong Kong in their struggle for autonomy.
Last week, China announced its plan to impose new national-security laws that override Hong Kong's system of self-governance, which could further undermine the Western-style rule of law and freedoms that have underpinned the territory's role as a global financial center. 
That move was a sign of the growing frustration within China's leadership over the long-running and at times violent unrest that began last summer and has often targeted the Communist Party and other symbols of Chinese rule.
Analysts have said that the Trump administration will need to balance any decertification decision that makes it painful for Beijing to execute on its plans with the need to maintain American support for Hong Kong's democratic-leaning population. Hong Kong residents enjoy benefits of their city's special status, including easier entry to the U.S. than other Chinese citizens.
Some are speculating that this latest move by the State Department is the preliminary for Trump getting tougher on China, amidst reports that the Chinese Police have become even more brutal in recent days in their crackdown against pro-democracy protests in Hong Kong. Remember, when the pro-democracy protests began last year, many of them were led by strong Christians and for many weeks we saw crowds of thousands singing Christian hymns in the streets of Hong Kong. Also remember that Pastor Wang Yi of Early Rain Covenant Church is still be held in a Chinese Prison for his faithful testimony to Christ and resisting the tyrannical policies of China. Pastor Wang Yi's testimony is a faithful example of obedience to Romans 13. His submission to his authorities continually called them to submit to Christ. May our American and western obedience to Romans 13 be the same. 
This is Toby Sumpter with Crosspolitic News. You can find this and all of our shows at Crosspolitic.com or Fightlaughfeast.com or on our app, which you can download at your favorite app store, just search "Fight Laugh Feast". Our app is the only way to get In the Bullpen with Mark Dewey. Support Rowdy Christian media, and become a Fight Laugh Feast Club Member, and for a limited time you can get your very own Fight Laugh Feast t-shirt and access to tons of content on Biblical Counseling, God and Government, End Times Eschatology (hint: we're not in them), Pastors and Politics, Proverbs with Me, and our very own Worldview Shotgun Series. You also get $100 off your registration for our first annual Fight Laugh Feast Conference, where we hope to meet many of you in Nashville, TN October 1st through the 3rd. Go to fightlaughfeast.com to register now. Have a great day. https://flfnetwork.com/coming-soon/