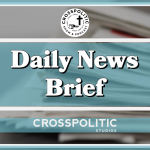 This is Jesse Sumpter, managing editor of the CrossPolitic Magazine. Here with your CrossPolitic Daily News Brief for Friday, June 19, 2020. Check out the CrossPolitic Magazine for articles and commentary on theology, politics, culture, and history.
In today's news brief, the DOJ takes a look at big internet companies, Facebook removes Trump Ad for supposedly using a Hate Group symbol, Were Congressional Democrats promoting slavery when they knelt at US Capitol building? and finally one woman is suing the UK government about its abortion law. 
DOJ seeks to scale back immunity for social media companies
https://disrn.com/news/justice-dept-seeks-to-scale-back-immunity-for-internet-social-media-companies
Disrn reports: The U.S. Department of Justice will release a proposed legislative plan to curb legal protections that have existed for more than two decades and that shield internet platforms such as Google, Facebook, and Twitter, an official in the Trump administration has said.
The Communications Decency Act of 1996 holds that online venues are not liable for content posted by their users, except in very specific circumstances. It also provides the platforms leeway in monitoring site content according to their own discretion.
But the changes the Justice Department seeks would undo much of that protection for the tech giants, preventing platforms from taking down content without offering an explanation, as well as make them more responsible for third-party content.
If adopted, such a rollback would open internet platforms to civil liability for violations of federal criminal law that occur on their sites. Internet companies that facilitate or seek out user activity on their sites such as drug trafficking, child sexual abuse, child exploitation, terrorism, cyberstalking, and online scams would no longer be immune from civil actions arising from such activity. The companies also could be more vulnerable to antitrust claims.
The Justice Department is not the first party to consider decreased protections for internet companies. Some federal legislators are already promoting legislation meant to spur online platforms to be more active in opposing online sexual exploitation of children.
News of the Justice Department's planned action follows an executive order signed last month by President Donald Trump that also limited legal protections for internet platforms that unfairly censor users' speech.
Facebook removes Trump campaign ad about 'far-left groups' 
https://www.foxnews.com/politics/facebook-removes-trump-campaign-ad-about-far-left-groups-says-it-shows-hate-groups-symbol
Foxnews reports: Facebook on Thursday removed an ad run by President Trump's re-election campaign for violating the social media platform's policy on hate speech, but the Trump campaign pushed back hard by arguing they were showing a "symbol used by Antifa" to push back against far-left groups.
The ad in question featured the Trump campaign denouncing what it called "Dangerous MOBS of far-left groups" and features a red upside-down triangle with a black border. A red upside-down triangle was used by the Nazis in their concentration camps to signify political prisoners such as socialists, communists and anarchists.
"We removed these posts and ads for violating our policy against organized hate," a Facebook company spokesperson said in a statement sent to Fox News. "Our policy prohibits using a banned hate group's symbol to identify political prisoners without the context that condemns or discusses the symbol."
The Trump campaign, though, responded that the upside-down red triangle is a symbol used by Antifa and called out Facebook for including one as an emoji in its messenger.
"The inverted red triangle is a symbol used by Antifa, so it was included in an ad about Antifa," Tim Murtaugh, the campaign's communications director, told Fox News. "We would note that Facebook still has an inverted red triangle emoji in use, which looks exactly the same, so it's curious that they would target only this ad."
The campaign also took to Twitter to argue it's "symbol widely used by Antifa."
He added: "The image is also not included in the Anti-Defamation League's database of symbols of hate. But it is ironic that it took a Trump ad to force the media to implicitly concede that Antifa is a hate group."
While Antifa operates in a semi-autonomous fashion, most imagery associated with the group does not feature an upside-down red triangle. Instead, the symbols most commonly associated with the group are a circle with red and black flags in it or a circle with three arrows pointing down and to the left.
Kente cloth worn by Democrats originated with African leaders who sold their people as slaves
https://disrn.com/news/kente-cloths-democrats-wore-originated-with-african-leaders-who-sold-their-people-as-slaves?fbclid=IwAR0XC9dovnOldPZYsfoZ1Eg5e4g8woBZrq7x-c8CZ7NuQ7gBkJV_q8oxY5E
Disrn reports: Kente cloths donned recently by Congressional Democrats in what seemed to be a show of solidarity with African-Americans originated with an African slave-trading empire, fact checkers have noted.
Following the Democrats wearing the colorful cloths across their shoulders and kneeling in the U.S. Capitol building on June 8, Facebook user Dave Brandon posted this statement on the social media platform:
"Yesterday the Democrats wore kente scarfs and knelt down for their photo op. So check this out, Kente cloth was worn by the Ashanti. It's made of silk so the affluent wore it. The Ashanti were also known as slave owners and traders. Huh? … This makes me wonder why they chose to wear this particular tribe's garb."
USA Today fact checked the claim, and determined it to be accurate. The media outlet published an article Tuesday explaining its findings about Kente cloth. The article reads, in part:
"Kente cloth comes from the Asante, or Ashanti, peoples of Ghana and Ewe peoples of Ghana and Togo.
The Asante supplied British and Dutch traders with slaves in exchange for firearms, which they used to expand their empire. Slaves were often acquired as tributes from smaller states or captured during war. Some slaves were brought across the Atlantic whiles [sic] others stayed in Africa to work in gold fields."
The article also notes that, by the end of the 1700s, an estimated 6,000 to 7,000 people were taken from the region as slaves each year. It also acknowledges that Kente cloths have tradition and meaning for African people that extend beyond slave trading.
From this we can see that there is no way to avoid history. The history of man is sinful. Just because we live in 2020 does not mean that we are above the past or more righteous. The reality is that we all come from sinful fallen men. Trying to cover ourselves in Kente cloth will not be sufficient to cover our sins. That is like covering a wound with mud. The only hope of escape is being covered in Jesus' blood. Everything else is a fake. 
Fight Laugh Feast Conference in Nashville October 1-3
This is why you need to sign up for our first annual Fight Laugh Feast Conference in Nashville October 1st through 3rd. Rowdy Christian media meets the conference world – not for the faint of heart. We will kick the whole thing off with beer and psalm singing the first night, followed by a slate of speakers committed to driving the nails of the gospel into all of life including Douglas Wilson, George Grant, Rod Martin, Glenn Sunshine, and more. The conference will conclude with a massive Fight Laugh Feast Network mashup, with representatives from all your favorite shows all on one show, fighting, laughing, and feasting. And then we really will feast together, with food trucks bringing in dinner to close out the conference. So please join us this October 1st through the 3rd as we build a rowdy Christian culture for God's glory and our good. Go to Fightlaughfeast dot com and register today.
Woman with Down Syndrome sues U.K. over abortion law targeting disabled babies
https://disrn.com/news/woman-with-down-syndrome-sues-uk-over-abortion-law-targeting-disabled-babies
Disrn reports: A 24-year-old British woman with Down syndrome has filed a lawsuit against the government over an abortion law in the United Kingdom that allows abortions up until the moment of birth if the baby has a disability.
Heidi Crowter, a political activist with Down syndrome, partnered with Cheryl Bilsborrow, a British woman who has a child with Down syndrome, to file a lawsuit against the government over the abortion law in England, Wales, and Scotland. The abortion laws in the U.K. allow abortions up to the moment of birth if the baby has a disability, including Down syndrome, cleft lip, and club foot.
"Babies can be aborted right up to birth if they are considered to be 'seriously handicapped," Crowter said in a press release. "They include me in that definition of being seriously handicapped – just because I have an extra chromosome! Can you believe that? What it says to me is that my life just isn't as valuable as others, and I don't think that's right. I think it's downright discrimination."
The pair have raised more than $50,000 for legal fees on a crowdfunding website.
There were more than 3,000 disability-selective abortions in 2018, including 618 for Down syndrome, according to Don't Screen Us Out. Right to Life UK said that more than 90% of unborn babies diagnosed with Down syndrome in England and Wales are aborted.
This is Jesse Sumpter with Crosspolitic News. Check out the CrossPolitic Magazine for articles and commentary on theology, politics, culture, and history.   
Download the Fight Laugh Feat app at your favorite app store, just search "Fight Laugh Feast". Our app is the only way to get In the Bullpen with Mark Dewey – maybe the best worldview baseball podcast ever. Support Rowdy Christian media, and become a Fight Laugh Feast Club Member, and for a limited time you can get your very own Fight Laugh Feast t-shirt and access tons of content with Dan Fischer, Douglas Wilson, George Grant, David French, Erick Erickson, Walter Williams, Curt Kennedy, Gary Demar, and the Worldview Shotgun Series. You also get $100 off your registration for our first annual Fight Laugh Feast Conference, where we hope to meet many of you in Nashville, TN October 1st through the 3rd. Go to fightlaughfeast.com to register now. Have a great day.https://flfnetwork.com/coming-soon/