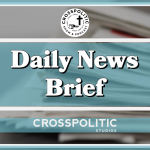 This is Toby Sumpter with your CrossPolitic Daily News Brief for Thursday, July 2, 2020.
In today's news brief you will hear about a new study from Penn State estimating that the number of COVID cases is likely far higher than we thought, China cracks down on Hong Kong and threatens international residents, and Moscow, Idaho Mayor caves to the face mask mob. 
https://news.psu.edu/story/623797/2020/06/22/research/initial-covid-19-infection-rate-may-be-80-times-greater-originally?fbclid=IwAR2zpi2YoLPncJ7MO5Y8KKyYbj11jI7RRPN53e3q7YTujLv162EauacYrjM
Now, a new study from Penn State estimates that the number of early COVID-19 cases in the U.S. may have been more than 80 times greater and doubled nearly twice as fast as originally believed.
In a paper published June 22 in the journal Science Translational Medicine, researchers estimated the detection rate of symptomatic COVID-19 cases using the Centers for Disease Control and Prevention's influenza-like illnesses (ILI) surveillance data over a three week period in March 2020.
"We analyzed each state's ILI cases to estimate the number that could not be attributed to influenza and were in excess of seasonal baseline levels," said Justin Silverman, assistant professor in Penn State's College of Information Sciences and Technology and Department of Medicine. "When you subtract these out, you're left with what we're calling excess ILI – cases that can't be explained by either influenza or the typical seasonal variation of respiratory pathogens."
The researchers found that the excess ILI showed a nearly perfect correlation with the spread of COVID-19 around the country.
Said Silverman, "This suggests that ILI data is capturing COVID cases, and there appears to be a much greater undiagnosed population than originally thought."
Remarkably, the size of the observed surge of excess ILI corresponds to more than 8.7 million new cases during the last three weeks of March, compared to the roughly 100,000 cases that were officially reported during the same time period.
"At first, I couldn't believe our estimates were correct," said Silverman. "But we realized that deaths across the U.S. had been doubling every three days and that our estimate of the infection rate was consistent with three-day doubling since the first observed case was reported in Washington state on Jan. 15."
The researchers also used this process to estimate infection rates for each state, noting that states showing higher per capita rates of infection also had higher per capita rates of a surge in excess ILI. Their estimates showed rates much higher than initially reported but closer to those found once states began completing antibody testing.
In New York, for example, the researchers' model suggested that at least 9% of the state's entire population was infected by the end of March. After the state conducted antibody testing on 3,000 residents, they found a 13.9% infection rate, or 2.7 million New Yorkers.
The findings suggest an alternative way of thinking about the COVID-19 pandemic.
"Our results suggest that the overwhelming effects of COVID-19 may have less to do with the virus' lethality and more to do with how quickly it was able to spread through communities initially," Silverman explained. "A lower fatality rate coupled with a higher prevalence of disease and rapid growth of regional epidemics provides an alternative explanation to the large number of deaths and overcrowding of hospitals we have seen in certain areas of the world."
All of this should be noted alongside the current spiking infections rhetoric. The reality is that we are simply testing a lot more and therefore getting a lot more positive results. But all the indicators are that this virus has been far less lethal are for more prevalent for a while. And remember, the goal was flatten the curve so as to not overwhelm hospitals. Hospitals were not overwhelmed, most were left empty. The goal now is for us to develop herd immunity. And this happens by a high percentage of people getting the virus. That's the plan. And it's best if young and healthy people get it. 
Fight Laugh Feast Conference in Nashville October 1-3
Which is why you should join us for the first annual Fight Laugh Feast Conference in Nashville October 1st through 3rd. Rowdy Christian media meets the conference world – not for the faint of heart. We think it will be like a steamroller running over butter. Psalm singing, punch you in the gut talks covering a range of topics from education to politics to history to economics and creativity. The conference will conclude with a massive Fight Laugh Feast Network mashup, with representatives from all your favorite shows all on one show, fighting, laughing, and feasting. And then we really will feast together, with food trucks bringing in dinner to close out the conference. So please join us this October 1st through the 3rd as we build a rowdy Christian culture for God's glory and our good. Go to Fightlaughfeast dot com and register today.
China Cracks Down on Hong Kong Protests
https://www.washingtonpost.com/world/asia_pacific/with-hong-kong-security-law-china-writes-broad-international-powers-for-itself/2020/07/01/cf1e2c0a-bb61-11ea-97c1-6cf116ffe26c_story.html?utm_campaign=wp_post_most&utm_medium=email&utm_source=newsletter&wpisrc=nl_most
After China published a Hong Kong national security law as a fait accompli Tuesday night without the usual consultation, the broader implications of the most consequential political change in the financial center since its 1997 handover are coming into focus.
Overnight, Hong Kong's 7.5 million residents were put under the same speech restrictions as the mainland, with possible life imprisonment for those deemed guilty of subversion — a standard charge used to jail political dissidents and human rights activists in China. Still, tens of thousands braved arrest Wednesday to protest in defiance as Beijing dismantles their freedoms.
Equally striking in China's move was the realpolitik logic underlying the new law: It signaled that China sees no need to abide by international agreements it made from a position of weakness in earlier years as a poorer nation. The law asserted extraterritorial jurisdiction over critics of Beijing anywhere in the world — potentially ensnaring those who set foot in Hong Kong.
"Of course we're not afraid," Zhang Xiaoming, executive director of the Hong Kong and Macao Affairs Office, said of Washington's retaliatory sanctions. "The era when the Chinese cared what others thought and looked up to others is in the past, never to return."
Speaking at a news conference Wednesday, he called the law a "birthday present" for Hong Kong — it took effect exactly 23 years after China regained the territory from Britain — and said it would serve as a "guardian angel" that would restore the protest-racked city's prosperity and stability.
Hours later, thousands of residents filled the streets, shouting pro-democracy and independence slogans, reminiscent of the chaotic scenes the law was meant to eliminate.
Beijing, which under a 1984 Sino-British joint declaration had promised to preserve Hong Kong's freedoms until 2047, has now codified broad new powers for itself in Hong Kong, which means that going forward, it can send in troops without a request from local officials, extradite residents to the mainland and conduct surveillance on political opponents in the city while asserting it is following the letter of the law.
At the Wednesday news conference, Shen Chunyao, director of the legislative affairs commission for the National People's Congress standing committee, stressed that Beijing adhered to correct procedures in passing the law, despite bypassing Hong Kong's legislature and skipping the public comment period due to the issue's "sensitivity."
"Our nation's legislative process was strictly followed," he said, adding that the central government sought feedback quietly from Hong Kong officials and business executives during the law's drafting. 
Secretary of State Mike Pompeo expressed grave concerns in a press conference, noting that Free Hong Kong was a very prosperous city, but now it's just another communist run city, subject to party elites whims. He said that security forces are already gathering up Hong Kongers, and the rule of law is being eviscerated. The US is deeply concerned, especially for Article 38 which purports to apply to those outside of Hong Kong, including presumably American citizens. Pompeo noted that last Friday the US implemented visa restrictions on those responsible for the new legislation, and on Monday the US ended defense equipment and dual use technology exports. Pompeo says that the US will continue to implement Trump's directive to end Hong Kong's special status. 
Hong Kong police announced they had made their first arrests under the new security law. A man was found with a flag that said "Hong Kong independence" in large lettering. (The flag had two tiny Chinese characters, which could be read to add "no to" before "Hong Kong independence.")
Police said calls for independence — a once-fringe idea that has gained traction in recent months — could amount to inciting others to commit secession, an act punishable under the security law.
By evening, police had arrested about 370 people, including at least 10 suspected of violating the new law. Others were charged for illegal assembly, public disorder and possessing offensive weapons.
Moscow Becomes First City in Idaho to Mandate Face Masks
https://www.khq.com/news/mayor-of-moscow-issues-order-requiring-face-coverings-social-distancing/article_9fef0776-bb5a-11ea-a691-cbd3ac5dd088.html
MOSCOW, Idaho – Moscow Mayor Bill Lambert has issued a public health emergency order requiring face coverings and six-foot social distancing in the city. 
"In light of current cases and a trend towards a significant resurgence of COVID-19 infections and exposure in Moscow, it is prudent to assess the public health risks to the community as a whole," Lambert said in a release on Tuesday, June 30. 
As of June 30, there are 16 confirmed cases in Latah County and 5 more probably cases, zero deaths. 
This mandate came on the same day that the Mayor also published a public statement denouncing a recruiting advertisement from New St. Andrews College which is located in the historic downtown of Moscow, Idaho. The recruiting add depicted a man and a woman entering public restrooms, the man going to the men's room, the woman going into the women's room, with the headline, We don't have science majors, but we know Science. Better than the Supreme Court. 
The Mayor was disturbed by the advertisement, claiming that it violated the city's long time stance on inclusivity. But that seems a little odd since he's the one who built the restrooms and put those labels on them. 
But this is nothing compared to what our brothers and sisters are facing in Hong Kong and China at the hands of communists, or the hundreds of Christians that have been killed in Nigeria just this year. God is giving us opportunities to practice patience, wisdom, love, and courage in the face of petty dictators in our land. But that isn't a reason for apathy. What is happening in Hong Kong could happen here if we don't push back with the gospel, with love, with joy. 
This is Toby Sumpter with Crosspolitic News. You can find this and all of our shows at Crosspolitic.com or Fightlaughfeast.com or on our app, which you can download at your favorite app store, just search "Fight Laugh Feast". Our app is the only way to get In the Bullpen with Mark Dewey. Support Rowdy Christian media, and become a Fight Laugh Feast Club Member, and for a limited time you can get your very own Fight Laugh Feast t-shirt and access to tons of content on Biblical Counseling, God and Government, End Times Eschatology (hint: we're not in them), Pastors and Politics, Proverbs with Me, and our very own Worldview Shotgun Series. You also get $100 off your registration for our first annual Fight Laugh Feast Conference, where we hope to meet many of you in Nashville, TN October 1st through the 3rd. Go to fightlaughfeast.com to register now. Have a great day. https://flfnetwork.com/coming-soon/