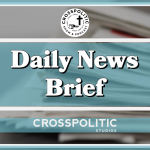 This is Gabriel Rench with your CrossPolitic Daily News Brief for Wednesday, July 8th, 2020.
Trump administration gives formal notice of withdrawal from WHO
https://www.nbcnews.com/politics/donald-trump/trump-administration-gives-formal-notice-withdrawal-who-n1233100
According to NBC:
The United States officially notified the United Nations on Tuesday of its withdrawal from the World Health Organization, a White House official said.

The notice, which comes as the coronavirus pandemic continues to spread across the globe, was submitted to the U.N. secretary-general and to Congress. The withdrawal is expected to take effect July 6, 2021.

A WHO spokesperson told NBC News they were aware of reports that the U.S. submitted the formal notification to withdraw, but declined to comment further.

Lawmakers from both parties, including Sen. Lamar Alexander, R-Tenn., swiftly criticized the move.

"I disagree with the president's decision," Alexander, who chairs the Senate Health, Education, Labor and Pensions Committee, said in a statement. "Certainly there needs to be a good, hard look at mistakes the World Health Organization might have made in connection with coronavirus, but the time to do that is after the crisis has been dealt with, not in the middle of it."

"Withdrawing U.S. membership could, among other things, interfere with clinical trials that are essential to the development of vaccines, which citizens of the United States as well as others in the world need," he added. "And withdrawing could make it harder to work with other countries to stop viruses before they get to the United States."

Just like the pandemic that is driving our politicians bat-crazy? 

The U.S. is the largest WHO contributor to the WHO, and roughly 15 percent of the health agency's budget. Year over year the US contributes about $400 to $500 million per year to WHO. 
It should always go down like fine wine, when the government downsizes a bureaucracy. 
Fight Laugh Feast Conference in Nashville October 1-3
We just had an incredible boost in registrations this month. Literally hundreds sign up! We extended the early registration deadline to July 31st, so don't lose your seat, sign up now! We are really excited to bring all our friends together for some good fellowship, Psalm singing, and to hear from some high octane speakers to the glory of God and to the good of His people. So, don't wait, sign up for our first annual Fight Laugh Feast Conference in Nashville October 1st through 3rd. Seating is limited. Go to Fightlaughfeast dot com and register today.
Planned Parenthood employees, supporters claim the abortion clinic is "steeped in white supremacy"
https://disrn.com/news/letter-signed-by-more-than-350-current-and-former-staffers-say-planned-parenthood-is-steeped-in-white-supremacy
Planned Parenthood employees and supporters have charged the largest abortion provider in America with being "steeped in white supremacy."

A June 18 open letter signed by more than 350 current and former staffers — including 800 donors, supporters, and volunteers — of Planned Parenthood in Greater New York claimed that the organization suffers from "institutional racism."

"We know that Planned Parenthood has a history and a present steeped in white supremacy and we, the staff, are motivated to do the difficult work needed to improve," said the open letter from Save PPGNY.

The letter also said Planned Parenthood founder Margaret Sanger was "a racist, white woman."

While the letter admitted that this part of the organization's history "cannot be changed," the New York clinic is making sure their "black and other staff of color are honored for their expertise and included in the decision making process."

"We have been inspired and emboldened by national movements led by Black people holding organizations and institutions accountable and working to dismantle systems of oppression and white supremacy," the letter concluded.
Well Christians have been pointing this out for decades. But notice what their letter says. Their letter recognizes Margaret Sanger's racism, but no need to tear down Planned Parenthood. You see, when there is an organization that is necessary as a means to their ends, like public education, sins can be overlooked, sins can be forgivable. 
GA Dem says Democratic Party should "disband and change name" because of association with racism, bigotry
https://disrn.com/news/ga-dem-says-democratic-party-should-disband-and-change-name-due-to-its-association-with-racism-bigotry
According to Discern.com
Democrat Georgia Rep. Vernon Jones called on his political party Friday to "disband and change the Democratic Party" because it is associated with "racism, bigotry, and the Confederacy."

In his tweet on July 3rd he state:

"If the Democrats are looking to eradicate every thing with a "racist history", when will my party confront and apologize for its own?

If racist relics of the past must come down, shouldn't we start with the Democrat Party?"

In a recent video he says:

"What I see happening from the Democrats and the left: banding together, going throughout this country unlawfully tearing down statues and removing monuments, and changing the name of streets and buildings because they feel it's associated with racism and bigotry and the Confederacy," Jones said in the video. "But, here's what they're not touching and not banning at all or changing the name: the Democratic Party."

Jones later challenged the Democratic national convention to erase its past regarding issues of racial inequality.

"Join me and others. Let's challenge the Democrat Party, to have at their national convention, the number one platform issue that they will disband and change the Democratic Party," Jones said. "It would no longer be called the Democratic Party. Why? Because it's associated with racism, bigotry, and the Confederacy."
This does not change my comments above. The democratic party is a necessary institution for the means to their ends, and just because Jones points out some hypocrisy, which is rare coming from a democrat, any change that would happen to the party would be on the surface and all virtue signaling. Anything short of repentance gets you more hypocrisy and more virtue signaling. Repentance needs to be deep and a genuine work of the Holy Spirit, and re-writing history or pretending you can wave your hand at the past, will only eventually get you into a place where your ideology eats itself. So ya, organizations will remain as long as they are needed, and sometimes they might slap a new paint job on them just to avoid looking like they did before, but the worldview driving these organizations ultimately leads to death. The Democratic Party leads to death, Planned Parenthood leads to death, propping yourself up as the ultimate authority leads to death. The pride that is driving our nation into insanity, is the same pride that is driving the church into the world, and it is in this very area where we need a great awakening. Your pride, my pride, the church church's pride, we need to lead the world in what it looks like to fully submit to God and His word, and place all our insurrection at the feet of Jesus. The blood of our land is all over our hands, and we desperately need to be washed by the blood of Jesus. Our nation is on life support and it does not look good, but the reason it does not look good is because the church is more than willing to the join the whores for the last dance. As we have said again and again, judgement in begins the house of God, and the need of the hour, it never changes, is to repent and believe in Jesus Christ.
This is Gabriel Rench with Crosspolitic News. Support Rowdy Christian media and join our club at fightlaughfeast.com. With your partnership, you will get a Fight Laugh Feast t-shirt, discount to our annual conference, and access to our Club portal. Our club portal includes episodes on Pastors in Politics, East Coast Tour content, God and Government, and backstage interviews with people like Voddie Baucham, Douglas Wilson, James White, Tom Ascol, Erick Erickson, and David French. You can find all our shows on our app, which you can download at your favorite app store, just search "Fight Laugh Feast". Lastly, we hope to meet you at our first annual Fight Laugh Feast Conference in Nashville, TN October 1st through the 3rd. Go to fightlaughfeast.com to register now. Have a great day. Lord bless