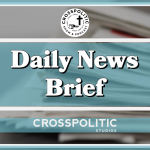 This is Toby Sumpter with your CrossPolitic Daily News Brief for Thursday, July 9, 2020.
Today you will hear about how Supreme Court ruled that water is wet and also, in a decision that has liberals jumping off of buildings, they also ruled shockingly that the sun is warm. Two landmark cases courageous ruling in favor of reality, but both still contested by two justices. Also, if you make it to the end of the brief, I have a retraction and an apology.  
Supreme Court Throws a Bone to the First Amendment
https://www.foxnews.com/politics/scotus-upholds-religious-exemptions-to-obamacare-contraception-coverage
Fox News reports: The Supreme Court ruled Wednesday that the Trump administration acted within its authority when it expanded exemptions to the Affordable Care Act's (ACA) requirement for employers to provide insurance coverage that includes contraception — in a victory for Little Sisters of the Poor, the Catholic group that has been at the center of the national debate over the mandate. And first off, let us just pause for a moment to thank God for writing the best stories. Who are the defendants? The Little Sisters of the Poor. Somebody needs to fire the legal counsel for Pennsylvania. You just don't go after The Little Sisters of the Poor. In other news, Governor Cuomo is trying to steal candy from babies. 
Back in 2016 the Supreme Court also ruled in favor of the Little Sisters, unanimously granting the Little Sisters an exemption to the ACA and ordered Health and Human services to come up with some kind of religious exemption because the Little Sisters didn't want to be forced to provide birth control, abortifacients, or sterilization services – things that go against Catholic teaching and largely opposed by Christians everywhere. When they did that, the State of Pennsylvania immediately sued the federal government over that exemption because they didn't have anything better to do back then. Now they have facemask mandates to enforce, which should keep them busy for a minute. 
This time the court ruled 7-2 in favor of the Trump administration and the Catholic charity that cares for the elderly in two related disputes against Pennsylvania, which sued over the validity of a rule from the Trump administration that allowed religiously-affiliated groups and some for-profit companies to opt-out of providing contraception coverage to employees. You can't make people do something they don't want to do, well, especially if they believe it's morally wrong. In other words, water is wet. Here, I'll wait a minute while you breathe into a paper bag. 
The majority opinion, written by Justice Clarence Thomas, ruled that the Trump administration's challenged rulemaking was aboveboard, and hailed the work of the Little Sisters of the Poor.
"For over 150 years, the Little Sisters have engaged in faithful service and sacrifice, motivated by a religious calling to surrender all for the sake of their brother," Thomas wrote. "But for the past seven years, they — like many other religious objectors who have participated in the litigation and rulemakings leading up to today's decision — have had to fight for the ability to continue in their noble work without violating their sincerely held religious beliefs."
He added: "We hold today that the Departments had the statutory authority to craft that exemption, as well as the contemporaneously issued moral exemption. We further hold that the rules promulgating these exemptions are free from procedural defects."
"It is outrageous that the Obama administration forced a group of nuns to violate their religious beliefs in the first place," Judicial Crisis Network Vice President and Senior Counsel Frank Scaturro tweeted. "The Court's decision today upholding that exemption is a victory for freedom of religion and conscience—for the Little Sisters and for everyone. Let's be thankful that the Little Sisters' ordeal in court has finally ended."
Thomas was joined in his judgment by all the justices except for Sonia Sotomayor and Ruth Bader Ginsburg on Wednesday. Ginsburg raised alarms in her dissent that the ruling could put women's health at risk.
There were two concurring opinions, one written by Justice Samuel Alito and joined by Justice Neil Gorsuch, and another written by Justice Elena Kagan and joined by Justice Stephen Breyer.
In her opinion, Kagan said that she believed the Trump administration had the authority to make the religious exemption to the contraceptive mandate, but that she is suspicious about whether the administration fulfilled "administrative law's demand for reasoned decision making."
Kagan argues that Pennsylvania could further challenge the religious exemption as "arbitrary and capricious" in lower courts following Wednesday's ruling — something that the lower courts did not previously rule on because they had decided that the rule was outside of the administration's authority.
Alito's concurrence, on the other hand, argues that Thomas' ruling did not go far enough and that the court should have ruled that the Religious Freedom Restoration Act (RFRA) requires the religious exemption.
"We now send these cases back to the lower courts, where the Commonwealth of Pennsylvania and the State of New Jersey are all but certain to pursue their argument that the current rule is flawed on yet another ground, namely, that it is arbitrary and capricious and thus violates the APA," Alito wrote.
He added: "If RFRA requires this exemption, the Departments did not act in an arbitrary and capricious manner in granting it. And in my judgment, RFRA compels an exemption for the Little Sisters and any other employer with a similar objection to what has been called the accommodation to the contraceptive mandate."
Fox reports that the justices this fall will hear a broader challenge to Obamacare, and requests by the current administration and some red-leaning states to invalidate the entire Affordable Care Act. It is a move opposed by the Democratic-led House and a coalition of other states.
Fight Laugh Feast Conference in Nashville October 1-3
Do wish you had better tools to deal with our crazy world? Do you know that the Bible applies to all of life but sometimes you're just not sure how? Join us for the first annual Fight Laugh Feast Conference in Nashville, TN, October 1st through 3rd. We've put together a package that is full of feasting and psalm singing, hearty fellowship, and a line up of speakers committed to showing you how God's Word applies to politics, economics, business, education, creativity, marriage and family, and much more. So please join us this October 1st through the 3rd as we build a rowdy Christian culture for God's glory and our good. Go to Fightlaughfeast dot com and register today.
Ok, the Supreme Court Throws Two Bones to the First Amendment 
https://www.foxnews.com/politics/scotus-rules-religious-schools-shielded-from-teachers-employment-discrimination-claims
In a second decision also handed down from Mt. Sinai, er, I mean the Supreme Court on Wednesday, Court ruled in a 7-2 decision that civil courts cannot get involved in employment discrimination claims brought against religious organizations where the employee served a religious function. The decision expanded on a previous ruling from 2012 which said that religious organizations have a "ministerial exception" from employment discrimination lawsuits, but it was unclear exactly who qualifies as a "minister.
In other words, since there's this wall of separation between church and state, the state can't make the church or other religious institutions hire or fire particular people. Also, in other words, the sun is hot. Did that hurt your feelings? Sorry, I'll try to be more seeker sensitive: the sun sometimes expresses personal feelings of warmth. 
"The religious education and formation of students is the very reason for the existence of most private religious schools, and therefore the selection and supervision of the teachers upon whom the schools rely to do this work lie at the core of their mission," Justice Samuel Alito wrote in the court's opinion. "Judicial review of the way in which religious schools discharge those responsibilities would undermine the independence of religious institutions in a way that the First Amendment does not tolerate."
The decision covered two cases involving teachers at religious schools who claimed that they were discriminated against. In one, Agnes Morrissey-Berru alleged that a Roman Catholic school in Los Angeles did not renew her contract because of her age. She taught a variety of subjects, including religion, but did not have any religious training or title prior to working there. She did take religious education classes at the school's request once she was working there and prayed with students.
In the second case, Kristen Biel — who has since died — claimed that she was let go from another Los Angeles Catholic school because she asked to take leave due to breast cancer treatment. She too taught multiple subjects including religion and prayed with students, despite not having a formal religious title.
The Supreme Court ruled that despite not officially being members of the clergy, the "ministerial exception" applied to their claims because they both taught religion and had contracts that included clauses that referenced obligations to uphold the religious missions of their schools. 
Just as a side note, not directly related to this case: if you're a Christian business of any sort, you should definitely get that stated explicitly in your by laws and posted on your walls, everywhere. We've noted this before, but Christians that suddenly pull the Christian card when it comes to a Tranny wanted to work in their day care look a lot more capricious and discriminatory than if you've been insisting on Christian principles from jump. You can't just draw the line at some extreme immorality, you should hire and fire based on truth telling, and wherever possible, living consistent Christian lives, like not shacking up with boyfriends and girlfriends or getting drunk on the weekends. It's not a silver bullet, but courts are far more likely to defer to consistent Christianity than a random objection to some dude's dress.  
"The independence of religious institutions in matters of 'faith and doctrine' is closely linked to independence in what we have termed 'matters of church government.'" Alito wrote. "This does not mean that religious institutions enjoy a general immunity from secular laws, but it does protect their autonomy with respect to internal management decisions that are essential to the institution's central mission. And a component of this autonomy is the selection of the individuals who play certain key roles."
The court said that the "ministerial exception" does not just apply to clergy despite its phrasing, because religious organizations have the right to independently determine who gets to play "key roles" regardless of whether they are actual ministers. 
"What matters, at bottom, is what an employee does," the court said.
In a concurring opinion Justice Clarence Thomas — joined by Justice Neil Gorsuch — stated that civil courts should simply "defer to religious organizations' good-faith claims that a certain employee's position is 'ministerial'" because "judges lack the requisite 'understanding and appreciation of the role played by every person who performs a particular role in every religious tradition.'"
Retraction
Finally, a quick clarification, in some past news brief I mentioned Amazon erasing George Orwell's books from Kindle as an example of the current cancel culture mob. One astute listener looked into it, and turns out the New York Times article that was going around that I saw in passing was from 2009, and if you can believe the New York Times, it was entirely because of some kind of copyright infringement. Like we believe that. But regardless, let this be a lesson to all of us to check the dates of articles.  And thanks to Curtis for the catch. I would also like to hereby retract every accent impersonation Gabe has ever attempted on the show. Our sincere apologies to all the nations of the earth. 
This is Toby Sumpter with Crosspolitic News. You can find this and all of our shows at Crosspolitic.com or on our app, which you can download at your favorite app store, just search "Fight Laugh Feast". Our app is the only way to get In the Bullpen with Mark Dewey. Support Rowdy Christian media, and become a Fight Laugh Feast Club Member, and for a limited time you can get your very own Fight Laugh Feast t-shirt and access to tons of extended discussions with Sho Baraka, David French, Erick Erickson, Maj Toure, Biblical Parenting with Doug and Nancy Wilson, God and Government and End Times Eschatology with Gary Demar, Pastors and Politics with George Grant and C.R. Wiley and more, Proverbs with Me, and our very own Worldview Shotgun Series. You also get $100 off your registration for our first annual Fight Laugh Feast Conference, where we hope to meet many of you in Nashville, TN October 1st through the 3rd. Go to fightlaughfeast.com to register now. Have a great day. https://flfnetwork.com/coming-soon/