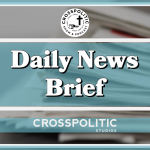 This is Jesse Sumpter, managing editor of the CrossPolitic Magazine. Here with your CrossPolitic Daily News Brief for Friday, July 10, 2020. Check out the CrossPolitic Magazine for articles and commentary on theology, politics, culture, and history.
In today's news brief, we will see that if you virtue signal too hard you might end up in court, also it turns out parents are more afraid of virus at Government Schools rather than the dangerous secular worldviews, and also Foreign owned Social Media Apps Might not be Obeying American Laws, who would have guessed that?
Music Band Trying to Fight Racism Ends up in Court Fighting a Black Singer Over Band Name
https://www.cbsnews.com/news/lady-antebellum-country-band-lady-a-sues-blues-singer-anita-white/
CBS News Reports: In June, the band formerly known as Lady Antebellum announced it would change its name to Lady A to remove any association with slavery. But weeks after appearing to reach an agreement with Seattle-based blues singer Anita White, who has been using the same name for more than a decade, the country group announced on Wednesday it is suing her. 
"Today we are sad to share that our sincere hope to join together with Anita White in unity and common purpose has ended," the band members of Lady A said in a statement to CBS News. 
"She and her team have demanded a $10 million payment, so reluctantly we have come to the conclusion that we need to ask a court to affirm our right to continue to use the name Lady A, a trademark we have held for many years."
Band members Hillary Scott, Charles Kelley, and David Haywood decided to sue after "White's attempt to enforce purported trademark rights in a mark that Plaintiffs have held for more than a decade," according to the lawsuit. The band is not seeking monetary damages, the lawsuit said.
The band has been using the name Lady A, along with their original band name Lady Antebellum, since 2006-2007, according to the lawsuit. They officially dropped Antebellum from their name on June 11 amid ongoing protests against racial injustice.
"Lady A" became an official trademark for the band in 2011 after no one filed in opposition against the name, according to the suit. "Prior to 2020, White did not challenge, in any way, Plaintiffs' open, obvious, and widespread nationwide and international use of the Lady A mark as a source indicator," the lawsuit said.
The lawsuit does note that White has identified as Lady A since 2010 and that she also features her music on a Spotify artist page. But the suit pointed out that White's artist page at the time of the court filing had 166 monthly listeners, compared to the band's more than 7 million.
White's website says that she performs primarily in the Pacific Northwest, but that she's also performed internationally. She told Rolling Stone that she has been performing under the stage name Lady A for more than 20 years. Her latest CD is set to release on July 18.
On June 15, White posted a photo of a Zoom call between her and the band on her Instagram page, saying "transparent, honest, and authentic conversations were had."
"We are excited to share we are moving forward with positive solutions and common ground," White said in her post. "The hurt is turning into hope. More to come."
During the call, the musicians discussed "co-writing and jointly recording a new song," according to the lawsuit.
The next day, White told Newsday that she received a draft agreement from the band's attorneys, and that she was "not happy about [it]."
"Their camp is trying to erase me and I'll [have] more to say tomorrow," she told Newsday. "Trust is important and I no longer trust them." 
White did not immediately respond to CBS News' request for comment.
White previously told CBS News that following the Zoom call with the band, she had forgiven the band for their "misstep." She also commended the band for standing up for the Black Lives Matter movement.
"I applaud them for it, and I'm willing to help any way I can and they are wiling to help any way they can. So we're gonna work together," she said. "This is where white allies need to start listening to black people, indigenous people, people of color. We need to make sure that you're listening so that we can change this narrative of racism in this world."
The band said in a statement that when they realized White had already been performing under the name Lady A, they had "heartfelt discussions with her about how we can all come together and make something special and beautiful out of this moment."
Their publicist, Tyne Parrish, told CBS News at the time that the artists agreed they could both continue to use Lady A.
"We never even entertained the idea that she shouldn't also be able to use the name Lady A, and never will — today's action doesn't change that. …We felt we had been brought together for a reason and saw this as living out the calling that brought us to make this change in the first place," the band said in the lawsuit.
Don't forget to sign up for our first annual Fight Laugh Feast Conference: Weapons for this War, set for Nashville October 1st through 3rd. Rowdy Christian media meets the conference world – not for the faint of heart. We will kick the whole thing off with beer and psalm singing the first night, followed by a slate of speakers committed to driving the nails of the gospel into all of life including Douglas Wilson, George Grant, Rod Martin, Glenn Sunshine, and more. The conference will conclude with a massive Fight Laugh Feast Network mashup, with
representatives from all your favorite shows all on one show, fighting, laughing, and feasting.
And then we really will feast together, with food trucks bringing in dinner to close out the conference. So please join us this October 1st through the 3rd as we build a rowdy Christian
culture for God's glory and our good. Go to Fightlaughfeast dot com and register today.
Parents Afraid of Covid 19 Decide to Educate Their Kids at Home
https://www.wandtv.com/news/il-home-school-leaders-expect-number-of-home-schooled-kids-to-spike/article_ac53625a-c091-11ea-820e-63f19d977f39.html
WAND News reports: Members of Illinois home school boards believe the number of state home-schooled students is about to quickly rise.
"Home school organizations are expecting a 30 to 40 percent increase in home schooling in Illinois this fall," said Sangamon County Home School Board member Jennifer Brady.
According to Brady, she has been home schooling her children for the past 15 years.
"I have a background in education," Brady said. "I was planning on being a teacher, and once it was time for my oldest child to go school, I just felt like that's not what we were supposed to do."
Every year, Brady said the home-schooled community grows in Sangamon County.
"Sangamon County already has a lot of home schoolers," Brady said. "We have a very active home school organization and community."
For this upcoming school year, Brady said the number of parents expected to home school their children is on the rise because of COVID-19. 
"There's a lot of people living in fear," Brady said. "We are having a lot more moms contact us, families asking us what they are going to do. There's a lot of parents who are uncomfortable with children having to wear masks at school."
Last month, the Illinois Department of Public Health said in schools, wearing face coverings and social distancing will be the goal whenever possible. Brady said those rules aren't necessarily easing the minds of parents when it comes to sending their child back to school.
"Home schooling is an option where they feel their children are safe," Brady said. "They are safe from COVID if they are in the home."
At the end of the day, Brady said it's up to the family to choose what is best for their children.
"We believe everyone should have the choice to do what's best for their family," Brady said. "We believe a lot of families are choosing to home school this fall."
Chinese Owned App Tik Tok Possibly Sharing User Data with Government in Beijing 
https://thehill.com/policy/technology/506323-feds-investigating-allegations-tiktok-failed-to-protect-childrens-privacy
The Hill Reports: The Federal Trade Commission (FTC) and the Department of Justice are reportedly investigating whether TikTok, a Chinese social media app popular among teens, failed to comply with a 2019 agreement designed to protect children's privacy.
Reuters reported on the federal probe Tuesday, citing two people interviewed in the investigation. The revelation comes as the short-form video platform also faces rising scrutiny from members of Congress and the Trump administration.
Secretary of State Mike Pompeo said Monday that the U.S. was exploring a ban of TikTok and other apps associated with China, citing concerns the apps have shared user data with the government in Beijing.
A staffer in a Massachusetts tech policy group and another person told Reuters that the FTC and Justice Department conducted separate phone calls with them. The focus of the discussions was whether TikTok failed to comply with an agreement reached with the FTC in February 2019 regarding privacy for children 13 and younger.
The Center for Digital Democracy, Campaign for a Commercial-Free Childhood and other groups reportedly asked the FTC in May to look into allegations that TikTok was not living up to the agreement, which required it to delete videos and personal information about children using the app. 
"TikTok takes the issue of safety seriously for all our users, and we continue to further strengthen our safeguards and introduce new measures to protect young people on the app," a company spokesperson told The Hill when asked for comment about the investigation.
"In the US, we accommodate users under 13 in a limited app experience that introduces additional safety and privacy protections designed specifically for a younger audience," the spokesman added.
The FTC declined to comment, and the Justice Department did not immediately return a request for comment from The Hill.
TikTok has been the source of intense scrutiny from both Republicans and Democrats in Washington. In comments made on Fox News on Monday, Pompeo suggested that individuals using the app risked putting "private information in the hands of the Chinese Communist Party."
His comments came the same day that India banned TikTok, as well as 58 other Chinese apps, following a border skirmish between the two nations. TikTok also said earlier this week that it would pull its service from Hong Kong due to a new national security law that critics argue will strip the region of its autonomy. 
"We have no higher priority than promoting a safe and secure app experience for our users. We have never provided user data to the Chinese government, nor would we do so if asked," a TikTok representative told The Hill following Pompeo's remarks. 
This is Jesse Sumpter with Crosspolitic News. Check out the CrossPolitic Magazine for articles and commentary on theology, politics, culture, and history.   
Download the Fight Laugh Feat app at your favorite app store, just search "Fight Laugh Feast". Our app is the only way to get In the Bullpen with Mark Dewey – maybe the best worldview baseball podcast ever. Support Rowdy Christian media, and become a Fight Laugh Feast Club Member, and for a limited time you can get your very own Fight Laugh Feast t-shirt and access tons of content with Dan Fischer, Douglas Wilson, George Grant, David French, Erick Erickson, Walter Williams, Curt Kennedy, Gary Demar, and the Worldview Shotgun Series. You also get $100 off your registration for our first annual Fight Laugh Feast Conference, where we hope to meet many of you in Nashville, TN October 1st through the 3rd. Go to fightlaughfeast.com to register now. Have a great day.https://flfnetwork.com/coming-soon/