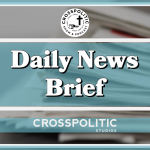 This is Toby Sumpter with your CrossPolitic Daily News Brief for Thursday, July 16, 2020.
Today you will hear how the Smithsonian is making people aware of the dominance of whiteness in things like two parent households, hard work, and Christianity, Bari Weiss resigns from the New York Times in Epic style, and the whole world isn't having enough babies. 
The Smithsonian Thinks Hard Work & Science are White Supremacy
https://nmaahc.si.edu/learn/talking-about-race/topics/whiteness
The National Museum of African American History & Culture of the Smithsonian has a page entitled "Whiteness" which describes how since white people are the majority skin color in the United States, their shared assumptions and culture is the dominant and normalized culture, making other cultures and skin colors abnormal. 
They have a handy chart describing key elements Aspects and Assumptions of White Culture in the United States, including things like "Rugged Individualism, the nuclear family , husband as breadwinner and head of household, wife is homemaker and subordinate to the husband, emphasis on Scientific Method, objective, rational linear thinking, cause and effect relationships, quantitative emphasis, the primacy of Western (Greek, Roman) and Judeo-Christian tradition, Protestant Work Ethic, hard work is key to success, work before play, Christianity is the norm, respecting authority, planning for the future, delayed gratification, time viewed as a commodity, holidays based on Christian religions, being polite."
Jason Whitlock re-tweeted this chart saying, "This is troubling and disheartening. Speaks to an agenda to program black people outside the American norm and into the communist norm. It's being done by the National Museum of African American History & Culture" that I guarantee relies on non-black money. 
The Smithsonian is 62% federally funded – a combination of congressional appropriations and federal grants and contracts – for a total of 1 billion dollars. 
Bari Weiss Resigns from New York Times & Blows Up Twitter
https://nypost.com/2020/07/14/bari-weiss-resigns-from-new-york-times-citing-illiberal-environment/
Bruce Golding at the New York Post writes: New York Times opinion writer Bari Weiss on Tuesday told the paper to take her job and shove it — because Twitter had become the "ultimate editor" as vicious, progressive staffers there engage in the "new McCarthyism."
In a nearly 1,500-word resignation letter posted on her personal website, Weiss accused the Times of abandoning its journalistic principles to "satisfy the narrowest of audiences, rather than to allow a curious public to read about the world and then draw their own conclusions."
"Twitter is not on the masthead of The New York Times. But Twitter has become its ultimate editor," she wrote.
"As the ethics and mores of that platform have become those of the paper, the paper itself has increasingly become a kind of performance space."
She added: "I was always taught that journalists were charged with writing the first rough draft of history. Now, history itself is one more ephemeral thing molded to fit the needs of a predetermined narrative."
Weiss, one of the paper's few conservative voices, also said that her "forays into Wrongthink have made me the subject of constant bullying by colleagues who disagree with my views."
"They have called me a Nazi and a racist; I have learned to brush off comments about how I'm 'writing about the Jews again,'" she wrote.
"If someone like @bariweiss feels like she can't do her best work at the@nytimes they should make some real changes over there," wrote businessman and former 2020 Democratic presidential candidate Andrew Yang.
"Wow…. If you read only one thing this week, read this eloquent, profound, incisive—and true—letter," wrote Republican Texas Sen. Ted Cruz, linking to Weiss' letter.
Added Donald Trump Jr., "NYT editor @bariweiss resigns in STUNNING fashion & exposes the Times' rampant attacks on anyone who breaks from the far-left narrative."
Others, however, showed no sympathy for Weiss, accusing her of playing the victim.
Prominent conservative commentator Andrew Sullivan announced Tuesday that he will move on from New York magazine at week's end — on the heels of Bari Weiss' abrupt resignation from the New York Times' opinion section.
"This will be my last week at New York Magazine," wrote Sullivan in the first of a series of tweets blasted out Tuesday afternoon.
"I'm sad because the editors I worked with there are among the finest in the country, and I am immensely grateful to them for vastly improving my work," he continued in the thread. "I have no beef with my colleagues, many of whom I admire and are friends."
Though Sullivan described his reasons for leaving as "self-evident," he did not elaborate further, promising an in-depth explanation in his final piece for the magazine.
"The underlying reasons for the split are pretty self-evident, and I'll be discussing the broader questions involved in my last column this Friday," he wrote.
Sullivan's announcement came just hours after Weiss stepped down from her position as a writer and editor for the Times' opinion section, fueling speculations of a possible team-up between Sullivan and Weiss.
"I'd say Bari's future is a lot more promising than the NYT's," wrote Sullivan, prior to announcing his own resignation.
Fight Laugh Feast Conference in Nashville October 1-3
Join us for the first annual Fight Laugh Feast Conference in Nashville, TN, October 1st through 3rd. We've put together a package that is full of feasting and psalm singing, hearty fellowship, and a line up of speakers committed to showing you how God's Word applies to politics, economics, business, education, creativity, marriage and family, and much more. So please join us this October 1st through the 3rd as we build a rowdy Christian culture for God's glory and our good. Go to Fightlaughfeast dot com and register today.
Jaw-dropping Global Crash in Children Being Born
https://www.bbc.com/news/amp/health-53409521?fbclid=IwAR2s2tOOR0pEMrJQmTv1KhD9-NfYXAN2AJoIQ6MjbpYSxy4wWu3W_Ba1yJk
James Gallagher at BBC reports: Falling fertility rates mean nearly every country could have shrinking populations by the end of the century. 
And 23 nations – including Spain and Japan – are expected to see their populations halve by 2100.
Countries will also age dramatically, with as many people turning 80 as there are being born. 
What is going on?
The fertility rate – the average number of children a woman gives birth to – is falling. 
If the number falls below approximately 2.1, then the size of the population starts to fall.
In 1950, women were having an average of 4.7 children in their lifetime. Why is 2.1 the fertility rate threshold? Even with the best healthcare, not all children survive to adulthood. Also, babies are ever so slightly more likely to be male. It means the replacement figure is 2.1 in developed countries. Nations with higher childhood mortality also need a higher fertility rate. 
Researchers at the University of Washington's Institute for Health Metrics and Evaluation showed the global fertility rate nearly halved to 2.4 in 2017 – and their study, published in the Lancet, projects it will fall below 1.7 by 2100. As a result, the researchers expect the number of people on the planet to peak at 9.7 billion around 2064, before falling down to 8.8 billion by the end of the century.
"That's a pretty big thing; most of the world is transitioning into natural population decline," researcher Prof Christopher Murray told the BBC. 
Why are fertility rates falling? It has nothing to do with sperm counts or the usual things that come to mind when discussing fertility. Instead it is being driven by more women in education and work, as well as greater access to contraception, leading to women choosing to have fewer children. In many ways, falling fertility rates are a success story. [Ha!]
Which countries will be most affected?
Japan's population is projected to fall from a peak of 128 million in 2017 to less than 53 million by the end of the century. Italy is expected to see an equally dramatic population crash from 61 million to 28 million over the same timeframe. They are two of 23 countries – which also include Spain, Portugal, Thailand and South Korea – expected to see their population more than halve. 
"That is jaw-dropping," Prof Christopher Murray told me.
China, currently the most populous nation in the world, is expected to peak at 1.4 billion in four years' time before nearly halving to 732 million by 2100. India will take its place. The UK is predicted to peak at 75 million in 2063, and fall to 71 million by 2100.
However, this will be a truly global issue, with 183 out of 195 countries having a fertility rate below the replacement level. 
Why is this a problem?
Who pays tax in a massively aged world? Who pays for healthcare for the elderly? Who looks after the elderly? Will people still be able to retire from work? "We need a soft landing," argues Prof Murray.
Some countries have tried policies such as enhanced maternity and paternity leave, free childcare, financial incentives and extra employment rights, but there is no clear answer.
Sweden has dragged its fertility rate up from 1.7 to 1.9, but other countries that have put significant effort into tackling the "baby bust" have struggled. Singapore still has a fertility rate of around 1.3.
How do countries fight falling birth rates?
The researchers warn against undoing the progress on women's education and access to contraception. Prof Stein Emil Vollset said: "Responding to population decline is likely to become an overriding policy concern in many nations, but we must not compromise efforts to enhance women's reproductive health or progress on women's rights."
The population of sub-Saharan Africa is expected to treble in size to more than three billion people by 2100. And the study says Nigeria will become the world's second biggest country, with a population of 791 million. 
This is Toby Sumpter with Crosspolitic News. You can find this and all of our shows at Crosspolitic.com or on our app, which you can download at your favorite app store, just search "Fight Laugh Feast". Our app is the only way to get In the Bullpen with Mark Dewey. Support Rowdy Christian media, and become a Fight Laugh Feast Club Member, and for a limited time you can get your very own Fight Laugh Feast t-shirt and access to tons of extended discussions with Sho Baraka, David French, Erick Erickson, Maj Toure, Biblical Parenting with Doug and Nancy Wilson, God and Government and End Times Eschatology with Gary Demar, Pastors and Politics with George Grant and C.R. Wiley and more, Proverbs with Me, and our very own Worldview Shotgun Series. You also get $100 off your registration for our first annual Fight Laugh Feast Conference, where we hope to meet many of you in Nashville, TN October 1st through the 3rd. Go to fightlaughfeast.com to register now. Have a great day. https://flfnetwork.com/coming-soon/