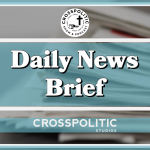 This is Toby Sumpter with your CrossPolitic Daily News Brief for Tuesday, July 21, 2020.
Today you will hear about the revenge of the Soccer Moms in Portland, historic flooding threatens the world's largest hydroelectric dam in (you guessed it) China, and we skim read a fascinating opinion piece by Niall Ferguson who says we have entered Cold War 2 with China. 
The Revenge of the Soccer Moms
https://www.usatoday.com/story/news/nation/2020/07/20/portland-protests-wall-moms-formed-protect-demonstrators/5470348002/
USA Today reports: A group of protesters in Portland, Oregon, formed a "wall of moms" during demonstrations over the weekend as the city saw tensions rise after weeks of unrest that led to the presence of federal authorities.
The women formed a human shield dubbed the "wall of moms" at the front of a protest outside a Planned Parenthood… I mean… federal courthouse Sunday. Videos on social media showed the group chanting, "Moms are here, feds stay clear" and "Leave our kids alone."
Portland has seen nightly unrest since the killing of George Floyd in Minneapolis on Memorial Day – Sunday marked the 52nd night in a row, and the sixth night of in which federal officers used tear gas attempting to disperse the crowds. 
In Portland, federal agents from the U.S. Marshals Special Operations Group and an elite U.S. Customs and Border Protection team based on the U.S.-Mexican border were deployed to aid law enforcement and protect federal property by executive order of President Trump.
Oregon Attorney General Ellen Rosenblum filed a lawsuit accusing the agents of violating the civil rights of residents by using unlawful tactics.
Bev Barnum, 35, told BuzzFeed News she organized the protest dubbed the "wall of moms" after seeing the videos of the federal authorities' actions. 
"We are about protecting peaceful citizens' right to protest," Barnum said. "We wanted to look like we were going to Target, like normal people." 
Video showed dozens of white women standing in front of the crowd Saturday night.
Videos from the "mom" protest Sunday showed the group peacefully chanting and locking arms. Later in the night, photos and video showed that officers used tear gas to disperse the crowds.
Mayor Ted Wheeler criticized the presence of the federal officers, saying on CNN they are "not wanted here. We haven't asked them here. In fact, we want them to leave."
President Donald Trump defended the use of the agents and decried the protests. 
"We are trying to help Portland, not hurt it," Trump tweeted Sunday. "Their leadership has, for months, lost control of the anarchists and agitators. They are missing in action. We must protect Federal property, AND OUR PEOPLE. These were not merely protesters, these are the real deal!"
Acting Homeland Security Secretary Chad Wolf blasted the protesters as lawless anarchists" during a visit to the city Thursday.
Gov. Kate Brown demanded that all federal law enforcement officers be removed from Portland streets and accused Wolf of putting Oregon's citizens and law enforcement officers in danger. 
"This political theater from President Trump has nothing to do with public safety," Brown said in a tweet. "The President is failing to lead this nation. Now he is deploying federal officers to patrol the streets of Portland in a blatant abuse of power by the federal government."
Meanwhile, abortion clinics slaughter babies by the thousands every single day. What would be wonderful right now would be some courageous Christian governor to announce that abortion is now illegal in their state and order state troopers to close down all Planned Parenthoods and abortion clinics in the state. If they really want to play with the narrative, they should do it in the name and honor of George Floyd, pointing out that black babies are disproportionately targeted by abortion, and they too are having their necks crushed at alarming rates in their mother's wombs. How about a wall of moms standing in front of an abortion clinic, protecting babies? No doubt the liberals would freak out and demand the Feds be sent in post haste. 
Fight Laugh Feast Conference in Nashville October 1-3
Join us for the first annual Fight Laugh Feast Conference in Nashville, TN, October 1st through 3rd. We've put together a package that is full of feasting and psalm singing, hearty fellowship, and a line up of speakers committed to showing you how God's Word applies to politics, economics, business, education, creativity, marriage and family, and much more. So please join us this October 1st through the 3rd as we build a rowdy Christian culture for God's glory and our good. Go to Fightlaughfeast dot com and register today.
Historic Flooding in China Threatens World's Largest Hyrdo-Electric Dam
https://www.forbes.com/sites/kenrapoza/2020/07/20/china-floods-calls-into-question-sustainability-of-massive-three-gorges-dam/?fbclid=IwAR0ZrA0iNVtTij7msuimPQaOk5asBvho1b8nFrQ2QITFo4BY1kIQXsEX5WI#6d410fb04d50
Parts of China is literally up to its eyeballs in water, in what the Chinese government is calling a once in 100 years flood. The Three Gorges Dam, built to stop these things, is now in the spotlight. The Three Gorges Dam is the world's largest hydroelectric power station, with an installed capacity of 22,500 megawatts of power generation. The thing is, that the power station is down the Yangtze River from a handful of other dams that exist at a higher elevation than the Three Gorges. And because of the floods and problems at those dams upstream, Three Gorges is buckling under the strain of massive flows of water.
Cities in the country's central region along the Yangtze River — China's longest river — have been flooded in the past week due to heavy rains this monsoon season. It was reported to be the worst flood since 1998, and not 100 years, as some in Beijing have said. 
All told, more than 400 Yangtze tributary rivers have overflowed, with nearly 200 people dead and properties underwater. Average rainfall is around 12% higher than last monsoon season. The economic damage from flooding is expected to reach 86.2 billion yuan ($12 billion), according to some government estimates made on Friday. 
On Sunday, the AP reported from Beijing that authorities blasted down an entire dam in order to release surging waters behind it and let it run. State broadcaster CCTV reported the dam on the Chuhe River in Anhui province was blown to bits with explosives early Sunday morning, after which the water level was expected to drop by two feet.
Last week, the Three Gorges Dam opened three floodgates as the water level behind it rose more than 50 feet above the flood zone. Another flood crest is expected to arrive at the dam on Tuesday, the AP article states, adding that China's military has been testing the strength of embankments and shoring them up with sandbags and rocks. 
Over the weekend, firefighters finished filling in a 620-foot break on Poyang Lake, China's largest freshwater lake, that caused flooding into 15 villages, sinking grain crops in Jiangxi province under water. 
From today to Wednesday, more strong rains will raise flood risks for rivers connecting to Three Gorges, though it seems that the heaviest rains will end by mid-week, saving the world's largest dam from further stress.
Could God be trying to tell us something? This is also a good picture of what our efforts are like to thwart God's judgments. What do we have sand bags and rocks? Heh. Somebody should read Exodus. Good luck with that. 
Niall Ferguson Says We Have Entered Cold War 2 with China 
https://www.bloomberg.com/opinion/articles/2020-07-05/is-the-u-s-in-a-new-cold-war-china-has-already-declared-it
Niall Ferguson writes in Bloomberg: "We are in the foothills of a Cold War." Those were the words of Henry Kissinger when I interviewed him at the Bloomberg New Economy Forum in Beijing last November. 
The observation in itself was not wholly startling. It had seemed obvious to me since early last year that a new Cold War — between the U.S. and China — had begun. 
What had started out in early 2018 as a trade war over tariffs and intellectual property theft had by the end of the year metamorphosed into a technology war over the global dominance of the Chinese company Huawei Technologies Co. in 5G network telecommunications; an ideological confrontation in response to Beijing's treatment of the Uighur minority in China's Xinjiang region and the pro-democracy protesters in Hong Kong; and an escalation of old frictions over Taiwan and the South China Sea.
[As well as a crack down on the Christians in mainland China, including Early Rain Covenant Church and Pastor Wang Yi, sentenced to 9 years in prison last December.]
Ferguson continues: Nevertheless, for Kissinger, of all people, to acknowledge that we were in the opening phase of Cold War II was remarkable.
Since his first secret visit to Beijing in 1971, Kissinger has been the master-builder of that policy of U.S.-Chinese engagement which, for 45 years, was a leitmotif of U.S. foreign policy. It fundamentally altered the balance of power at the mid-point of the Cold War, to the disadvantage of the Soviet Union. It created the geopolitical conditions for China's industrial revolution, the biggest and fastest in history. And it led, after China's accession to the World Trade Organization, to that extraordinary financial symbiosis which Moritz Schularick and I christened "Chimerica" in 2007.
How did relations between Beijing and Washington sour so quickly that even Kissinger now speaks of Cold War? 
The conventional answer to that question is that President Donald Trump has swung like a wrecking ball into the "liberal international order" and that Cold War II is only one of the adverse consequences of his "America First" strategy.
Yet that view attaches too much importance to the change in U.S. foreign policy since 2016, and not enough to the change in Chinese foreign policy that came four years earlier, when Xi Jinping became general secretary of the Chinese Communist Party. Future historians will discern that the decline and fall of Chimerica began in the wake of the global financial crisis, as a new Chinese leader drew the conclusion that there was no longer any need to hide the light of China's ambition under the bushel that Deng Xiaoping had famously recommended.
The Covid-19 pandemic has done more than intensify Cold War II. It has revealed its existence to those who last year doubted it. The Chinese Communist Party caused this disaster — first by covering up how dangerous the new virus SARS-CoV-2 was, then by delaying the measures that might have prevented its worldwide spread.
Yet now China wants to claim that the U.S. is somehow behind the recurrent waves of pro-democracy protest in Hong Kong. The current confrontation over the former British colony's status is unambiguously Made in China. As Pompeo has said, the new National Security Law Beijing imposed on Hong Kong last Tuesday effectively "destroys" the territory's semi-autonomy and tears up the 1984 Sino-British joint declaration, which guaranteed that Hong Kong would retain its own legal system for 50 years after its handover to People's Republic in 1997.
Ferguson writes: I have argued that this new Cold War is both inevitable and desirable, not least because it has jolted the U.S. out of complacency and into an earnest effort not to be surpassed by China in artificial intelligence, quantum computing and other strategically crucial technologies. Yet there remains, in academia especially, significant resistance to my view that we should stop worrying and learn to love Cold War II.
"The establishment of a productive and predictable US/China relationship," wrote John Lipsky, formerly of the International Monetary Fund, "is a sine qua non for strengthening the institutions of global governance." 
This sounds eminently reasonable, apart from one thing. The Chinese Communist isn't interested in being frenemies. They know full well this is a Cold War, because they started it.
When I first began talking publicly about Cold War II at conferences last year, I was surprised that no Chinese delegates contradicted me. In September, I asked one of them — the Chinese head of a major international institution — why that was. "Because I agree with you!" he replied with a smile.
As a visiting professor at Tsinghua University in Beijing, I have seen for myself the ideological turning of the tide under Xi. Academics who study taboo subjects such as the Cultural Revolution find themselves subject to investigations or worse. Those who take a more combative stance toward the West get promoted.
Yan Xuetong, dean of the Institute of International Relations at Tsinghua, recently argued that Cold War II, unlike Cold War I, will be a purely technological competition, without proxy wars and nuclear brinkmanship. Yao Yang, dean of the National School of Development at Peking University, was equally candid in an interview with the Beijing Cultural Review, published on April 28.
"To a certain degree we already find ourselves in the situation of a New Cold War," he said. "There are two basic reasons for this. The first is the need for Western politicians to play the blame game" about the origins of the pandemic. "The next thing," he added, "is that now Westerners want to make this into a 'systems' question, saying that the reason that China could carry out such drastic control measures [in Hubei province] is because China is not a democratic society, and this is where the power and capacity to do this came from."
This, however, is weak beer compared with the hard stuff regularly served up on Twitter by the pack leader of the "wolf warrior" diplomats, Zhao Lijian. "The Hong Kong Autonomy Act passed by the US Senate is nothing but a piece of scrap paper," he tweeted on Monday, in response to the congressional retaliation against China's new Hong Kong security law. By his standards, this was understatement.
The tone of the official Chinese communiqué released after Pompeo's June 17 meeting in Hawaii with Yang Jiechi, the director of the Communist Party's Office of Foreign Affairs, was vintage Cold War. On the persecution of the Uighurs, for example, it called on "the US side to respect China's counter-terrorism and de-radicalization efforts, stop applying double standards on counter-terrorism issues, and stop using Xinjiang-related issues as a pretext to interfere in China's internal affairs."
But Ferguson says, what "has done the most to educate me about how China views America and the world today is not a political text, but a work of science fiction. "The Dark Forest" was Liu Cixin's 2008 sequel to the hugely successful "Three-Body Problem." 
"The Dark Forest," which continues the story of the invasion of Earth by the ruthless and technologically superior Trisolarans, introduces Liu's three axioms of "cosmic sociology."
First, "Survival is the primary need of civilization." Second, "Civilization continuously grows and expands, but the total matter in the universe remains constant." Third, "chains of suspicion" and the risk of a "technological explosion" in another civilization mean that in space there can only be the law of the jungle. In the words of the book's hero, Luo Ji:
The universe is a dark forest. Every civilization is an armed hunter stalking through the trees like a ghost … trying to tread without sound … The hunter has to be careful, because everywhere in the forest are stealthy hunters like him. If he finds other life — another hunter, an angel or a demon, a delicate infant or a tottering old man, a fairy or a demigod — there's only one thing he can do: open fire and eliminate them. In this forest, hell is other people … any life that exposes its own existence will be swiftly wiped out.
Ferguson concludes, This is intergalactic Darwinism.
So, how do you fight committed Darwinists – people who truly believe that survival of the fittest is the only way? Whether we are talking about China or Antifa in Portland or Seattle, it's the same question. Let me offer just a very short answer for today: what overcomes this chaos is the beauty of the gospel. And what I mean is the beauty of the gospel lived. This is the grace of forgiveness – forgiving the unforgiveable. This is the beauty of the hearts of children turned to their fathers and the hearts of fathers turned to their children. The beauty of broken marriages healed. Darwinism cannot survive against a Christian culture of beauty and forgiveness because Darwin cannot account for the immaterial – for joy, for laughter, for grace.
This is Toby Sumpter with Crosspolitic News. You can find this and all of our shows at Crosspolitic.com or on our app, which you can download at your favorite app store, just search "Fight Laugh Feast". Our app is the only way to get In the Bullpen with Mark Dewey. Support Rowdy Christian media, and become a Fight Laugh Feast Club Member, and for a limited time you can get your very own Fight Laugh Feast t-shirt and access to tons of extended discussions with Sho Baraka, David French, Erick Erickson, Maj Toure, Biblical Parenting with Doug and Nancy Wilson, God and Government and End Times Eschatology with Gary Demar, Pastors and Politics with George Grant and C.R. Wiley and more, Proverbs with Me, and our very own Worldview Shotgun Series. You also get $100 off your registration for our first annual Fight Laugh Feast Conference, where we hope to meet many of you in Nashville, TN October 1st through the 3rd. Go to fightlaughfeast.com to register now. Have a great day. https://flfnetwork.com/coming-soon/