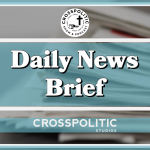 This is Jesse Sumpter, managing editor of the CrossPolitic Magazine. Here with your CrossPolitic Daily News Brief for Friday, July 24, 2020. Check out the CrossPolitic Magazine for articles and commentary on theology, politics, culture, and history.
In today's news brief, the MLB and the NFL are trying to beat each other at how woke they can be. But even if one wins, are fans really going to be happy?  
Baseball Begins 2020 Season Woker than Thou 
Disrn reports: Every member of the Washington Nationals and New York Yankees took a knee before the national anthem on Thursday night before standing for the anthem itself.
https://disrn.com/news/every-player-on-nationals-yankees-kneels-prior-to-national-anthem
Disrn also reported: After nearly nine months since the Washington Nationals won the 2019 World Series at the end of October, Major League Baseball is set to begin its 2020 season Thursday night as the league champions host the New York Yankees.
Despite the excitement surrounding the sport's return, World Series favorites and "breakout" players are not among the topics being discussed by analysts and fans.
Rather, the conversations gravitate toward face coverings, strange rules, and social justice messaging — all of which make the 2020 MLB season the most bizarre year in its illustrious history.
Although face coverings are not mandated on the field, many players have decided to wear them since they are required in certain restricted areas.
Neither fans nor mascots are allowed at ballparks, although the league is allowing fans to submit pictures of themselves to be printed on cardboard cutouts that will be positioned behind home plate.
Teams will also pump in sound effects and crowd noise, including reactions to positive and negative plays.
Fist bumps and physical high-fives will be replaced with "air high-fives" in an effort to maintain social distancing. Spitting and water jugs will also be prohibited.
Additionally, MLB will feature a Black Lives Matter stencil on pitcher's mounds during opening weekend games, and players will be allowed to wear a patch with "Black Lives Matter" or "United For Change" on a jersey sleeve.
https://disrn.com/news/face-coverings-empty-stands-strange-rules-highlight-mlb-opening-day-amid-coronavirus-and-civil-unrest
Don't forget to sign up for our first annual Fight Laugh Feast Conference: Weapons for this War, set for Nashville October 1st through 3rd. Rowdy Christian media meets the conference world – not for the faint of heart. We will kick the whole thing off with beer and psalm singing the first night, followed by a slate of speakers committed to driving the nails of the gospel into all of life including Douglas Wilson, George Grant, Rod Martin, Glenn Sunshine, and more. The conference will conclude with a massive Fight Laugh Feast Network mashup, with
representatives from all your favorite shows all on one show, fighting, laughing, and feasting.
And then we really will feast together, with food trucks bringing in dinner to close out the conference. So please join us this October 1st through the 3rd as we build a rowdy Christian
culture for God's glory and our good. Go to Fightlaughfeast dot com and register today.
Washington's football team to call itself Washington Football Team until it settles on a new name
CNN reports: The Washington NFL franchise, formerly known as the Washington Redskins, is officially going to change its name to the Washington Football Team.
The new team name is effective immediately, and it will remain in place "pending adoption of a new team name," the team announced in a statement on Thursday.
The name change comes after the team faced increased pressure to change its name due to its racist connotations, and the team announced on July 13 that it would be changing the team's name.
"The decision to use 'Washington Football Team' for this season allows the franchise the ability to undertake an in-depth branding process to properly include player, alumni, fan, community, and sponsor input," the statement reads.
"To date, we have been pleased to see so many people putting forward their vision of what the new name and design should be on their social media channels and we look forward to including their feedback as this process progresses."
A man named Philip Martin McCauley has registered a number of trademarks for potential team names, and McCauley told CNN that he has offered the trademarks to the Washington Football Team and NFL free of charge.
Washington said it will begin "the process of retiring all Redskins branding from team properties whether it be FedExField, Redskins Park, other physical and digital spaces" starting tomorrow and over the next 50 days.
https://www.cnn.com/2020/07/23/us/washington-football-team-spt-trnd/index.html
Here is a list of seven alternate names for Washington to consider:
The Team you are about to See Lose

The Non-winners

A group of non-specific gender people who run around in competitive ways in a location that might be racist or it might not, you get to decide based on your feelings

Swamp Things

The Facemasks

Blackface Northams

Wokey McWokeface
This is Jesse Sumpter with Crosspolitic News. Check out the CrossPolitic Magazine for articles and commentary on theology, politics, culture, and history.   
Download the Fight Laugh Feat app at your favorite app store, just search "Fight Laugh Feast". Our app is the only way to get In the Bullpen with Mark Dewey – maybe the best worldview baseball podcast ever. Support Rowdy Christian media, and become a Fight Laugh Feast Club Member, and for a limited time you can get your very own Fight Laugh Feast t-shirt and access tons of content with Dan Fischer, Douglas Wilson, George Grant, David French, Erick Erickson, Walter Williams, Curt Kennedy, Gary Demar, and the Worldview Shotgun Series. You also get $100 off your registration for our first annual Fight Laugh Feast Conference, where we hope to meet many of you in Nashville, TN October 1st through the 3rd. Go to fightlaughfeast.com to register now. Have a great day.https://flfnetwork.com/coming-soon/