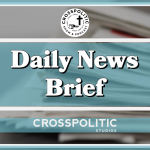 This is Gabriel Rench with your CrossPolitic Daily News Brief for Wednesday, July 29th, 2020.
In this brief, I will cover Google, Youtube, and Twitter group think censorship, a very strong case for why hydroxychloroquine might be a cure for COVID, Netflix's anti-science agenda and more. But first: 
Fight Laugh Feast Conference: Weapons for this War
If there was ever a time to soldier up, that time is now. Join us at the first annual Fight Laugh Feast Conference in Nashville October 1st through the 3rd. The theme of our conference is Weapons for this War and we are excited to bring all our friends together for some good fellowship in a crazy 2020. We will kick the whole thing off with beer (punch for the kids) and psalm singing the first night, followed by a slate of speakers committed to driving the nails of the gospel into your everyday life including Pastor Douglas Wilson, Pastor George Grant, Rod Martin, Dr. Glenn Sunshine, Pastor Toby, and more. The conference will conclude with a massive Fight Laugh Feast Network mashup, with representatives from all your favorite shows all on one show, fighting, laughing, and feasting. And then we really will feast together, with food trucks bringing in dinner to close out the conference.  Rowdy Christian media meets the conference world – not for the faint of heart.  Registration is limited, so don't wait, sign up for our first annual Fight Laugh Feast Conference in Nashville October 1st through 3rd. Go to Fightlaughfeast.com and register today.
Facebook, Google/YouTube, Twitter Censor Viral Video of Doctors' Capitol Hill Coronavirus Press Conference
https://www.breitbart.com/tech/2020/07/27/facebook-censors-viral-video-of-doctors-capitol-hill-coronavirus-press-conference/
According to Breitbart:
"Facebook has removed a video posted by Breitbart News earlier today, which was the top-performing Facebook post in the world Monday afternoon, of a press conference in D.C. held by the group America's Frontline Doctors and organized and sponsored by the Tea Party Patriots. The press conference featured Rep. Ralph Norman (R-SC) and frontline doctors sharing their views and opinions on coronavirus and the medical response to the pandemic. YouTube (which is owned by Google) and Twitter subsequently removed footage of the press conference as well
The video accumulated over 17 million views during the eight hours it was hosted on Facebook, with over 185,000 concurrent viewers.
The event, hosted by the organization America's Frontline Doctors, a group founded by Dr. Simone Gold, a board-certified physician and attorney, and made up of medical doctors, came together to address what the group calls a "massive disinformation campaign" about the coronavirus. Norman also spoke at the event.
Facebook's decision to censor the livestream was quickly followed by YouTube, the Google-owned video-sharing platform. The video had over 80,000 views on YouTube prior to its removal."
Facebook company spokesman, Andy Stone, tweeted this out in response to the video's removal:
"Yes, we removed it for sharing false information about cures and treatments for COVID-19."
And this followup tweet:
"Also, one other thing to note. We're showing messages in News Feed to people who have reacted to, commented on or shared harmful COVID-19-related misinformation that we have removed, connecting them to myths debunked by the WHO."
So, Facebook, Youtube, and Twitter all want you to get your medical information from what? State sanctioned doctors? Facebook is saying: "you don't understand, we know what medical information is best from you!" Doesn't Facebook have something like 50 plus genders you can choose from? 
The Key to Defeating COVID-19 Already Exists. We Need to Start Using It | Opinion
https://www.newsweek.com/key-defeating-covid-19-already-exists-we-need-start-using-it-opinion-1519535
Harvey A. Risch, MD, PhD, is professor of epidemiology at Yale School of Public Health, penned an opinion in Newsweek of all things.
"As professor of epidemiology at Yale School of Public Health, I have authored over 300 peer-reviewed publications and currently hold senior positions on the editorial boards of several leading journals. I am usually accustomed to advocating for positions within the mainstream of medicine, so have been flummoxed to find that, in the midst of a crisis, I am fighting for a treatment that the data fully support but which, for reasons having nothing to do with a correct understanding of the science, has been pushed to the sidelines. As a result, tens of thousands of patients with COVID-19 are dying unnecessarily. Fortunately, the situation can be reversed easily and quickly.
I am referring, of course, to the medication hydroxychloroquine. When this inexpensive oral medication is given very early in the course of illness, before the virus has had time to multiply beyond control, it has shown to be highly effective, especially when given in combination with the antibiotics azithromycin or doxycycline and the nutritional supplement zinc."
He goes on to say:
"Physicians who have been using these medications in the face of widespread skepticism have been truly heroic. They have done what the science shows is best for their patients, often at great personal risk. I myself know of two doctors who have saved the lives of hundreds of patients with these medications, but are now fighting state medical boards to save their licenses and reputations. The cases against them are completely without scientific merit."
He then points out there have been seven major studies done on the effectiveness of HQ:
"These seven studies include: an additional 400 high-risk patients treated by Dr. Vladimir Zelenko, with zero deaths; four studies totaling almost 500 high-risk patients treated in nursing homes and clinics across the U.S., with no deaths; a controlled trial of more than 700 high-risk patients in Brazil, with significantly reduced risk of hospitalization and two deaths among 334 patients treated with hydroxychloroquine; and another study of 398 matched patients in France, also with significantly reduced hospitalization risk."
Dr. Risch points out that:
"A reverse natural experiment happened in Switzerland. On May 27, the Swiss national government banned outpatient use of hydroxychloroquine for COVID-19. Around June 10, COVID-19 deaths increased four-fold and remained elevated. On June 11, the Swiss government revoked the ban, and on June 23 the death rate reverted to what it had been beforehand. People who die from COVID-19 live about three to five weeks from the start of symptoms, which makes the evidence of a causal relation in these experiments strong. Both episodes suggest that a combination of hydroxychloroquine and its companion medications reduces mortality and should be immediately adopted as the new standard of care in high-risk patients."
He finished his oped with this: 
"In the future, I believe this misbegotten episode regarding hydroxychloroquine will be studied by sociologists of medicine as a classic example of how extra-scientific factors overrode clear-cut medical evidence. But for now, reality demands a clear, scientific eye on the evidence and where it points. For the sake of high-risk patients, for the sake of our parents and grandparents, for the sake of the unemployed, for our economy and for our polity, especially those disproportionally affected, we must start treating immediately."
Trump: "If schools do not reopen, the funding should go to parents"
https://disrn.com/news/trump-if-schools-do-not-reopen-the-funding-should-go-to-parents
According to Discrn.com: 
"President Trump announced last week that if schools do not reopen in the fall, the funding allocated for each student should be sent to the parents so they can choose how to use the money for their child's education."
Trump at a conference last Thursday stated: 
"If schools do not reopen, the funding should go to parents to send their child to public, private, charter, religious, or homeschool of their choice,"… "…If the school is closed, the money should follow the student so the parents and families are in control of their own decisions. So we'd like the money to go to the parents of the student. This way, they can make the decision that's best for them."
He went on to say: 
"Lengthy time away from school and associated interruption of supportive services often results in social isolation, making it difficult for schools to identify and address important learning deficits as well as child and adolescent physical or sexual abuse, substance use, depression, and suicidal ideation," (quoting the American Academy of Pediatrics' Guidance for School Re-entry)
More from Discrn:
"Trump also announced he had asked Congress to contribute $105 billion to schools to support smaller class sizes, additional teachers, and "repurposing spaces to practice social distancing.""
So, I am torn on this one. Trump threatens to withhold funding from schools that don't open back up, and at the same time he wants to dump more funding into schools, so they can practice social distancing in the classroom. This does not sound like an educated decision. 
New Netflix kids' series "The Baby-Sitters Club" features transgender child character
https://disrn.com/news/new-netflix-kids-series-the-baby-sitters-club-features-transgender-child-character
Netflix's new kids' series "The Baby-Sitters Club" — a reboot of the 1990s show with the same name, both of which are based on the popular book series by Ann M. Martin — features a young child character who is a boy and identifies as a transgender girl.
Plot lines in the series explore the child's gender identity from a very progressive worldview, going into detailed explanations about how the boy is "really a girl" and even having a main character rebuke two doctors in a hospital for referring to the child as "he". 
Netflix defended the show on twitter with this: 
"So, we have no choice but to stan The Baby-Sitters Club, our unproblematic queens and queer allies.
And more importantly: stan Bailey and all the very real children like her who know who they are."
Is twitter going to take this tweet down for its anti-science agenda? 
This is Gabriel Rench with Crosspolitic News. Support Rowdy Christian media and join our club at fightlaughfeast.com. With your partnership, you will get a Fight Laugh Feast t-shirt, discount to our annual conference, and access to our Club portal. Our club portal includes episodes on Pastors in Politics, East Coast Tour content, God and Government, and backstage interviews with people like Voddie Baucham, Douglas Wilson, James White, Tom Ascol, Erick Erickson, and David French. You can find all our shows on our app, which you can download at your favorite app store, just search "Fight Laugh Feast". Lastly, we hope to meet you at our first annual Fight Laugh Feast Conference in Nashville, TN October 1st through the 3rd. Go to fightlaughfeast.com to register now. Have a great day. Lord bless