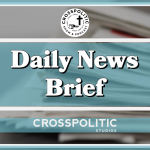 This is Toby Sumpter with your CrossPolitic Daily News Brief for Thursday, July 30, 2020.
Today you will hear how Ted Cruz has introduced legislation to make Democrats read the First Amendment one time, but he was interrupted by the Democrats who thought he might let Attorney General William Barr say something. And then we will close with comments from the Director of the CDC who says the flu is way worse for kids than COVID 19. 
Ted Cruz Introduces Legislation to Make Democrats Read First Amendment
https://bongino.com/senator-cruz-introduces-bill-blocking-coronavirus-funding-for-states-that-discriminate-against-religion
Jeremy Frankel reports: On Tuesday, Senator Ted Cruz introduced legislation that would withhold coronavirus funding to states and localities that engage in religious discrimination against people or institutions regarding COVID restrictions.
The Safeguarding Americans from Coronavirus and Religious Exercise Discrimination (SACRED) Act would penalize the states and localities that the attorney general determines are religiously discriminating. Should the discriminating stop, the funding could then go through.
In a press release, Cruz said:
"Throughout this pandemic we've seen numerous examples of state and local governments instituting discriminatory regulations that unfairly target people of faith and which restrict houses of worship from operating while exempting secular gatherings and operations from the same rules.
"As Congress continues to provide relief funds to combat the impact of COVID-19, it is crucial that we protect the First Amendment right of religious liberty from discrimination. That's why I've introduced the SACRED Act. By blocking funds from governments that discriminate against religious organizations, we can fairly protect religious liberty and the rights of those who seek to gather together safely for worship."
While I appreciate what Cruz is attempting to do here, I'm more and more leery of these sort of things for how it may be weaponized against us down the road. I can now imagine this same legislation being used against Christians and states that protect Christians down the road. Pretty soon, states that do not crush Christians legally will be punished in the name of the SACRED Act. I'd rather battle this out on the grounds of the First Amendment. 
As Christians, we need Spiritual Weapons for this Fight, which is why we want to invite you to our first annual Fight Laugh Feast Conference in Nashville October 1-3
We've put together a package that is full of feasting and psalm singing, hearty fellowship, and a line up of speakers committed to showing you how God's Word applies to politics, economics, business, education, creativity, marriage and family, and much more. So please join us this October 1st through the 3rd as we build a rowdy Christian culture for God's glory and our good. Go to Fightlaughfeast dot com and register today.
William Barr Has Answers But Democrats Didn't Want Them
https://www.washingtonpost.com/politics/2020/07/28/bill-bar-testimony-live-updates/
Washington Post reports: Democrats clashed with Attorney General William Barr on Tuesday. Lawmakers spent months seeking Barr's testimony on a host of issues related to the Trump administration's interactions with the Justice Department. With the attorney general finally seated at the witness table, Democrats mostly made speeches or talked over him as he attempted to answer their questions, seemingly squandering any chance of getting new information or an admission out of him.
"This is a hearing; I thought I was the one who was supposed to be heard," Barr said in exasperation.
In a thick fog of partisan bickering, indignant lawmakers argued about everything from mask-wearing etiquette to bathroom breaks. In the afternoon, the committee chairman, Rep. Jerrold Nadler (D-N.Y.) initially refused Barr's request for a five-minute break. "You're a class act," the attorney general said sarcastically, before Nadler relented.
Many of the angriest exchanges focused on the federal government's response to protests over police misconduct and brutality, with Nadler accusing the attorney general of deploying more manpower to spark ugly confrontations with protesters because, the lawmaker argued, Trump believes such confrontations will scare Americans into voting for him.
"You are projecting fear and violence nationwide in pursuit of obvious political objectives. Shame on you, Mr. Barr," Nadler said.
Barr replied that U.S. marshals and other federal agents have a duty to guard Portland's federal courthouse from people tossing fireworks and trying to vandalize and break into the building. He said they are under siege in that building and need help dealing with a nightly barrage of fireworks, fires, and attacks. Multiple law enforcement personnel have sustained serious injuries, Barr said.
"We are on the defense, we are not looking for trouble, and if the state and the city would provide the law enforcement services that other jurisdictions do, we would have no need to have additional marshals in the courthouse," the attorney general said.
But a good deal of the hearing consisted of the democrats interrupting Barr and refusing to let him answer questions.
[Audio clip]
https://thefederalist.com/2020/07/29/democrats-refused-to-let-barr-speak-because-they-know-hes-right/
David Marcus at The Federalist explains what's going on here: There is a serious giveaway in this tactic. When a member of Congress thinks he or she has a witness dead to rights for having made mistakes, or made false statements, the lawmaker tries to compel the witness to answer hard questions, not refuse to allow it. The problem Monday was that Barr clearly had very good answers for every question he was asked. There was no gotcha because he did nothing wrong and could explain that.
One of the best examples was the questioning from Rep. Pramila Jayapal. She engaged in a long rant about how when Trump supporters showed up at the Michigan capital with guns and Confederate flags Barr did not react, but in Portland and Washington D.C. he did react. She drew the conclusion that this was bias. When Barr tried to explain the situation, she simply talked over him. Why? If this was such a gotcha question, why not let Barr squirm?
The reason of course is that when Barr began his answer it was obviously going to make complete sense, diffuse the angry rhetoric from Jayapal, and destroy her sound bite, which is all she wanted in the first place. He began to explain that the White House and the federal courthouse in Portland are under his jurisdiction, whereas the Michigan state house is not, and the Michigan authorities are capable of handling that issue, which they did with no violence or property damage. She did not let him get a word in.
This was flat-out not a question. In fact, there were almost no questions from Democrats and nearly every time there was they refused to let the witness answer. At one point Barr said, "This is a hearing. I thought I was the one who was supposed to be heard." It was the only wrong thing he said all day. This was never about Barr being heard. 
CDC Director Says the Flu is 5-10 Times a Great Threat to School Age Children Than COVID
https://www.dailywire.com/news/cdc-director-threat-of-suicide-drugs-flu-to-youth-far-greater-than-covid/
Amanda Prestigiacomo: During a Buck Institute Webinar streamed on July 14, Center for Disease Control and Prevention (CDC) Director Robert Redfield promoted the general reopening of schools, highlighting the low coronavirus risk for children without preexisting conditions and the unfortunate spike in suicides and drug overdoses, which Redfield said are "far greater" in number than COVID-linked deaths in the young.
"It's not risk of school openings versus public health. It's public health versus public health," asserted Redfield.
"I'm of the point of view, and I weigh that equation as an individual that has 11 grandchildren that the greater risk is actually to the nation to keep these schools closed," he continued.
Redfield said that over 7 million children get mental health services from their school, "a lot of people get food and nutrition in schools," and added that schools are vital "in terms of mandatory reporting sexual and child abuse."
"Obviously, the socialization is important," he said. "And, obviously, for some kids, I think actually a majority of kids, their learning in a face-to-face school is the most effective method of teaching."
The reopening, Redfield underscored, "has to be done safely, and it has to be done with the confidence of the teachers. It has to be done with the confidence of parents. And so I think each of the school districts will begin to wrestle with this."
Speaking of the risks of the China-originated coronavirus to children, Redfield said data shows the flu is some five to 10 times more deadly, adding that the odds of a child dying a COVID-linked death is "one in a million."
"I think it is important to try to be factual as we go through this," the CDC director said. "When we look at, right now, the mortality of this particular COVID virus, in the first almost 218,000 people we looked at February to July, there was 52 individuals under the age of 18. And if I recollect, about 35 were actually school age. Some of them were younger than school age. We're looking critically at those individuals. And, you know, clearly, there's an increase in comorbidities related to significant medical conditions…"
"But I think that's important because what that means, actually, is the risk per 100,000, so far, you know, into the outbreak, six months into it, is, in fact, that we're looking at about .1 per 100,000. So another way to say that, it's one in a million," Redfield said in reference to the death rate among children.
"Now, I'm not trying to belittle that, I'm just trying to make sure we look at it proportional," he said. "Because if you do the same thing for influenza deaths for school-age children over the last five years, they're anywhere from five to 10 times greater."
According to CDC.gov, "The risk of complications for healthy children is higher for flu compared to COVID-19. However, infants and children with underlying medical conditions are at increased risk for both flu and COVID-19."
And the thing that we need to keep pressing in all of this is two fold: first just the actual mortality facts. The actual mortality rate is very low, especially for the healthy and those under 80 years old. The vast majority of deaths from Covid have been from the elderly. We should protect the elderly, but one of the best ways to protect them is for the rest of the healthy population to go about their business and gradually establish herd immunity. And the second thing is to keep pointing to the discrepancies. Casinos can be open? Theaters? Protests and riots with thousands of people? This tells you all you need to know about the danger of COVID 19. 
This is Toby Sumpter with Crosspolitic News. You can find this and all of our shows at Crosspolitic.com or on our app, which you can download at your favorite app store, just search "Fight Laugh Feast". Our app is the only way to get In the Bullpen with Mark Dewey. Support Rowdy Christian media, and become a Fight Laugh Feast Club Member, and for a limited time you can get your very own Fight Laugh Feast t-shirt and access to tons of extended discussions with Sho Baraka, David French, Erick Erickson, Maj Toure, Biblical Parenting with Doug and Nancy Wilson, God and Government and End Times Eschatology with Gary Demar, Pastors and Politics with George Grant and C.R. Wiley and more, Proverbs with Me, and our very own Worldview Shotgun Series. You also get $100 off your registration for our first annual Fight Laugh Feast Conference, where we hope to meet many of you in Nashville, TN October 1st through the 3rd. Go to fightlaughfeast.com to register now. Have a great day. https://flfnetwork.com/coming-soon/