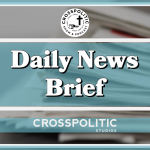 This is Toby Sumpter with your CrossPolitic Daily News Brief for Tuesday, August 4, 2020.
Today you will hear about New Jersey Gym owners defying COVID Tyranny, the Mayor of Moscow, Idaho saves us from… little kids playing soccer, and meanwhile, if you're a criminal in Minnesota your get a free pass. 
New Jersey Gym Owners More Intelligent Than Most Pastors
https://www.inquirer.com/health/coronavirus/coronavirus-covid-19-atilis-gym-bellmawr-arrested-phil-murphy-ian-smith-frank-trumbetti-masks-20200801.html
Owners of the Atilis Gym in Bellmawr kicked down the plywood boards covering their business' doorway Saturday morning and ushered in dozens of clients for workouts, the latest move in a months-long standoff with government officials over New Jersey's coronavirus-related restrictions.
Owners Ian Smith and Frank Trumbetti allowed 40 to 50 customers to work out in the gym at once, which Smith said was less than 25% of the building's capacity. As customers waited in line Saturday morning, many said they couldn't wait to get back to their regular workouts.
Smith acknowledged it was likely that law enforcement would soon arrive to force them to close again, as has happened several times since Atilis reopened in May. At a meeting Tuesday, Bellmawr officials will consider revoking the gym's business license, according to a letter Smith received.
"Gov. Murphy has weaponized the police force against us over and over," Smith said. "I think he looks foolish, the way he's treating us — he's pulling out all the stops. You have to ask, How far will one man go to destroy a small business?"
Atilis, which has become a symbol of the frustration some residents and small-business owners feel over the state's ongoing COVID-19 restrictions, closed in March along with other gyms, restaurants, and a range of businesses that were ordered to cease operation to control the virus' spread.
In May, riding a wave of publicity from a tour of several Fox News appearances and support from Atilis members, the owners opened the gym. The fight has escalated: Last month, they were held in contempt of court after a Superior Court judge in Camden ruled that Atilis must comply with an executive order by Gov. Phil Murphy that limits indoor gym use to individual training sessions.
Smith and Trumbetti took the doors off the hinges to prevent the state from changing the locks again. On Monday they were arrested, each charged with contempt, obstruction, and violation of a disaster-control act. The Camden County Sheriff's Office boarded up the entrance to the gym.
Around 8 a.m. Saturday, Smith and Trumbetti kicked and forced in the boards as supporters and gym members cheered them on, then replaced the doors on their hinges.
Several dozen people watched from the parking lot, many waving American flags and listening to patriotic music blasting from speakers in front of the gym. 
Smith said he and Trumbetti spent thousands of dollars implementing safety regulations based on what other gyms have been asked to follow. Inside the air-conditioned facility, clients receive contactless temperature screenings, are asked to sign waivers, and are given their own bottles of spray disinfectant to use while moving among machines.
Masks are not required, unlike in gyms that have reopened in neighboring states such as Pennsylvania. Smith said that an air purifier has been installed and that no COVID-19 cases have been traced to the facility despite logging more than 13,000 visits from members in recent weeks.
"You can do this safely," he said. "You can't say that all gyms have bad ventilation. Some might — but to put them all in one category shows you don't understand discrepancies and nuance. It shows you're not actually interested in helping small businesses."
Atilis members who used the gym Saturday said the owners were doing a good job of managing the health risks of working out. Joe Wickersham of Audubon, who worked out Saturday morning, said it was big enough inside for members to keep their distance.
"It's great what they're doing, and it's a shame it came to this," said Wickersham, 55. "Obviously, the governor is just picking and choosing what businesses can open."
As Christians, we need Spiritual Weapons for this Fight, which is why we want to invite you to our first annual Fight Laugh Feast Conference in Nashville October 1-3
We've put together a package that is full of feasting and psalm singing, hearty fellowship, and a line up of speakers committed to showing you how God's Word applies to politics, economics, business, education, creativity, marriage and family, and much more. So please join us this October 1st through the 3rd as we build a rowdy Christian culture for God's glory and our good. Go to Fightlaughfeast dot com and register today.
Speaking of People Exercising freely…
Moscow Mayor Shut Down Youth Sporting Events Sunday
https://dnews.com/coronavirus/youth-sports-tournaments-abruptly-halted/article_6cc8df14-f0ed-5816-9386-bea12460fd23.html?fbclid=IwAR1Z19_Pj5WBRR0yOTSVzD1j4nLZzRZ87dkDFH1B3xcMxMPNktWwI9mr2hs
Anthony Kuipers writes for the Moscow-Pullman Daily News: Two youth sports tournaments that drew large crowds from across the region to Moscow during the weekend were shut down suddenly by the city's mayor Sunday morning.
The Ash Rattler Wood Bat Tournament and the Harvest Cup tournament together brought more than 100 baseball and soccer teams together in Moscow's parks and playfields.
Play at both tournaments was underway Sunday when city officials ordered them to halt at about 9 a.m.
Mayor Bill Lambert told the Daily News the tournaments were canceled because too many people attending the events, particularly the Harvest Cup soccer matches, were not socially distancing or wearing masks.
He said the tournament organizers were asked to follow the mask and distancing protocols to help keep the community safe amid the COVID-19 pandemic. Lambert said he believes the organizers tried to make sure the crowds followed these rules, but ultimately could not control the behavior of the people in attendance.
"We've got to protect our citizens, our businesses and our town," he said.
Lambert said the city received a surge of complaints from locals about the large gatherings at the tournaments.
"It's a very sad thing, but in my opinion it's the right thing to do," Lambert said.
Lambert said he wants all sports events postponed temporarily in Moscow, [except for his golfing outing next week].
The Harvest Cup website includes a list of safety measures and guidelines the participants were asked to follow, including a recommendation that masks are worn at all times and a requirement that masks are worn on the sidelines. Soccer matches were held at four Moscow locations, according to the website: Mountain View Park; Oylear Field; Lena Whitmore Elementary School; and McDonald Elementary School.
The Eastern Washington Surf Soccer Club, the organization behind the Harvest Cup, posted in a Facebook message: "For the record, everyone at all fields (Sunday) were incredible. Everyone was masking and distancing and doing everything correctly. Unfortunately, yesterday (Saturday) was not and the town continues to bombard the mayor to shut down our tournament as well as baseball."
The tournament director said 104 youth and adult teams with four to seven players to a side competed in the event.
McKay Bodily, president of Idaho Catch, a baseball program from Idaho's Treasure Valley that participated in the Ash Rattler Wood Bat Tournament, believes the cancelation of the tournaments was politically motivated. The baseball tournament took place at the Moscow School District Community Playfields and Ghormley Park.
Bodily said teams traveled to Moscow and spent thousands of dollars on lodging during the weekend. He said "there's no sense" in canceling the tournament during its final day when many teams were already eliminated and most of the scheduled games were completed. He said the Idaho Catch teams were scheduled to play Sunday afternoon.
Bodily said Lambert and the Moscow City Council need to explain the logic for the cancellation, which he called "pretty petty."
Bodily said he believes the mayor made a political decision by canceling the event, and only did so after the city received the revenue from families staying in its hotels and dining at its restaurants.
According to Bodily, most people at their games wore masks, including the players in the dugout. He said the teams were on board with abiding by the rules.
"Everyone involved, we've all taken the stance that we'll follow the rules as long as we can play the game," he said.
What Bodily didn't understand is that the way you play the game is that you must bow to one of the State's gods. If the kids had all been wearing Black Lives Matter patches and kneeling on the fields, they would have been called brave and heroic and left alone. 
Meanwhile in Minneapolis, the Police Warn Residents to Obey Criminals
https://alphanewsmn.com/minneapolis-police-tell-residents-to-obey-criminals-and-be-prepared-to-be-robbed/?fbclid=IwAR0t7EBj-PIp8gfRVu7rQ72l5g4F9BiZstwzE4yXTGV7w2qrz6Uh2NXF9c8
The Minneapolis Police Department (MPD) told residents they should "be prepared" to hand over their phones, wallets, and purses to robbers.
The MPD has reported a 46 percent increase in carjackings and a 36 percent increase in robberies compared to this same time last year, according to WCCO.
Police in the city's Third Precinct alone have received more than 100 reports of robberies and 20 reports of carjackings in just the last month.
Officials are now telling residents to be ready and willing to comply with the demands of criminals in an email sent to Third Precinct residents.
"Be prepared to give up your cell phone and purse/wallet," the police said in their email, a copy of which was obtained by Alpha News. The email said citizens should listen to criminals and "do as they say."
The message warned that "some victims have been maced, dragged, assaulted, and some threatened with a gun."
https://pjmedia.com/news-and-politics/bryan-preston/2020/08/02/minneapolis-police-defunded-by-city-council-advise-residents-to-obey-criminals-n742610
PJ Media notes that what has happened in Minneapolis is what we are also seeing in cities across the nation. Authorities are saying, basically, you're on your own. Seattle's police sent a similar message last week. Shootings are skyrocketing in New York. Chicago is like Chicago in its worst gangland days now. Unrestrained activists are morphing into mafioso in Kentucky. 
That is, of course, unless you are a little kid playing soccer or baseball. Then we send in the SWAT teams. Or if you're trying to open your own business. That will also require arrests and fines. Also if you're a pastor trying to have a church, service, that's illegal. But if you're a petty criminal, a carjacker, a thief, you have free rein. Also, if you're a convicted criminal in a prison somewhere, you can get early release because of… let me check my notes… Covid. Right. So if you want to be a law abiding citizen and open your business, play soccer, or go to church, you might get arrested and put in jail for not wearing masks. But if you're in prison, you might get early release for… let me check my notes… not wearing masks?
Somebody pointed out that our first clue that the mask mandates were a complete scam should have been the fact that nobody thought to just give all the criminals masks. Either they don't work or that wasn't the point. 
This is Toby Sumpter with Crosspolitic News. You can find this and all of our shows at Crosspolitic.com or on our app, which you can download at your favorite app store, just search "Fight Laugh Feast". Our app is the only way to get In the Bullpen with Mark Dewey. Support Rowdy Christian media, and become a Fight Laugh Feast Club Member, and for a limited time you can get your very own Fight Laugh Feast t-shirt and access to tons of extended discussions with Sho Baraka, David French, Erick Erickson, Maj Toure, Biblical Parenting with Doug and Nancy Wilson, God and Government and End Times Eschatology with Gary Demar, Pastors and Politics with George Grant and C.R. Wiley and more, Proverbs with Me, and our very own Worldview Shotgun Series. You also get $100 off your registration for our first annual Fight Laugh Feast Conference, where we hope to meet many of you in Nashville, TN October 1st through the 3rd. Go to fightlaughfeast.com to register now. Have a great day. https://flfnetwork.com/coming-soon/