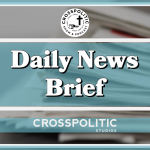 This is Toby Sumpter with your CrossPolitic Daily News Brief for Thursday, August 6, 2020.
Today you will hear about the massive explosion in Beirut, a pro-life documentary pulled from Amazon Prime without warning, and why doesn't major media want anyone sharing anything about hydroxychloroquine and zinc as a treatment for COVID-19?
A Shipment of Ammonium Nitrate Leaves a Crater in the Beirut Docks
https://www.nationalreview.com/news/at-least-100-dead-thousands-injured-in-beirut-explosion/
Brittany Bernstein from National Review reports: Lebanon will officially observe three days of mourning beginning Wednesday after a massive explosion in Beirut killed at least 100 people and injured at least 4,000 more on Tuesday, according to Lebanon's state media, NNA.
"The disaster is unprecedented," secretary general of the Lebanese Red Cross George Kettaneh told NNA.
The explosions were fueled by a 2,750-ton shipment of ammonium nitrate that had been stored in port since 2013, according to Prime Minister Hassan Diab.
Hundreds have been reported missing, raising fears that the death toll will be much larger than the current estimate, health minister Hamad Hassan said Wednesday.
Hassan said the health ministry is working on an emergency plan to set up field hospitals using equipment sent from Qatar, Iran, Kuwait, Oman and Jordan. Six to eight field hospitals would be ready "soon," he said. Four of the city's hospitals are out of service after sustaining damage in the blast and still-functional hospitals, which were already struggling to treat COVID patients, have been overwhelmed with casualties. 
The prime minister vowed that he "will not rest until we find the person responsible for what happened, to hold him accountable and impose the most severe penalties."
Meanwhile the head of Lebanon's Customs Authority Badri Daher has said he repeatedly warned the country's judiciary about dangerous substances stored at Beirut's port. He sent six memos to judiciary officials warning about the substances, saying they posed a danger to the public, according to Lebanon's LBC channel, which did not reveal when the memos were sent.
"Daher revealed that he asked to re-export these materials, but this matter did not happen," LBC reported.
Lebanese President Michel Aoun has called for a two-week state of emergency in the country and scheduled an emergency cabinet meeting. 
The disaster hit as Lebanon continues to struggle with the coronavirus pandemic as well as hyperinflation and looming economic collapse.
As Christians, we need Spiritual Weapons for this Fight, which is why we want to invite you to our first annual Fight Laugh Feast Conference in Nashville October 1-3
We've put together a package that is full of feasting and psalm singing, hearty fellowship, and a line up of speakers committed to showing you how God's Word applies to politics, economics, business, education, creativity, marriage and family, and much more. So please join us this October 1st through the 3rd as we build a rowdy Christian culture for God's glory and our good. Go to Fightlaughfeast dot com and register today.
Amazon Pulls Pro-Life Documentary Without Warning
https://thefederalist.com/2020/08/05/producer-pro-life-documentary-removed-from-amazon-prime-without-warning/
Jordan Davidson writes at the Federalist: "'Babies Are Still Murdered Here' [released October 2019, is a documentary directed and produced by Marcus Pittman] about the need for local pastors to address their local city governments and get involved in city council meetings and local and state legislature as a means to end abortion," Pittman told The Federalist. 
The project was produced in conjunction with End Abortion Now, an organization devoted to showing that "equal justice is afforded to unborn children through righteous legislation that criminalizes the act."
"We believe that it is the responsibility of the Church to fight abortion as Christians who stand on the Word of God. It is our humble assertion that the modern day Pro-Life movement has failed to end abortion because they have abandoned this sure foundation and elected to fight on the basis of neutrality rather than Scripture. This has had major implications for how we see, treat and legislate against abortion," their website explains. "The heartbeat of End Abortion Now is to proclaim the Good News of forgiveness and salvation, to help mothers and fathers considering abortion, and to see that equal justice is afforded to unborn children through righteous legislation that criminalizes the act."
In July 2020, Pittman began receiving messages from fans of the documentary who had tried to share it with new pro-life advocate Kanye West. They said it was no longer available on Amazon Prime.
"I started getting messages saying that nobody could watch the movie. That's when I logged in to find that the movie was removed and they gave me a message," Pittman says.
The message claims the film was removed because "this title does not meet our customer content quality expectations" and because they received "customer feedback." Pittman, however, said he never signed a content agreement with Amazon
"Amazon Prime lets pretty much anybody upload their movies to Amazon Prime. There isn't really a content distributor because anybody can upload their films, which makes it all the more crazy," Pittman said. 
He also said that, despite Amazon's claims of negative customer feedback, the film has received an overwhelming number of good reviews on Amazon and other platforms. As of August, 89 percent of the film's 344 customer reviews — far more ratings than most of Amazon's featured documentaries received — were five stars. 
While the trailer for "Babies Are Still Murdered Here" is still available publicly, Pittman says he's gotten no word from Amazon about what steps can be taken to see the film restored. 
"I think they have a right to ban me, but I think they also need to listen objectively to what the consumers want. I don't think they're being honest with their views of saying that their users don't want to see content like this or whatever… That's just not true," Pittman explained.
The Federalist reached out to Amazon for comment, but did not receive a response.
Dr. Simone Gold Says What the Heck
https://americasfrontlinedoctors.us/leadership.html
Dr. Simone Gold is the Founder of America's Frontline Doctors Board certified physician, attended Chicago medical school, Stanford law school, and completed her residency at Stoneybrook in New York. She and a number of other doctors gathered in Washington DC to hold a press conference at the end of July to decry what they are calling censorship of a highly effective treatment for COVID-19: hydroxychloroquine and zinc.  
The summary of studies they provide on their website says: "The safety of HCQ is irrefutable. The evidence supporting HCQ efficacy against Covid-19 is also overwhelming. All negative HCQ studies have used either: too much, used it alone (it needs Zinc), or used it late (it should be early.) The treatment dose is 200 mg HCQ twice a day for five days + Zinc 50 (elemental) daily. The prophylactic dose is 400 mg HCQ weekly + Zinc 50 (elemental) daily. (There are studies right now to see if HCQ 200 mg. weekly is sufficient.) This is a very low dose. (The usual dose of HCQ in Lupus, Rheumatoid Arthritis is 400 mg. daily for years.) There are telemedicine physicians who are aware of the facts and if you are concerned about this, please see one. It is also over the counter in many places in the world including Indonesia and most of South America."
White paper on HCQ: https://drive.google.com/file/d/1-gsn_Ye2EYDDkV_79Ag1tgUqZLNCMSt-/view
Compendium of HCQ Studies: https://drive.google.com/file/d/1l6y3L_KGb1ilMW0FaP4VZsd7WvX2IU3z/view
https://www.facebook.com/740512463/videos/10158373798967464/

Dr. Gold was interviewed recently by Glenn Beck and said, Hydroxychlorquine/chloroquine has been approved by the FDA for 65 years. When the FDA approve a "label use" for a drug, physicians may use it for "off-label" use. What happened during the shutdowns as people began talking about hydroxychloroquine for use with COVID-19 is that some governors began banning physicians from using it for off label use. Dr. Gold says that nothing like this has ever happened in the history of American medicine. 
She suggests that politics and greed may be the driver in the current misinformation battle. But she isn't sure it's directly about Trump. She notes for example that hydroxychloroquine was available over the counter in France. But it got pulled in France on January 13th – two months before Trump breathed a word about it. Dr. Gold wonders if it could have anything to do with the only other treatment out right now: Remdesivir. Remdesivir treats Covid in later stages; hydroxychloroquine is only effective in early stages of COVID-19. Some of the studies that have been cited to disprove hydroxychloriquine's effectiveness were studies done when COVID had already progressed. 
Dr. Gold says that we have known that hydroxychloroquine and chloroquine taken with Zinc is likely helpful for COVID-19 since 2005 when the National Institute of Health published a study indicating that that chloroquine worked for Cov-Sars-1. It turns out that Cov-Sars-1 is 78% identical to Cov-Sars-2. Dr. Gold says that there really isn't any reason to call this a "novel" coronavirus. It isn't really that novel. Dr. Gold also points out that in many countries were hydroxychloroquine and chloroquine are routinely used to treat malaria, there is hardly any COVID outbreak at all. The vast majority of deaths from COVID 19 have been in western countries where these medicines are being significantly regulated or limited.
A graph at hcqtrial dot com suggests that widespread treatment with hydroxychloroquine has lowered Covid deaths by nearly 80%. https://hcqtrial.com
While this isn't usually a medical infomercial, I feel like I should say that you might want to talk to your doctor about whether hydroxychloroquine and zinc is right for you.  
This is Toby Sumpter with Crosspolitic News. You can find this and all of our shows at Crosspolitic.com or on our app, which you can download at your favorite app store, just search "Fight Laugh Feast". Our app is the only way to get In the Bullpen with Mark Dewey. Support Rowdy Christian media, and become a Fight Laugh Feast Club Member, and for a limited time you can get your very own Fight Laugh Feast t-shirt and access to tons of extended discussions with Sho Baraka, David French, Erick Erickson, Maj Toure, Biblical Parenting with Doug and Nancy Wilson, God and Government and End Times Eschatology with Gary Demar, Pastors and Politics with George Grant and C.R. Wiley and more, Proverbs with Me, and our very own Worldview Shotgun Series. You also get $100 off your registration for our first annual Fight Laugh Feast Conference, where we hope to meet many of you in Nashville, TN October 1st through the 3rd. Go to fightlaughfeast.com to register now. Have a great day. https://flfnetwork.com/coming-soon/