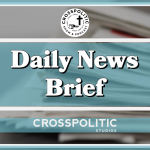 This is Toby Sumpter with your CrossPolitic Daily News Brief for Friday, August 7, 2020.
Today you will hear about a new poll from Gallup's Black Voices Department on how they feel about the police and the New York Attorney General sues the National Rifle Association for spending a lot of money and not sharing any of it with her. 
Most Black Americans Want Police to Remain in their Neighborhoods
https://news.gallup.com/poll/316571/black-americans-police-retain-local-presence.aspx?fbclid=IwAR2FybUu-61wHpauqyEuoC4DNJqP5WuDWZgxPvIGcjpOBDTuw4zSSO1M1mI
A New Gallup Poll is out: When asked whether they want the police to spend more time, the same amount of time or less time than they currently do in their area, most Black Americans — 61% — want the police presence to remain the same. This is similar to the 67% of all U.S. adults preferring the status quo, including 71% of White Americans.
Meanwhile, nearly equal proportions of Black Americans say they would like the police to spend more time in their area (20%) as say they'd like them to spend less time there (19%). 
These findings are from a June 23-July 6 Gallup Panel survey, administered by web in English and conducted as part of the newly launched Gallup Center on Black Voices [because apparently sound waves have color now]. The study includes large samples of Black, Hispanic and Asian Americans, weighted to their correct proportions of the population.
Of these four racial/ethnic groups, Asian Americans are the most likely to want less police presence where they live, with 28% saying this. That contrasts with 12% of White Americans, 17% of Hispanic Americans and 19% of Black Americans.
Although Black Americans seem about as comfortable as Americans overall with the amount of police presence where they live, they differ markedly in their perceptions of how their local police might treat them if they were to interact.
Fewer than one in five Black Americans feel very confident that the police in their area would treat them with courtesy and respect. While similar to the 24% of Asian Americans saying the same, it is markedly lower than the 40% of Hispanic Americans and the 56% of White Americans who feel this way. This could either stem from Black Americans' own negative experiences with the police or from their familiarity with people who have had negative encounters with law enforcement. 
When factoring in those who are at least somewhat confident that the police would treat them well, a majority of Black Americans (61%) are generally confident, but this is still below the 85% seen nationally, including 91% of White Americans. 
Most Black Americans want the police to spend at least as much time in their area as they currently do, indicating that they value the need for the service that police provide. However, that exposure comes with more trepidation for Black than White or Hispanic Americans about what they might experience in a police encounter. And those harboring the least confidence that they will be treated well, or who have had negative encounters in the past, are much more likely to want the police presence curtailed.
These results correspond with Gallup's previously reported findings showing that only 22% of Black Americans favor abolishing police departments. However, the vast majority believe reform is needed, with upward of 90% favoring specific reforms aimed at improving police relations with the communities they serve and preventing or punishing abusive police behavior.
While there is some value to this information, there is much that is not addressed here. What is needed is far more information for this to really be helpful. How do these numbers break out geographically? Is there any difference between folks on the West Coast or East Coast? Deep South or Midwest or Northwest? How do these numbers break out demographically – among married couples, single moms, people with incarcerated parents? While there has no doubt been a shared experience by many blacks, whites, or Asians, we are not Darwinists. We don't believe that material circumstances are determinative. Human beings are far more than the amount of pigment in their skin. We actually have far more meaningful similarities and differences. 
Man, we need to think. And we need weapons to cut through the crazy. We need Weapons for this Fight, which is why we want to invite you to our first annual Fight Laugh Feast Conference in Nashville October 1-3. We've put together a package that is full of feasting and psalm singing, hearty fellowship, and a line up of speakers committed to showing you how God's Word applies to politics, economics, business, education, creativity, marriage and family, and much more. So please join us this October 1st through the 3rd as we build a rowdy Christian culture for God's glory and our good. Go to Fightlaughfeast dot com and register today.
Speaking of Weapons…
https://www.cnbc.com/2020/08/06/new-york-nra-lawsuit-ag-james-accuses-gun-group-execs-of-self-dealing.html
Tucker Higgins from CNBC reports: New York Attorney General Letitia James on Thursday announced that the state is seeking to dissolve the National Rifle Association in a lawsuit that accuses the leadership of the flagging nonprofit of diverting millions of dollars for their own personal use. 
According to the lawsuit, the senior leadership of the NRA squandered millions in donations on personal trips, private jets and expensive meals. The failure to lawfully manage the organization's funds contributed to losses of $64 million over three years, the suit says. 
The suit was filed in New York county in the New York State Supreme Court. At a press conference announcing the suit, James said the NRA was "a breeding ground for greed, abuse, and brazen illegality."
James is asking the court to dissolve the NRA and require each of the current and former executives named in the suit to pay full restitution. The suit argues that the four executives, including CEO Wayne LaPierre, shouldn't be permitted to ever again serve on the board of a New York charity.
"The NRA's influence has been so powerful that the organization went unchecked for decades while top executives funneled millions into their own pockets," James said. "The NRA is fraught with fraud and abuse, which is why, today, we seek to dissolve the NRA, because no organization is above the law." (Including the 2nd Amendment.)
The New York lawsuit involves allegations of civil, not criminal, violations. But James said that the investigation was ongoing and "if we uncover any criminal activity, we will refer it to the Manhattan district attorney."
D.C. Attorney General Karl Racine announced nearly simultaneously on Thursday that the district was suing the NRA Foundation, alleging that the foundation allowed its funds "to be diverted from charitable purposes and wasted to prop up the NRA in impermissible ways."
NRA president Carolyn Meadows said in a statement that the suit is "a baseless, premeditated attack on our organization and the Second Amendment freedoms it fights to defend."
"You could have set your watch by it:  the investigation was going to reach its crescendo as we move into the 2020 election cycle," Meadows said. "It's a transparent attempt to score political points and attack the leading voice in opposition to the leftist agenda."
The suit continues a long-running battle between the state and the gun-rights group, which has been chartered in New York since 1871.
James, who is a Democrat, threatened to investigate the NRA's nonprofit status during her campaign for attorney general and likened the group in 2018 to a "terrorist organization." 
Also, in other news Jerry Nadler says Antifa violence in Portland is a myth, but the Easter Bunny is very, very real. 
James said on Thursday that the suit was unrelated to her personal views on gun violence, but Meadows countered that it was a "a power grab by a political opportunist – a desperate move that is part of a rank political vendetta." The NRA cited James's comments about the NRA being a terrorist organization in a countersuit seeking to end the AG's case. 
New York's lawsuit comes as the NRA, which boasts 5 million members and exerts tremendous political pressure around the country, suffers from financial hardship that predates the coronavirus pandemic but which was exacerbated by the economic downturn. 
The group, which spent tens of millions of dollars boosting President Donald Trump's 2016 campaign, has reportedly laid off 200 staffers in 2020 citing declines in revenue. It also announced pay cuts and four-day work weeks in April. 
The lawsuit claims that the group had a $27.8 million surplus in 2015, which declined by about $64 million by 2018, putting the group $36 million under water.
The group's financial situation was in part driven by lavish personal spending by the group's leaders, according to the lawsuit, in violation of their fiduciary duties and New York and federal laws. 
LaPierre, a longtime NRA executive and a Trump ally, spent hundreds of thousands of dollars on private trips for himself and his family, the suit alleges. Those trips include eight visits to the Bahamas and all-expense paid safaris in Africa with his wife, Susan, according to the lawsuit. 
The trips to the Bahamas cost $500,000, according to the lawsuit. Over the past two years, LaPierre also spent $3.6 million on travel consultants and several million dollars on private security for himself and his family, the suit alleges. 
Also, for some reason they have bought a lot of guns. 
In a statement, LaPierre defended his stewardship of the NRA, and said the suit was "an affront to democracy and freedom."
"We're ready for the fight. Bring it on," he said. 
The other former and current executives named in the suit are Woody Phillips, the former treasurer and chief financial officer; Joshua Powell, LaPierre's former chief of staff; and John Frazer, the corporate secretary and general counsel.
Each of the men contributed to a culture of self-dealing that violated state laws governing the management of nonprofits in addition to the NRA's own bylaws, the suit claims. None of the executives immediately responded to a request for comment submitted to the NRA. 
The suit also details what it alleges was a nefarious relationship between the NRA and its former advertising firm, Ackerman McQueen. The two groups acrimoniously parted ways last year, after which the NRA sued Ackerman McQueen over its billing practices and Ackerman McQueen countersued, alleging defamation. 
The suit alleges that Ackerman McQueen participated in a scheme in which it would pay for the expenses of the members of the NRA leadership and pass those expenses through to the gun-rights organization without detailing exactly what it spent the money on.
[Unlike that the Democratic National Convention which is funded by Black Lives Matter and Antifa currently being funded by the Democratic National Convention.] 
According to the lawsuit, in 2017 and 2018, Ackerman McQueen spent $70 million on such "out-of-pocket expenditures" and "public relations and advertising" that concealed entertainment and travel spending by NRA executives, including the personal hair and makeup for Susan LaPierre.  
Asked about the case, Trump said on Thursday that the NRA should move to Texas, where it could lead a "beautiful life." He said the lawsuit was a "terrible thing." 
This is Toby Sumpter with Crosspolitic News. You can find this and all of our shows at Crosspolitic.com or on our app, which you can download at your favorite app store, just search "Fight Laugh Feast". Our app is the only way to get In the Bullpen with Mark Dewey. Support Rowdy Christian media, and become a Fight Laugh Feast Club Member, and for a limited time you can get your very own Fight Laugh Feast t-shirt and access to tons of extended discussions with Sho Baraka, David French, Erick Erickson, Maj Toure, Biblical Parenting with Doug and Nancy Wilson, God and Government and End Times Eschatology with Gary Demar, Pastors and Politics with George Grant and C.R. Wiley and more, Proverbs with Me, and our very own Worldview Shotgun Series. You also get $100 off your registration for our first annual Fight Laugh Feast Conference, where we hope to meet many of you in Nashville, TN October 1st through the 3rd. Go to fightlaughfeast.com to register now. Have a great day. https://flfnetwork.com/coming-soon/