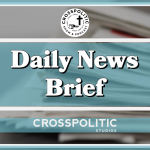 This is Toby Sumpter with your CrossPolitic Daily News Brief for Tuesday, August 11, 2020.
Today you will hear about European health officials questioning the mask narrative, Illinois State Representative calls for the abolition of history classes, and homicides are setting records in many American cities.
Top European Health Officials Deny Masks Help
https://fee.org/articles/europes-top-health-officials-say-masks-arent-helpful-in-beating-covid-19/?fbclid=IwAR3h-77_459DOPifHl14Ayeo_kDhsAKE3qlGoabfk9tr9i8G19GLtagqH0I
Jon Miltimore from Fee dot org writes: Denmark boasts one of the lowest COVID-19 death rates in the world. As of August 4, the Danes have suffered 616 COVID-19 deaths, according to figures from Johns Hopkins University.
That's less than one-third of the number of Danes who die from pneumonia or influenza in a given year. Despite this success, Danish leaders recently found themselves on the defensive. The reason is that Danes aren't wearing face masks, and local authorities for the most part aren't even recommending them.
This prompted Berlingske, the country's oldest newspaper, to complain that Danes had positioned themselves "to the right of Trump."
"The whole world is wearing face masks, even Donald Trump," Berlingske pointed out.
This apparently did not sit well with Danish health officials. They responded by noting there is little conclusive evidence that face masks are an effective way to limit the spread of respiratory viruses.
"All these countries recommending face masks haven't made their decisions based on new studies," said Henning Bundgaard, chief physician at Denmark's Rigshospitale, according to Bloomberg News. (Denmark has since updated its guidelines to encourage, but not require, the use of masks on public transit where social distancing may not be possible.)  
Denmark is not alone.
Despite a global stampede of mask-wearing, data show that 80-90 percent of people in Finland and Holland say they "never" wear masks when they go out, a sharp contrast to the 80-90 percent of people in Spain and Italy who say they "always" wear masks when they go out.
Dutch public health officials recently explained why they're not recommending masks.
"From a medical point of view, there is no evidence of a medical effect of wearing face masks, so we decided not to impose a national obligation," said Medical Care Minister Tamara van Ark.
Others, echoing statements similar to the US Surgeon General from early March, said masks could make individuals sicker and exacerbate the spread of the virus.
"Face masks in public places are not necessary, based on all the current evidence," said Coen Berends, spokesman for the National Institute for Public Health and the Environment. "There is no benefit and there may even be negative impact."
In Sweden, where COVID-19 deaths have slowed to a crawl, public health officials say they see "no point" in requiring individuals to wear masks.
"With numbers diminishing very quickly in Sweden, we see no point in wearing a face mask in Sweden, not even on public transport," said Anders Tegnell, Sweden's top infectious disease expert.
The top immunologists and epidemiologists in the world can't decide if masks are helpful in reducing the spread of COVID-19. Indeed, we've seen organizations like the World Health Organization and the CDC go back and forth in their recommendations.
Whether one is pro-mask or anti-mask, the fact of the matter is that face coverings have become completely politicized, which stands to only further pollute the science.
Last month, for example, researchers at Minnesota's Center for Infectious Disease Research and Policy responded to demands they remove an article that found mask requirements were "not based on sound data."
The school, to its credit, did not remove the article, but instead opted to address the objections critics of their research had raised.
The problem with mask mandates is that public health officials are not merely recommending a precaution that may or may not be effective.
They are using force to make people submit to a state order that could ultimately make individuals or entire populations sicker, according to world-leading public health officials.
That is not just a violation of the Effectiveness Principle. It's a violation of a basic personal freedom.
Mask advocates might mean well, but they overlook a basic reality: humans spontaneously alter behavior during pandemics. Scientific evidence shows that American workplaces and consumers changed the patterns of their travel before lockdown orders were issued.
Jon Miltimore concludes: Instead of ordering people to "mask-up" under penalty of fines or jail time, scientists and public health officials should get back to playing their most important role: developing sound research on which people can freely make informed decisions.
Illinoise State Representative Calls for the Abolition of History
https://caldronpool.com/calls-to-abolish-history-classes-and-remove-current-history-books-because-they-lead-to-white-privilege/
Democratic state Representative La Shawn Ford has said history classes should be abolished in Illinois until a more inclusive curriculum is developed that doesn't lead to White Privilege and racism.
Ford met with local leaders in Evanston, Chicago last week where he proposed the plan. He also introduced a bill in the Illinois House amending the school code to require the study of the American civil rights movement.
"Today, I'm calling for the abolishment of history classes in Illinois. We're concerned that current school history teachings lead to White Privilege and a racist society," Ford said.
Ford not only called on the state board of education to end the teaching of history, but for the local school districts to "take immediate action by removing the current history books and curriculum practices that unfairly communicate our history until a suitable alternative is developed."
After he finished the press conference, the reporters asked Mr. Ford to repeat what he had said because they had already destroyed all their notes in obedience to Mr. Ford's proposal to take immediate action in removing all history from the state of Illinois. Several reporters also broke into jibberish, apparently acknowledging that language is an unfair historical advantage. Still others stripped naked and vowed to destroy anything that took longer than five minutes to make, and consequently an intense argument broke out over whether that meant McDonalds was racist or not.
While the man is nuts, I would hasten to point out that the history curriculum in Illinois government plantation schools is what got us to this point. So… I've got mixed feelings. But I'm not at all hopeful that the replacement will be any better. 
This is why we need weapons for this fight. Which is why we want to invite you to our first annual Fight Laugh Feast Conference in Nashville October 1-3. We've put together a package that is full of feasting and psalm singing, hearty fellowship, and a line up of speakers committed to showing you how God's Word applies to politics, economics, business, education, creativity, marriage and family, and much more. We aren't abolishing history. We're going to dig deep. So please join us this October 1st through the 3rd as we build a rowdy Christian culture for God's glory and our good. Go to Fightlaughfeast dot com and register today
Many Cities Heading for Record Number of Homicides in 2020
https://www.wdrb.com/news/local-activist-says-louisville-surpassed-2019-number-of-criminal-homicides/article_adec90d8-da44-11ea-bfba-6f9db60281bb.html
LOUISVILLE, Ky. (WDRB) — Homicides in Louisville are now heading toward a potential record-setting year.
Local activist Christopher 2X says 2020 has surpassed 2019 in the total number of criminal homicides reported.
As of Aug. 8, Louisville has had a total of 91 criminal homicides this year, according to 2X. The total number of criminal homicides for 2019 was 88. 
"If we stay on the current shooting pace, we could get to 100 homicides by the end of August 2020," 2X said.
This comes as Louisville reported a record number of homicides and non-fatal shootings in July with 23 homicides and 79 non-fatal shootings. Christopher 2X cites the data from LMPD's Homicide unit.
He said it's time for city or state leaders to declare the violent spike as a public health crisis.
"Absolutely. It's well overdue," he said. "I would welcome that from any bold Metro Council person. I would welcome that from the mayor and any other individual in the state of Kentucky, especially Governor Beshear."
2X said the drastic trend of homicides and shootings is also decreasing the rate at which LMPD can solve the cases. He said it's not something that can be fixed in the short-term, but thinks it's going to take a long-term strategy of steering young people away from violence.
But long-term strategies require remembering things, and remembering things requires history classes. 
https://www.kansascity.com/news/local/crime/article243784707.html
Meanwhile, something similar is going on in Kansas City: There had been 61 homicides by this time in 2018, which ended with 145. The number of killings this year is also outpacing 2017, the bloodiest year in the city's history with 155 homicides when counting police shootings.
More people have already been killed this year (95) than in all of 2014, which saw 86 homicides. Not even halfway through the year, homicides in 2020 have also surpassed the totals from 2002, 1984, 1973 and 1972.
"The amount of gunfire in the city is absolutely horrible," Police Chief Rick Smith, a former homicide detective, said Thursday, calling the number of homicides this year "unprecedented."
Sgt. Jacob Becchina, a police department spokesman, confirmed the city has "never had this many" killings at this point in a year.
In addition to homicides, nonfatal shootings throughout the city are "exploding," the Rev. Ronald Lindsay of Concord Fortress of Hope Church said this week in a virtual town hall.
At least 314 people have been shot and survived this year, leaving them with physical and psychological injuries. Eleven were shot June 21, including five victims struck by gunfire at Baccala, an adult entertainment club along Independence Avenue, police said.
That number of living victims is up from the 244 people who were wounded as of June 28 last year, according to police data.
In the 31 days of May this year, 82 people were struck by bullets — a nearly 75% increase compared to May 2019.
And a quick search online reveals much the same in Indianapolis, Columbus, Cincinnati, Albequerque, and Chicago – speaking of which, mobs of looting and violence surged through streets in Chicago Sunday night. And Portland enjoyed its 70-some-odd night of "peaceful protests" with bricks and tear gas, the flowers exchanged between the lovers.
And speaking of "peaceful protests" keep praying for Pastor John MacArthur who continues to stand up to a California mandate. He opened his message on Sunday welcoming everyone to Grace Community Church's "peaceful protest." President Trump used the same phrase to defend his private golf club's gathering last Friday. A Nevada church is playing a similar card by meeting for worship inside a casino since that's apparently an essential service according to the Supreme Court. 
This is Toby Sumpter with Crosspolitic News. You can find this and all of our shows at Crosspolitic.com or on our app, which you can download at your favorite app store, just search "Fight Laugh Feast". Our app is the only way to get In the Bullpen with Mark Dewey. Support Rowdy Christian media, and become a Fight Laugh Feast Club Member, and for a limited time you can get your very own Fight Laugh Feast t-shirt and access to tons of extended discussions with Sho Baraka, David French, Erick Erickson, Maj Toure, Biblical Parenting with Doug and Nancy Wilson, God and Government and End Times Eschatology with Gary Demar, Pastors and Politics with George Grant and C.R. Wiley and more, Proverbs with Me, and our very own Worldview Shotgun Series. You also get $100 off your registration for our first annual Fight Laugh Feast Conference, where we hope to meet many of you in Nashville, TN October 1st through the 3rd. Go to fightlaughfeast.com to register now. Have a great day. https://flfnetwork.com/coming-soon/