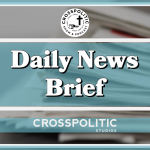 This is Gabriel Rench with your CrossPolitic Daily News Brief for Wednesday, August 12th, 2020.
Lets start off with some non-COVID related news:
Initiative to expand Idaho into Oregon could be on November ballot
https://www.krem.com/article/news/local/greater-idaho-initiative-drive-oregon-border-conservatives/277-e61e0e2a-44ed-44e3-adba-4382a4149d8b
Make Idaho Greater? 
According to Krem.com, disenfranchised voter, Mike McCarter, wants to splice off 20 of Oregon's 36 counties:
"Greater Idaho would include rural, eastern and southern Oregon counties and the northernmost areas of California.
It was an idea spawned by disenfranchised and conservative Oregonians that felt they weren't getting represented well at the state Capitol in Salem."
Being from Texas, I always carry succession in my heart. You can get me out of Texas, but it is hard to get the Texas out of me. So when I see these kind of news alerts, it always get the pitter patter of succession beating in my heart.  
Dead people, pets among the half million incorrect absentee voter applications mailed out in Virginia
https://disrn.com/news/dead-people-and-pets-among-the-half-million-incorrect-absentee-voter-applications-mailed-out-in-virginia
According to Discrn.com, Virginia has a problem.
"Dead citizens, disconnected relatives, and even a family pet were among more than half a million inaccurate applications for absentee ballots sent throughout Virginia last week by the Center for Voter Information
"Approximately half a million applications sent to eligible voters in Virginia included incorrect information, and we are working diligently to address the issues," the center said in a statement. "Mistakes in our programming are very rare, but we take them seriously, and our methods overall are extraordinarily effective.""
It is hard to imagine that over 500,000 inaccurate applications is a rare mistake. 
Kamala Harris will join Biden in Delaware.
https://www.nytimes.com/live/2020/08/11/us/biden-vs-trump
Joe Biden awoke from his coffin today to nominate Kamala Harris as his presumptive presidential pick, before he ducked back into his coffin to fall back asleep. All kidding aside, Komie has been selected has his VP, and according to New York Times; 
"Ms. Harris, 55, is the first Black woman and the first person of Indian descent to be nominated for national office by a major party, and only the fourth woman in history to be chosen for one of their presidential tickets. She brings to the race a far more vigorous campaign style than Mr. Biden's, including a gift for capturing moments of raw political electricity on the debate stage and elsewhere, and a personal identity and family story that many find inspiring."
Already mainstream media is doing their due diligence to stump for the Biden/Harris ticket. If you remember back during the Democratic debates, Komie attacked Biden on his forced bussing policing, by basically insinuating Biden was a racist. So CNN released a fact check almost immediately after Biden's announcement that read: "Did Harris call Biden a racist? She did not." Well she said, I don't think Joe is a racist, but…
Ok now onto all the COVID related news, but before I get there, please join us at our first annual Fight Laugh Feast Conference in Nashville this October 1st through 3rd. The theme of our conference is Weapons for this War and we are excited to bring all our friends together for some good fellowship in a crazy 2020. We will kick the whole thing off with beer (punch for the kids) and psalm singing the first night, followed by a slate of speakers committed to driving the nails of the gospel into your everyday life including Pastor Douglas Wilson, Pastor George Grant, Rod Martin, Dr. Glenn Sunshine, Pastor Toby, and more. The conference will conclude with a massive Fight Laugh Feast Network mashup, with representatives from all your favorite shows all on one show, fighting, laughing, and feasting. And then we really will feast together, with food trucks bringing in dinner to close out the conference.  Rowdy Christian media meets the conference world – not for the faint of heart.  Registration is limited, so don't wait, sign up for our first annual Fight Laugh Feast Conference in Nashville October 1st through 3rd. Go to Fightlaughfeast.com and register today.
Attacking a worker who's enforcing mask rules is now aggravated battery in Illinois
https://www.krem.com/article/news/health/coronavirus/assaulting-a-worker-enforcing-mask-mandate-is-now-aggravated-battery-in-illinois/507-1405a4de-cdd4-43e7-b0ee-37bb13d8ecfd
According to KREM.com:
"Anyone who assaults a worker who is enforcing a mask order or social distancing guidelines can now be charged with aggravated battery in Illinois. 
Gov. J.B. Pritzker signed the measure into law on Friday and it went into effect immediately. 
"This provision sends the message that it's vitally important for workers to be both respected and protected while serving on the front lines," the governor's office said in a statement."
So, the governor signs an order that basically deputizes a bunch of Karens to do his dirty work of policing. You know you have written a bad order, if you are satisfying Karen's desire to be Karen. 
DA declares California county a 'sanctuary county' for church worship gatherings
https://www.christianpost.com/news/da-declares-california-county-a-sanctuary-county-for-church-worship-gatherings.html
According to the Christian Post:
"San Luis Obispo County, located in central California, has become a sanctuary county for churches struggling to cope state restrictions on worship gatherings. 
San Luis Obispo County District Attorney Dan Dow confirmed late last month he will not prosecute churches for holding worship services or for singing in church, which was deemed unlawful by an order from California Gov. Gavin Newsom.
In many counties, pastors have had to decide between revolting or abiding by the order. 
Newsom's order to ban or limit church gatherings has led to lawsuits from churches and even a federal court ruling in May, where District Judge John A. Mendez ruled that Newsom's order is legal during the COVID-19 crisis. 
"I declare San Luis Obispo County a sanctuary county for singing and praising in our houses of worship," Dow said in a video shared via Twitter. "Inherent with my responsibility to enforce the law is the discretion I have … to pursue only those charges that are warranted and are in the interest of justice.""
Wow we need godly men in office. More of this please. 
As anti-mask billboards go up in Spokane, area officials urge people to follow recommendations
https://www.spokesman.com/stories/2020/jul/29/as-anti-mask-billboards-go-up-in-spokane-area-offi/
This happened just an hour and half north of me. According to The Spokesman:
"A conservative group has put up a pair of anti-mask billboards in the Spokane area that advocate against following public health recommendations, leading health officials and experts to argue media literacy is key to combating misinformation.
The John Birch Society, a far-right group that pushes for limited government, paid for two billboards reading "Freedom is the Cure" and showing a disgusted-looking woman throwing away a mask. The billboards can be found at North Market Street and East Garnet Avenue near the Bemiss neighborhood and on East Sprague Avenue near the Spokane Valley Public Library."
Think about this: What should you put on your local billboard? They get attention, they still work, it is not a dead media platform. You just have to be strategic and punchy to get the right kind of attention. 
Michelle Obama says coronavirus offers a chance to make policy change on wealth distribution
https://disrn.com/news/michelle-obama-says-coronavirus-offers-a-chance-to-make-policy-change-on-wealth-distribution
Journalist Michele Norris asked Obama on her Wednesday episode whether enough was being done to compensate and care for essential workers during the pandemic.
"When we were told to stay home, they got up, got dressed, and went out into the world, risking their lives to drive garbage trucks, to work in warehouses, to work in grocery stores, to work in hospitals," Norris said. "Often doing invisible, but yes, essential work, and I struggle with it because I'm not sure that we treat them like they're essential."
Obama agreed, saying that we need to think about them when considering "how wealth is distributed."…
Michelle went on to say:
"It's not enough to just acknowledge that the pain exists, to acknowledge the struggle —we actually have power. We can change so much of what we do; we can sacrifice a little more. We can shift priorities, and not just in our own lives, cause it's not enough to just do it in your own life if you're not willing to do it in our broader policy," Obama said. "You know, if those conversations aren't going to happen, then we're just giving lip service to it."
And Discrn notes that:
"Obama did acknowledge that her ideas would see opposition, but noted that those who resist are only doing so because they do not want to "give up things that they think they deserve." Those things must be sacrificed, she said, "for the sake of the greater good."
This is Gabriel Rench with Crosspolitic News. Support Rowdy Christian media by joining our club at fightlaughfeast.com, downloading our App, and heading to our first annual Fight Laugh Feast Conference in Nashville this October 1st through the 3rd. With your partnership, you are providing us with the resources to compete with the mainstream media. Go to fightlaughfeast.com to take all these actions. Have a great day. Lord bless