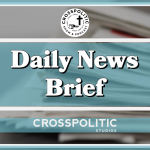 This is Gabriel Rench with your CrossPolitic Daily News Brief for Wednesday, August 19th, 2020.
Lets start of off with the Democratic National Convention:
Mrs. Obama: Vote like your lives depend on it
https://www.kget.com/news/politics/we-the-people-democrats-kicking-off-first-convention-in-midst-of-pandemic/
Monday's convention kick off, included these speakers:
Governor "Nursing Home" Cuomo, Governor Gretchen "Lockdown" Whitmer. Breadline Bernie Sanders, the Floyd brothers, and of course more. The convention ended the night with never-been-elected Michelle Obama urging votes to "vote like your lives depend on it"
""If you think things cannot possibly get worse, trust me, they can, and they will if we don't make a change in this election. If we have any hope of ending this chaos, we have got to vote for Joe Biden like our lives depend on it."
She of course is not referring to the millions of black babies that have died due to the democratic pro-choic platform.
Federal judge says Idaho cannot ban transgender athletes from women's sports teams
https://www.cnn.com/2020/08/18/us/idaho-transgender-athletes-ban-blocked/index.html 
According to CNN:
"A federal judge says transgender women and girls in Idaho cannot be banned from sports teams corresponding to their gender, blocking an Idaho law that attempted to do so.
"This is a victory for all women and girls in Idaho. Trans people belong in sports," wrote the American Civil Liberties Union, which provided legal representation in the case.
Gov. Brad Little signed the "Fairness in Women's Sports Act" in March, which would not allow athletes to participate on a women's team without first verifying that person's "internal and external reproductive anatomy" if her sex is disputed. But Judge David Nye granted a motion for a preliminary injunction against the act Monday."
Simple math is a problem in our society, but don't forget the church denied math before the world did. By this I mean, the ability to reason strait. Pastors' kids fall away from the faith and yet they do not step down as the bible requires, dads send their kids to public schools and are surprised at the outcome, we kick our kids out of worship services, and are surprised our children don't grow up to love Jesus. The bible's math is simple, and yet we choose to follow man's math, so don't be surprised that our judges are blind to even the most simplest judgments that my six year old could figure out.
Kevin Clinesmith, Corrupt FBI Attorney Who Falsified Carter Page FISA Warrant, Expected To Plead Guilty
https://thefederalist.com/2020/08/14/kevin-clinesmith-corrupt-fbi-attorney-who-falsified-carter-page-fisa-warrant-expected-to-plead-guilty/
According to The Federalist:
"A top FBI lawyer who fabricated evidence in a federal spy warrant against Trump campaign affiliate Carter Page is expected to plead guilty to federal charges brought by U.S. Attorney John Durham. Kevin Clinesmith, who is expected to admit to deliberately fabricating evidence in a Foreign Intelligence Surveillance Act warrant application, used to spy on a former campaign affiliate of President Donald Trump, was a top attorney in the Federal Bureau of Investigation's Office of General Counsel (OGC) and a key agency attorney under fired former FBI Director James Comey.
Clinesmith is the first individual to be charged as part of U.S. Attorney John Durham's investigation into the efforts in 2016 and 2017 to spy on the Trump campaign and Trump administration."
We can't wait to see everyone in Nashville, and we invite you to join us at our first annual Fight Laugh Feast Conference in Nashville this October 1st through 3rd. The theme of our conference is Weapons for this War and we are excited to bring all our friends together for some good fellowship in a crazy 2020. We will kick the whole thing off with beer (punch for the kids) and psalm singing the first night, followed by a slate of speakers committed to driving the nails of the gospel into your everyday life including Pastor Douglas Wilson, Pastor George Grant, Rod Martin, Dr. Glenn Sunshine, Pastor Toby, and more. The conference will conclude with a massive Fight Laugh Feast Network mashup, with representatives from all your favorite shows all on one show, fighting, laughing, and feasting. And then we really will feast together, with food trucks bringing in dinner to close out the conference.  Rowdy Christian media meets the conference world – not for the faint of heart.  Registration is limited, so don't wait, sign up for our first annual Fight Laugh Feast Conference in Nashville October 1st through 3rd. Go to Fightlaughfeast.com and register today.
Texas officials say record-high COVID-19 positivity rate was caused by coding errors, system upgrades
https://www.wfaa.com/article/news/health/coronavirus/texass-record-high-covid-positivity-rate-falls-after-data-experts-investigate/287-ffc19167-0d47-4be9-8c06-8648229288ef
According to WFAA:
"Gov. Greg Abbott said Thursday the Texas Department of State Health Services had brought in a "data team" to determine why the positivity rate of COVID-19 tests spiked to record levels in the first two weeks of August, reaching 24.5% on Wednesday.
The positivity rate is the percentage of COVID tests that come back positive. The higher the percentage, the more alarming to public health experts.
Abbott has previously said he would consider a positivity rate of above 10% a red flag for spread of the coronavirus in Texas.
It steadily increased from mid-June through mid-July, reaching a high of 17.4% on July 16, then decreasing to 12% by the end of the month.
But on August 1, the positivity rate began a rapid two-week ascent.
DSHS press officer Lara Anton said the data experts discovered that a computer upgrade performed Aug. 1 meant multiple positives were uploaded to the state's lab reporting system.
The data experts also discovered coding errors from one hospital lab and one commercial lab in the state.
Once those errors were resolved, tests from those sites were uploaded.
The resulting artificially high positivity rate could have been troubling for businesses."
The "experts" keep making major mistakes again and again. First they told us back in March and April not to wear masks and now they advise otherwise, in Florida you had positivity rates from certain hospitals come back with 100% positivity rates, and Texas brings in the data experts to fix their data experts problems. My recommendation is for people to stop getting tested, in order to stop giving politicians any grounds to stand on in this fracas. Because all you will get is more of this:
Wisconsin state agency tells employees to wear masks during Zoom calls, even if home alone
https://www.foxnews.com/health/face-masks-coronavirus-zoom-calls
Acording to Fox News:
In a July 31 email, the Department of Natural Resources Secretary Preston Cole reminded employees that the governor's mask order, which requires anyone over the age of 4 to wear a face-covering while indoors, was to take effect Aug. 1, the Milwaukee Journal Sentinel reported."
Cole said:
"Also, wear your mask, even if you are home, to participate in a virtual meeting that involves being seen — such as on Zoom or another video-conferencing platform — by non-DNR staff,… Set the safety example which shows you as a DNR public service employee care about the safety and health of others."
Love your neighbor, wear a mask, love your neighbor, wear a condom, love your neighbor, get a vaccine, love your neighbor, and as the Mayor of Richmond did, take down statutes of Stonewall Jackson, etc…
SD Governor Noem Rejects Federal Bailouts Due to Good Economic Position
https://bongino.com/sd-governor-noem-rejects-more-federal-bailouts-for-unemployment-due-to-its-good-economic-position/
Here is a snippet of her letter to President Trump:
"Despite significant disfunction in Congress, President Trump continues to problem solve and provide great leadership during this recovery effort.. "My administration is very grateful for the additional flexibility that this effort would have provided, but South Dakota is in the fortunate position of not needing to accept it. South Dakota's economy, having never been shut down, has recovered nearly 80% of our job losses. South Dakota is the only state in the nation that didn't have extended benefits kick in because our insured unemployment rate has been the lowest in the nation. We have the third best housing construction market in the country. And many, many businesses are looking to relocate to South Dakota because of the decisions we made during the pandemic. South Dakota is open for business – that applies to our business owners and their employees."
This is Gabriel Rench with Crosspolitic News. Support Rowdy Christian media by joining our club at fightlaughfeast.com, downloading our App, and heading to our first annual Fight Laugh Feast Conference in Nashville this October 1st through the 3rd. With your partnership, you are providing us with the resources to compete with the mainstream media. Go to fightlaughfeast.com to take all these actions. Have a great day. Lord bless