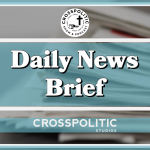 This is Toby Sumpter with your CrossPolitic Daily News Brief for Tuesday, August 25, 2020.
Today you will hear about new rumors of Kim Jong Un's failing health, as well as Jerry Falwell Jr.'s failing spiritual health, Steve Deace keeps bringing up the COVID facts, another shooting video sparks widespread vandalism, and is Moody Bible going woke?
Danbury, Connecticut Renames Sewage Plant
https://disrn.com/news/danbury-ct-to-name-sewage-plant-after-john-oliver
After late-night host John Oliver delivered an expletive-filled rant last month against the town of Danbury, Connecticut, Mayor Mark Boughton has announced that they are naming their sewage plant after the famous comedian.
"Behind me you'll see the City of Danbury sewer plant. And we are going to rename it the John Oliver Memorial Sewer Plant," Boughton, a Republican, announced in a Facebook video on Saturday. "Why? Because it's full of crap, just like you, John."
Speaking of 
Kim Jong Un Reportedly in a Coma
https://nypost.com/2020/08/23/kim-jong-un-in-a-coma-as-his-sister-takes-control-report/
You may recall that rumors have been swirling about the North Korean dictator's failing health for months. Back in April reports surfaced claiming that the dictator was clinging to life after a botched heart surgery. Now comes a former aide to South Korean President Kim Dae-jung, who says he believes Kim Jung Un is in a coma now but not yet dead. He says that the dictator's sister, Kim Jo Jong, has taken up some of the responsibilities of running the country. He claims this knowledge on the basis of South Korean spies.
Jerry Falwell Jr. 
https://disrn.com/news/jerry-falwell-jr-resigns-from-liberty-university-after-allegations-of-sexual-immorality
Jerry Falwell Jr. has reportedly resigned from Liberty University Monday after allegations that he participated in a six year long affair between his wife and a pool boy-turned-business associate. 
You may recall that Falwell had taken an indefinite leave of absence from his position as President of Liberty University, the world's largest Christian University, after Falwell posted lude pictures of himself on Instagram recently. 
Falwell released a statement Sunday night that was published in the Washington Examiner admitting that his wife had had a brief affair many years ago and they had been victims of an extortion scheme by the man. However, Giancarlo Granda came forward Monday with claims that he was the pool boy turned business partner, and that the affair had lasted from 2012 to 2018 and Falwell had been involved as a supportive witness. Granda provided text messages and screen shots to Reuters corroborating his claims. 
Falwell resigned later that day.   
This is why we need Weapons for this War. Which is why we want to invite you to our first annual Fight Laugh Feast Conference in Nashville October 1-3. We've put together a package that is full of feasting and psalm singing, hearty fellowship, and a line up of speakers Douglas Wilson, Jeff Durbin, George Grant, Glenn Sunshine, Rod Martin, myself, and all committed to showing you how God's Word is a sharp sword to take with you into every battle, from politics to business to education and family and much more. Please join us this October 1st through the 3rd as we seek to build a rowdy Christian culture for God's glory and our good. Go to Fightlaughfeast dot com and register today.
Steve Deace Continues to Report the COVID Facts 
https://www.facebook.com/stevedeace
Using latest CDC mortality data by demographic, Deace compares the current odds of dying with Covid to other obscure ways you could die.
The CDC no longer recommends asymptomatic testing, even after you've been exposed to someone with COVID. [Apparently that's skewing all the panic numbers.]
CDC quietly drops mandatory 14 day quarantine after traveling. 
Another Police Shooting Video Surfaces
https://www.washingtonpost.com/nation/2020/08/23/kenosha-police-shooting-video-wisconsin/?hpid=hp_hp-top-table-low_mm-kenosha-police-shooting-1050pm%3Ahomepage%2Fstory-ans
Kenosha, Wisconsin is the site of the latest riots over the shooting of a man named Jacob Blake. A video shows Blake getting into his car and the officers opening fire, shooting at least seven times into Blake's back. Blake is in stable condition. 
But protestors began to gather at the scene of the shooting a few hours later, setting fires and shooting fireworks at police officers. By the end of the night a car dealership had been burned, as well as a church, whose billboard actually read "Black Lives Matter."
Law enforcement declared an emergency curfew after 10:15pm in effect until 7am which was about as effective as woke parents counting to 3 or 10 or 10 and a half. Other buildings were vandalized, including a nearby library, and a dinosaur museum, a law office. This comes after 80 days of protests, supposedly over George Floyd's death, but one begins to get the impression that was merely an excuse. 
Moody Bible Institute Going Woke
http://s1392964364.t.en25.com/e/es?s=1392964364&e=591877&elqTrackId=6f67dd276bdc48129e62a0b993f47f59&elq=f8bf1850d16d4b15b65542805b80884f&elqaid=7031&elqat=1&fbclid=IwAR0IwXf6-utmtys5YyyaMmiFSiw1GaOtBQn0zKDBLPSbZrTJY3z0h1etqTo
A letter purporting to be from the president and provost of Moody Bible Institute assures supporters that a diverse committee has been formed to study issues of race. 
The letter reports that the task force has been charged with the following two major objectives:
To carefully examine our history in order to understand our past sins and mistakes with the purpose of determining what impact, if any, this history has had on Moody systemically.

To analyze the current ministry of Moody Bible Institute in order to make sure we are reflecting God's values when it comes to all racial issues.
The task force will seek to accomplish this work within a six-month period of time, with a report to be submitted to the Executive Leadership Team of Moody and the Board of Trustees by the end of February, 2021.
What we need is a college or church with a Biblical backbone willing to simply say "Thus says the Lord…" We don't need people from particular demographics telling us what the Bible says. Is there racial vainglory or animosity in our land? Of course. Is there police brutality? Of course. Is there sexual infidelity and lies and schemes in our land. Yes, yes, and yes. Our problem is not demographics. Our problem is not that we aren't woke enough, or intersectional enough, or diverse enough. Our problem is that no one has the courage to simply believe God's word and obey it out loud, in public. But the only way to get that kind of courage is to have a completely clean heart – to know that your sins are forgiven, to know you are justified in the courts of Heaven. 
This is Toby Sumpter with Crosspolitic News. You can find this and all of our shows at Crosspolitic.com or on our app, which you can download at your favorite app store, just search "Fight Laugh Feast". Our app is the only way to get In the Bullpen with Mark Dewey. Support Rowdy Christian media, and become a Fight Laugh Feast Club Member, and for a limited time you can get your very own Fight Laugh Feast t-shirt and access to tons of extended discussions with George Grant, Sho Baraka, David French, C.R. Wiley, Erick Erickson, Maj Toure, Doug and Nancy Wilson, Walter Williams, Gary Demar, and our very own Worldview Shotgun Series. You also get $100 off your registration for our first annual Fight Laugh Feast Conference, where we hope to meet many of you in Nashville, TN October 1st through the 3rd. Go to fightlaughfeast.com to register now. Have a great day. https://flfnetwork.com/coming-soon/