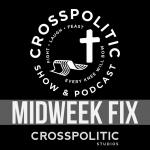 Midweek Fix: 01/12/2021
AR500 Armor
The Mission of Armored Republic is to Honor Christ by equipping Free Men with Tools of Liberty necessary to preserve God-given rights. In the Armored Republic there is no King but Christ. We are Free Craftsmen. Body Armor is a Tool of Liberty. We create Tools of Liberty. Free men must remain ever vigilant against tyranny wherever it appears. God has given us the tools of liberty needed to defend the rights He bestowed to us. Armored Republic is honored to offer you those Tools. Visit them, at ar500armor.com.
Bio
Rev. Dr. Joseph Boot (M.A., Ph.D.) is a Christian thinker, cultural apologist/philosopher, Founder and President of the Ezra Institute for Contemporary Christianity, and founding pastor of Westminster Chapel, Toronto. He is the author of Mission of God, and forthcoming new book King of Rulers.
Questions
Quebec just yesterday announced that they are going to tax all the unvaxxed, and when Black Face Trudeau heard about it, he said he was interested in hearing more about it. What is going on in Canadian land?
What strange brew has Canada been drinking for the last number of years to get into this place?
How did Bill C-4 pass the Canadian parliament by "royal assent?"
Why should pastors join the Liberty Coalition in preaching on biblical sexuality this Sunday?
Tell us about Ruler of Kings https://ezrapress.ca/products/ruler-of-kings-toward-a-christian-vision-of-government
Is Canada a covenant breaking nation?
Book: King of Rulers
"Today, we live in an era of perpetual revolution manifest by an intense intellectual activism in all cultural and political life. This requires, indeed demands, a distinctly Christian response. But herein lies a serious problem. From where can that Christian response come? What is the basis and foundation of a distinctly Christian response to the socio-political crisis of our time? That question is the subject of this book.
If I can demonstrate in these pages the truth, value, and relevance of the Lordship of Jesus Christ for political life and inspire the faithful to apply His sovereignty in our everyday interactions as believers, with the state, I will be very content."
Joe Boot, from the Introduction
"Without a doubt, Ruler of Kings gets my vote for the most necessary book for the Church today."
John Cooper, American musician, singer, and songwriter. Co-founder, lead vocalist and bassist of Christian band, Skillet.
"Ruler of Kings reminds us that Christ's sceptre of power rules over all of life, and that he will inevitably receive the inheritance of nations. A must read in our day!"
James R. White, apologist, theologian, author and director of Alpha & Omega Ministries in Phoenix, USA
"…Joe sets forth a clearly articulated and scripturally grounded Christian political vision that avoids the error of thinking it is all about Christian coercion and domination whilst tearing apart the myth of religious neutrality in politics and the lie of a neutral secular public square. He also leaves you in a place where the gospel cannot be reduced just to personal salvation – it has implications for all of life."
Andrea Williams, Director, Christian Concern, from the Foreword
Notes/Links
Trudeau on Quebec