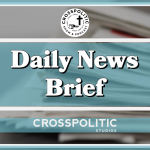 This is Toby Sumpter with your CrossPolitic Daily News Brief for Tuesday, April 14, 2020
The Supreme Court Sets Audio Arguments for Select Cases in May
https://www.law.com/nationallawjournal/2020/04/13/us-supreme-court-sets-audio-arguments-for-select-cases-in-may/?slreturn=20200313142428
Monday, the United States Supreme Court released a document announcing that it will hear oral arguments by telephone conference May 4, 5, 6 and 11, 12, and 13th in a limited number of previously postponed cases. The Release goes on to list 10 court cases that will be scheduled on those dates, assuming the counsel for the cases are available. 
https://drive.google.com/file/d/17YDXb05Nr72R_PV1MSS42T7RuhKY-BVo/view
Of note on that list, are several cases that relate to religious freedom. 
19-267, Our Lady of Guadalupe School v. Morrissey-Berru and 19-348, St. James School v. Viel. Both are being represented by the Becket Fund for Religious Liberty. In both cases, Roman Catholic Schools have been sued by previous instructors whose teaching contracts were not renewed after the performance of the teachers were found to be below school standards, including the responsibility of passing on the faith of the school. The significance of these cases is the basic right of religious institutions to be free to choose their own pastors and teachers.  
Long time listeners will recall that CrossPolitic has interviewed Luke Goodrich, a lawyer with the Becket Fund for Religious Liberty. The Becked Fund is representing both defendants in these cases. Luke Goodrich is also the author of Free to Believe, which is a helpful overview of the recent religious liberty landscape. 
The Becket Fund is no stranger to these waters. For example, they write: "In 2007, Hosanna-Tabor Evangelical Lutheran Church and School in Redford, Michigan found itself in a surprising position: a commissioned minister and teacher was suing them. Cheryl Perich, a commissioned minister in the church, taught fourth grade, taught religion, and led worship services. The church school had dismissed her for insubordination, disruptive conduct, and threatening to sue the church—all in violation of church teachings. The Church and its denomination have long taught that disputes over fitness for ministry must be resolved within the denomination.
On January 11, 2012, the Supreme Court ruled unanimously for Hosanna-Tabor, a decision the Wall Street Journal called one of the "most important religious liberty cases in a half century." The decision adopted Becket's arguments, saying that religious groups should be free from government interference when they choose their leaders.
The court rejected the government's narrow view of religious liberty as "extreme," "untenable," and "remarkable." The decision stated: "We cannot accept the remarkable view that the Religion Clauses have nothing to say about a religious organization's freedom to select its own ministers."
Based on the Hosanna-Tabor decision, the Becket Fund would seem to be on very strong ground for defending these Roman Catholic schools' right to hire and fire their instructors freely.
Another set of cases are also related to religious liberty, but in somewhat different categories. 
19-431, Little Sisters of the Poor Saints Peter and Paul Home v. Pennsylvania, and 19-454,
Trump v. Pennsylvania
 You might remember the Little Sisters of the Poor being in the news a few years back, and wonder why they are back in the news. 
http://thelittlesistersofthepoor.com/#supreme-court-ruling
Recall that both the Little Sisters of the Poor and Hobby Lobby came into conflict with Obama's Affordable Care Act (Obamacare), which required both Christian organizations to provide their employees with health insurance plans that provided drugs and devices that cause abortions. Both organizations refused and were fined millions of dollars. 
In May 2016, the Supreme Court unanimously overturned lower court rulings against the Little Sisters, ordered the government not to impose $70 million in fines against the Little Sisters, and said the lower courts should provide the government an opportunity "to arrive at an approach going forward that accommodates the petitioners' religious beliefs."  
Both cases were based on the Religious Freedom Restoration Act (sometimes called "RIFF-ruh"). Luke Goodrich explains in his book Free to Believe, "RFRA says that if any law imposes substantial burden on religion, the government must prove that the law is justified by a powerful governmental interest." "Under RFRA, the burden of proof flips to the government to show that burdening people's religion is the only way to accomplish an extremely important governmental goal."
The Becket Fund explains this new lawsuit on their website: On October 6, 2017, Health & Human Services issued a new rule with an updated, broad religious exemption that finally protected religious non-profits like the Little Sisters of the Poor, a group of Catholic nuns who care for the elderly poor. In its new rule, the government admitted that it broke the law by trying to force the Little Sisters and others to provide services like the week-after-pill in their health plans that violated their religious beliefs. That result should mean that the end is near for the Little Sisters' lawsuit.
However, following the new mandate announcement, the state of Pennsylvania sued the federal government to take away the Little Sisters' religious exemption. Pennsylvania admits that it already has and already uses many government programs to provide contraceptives to women who need them.  Pennsylvania never challenged the Obama Administration for creating much larger exceptions for secular corporations—exceptions that covered tens of millions more people than the religious exemption.  Pennsylvania does not even have its own contraceptive mandate at all.  And Pennsylvania's lawsuit does not identify a single real person who previously had contraceptive coverage but will lose it because of the new Rule.
Despite all this, Pennsylvania is asking a judge to order that the Little Sisters must comply with the federal mandate (not a state mandate) or pay tens of millions of dollars in fines.
In Trump v. Pennsylvania, a parallel case is being considered along with the Little Sisters case, based on a May 2017, executive order from President Trump requesting his administration to "consider issuing amended regulations, consistent with applicable law, to address conscience-based objections to the preventive-care mandate." 
A few months later, the administration pushed out new rules granting exemptions to employers with moral or religious objections to birth control. Among other things, these rules exempt both nonprofit employers and for-profit employers that are not publicly traded, if those employers object "based on its sincerely held moral convictions" to contraception.
However, a federal appeals court struck down the Trump administration's rules last July. The ruling states that Trump's administration did not follow appropriate procedures when rolling out the new rules, and it also rules that federal law does not authorize the broad exemptions described by the Trump administration's rule. 
So this case regarding religious freedom and conscientious objection is also before the Supreme Court next month. 
All of these cases are of heightened interest in these days of Covid19. As the numbers continue rolling in on the exact nature and extent of Covid19, the models are being proven laughable and outrageously wrong. Not only that but the orders coming down have grown increasingly draconian. In San Diego County, the latest stay-home order criminalizes meeting anyone inside or outside who is not in your immediate family, except for what the government arbitrarily designates as "essential." This was apparently being enforced on Friday when Sheriff deputies were issuing tickets to people who were watching the sunset and having picnics near the beach. 
"Everyone is required to stay home, except to get food, care for a relative or friend, get necessary health care or go to an essential job," the San Diego Fascist Department tweeted Saturday morning. "Complacency is the enemy. Take social distancing more seriously to stop coronavirus." Of note is the fact that the deputies in the picture issuing tickets were definitely not six feet apart, even if they were wearing masks. 
https://timesofsandiego.com/crime/2020/04/04/deputies-issue-citations-to-22-people-watching-sunset-at-beach-in-encinitas/amp/?fbclid=IwAR0_wpoxzxqaMQL0wqvlbc5D4Ed1nVYETPh8yuZ0kFJjRH1yIP97GDLajKA
Also in Michigan, the Governor has taken it upon herself to help you do your shopping. Some items in essential stores are now off limits. 
In Idaho, nothing quite so ridiculous has been mandated, but the liquor stores are considered "essential" businesses. Also, up to 250 people are allowed in food stores. But churches cannot meet. This is arbitrary and discriminatory. For all the idiocy of Michigan, at least she's trying to be consistent. But that's the problem when there isn't really an emergency or crisis, but your laws are pretending there is. They don't make any sense. So we could arrange for a flash mob Psalm Sing at the local grocery store, but if we plan a Psalm Sing or worship service, that's apparently illegal. Meanwhile, many singles, many elderly, many poor are being crushed by these bright ideas. 
Many Christian families will function in wonderful ways during these days. But what about the lonely, the forgotten, the elderly, the disabled? All of us suffer when we miss corporate worship, but some of the most vulnerable suffer the most. The accountability, the encouragement, and the communion of the saints is not a nice add on. It is not a "non-essential" community club. It is an essential function of any society that wants to flourish. Now that most hospitals are empty and the mortality rate is clearly most concerning for those over 60, it is time for churches to push back with their authorities and insist that worship is essential. If 250 people can function carefully to buy food at a grocery store, then the same number can gather carefully to get spiritual food. If the government can insist that drugs and alcohol be available to addicts, then at least let the churches be open to help minister to them. To maintain otherwise, the government must demonstrate "that burdening people's religion is the only way to accomplish an extremely important governmental goal." And they must explain why it is necessary to prohibit one essential gathering over another. 
This is Toby Sumpter with Crosspolitic News. You can find this show and all the others on the
Fight Laugh Feast Network at Crosspolitic.com or Fightlaughfeast.com or on our app, which you can download at your favorite app store, just search "Fight Laugh Feast". Support Rowdy Christian media, and become a Fight Laugh Feast Club Member, and for a limited time you can get your very own Fight Laugh Feast t-shirt. You can't get these anywhere else except by becoming a member (or upgrading your membership) while supplies last. You are also getting access to tons of quarantine content, including most recently, a new series called Pastors & Politics – with three episodes so far including Dan Fischer, Douglas Wilson, Roger Skepple, Pat Perkins, and George Grant. Plus hours more with David French, Erick Erickson, Walter Williams, Maj Toure, Curt Kennedy, Gary Demar, and our very own Worldview Shotgun Series. You also get $100 off your registration for our first annual Fight Laugh Feast Conference, where we hope to meet many of you in Nashville, TN October 1st through the 3rd. Go to fightlaughfeast.com to register now. Have a great day. https://flfnetwork.com/coming-soon/