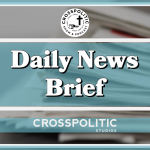 This is Toby Sumpter with your CrossPolitic Daily News Brief for Thursday, May 7, 2020.
Betsy Devos Introduces Theonomy to Title IX Rules 
https://www.thecollegefix.com/betsy-devos-cites-liberal-icons-to-justify-due-process-in-new-campus-sexual-misconduct-rules/
The Colllege Fix reports that Betsy Devos unveiled new Title IX rules Wednesday. Title IX is the Federal statute that protects people from discrimination based on sex in government schools or programs or activities or any that receive federal financial assistance. It states: "No person in the United States shall, on the basis of sex, be excluded from participation in, be denied the benefits of, or be subjected to discrimination under any education program or activity receiving Federal financial assistance."
In this case, Devos is addressing sexual discrimination in the form of assault or domestic violence or harassment and the process colleges and schools need to follow to adjudicate those accusations. In some cases there may be crimes and civil court proceedings in process, and presumably where a violent crime has been committed and there is plenty of evidence, a suspect would be apprehended, but the question has to do with how a college should handle lesser charges on campus, even while other investigations may be ongoing.  
The Obama administration had come under severe fire for writing "Dear Colleague" letters of guidance that were apparently supposed to address the growing epidemic of sexual assaults as well as false accusations. A number of high profile cases were in the news, either where victims were dragged through unnecessary processes or where the accused were not allowed to offer a defense and were summarily dismissed from schools just on the basis of accusations.
Of course part of the political mess also involved growing pressures from the Trans-movement insisting that biological boys be allowed to participate in women's sports and allow access to women's locker rooms and bathrooms. Devos's new rules particularly focus on the need for due process, which protects both those who are victims of sexual assault and those who are victims of false accusations. 
The College Fix reports that the rules require faculty and students to be held to the same evidence standard, eliminating a common discrepancy in college adjudication settings that typically favors faculty. Colleges also must ditch the "single investigator" model of adjudication, where one official makes all decisions, and instead offer live hearings with cross-examination led by advocates, including lawyers, for each student. "We can continue to combat sexual misconduct without abandoning our core values of fairness, presumption of innocence and due process." Devos said. 
In other words, Devos is insisting that colleges and schools follow biblical standards of justice. 
The regulation "empowers survivors like never before" by giving them the choice how they want to proceed, if at all, while receiving "free, personalized services" from their school to help them stay on track educationally. The current process often forces victims into "suffering trauma all over again" by going through whatever process the school prefers, when some students would choose options that the school can provide "almost immediately." DeVos said accusers would be granted "academic course adjustments, counseling, no-contact orders, dorm reassignments, leaves of absence and class schedule changes" in lieu of compelled participation in a judicial proceedings.
K-12 students are getting more protections as well, DeVos said, pointing to a troubling pattern of misconduct in Chicago public schools where "too many innocent young students suffered because adults didn't do their job." Now schools are responsible for both student-on-student sexual misconduct and "teacher-on-student abuse."
"Those who insist that the previous administration's [Dear Colleague] letter worked well can't ignore 171 lawsuits which found students' rights were not respected in campus proceedings," DeVos said.
Those who suggest that sexual misconduct acts "are so personally devastating that they supersede any kind of right," and that "any complaint must be believed without even considering the facts," must consider that "survivors need more than belief," DeVos said: "They need justice, and justice without fairness is no justice at all."
This is one of the key things that the whole #metoo movement completely denied. A social media mob, a frenzy of emotion is not justice. For the sake of real victims, Christians must insist on true biblical justice: establishing everything by the mouth of two or three witnesses, cross-examining witnesses, a right of trial by jury, and presumption of innocence of the accused is for the benefit and protection of true victims. 
The department is not reforming but rather replacing the process by returning to the "fundamentals of our founding," particularly James Madison's contribution: "no person shall be deprived of life, liberty or property without due process of law." DeVos cited a California appeals court ruling that found it's impossible to deprive due process to one party without harming the other.
That's why the new rule requires a "written notice of allegation," right to an advocate "who may be" an attorney, and right to challenge and submit evidence, she said. An "unbiased decision maker" must decide based on the facts as revealed in a live hearing with cross-examination, with restrictions to keep the parties from coming "face-to-face" with each other and exclude "irrelevant or privileged" questioning."
"A fair finding must never assume one party is credible and the other not," DeVos concluded, and it must explain how the decision maker reached conclusions. Accusers must also have appeal rights and they can't face retaliation even if they "choose not to" participate in a grievance process.
Hopefully some of this due process will rub off on the governors who have issued stay-at-home orders for Covid19. 
Next Up Texas Hair Stylist is Sentenced to 7 Days in Jail & Fines
https://twitter.com/CBS11Andrea/status/1257769797812736008?s=20
Shelley Luther, a Dallas owner of Salon A'la Mode opened her hair salon in violation of the Governor's executive order and was arrested. During her hearing on Tuesday Judge Eric Moye asked if she would make a statement admitting she was wrong and selfish and that her actions were not respectful of the rule of law and promise not to reopen – the judge offered to lessen the sentence if she did. Ms. Luther responded by saying that while she does have much respect of the court and laws, she disagreed that she was being selfish because she needs to feed her kids. And she has employees who are going hungry. She said if the judge thinks the law is more important than kids getting fed, go ahead and hand down his ruling, but she would not apologize or backdown. 
As of Wednesday afternoon, a GoFund Me campaign had raised nearly $375,000 from over 10K donors. The Lt. Gov. Dan Patrick weighed in saying the sentence was outrageous. He tweeted Wednesday afternoon that he would cover her 7K fine and volunteer to be placed under house arrest in her places so she can go to work and feed her kids. 
https://dfw.cbslocal.com/2020/05/06/texas-attorney-general-ken-paxton-immediate-release-jailed-dallas-salon-owner-shelley-luther/
Texas Attorney General Ken Paxton has also called for her "immediate release" 
In a statement, he said, ""I find it outrageous and out of touch that during this national pandemic, a judge, in a county that actually released hardened criminals for fear of contracting COVID-19, would jail a mother for operating her hair salon in an attempt to put food on her family's table… The trial judge did not need to lock up Shelley Luther. His order is a shameful abuse of judicial discretion, which seems like another political stunt in Dallas. He should release Ms. Luther immediately."
Gov. Greg Abbott concurred with the Texas Attorney General, issuing his own statement: 
"I join the Attorney General in disagreeing with the excessive action by the Dallas Judge, putting Shelley Luther in jail for seven days. As I have made clear through prior pronouncements, jailing Texans for non-compliance with executive orders should always be the last available option. Compliance with executive orders during this pandemic is important to ensure public safety; however, surely there are less restrictive means to achieving that goal than jailing a Texas mother."
But hopefully Governor Abbott can be shown that his unconstitutional order threatening jail time and fines invites this kind of abuse. Governor Abbott should immediately take responsibility and apologize for his part in this outrageous abuse of power. You cannot abuse your power as a Governor and then hang the judge out to dry for taking your order seriously. Either your order has the force of law or it doesn't. 
Last up for today: New Video Emerges of a Fatal Shooting of a Jogger in Georgia
https://www.cbsnews.com/news/ahmaud-arbery-black-jogger-georgia-fatal-shooting-video/
CBS reports: The cellphone video captures the final moments of Ahmaud Arbery's life while he was apparently jogging through the Brunswick neighborhood in February.
Arbery was confronted by Gregory McMichael and his son, Travis, who shot Arbery twice with a shotgun before the 25-year-old collapsed and died.
"The mere fact that this video exists, but you haven't seen it — what do you hope this video proves?" CBS News asked Arbery's mother, Wanda Jones.
"Proves that my son was not committing a crime. He was out for his daily jog and he was hunted down like an animal and killed," Jones said.
According to the only witness in the police report, McMichael told investigators he thought Arbery was a burglary suspect and ordered him to stop. McMichael said Arbery "violently" attacked his son, and the two fought "over the shotgun" before Travis shot him twice. At the time, no charges were filed.
Attorney Lee Merritt represents Arbery's family. "With this video now out, these guys should be arrested now," Merritt said.
McMichael is a former law enforcement officer who used to work for the local district attorney. Due to conflicts of interest, the case is now on its third prosecutor, who said he will ask a grand jury to bring charges.
So we come full circle to Betsy Devos's insistence on due process for justice. Regardless of all the facts in the case, and we really must wait and see what those facts are before arriving at our conclusions, shooting an unarmed man from the back of your pickup is not likely to be justice. But maybe they were taking notes from Governor Abbott or Judge Moye. 
This is Toby Sumpter with Crosspolitic News – always committed to biblical justice. You can find this and all of our shows at Crosspolitic.com or Fightlaughfeast.com or on our app, which you can download at your favorite app store, just search "Fight Laugh Feast". Our app is the only way to get In the Bullpen with Mark Dewey. Support Rowdy Christian media, and become a Fight Laugh Feast Club Member, and for a limited time you can get your very own Fight Laugh Feast t-shirt and access to tons of content on Biblical Counseling, God and Government, End Times Eschatology (hint: we're not in them), Pastors and Politics, Proverbs with Me, and our very own Worldview Shotgun Series. You also get $100 off your registration for our first annual Fight Laugh Feast Conference, where we hope to meet many of you in Nashville, TN October 1st through the 3rd. Go to fightlaughfeast.com to register now. Have a great day. https://flfnetwork.com/coming-soon/