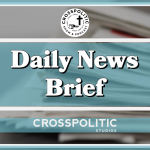 This is Toby Sumpter with your CrossPolitic Daily News Brief for Tuesday, April 7, 2020
Prime Minister Boris Johnson Moved to Intensive Care Unit
https://www.bbc.com/news/uk-52192604
A spokesman said he was moved on the advice of his medical team and was receiving "excellent care". Mr Johnson has asked Foreign Secretary Dominic Raab to deputise "where necessary", the spokesman added.
The prime minister, 55, was admitted to hospital in London with "persistent symptoms" on Sunday evening. The Queen has been kept informed about Mr Johnson's health by No 10, according to Buckingham Palace. BBC political correspondent Chris Mason said the prime minister was given oxygen late on Monday afternoon, before being taken to intensive care.
A No 10 statement read: "The prime minister has been under the care of doctors at St Thomas' Hospital, in London, after being admitted with persistent symptoms of coronavirus.
"Over the course of [Monday] afternoon, the condition of the prime minister has worsened and, on the advice of his medical team, he has been moved to the intensive care unit at the hospital." It continued: "The PM is receiving excellent care, and thanks all NHS staff for their hard work and dedication." 
Mr Raab said there was an "incredibly strong team spirit" behind the prime minister.
He added that he and his colleagues were making sure they implemented plans Mr Johnson had instructed them to deliver "as soon as possible".
"That's the way we'll bring the whole country through the coronavirus challenge," he said.
Labour leader Sir Keir Starmer described it as "terribly sad news".  "All the country's thoughts are with the prime minister and his family during this incredibly difficult time," he added.
Mr Johnson was initially taken to hospital for routine tests after testing positive for coronavirus 10 days ago. His symptoms included a high temperature and a cough.
Earlier on Monday, he tweeted that he was in "good spirits". "Last night, on the advice of my doctor, I went into hospital for some routine tests as I'm still experiencing coronavirus symptoms. I'm in good spirits and keeping in touch with my team, as we work together to fight this virus and keep everyone safe."
— Boris Johnson #StayHomeSaveLives (@BorisJohnson) April 6, 2020
After very, very little information was shared today, the prime minister was taken into intensive care at around 19:00 BST. We've been told he is still conscious, but his condition has worsened over the course of the afternoon. And he has been moved to intensive care as a precaution in case he needs ventilation to get through this illness.
Crime is Up in Seattle
https://mynorthwest.com/1802378/rantz-seattle-crime-up-after-coronavirus/
Jason Rantz writes at mynorthwest dot com: 
"Seattle coronavirus crime concerns have become fully realized. Burglary cases have exploded in Seattle's west precinct since the coronavirus stay-at-home order and a county policy prohibiting most misdemeanor jail bookings went into effect. These cases are also up significantly citywide.
A little over a week ago, officers argued the booking policy would result in a criminal "free for all." The Seattle coronavirus crime data is staggeringly high.
As of Friday April 3, burglary cases were up 87% over the previous 28 days in the west precinct according to the Seattle Police Department's internal crime database. The precinct includes downtown Seattle, the neighborhood where the SPD says most of the burglaries are happening.
"This is a number we're going to work very hard to reverse in the coming weeks," SPD spokesman Sergeant Sean Whitcomb told the Jason Rantz Show on KTTH. He confirmed the crime stats used in this story. Burglaries aren't only plaguing the west precinct. The east precinct, which includes Capitol Hill, is up 17%. All-in, the city of Seattle has seen a 21% increase in burglaries.
Officer Mike Solan is the president of the Seattle Police Officer's Guild. The data does not shock him. "It's not surprising to me that this staffing emergency coupled with our city streets almost appearing abandoned at times that our property crime numbers have sky rocketed and they're doesn't appear to be an end in sight." 
Looking at the city's more residential neighborhoods, the good news is that burglaries are down. The north precinct, which includes Lake City, saw a 3% decrease while the south precinct, which includes SoDo, is down 7% in the last 28 days. One of the most residential precincts, the southwest (which includes West Seattle), saw a 19% decrease. An investigation by USA Today found 19 out of 20 police agencies saw decreases in crime, including less theft and burglaries.
Which Experts Do We Trust?
https://www.theblaze.com/op-ed/trust-the-experts-but-which-ones
Steve Deace writes at the Blaze: "When it comes to SARS-2 Coronavirus, we're being told to "trust the experts." But which experts? 
Are Yale, Oxford, Stanford, and Carnegie Mellon just some Podunk JUCOs? No, they're some of the most renowned universities on this planet, and their models/analysis paint a different tale than the supposedly infallible Dr. Anthony Fauci's current doomsaying — which is now his fourth different opinion on SARS-2 Coronavirus just since January. 
Dr. David Katz of Yale, writing in the noted right-wing/science-denying New York Times, is concerned our cure (consisting of mass shutdowns) is worse than the disease. 
Dr. John Ioannidis of Stanford penned a peer-reviewed study on the "harms of exaggerated information and non-evidence-based measures" to fight SARS-2 Coronavirus. 
Sunetra Gupta is a professor of theoretical epidemiology at venerable Oxford, and she directly contradicted the now "revised" (see that as gas-lighted) apocalyptic Imperial College simulation that spooked our own government into starting the shutdowns.
Wesley Pegden is an associate professor of mathematics at Carnegie Mellon, one of the leading research universities in the country, and he says the data simulations demanding indefinite mass shutdowns/social-distancing have a poison pill: "The duration of containment does not matter. As long as a large majority of the population remains uninfected, lifting containment measures will lead to an epidemic almost as large as would happen without having mitigations in place." 
Translation: this behavior modification isn't a magic bullet, and at some point we have to assume the risk of mortality as previous generations did, while fighting the far more vicious polio virus that killed/paralyzed hundreds of thousands of Americans (including scores of children) for decades. Yet those generations still managed to industrialize America, and win two world wars before Jonas Salk injected his own children with the polio vaccine – after almost 20 years of failed human trials. 
So again Steve Deace asks – trust the experts, but which ones?"
Hospitals Across the Country Are Empty
https://www.conservativereview.com/news/horowitz-shutdown-not-coronavirus-causing-loss-medical-personnel/
Daniel Horowitz writes at the Conservative Review: "How many people will die because state governments are issuing erratic orders to suspend vital medical procedures?"
He notes that since in nearly every state "elective" medical care has been shut down to combat Covid-19, we find ourselves with hospitals across the nations that are almost completely empty. Hospitals and medical centers are laying off medical personnel and furloughing staff. 
Horowitz notes that in 2017 many liberals estimated that between 28,000 and 100,000 would die per year if Republicans partially repealed Obamacare. Their rationale was that Republicans would cause many people to be denied critical care, which would eventually lead to death. He writes, "Obviously, their vision of socialized medicine equaling health care access is convoluted, but their broader principle was actually correct. If people are denied basic preventative care, it will lead to more fatalities."
So the question is why don't leaders like Dr. Anthony Fauci recognize this principle when it comes to gratuitously shutting down nearly all medical care aside from COVID-19 treatment – even in areas without a surge of coronavirus illnesses and hospitalizations? 
Last week, Boston Medical Center announced it was furloughing 700 employees. Appalachian Region Healthcare, the largest hospital chain in eastern Kentucky is laying off 500 employees, nurse anesthetists are being laid off in Pennsylvania, and hundreds of health care workers were laid off in West Virginia. 
According to Healthscape, 60,000 family practices may close or significantly scale back and another 800,000 of their employees will be laid off by June. 
Distinguishing between Essential and Non-Essential is Not Constitutional
https://thefederalist.com/2020/04/06/why-its-unconstitutional-to-keep-grocery-stores-open-while-closing-churches/#.Xos8wNr56VE.twitter
Jenna Ellis writes at the Federalist: "This notion of deeming private business "essential" or not is probably the biggest challenge and constitutionally problematic issue in state and local orders. This is arbitrary, and it's highly doubtful this action would pass constitutional muster. While government has inherent police power via the 10th Amendment, private actors have the right to equal protection via the 14th Amendment.
Government can determine essential versus non-essential workers within its own employees in the context of a shutdown, which we saw as recently as last year. But there is no constitutional authority on the federal or state level that allows government to subjectively determine who and what is essential for private workers, including during a national health emergency. States are issuing orders without providing complete criteria for how they are making these determinations. There is arguably no metric that could possibly satisfy constitutional scrutiny.
It's alarming that some ongoing litigation concedes the threshold question of a government's ability to determine essential private services, and instead only argues for a particular service to be included in the "essential" list. That threshold question should be challenged.
The courts regularly employ the "strict scrutiny" test when government action infringes on fundamental rights: Can the government demonstrate that its action is both necessary to further a "compelling state interest" and "narrowly tailored" through the "least restrictive means" to advance the compelling interest.
In this pandemic, the government does indeed present a compelling state interest to preserve the health, safety, and welfare of its communities. So the constitutional question becomes whether the actions by state and local leaders are narrowly tailored by the least restrictive means. In other words, do these orders result in the least possible infringement on our fundamental rights and liberty while still achieving the government's purpose of protecting us from COVID-19?
This determination should turn on whether the government's orders are neutral and objective. Do social distancing and other health safety measures apply equally to all entities regardless of their type? COVID-19 does not distinguish between 10 or more people in a restaurant versus 10 or more people in a church, so neither should government restrictions.
Church is essential, and the free exercise of religion is specifically enumerated in our First Amendment because the founders understood how essential spiritual activity and religious liberty are to people and society. For a state government to take any action that specifically distinguishes churches as "non-essential" is contrary to the First Amendment's purpose. It's a dangerous precedent that government could consider itself the arbiter of private essential services."
The same thing could arguably be made about many other businesses and activities. Some states are allowing golf, some are arresting solo-paddleboarders. 
This is Toby Sumpter with Crosspolitic News. You can find this show and all the others on the
Fight Laugh Feast Network at Crosspolitic.com or Fightlaughfeast.com or on our app, which you can download at your favorite app store, just search "Fight Laugh Feast". Support Rowdy Christian media, and become a Fight Laugh Feast Club Member, and for a limited time you can get your very own Fight Laugh Feast t-shirt. You can't get these anywhere else except by becoming a member (or upgrading your membership) while supplies last. You are also getting access to tons of quarantine content, including most recently, a new series called Pastors & Politics – with three episodes so far including Dan Fischer, Douglas Wilson, Roger Skepple, Pat Perkins, and George Grant. Plus hours more with David French, Erick Erickson, Walter Williams, Maj Toure, Curt Kennedy, Gary Demar, and our very own Worldview Shotgun Series. You also get $100 off your registration for our first annual Fight Laugh Feast Conference, where we hope to meet many of you in Nashville, TN October 1st through the 3rd. Go to fightlaughfeast.com to register now. Have a great day. https://flfnetwork.com/coming-soon/