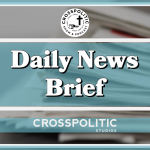 This is Gabriel Rench with your CrossPolitic Daily News Brief for Wednesday, January 8th, 2020.
More on Australian Fires
Yesterday Toby reported that in the 1990s, Bob Carr's liberal Labor government began a massive forest lock-up program. Peter Austin writes at theland.com.au, "Before that "greening" frenzy began, soon after Carr came to office in 1995, national parks and reserves accounted for some 4.8 per cent of New South Wales. Today the total area of the state, controlled by the National Parks and Wildlife Service, is more than 9 per cent. In less than 20 years the area of national parks and related reserves has virtually doubled, but the resources deployed to manage this vastly expanding empire have not doubled with it. On the contrary, it was revealed last week that even since 2011, successive budget cuts have resulted in the NPWS slashing its staffing of rangers by one-third, thereby impairing its capacity to conduct hazard reduction burns. But before Carr took over, much of the coastal bushland now locked up in national park was prudently managed state forest, where fuel loads were kept down by logging programs, regular thinning and cattle grazing." So there is that, and now more information has come out that according to the New South Wales Police Force website: 
"Since Friday 8 November 2019, legal action – which ranges from cautions to criminal charges – has been taken against 183 people – including 40 juveniles – for 205 bushfire-related offences.
Of note:
24 people have been charged over alleged deliberately-lit bushfires

53 people have had legal actions for allegedly failing to comply with a total fire ban, and

47 people have had legal actions for allegedly discarding a lighted cigarette or match on land."
Russel Crowe, due to the fires in his home country Australia, was unable to attend the Golden Globes and accept his award. He instead sent a letter that was read by Jennifer Aniston on his behalf when he was awarded best actor for his work on the series "The Loudest Voice". In his letter he blamed global warming for the fires. If it was me, I would have blamed the 24 arsonist. 
More on Iran
The Obama administration really was a foreign policy disaster. One of his biggest blunders, not even sure we can call it that, was the Iranian Nuclear deal. 
According to Fortune.com: "The U.S. announced the controversial nuclear deal with Iran on July 13, 2015. At a news conference on January 16, President Obama declared that the U.S. was lifting the first raft of sanctions against Iran. He also stated that the U.S. would return $1.7 billion to Iran, as agreed in the negotiations at the Hague. That same day, Tehran released the U.S. hostages, and the U.S. freed seven Iranians detained for violating financial and other U.S. sanctions on their home country. Hence, the return of the five Americans appeared to be one side of a prisoner exchange with Tehran.
But Obama didn't mention that the same day, $400 million was being shipped over 6000 miles for deposit in Iran's treasury. 
The shipment was a secret until The Wall Street Journal broke the story on August 2, 2015. Since then, Republicans from Donald Trump to Paul Ryan have assailed the White House for paying a gigantic ransom when government-paid ransom is barred under U.S. law, and for hiding the ploy from a public already highly skeptical of the U.S.-Iran nuclear agreement. President Obama denied the payment to Tehran was a ransom. The White House contends the payment simply settled a decades-long financial dispute…"
Some might call this a Quid Pro Quo, but I digress.
Our meddling in foreign affairs has been a disaster. We create problems and then we back out, we create more problems then we throw money at them, we create more problems and push democracy on them, we create more problems then we throw troops at them…rinse and repeat. At no point should conventional wisdom tell you that giving Iran $1.7 billion dollars is a good idea. BTW Vox does not think paying Iran $1.3 billion dollars was a scandal.  But think about this. Obama pumps billions of dollars into Iran, and then we are surprised that Trump Drone bombs their head of military operations for killing our troops, US contractors, and attacking our embassy? I heard it put this way, that killing Soleimani was equivalent to killing our head of CIA, FBI, and Secretary of State all in one shot. 
We are in this mess because we refuse to obey the word of God. Of course there are all sorts of Just War Theory issues here, but I want to bring this down to this…because this is not often consider when talking about our foreign policies. The bible explicitly commands us not to bribe. Proverbs 21:14 says "A gift in secret subdues anger, And a bribe in the bosom, strong wrath." Give gifts not bribes, and this should especially apply to the middle east.
One last thing about the middle east. On Monday the Iraqi Parliament voted on a non-binding resolution to expel US military from the region. This of course is political as they are trying to appease the Iranian government while allowing for the protection they really want from the US troops. More of course will be developing regarding the Iran/Iraq story, so stay tuned.  
Golden Globes
If you missed the Golden Globes, like I gladly did, don't worry I still have you covered. To my delight, British comedian Ricky Gervias, was invited to host the Golden Globes. I have followed Ricky for a while, and sometimes his humor really gets my funny bone and other times he gets the trash can. But what is consistent about Ricky, is that he does not care what is cool and what is culturally acceptable, and that is what keeps me engaged with his Twitter account. As you know the Golden Globes is for the Hollywood elite to pat themselves on the back and pretend they have some sort of moral ethos that matters to America. Well, Ricky utterly destroyed that on Sunday night at the Golden Globes. I mean he just took all their logs and shoved them into their eyes beyond repair. For starters he lambaste Hollywood's friendships with Jeffrey Epstein and Harvy Winstein, and then ends with my favorite lines of the whole night: 
Using Apple TV+ series "The Morning Show" as his jumping-off point Ricky said: "A superb drama about the importance of dignity and doing the right thing, made by a company that runs sweatshops in China…(obviously referring to the production of Apples iPhone and other devices) If you do win an award tonight, don't use it as a platform to make a political speech. You're in no position to lecture the public about anything. You know nothing about the real world. Most of you spent less time in school than Greta Thunberg. If you win, come up, accept your little award, thank your agent and your god, and fuck off," Gervais concluded.
It is moments like these where you are grateful for God's common grace in this world, where even unbelievers can smell the massive hypocrisy coming out of rank Hollywood. Hollywood is full of rampant abuse of women, children that grow up in Hollywood regularly tell the tales of the darkness of Hollywood, and the enormous amount of bad storytelling and movie flops that come out of Hollywood is astounding. We often give Christian movies a bad rap, but how many Christian movies come out every year? 2? 5? 10? 20? Well how many pagan movies come out of Hollywood and absolutely flop or are full of lascivious trash? Hollywood by far has the worst record. So, next time you see a Christian movie come out, just remember it was made with no naked women, no compromised actors, and probably produced with only a couple million bucks. Think twice about how you judge that Christian movie, and why you give Hollywood a pass on the quantity of trashy movies that billow out of their cameras. Christian movies need improvement for sure, and if they were putting out 100 movies a year, we might actually think differently about the Christian movie scene.
Lastly, I want to bring to your attention what is happening here in Idaho regarding Idaho's fight to end abortion. As you know we have had Scott Herndon, the architect of our end abortion legislation here in Idaho, and the two sponsoring legislators John Green and Heather Scott on our show a couple times in the past two years. This is their second attempt to push end abortion legislation here in Idaho and the momentum is building. I believe they now have six sponsoring legislators, which is really really good. The latest development, is that Scott Herndon's efforts, which began under the umbrella of AbolishAbortionId.com, and they have now started a PAC out of this initiative. The purpose of Abolish Abortion PAC is to make direct financial contributions for re-election and election to the campaigns of legislators and candidates who will fight for the abolition of abortion through the Abortion Human Rights Act bill.
If enough money is raised, the PAC can also support legislators and candidates through direct expenses not coordinated with the candidates' campaigns, such as direct mailers, newspaper and radio ads. A financial contribution by "Abolish Abortion PAC" will appear on all of the legislators' campaign finance reports (which people do read) and will send a clear statement that the people of Idaho, through their financial contributions, want abortion ended in Idaho, without compromise.
To make your financial contribution to Abolish Abortion PAC, which will in turn be used to support our champion legislators, send a check payable to:
Abolish Abortion PAC
PO Box 916
Sagle, ID 83860
To stay up on what is going on visit http://www.abolishabortionid.com/. I think this is a great idea, and a good way to put your money where our desires are at and an opportunity to bless legislatures that stick their neck's out for this legislation. So, consider giving to this pack, even $10 so your names are on record for these legislators to see that you care. I know Scott Herndon and he is a godly guy with a great family, and pray God's blessing on the legislative session this coming year. Well that is all for now.  
This is Gabriel Rench with Crosspolitic News. You can find this show and all the others on the Fight Laugh Feast Network at Crosspolitic.com or Fightlaughfeast.com. If this show has been helpful to you, please spread the word, share it with your friends, and please consider becoming a member. Your support is allowing us to build a network of Christian media. And as always let us know if this has been helpful. Join us for our Sunday special this Sunday at 7pm.