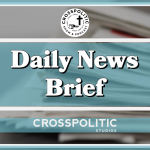 CrossPolitic News 1-9-20
This is Toby Sumpter with your CrossPolitic News Brief for Thursday, January 9, 2020.
https://www.fox19.com/2020/01/07/cnn-settles-lawsuit-with-nick-sandmann/
COVINGTON, Ky. (FOX19) – CNN agreed Tuesday to settle a lawsuit with Covington Catholic student Nick Sandmann.
The amount of the settlement was not made public during a hearing at the federal courthouse in Covington, Kentucky. Sandmann's lawsuit sought $800 million from CNN, the Washington Post and NBC Universal. Trial dates are still not set for Sandmann's lawsuit against NBC Universal and the Washington Post. The Washington Post suit sought $250 million. A federal judge let a portion of the suit go forward after The Post filed a motion to dismiss it.
Last January, social media exploded after numerous national media outlets painted Sandmann and his classmates as menacing — and in some cases racist — after an edited video emerged of Sandmann smiling, inches away from the face of Nathan Phillips, an elderly Native American man, while attending the March for Life on the National Mall. 
A more complete video of the encounter, which emerged later, showed that Phillips had approached the Covington students and begun drumming in their faces, prompting them to respond with school chants.
The lawsuit filed by Sandmann's attorneys in the Eastern District of Kentucky claimed that 53 statements included in CNN's coverage of the incident were defamatory. One such statement, included in a CNN opinion piece, accused the students of acting with "racist disrespect" towards Phillips.
Attorneys say the money they're seeking is not designed to compensate Nick, but to "deter the defendants" from doing the same thing (that they're accused of) in the future.
There are at least two biblical principles at stake here. The first is the general moral principle found in the 9th commandment, requiring honesty, specifically as it has to do with how we talk about other people. "The first one to plead his cause seems right, until his neighbor comes and examines him" (Prov. 18:17). Likewise, James says, "So then, my beloved brethren, let every man be swift to hear, slow to speak, slow to wrath; for the wrath of man does not produce the righteousness of God" (Jas. 1:19-20). For all the concern many Christians have for Trumpian style politics doing damage to our cultural civility or Christian witness, the number of Christians who jumped on this report hastily was large. I trust many of them took their posts down and apologized, but it's simply a fact that the liberal media is feeding the narrative that Christians are the uncivil ones, while in fact they are stoking the fires of the so-called anti-fascists and liberal screechers.  
This basic moral principle is related to the biblical requirement for there to be two or three witnesses to convict anyone of a crime. In other words, the concept of due process is a thoroughly biblical concept, including the right to cross examination. Of course, reporting the news is not in the exact same category as convicting someone of a crime, but this leads to the second principle which is that of reputation. Defamation is the catch all phrase in American civil law covering libel and slander, lying about someone publicly. Bearing false witness against someone is a species of theft, damaging reputation, stealing potential business, trust and so forth. "A good name is to be chosen rather than great riches, loving favor rather than silver and gold" (Prov. 22:1). This means that a good reputation is very valuable and should be prized above money. Obviously, loyalty to Jesus and the truth should be valued even about a good name. Paul and Jesus and the other prophets and disciples gave not only material possessions but also their good names for the sake of the gospel. But the point is that reputation and a good name is extremely valuable, and just as it is right a proper to protect and provide for your own life and the lives of those entrusted to you, so too it is right and proper to protect and provide for your reputation and the reputation of those entrusted to you. Obviously, this can be done in a selfish or self-seeking way, but speaking out to defend yourself when you have been false accused can also simply be the love of truth. And there are times of course when we may remain silent in the face of slander. 
One last biblical text that ties into this discussion. In Dt. 22, there is a law providing guidance in a situation where a man accuses his own wife of lying, of presenting herself as a virgin before marriage when in fact she was not. This law can seem strange and foreign to modern ears who do not place nearly the same value on virginity and marital faithfulness as God requires. Sort of like trying to do a modernized version of Pride and Prejudice and trying to convince audiences that what Whickham and Lyida have done is as awful as it is presented. Nevertheless, if the woman is found to have lied, she is liable to the death penalty, whereas if the husband has brought false charges against his bride, he faces a heavy fine and the fine is paid to the father of the bride, who presented his daughter to be married as a virgin bride. This demonstrates that false accusations can do tangible damage to people. And it definitely seems reasonable to think Nick Sandmann from Covington Kentucky was a true victim of slander and libel. What a just penalty should be in this case is hard to calculate, but certainly a factor in the judge's mind should deterrence. The power of large media arms like CNN to destroy life and twist the truth is enormous, and this seems like a significant victory for the truth in our land.
Austrailia Killing 10,000 Camels
And with that, we should check in on Australia again since they not only have a fire problem but they also have a camel problem. The Independent reports that Aboriginal leaders in the Anangu Pitjantjatjara Yankunytjatjara (APY) lands have ordered the shooting of 10,000 camels this week. A spokesperson for the South Australia Department of Environment and Water said the increasing number of camels had caused several problems in the region. "This has resulted in significant damage to infrastructure, danger to families and communities, increased grazing pressure across the APY lands and critical animal welfare issues as some camels die of thirst or trample each other to access water," the spokesperson told news.com.au.
We have been stuck in stinking hot and uncomfortable conditions, feeling unwell, because the camels are coming in and knocking down fences, getting in around the houses and trying to get to water through air-conditioners,'' Marita Baker, a board member of the APY executive, told The Australian.
The animals are also being culled over concerns about greenhouse gas emissions, as they emit methane equivalent to one ton of carbon dioxide per year, the paper reported. The operation to control the camel population, estimated to total 1.2 million across the country, is expected to take five days.
Once again, we merely note that God created a world that needs tending. It is not good for man to be alone, and it is not good for the world to be left alone and this includes the animal kingdom. God intended Adam to be a gardener and caretaker of the animals. This requires great wisdom, study, and care, given the varying environments needed. And while it may very well be the needed thing to do, 10,000 camels still seems like a lot, like somebody wasn't paying attention somewhere. And I highly suspect that there's government regulation and liberal ideology at the center of this mess. 
Harvey Weinstein Trial Underway
And speaking of animals and messes, the Harvey Weinstein trial began in New York on Monday after being delay for over a year. Authorities in New York have charged him with five counts of felony sex-crimes following his arrest in May 2018. While more than 80 women have publicly accused Weinstein of sexual harassment and abuse, he will stand trial for two alleged incidents. Weinstein faces felony charges on two counts of predatory sexual assault, two counts of rape, and one count of a criminal sexual act. He could be sentenced to life in prison if found guilty.
The disgraced movie mogul was seen on a walker going into the trial, and he was apparently promptly rebuked by the judge for texting in the courtroom after being warned not to. This prompted Weinstein's defense, led by Donna Rotunno to request the judge to recuse himself on Wednesday for seeming to demonstrate a particular animus against the defendant. 
Vanity Fair ran a story last week on Ms. Rotunno stirring up hostility against her for defending such a creep. And let's be clear, Mr. Weinstein is a creep. But what we should also be clear about is that Mr. Weinstein is the Hollywood scapegoat. When you have the Golden Globes applauding and tearing up at Michelle Williams announcement that she killed her baby to pursue her acting career, don't miss the fact that she was also saying that she required sex without strings or consequences (at least once) in order to win her award. Ms. Williams killed her baby to avoid consequences for her sex, and Mr. Weinstein was just living consistently with a similar logic. Hollywood churns out movies and television shows by the boatload full of sexual promiscuity and pornography and even rape. It's complete insanity to act like you can produce that kind of filth and not assume that's what the real world is like. 
Ms. Rotunno goes further and insists that her client has not committed the crimes he is accused of. On December 21st, Rotunno wrote an opinion piece for Newsweek arguing not for sympathy for her client but for justice, and argued that this will be extremely difficult since the media have attacked and smeared Weinstein for months. She wrote: "The media has made their mark. They have tainted the jury pool by spreading their pre-trial judgment across America and the world. When Mr. Weinstein walks into court to begin his trial, will there be a single person in that building who doesn't know who he is, who hasn't pre-judged him based on what they've heard, read or seen? Highly unlikely.
I say all of this not seeking sympathy for Mr. Weinstein. Nor do I expect it. I do expect, however, that he receives due process and a fair trial. The fact that this needs to be argued should raise concern for us all. There is nothing preventing you from being next. Long before you stand before a judge, the claims of a few can upend your life and destroy your reputation."
And there we are back at the theme of reputation. Mr. Weinstein has lost his name, although I'm not sure it was ever really a good name. But there is a difference between sins and crimes. I don't know whether Weinstein has committed crimes are not. He has clearly committed sexual sins. But the Bible says that Weinstein is entitled to due process, with witnesses and cross-examination, and our country applies that principle in the jury system. 12 fellow citizens must be thoroughly convinced to convict someone of a crime. But regardless of the crimes, I simply want to point out that Weinstein is a great candidate for the gospel. His name has been ruined because of his sins, and yes, he got caught and thrown under the bus while thousands of others remain in their places womanizing and prostituting and pimping. But, Harvey Weinstein, you were caught by the grace of God so that you would have to stop that way of living. Now you are under constant scrutiny. But I hope you actually find the grace of Jesus, the grace of the cross, that can take away your sins and give you a completely clean slate. There will consequences for your actions, but Jesus can give you a new name. Jesus didn't come for the healthy. He came for the sick, for the prostitutes and tax collectors and sexual sinners like you. 
This is Toby Sumpter with your CrossPolitic News Brief for Thurday, January 9th, 2020.