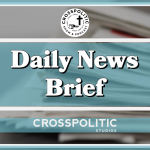 This is Gabriel Rench with your CrossPolitic Daily News Brief for January 27th, 2020.
Bill would start comprehensive sex ed in kindergarten for Washington students
https://www.krem.com/article/news/washington-state-sexual-education-bill-passes-senate/281-a5d8b98e-1487-4be5-b2fc-f638b4511230
According to KREM news: "Sex education could soon be required in all Washington state public schools after a comprehensive sexual health bill overcame its first hurdle by passing in the state senate this week. 
Senate Bill 5395 would require all public school districts to provide comprehensive sexual health education that is evidence-informed, medically and scientifically accurate, age-appropriate and inclusive for all students. 
The bill would require teachers to work this into their curriculum for students in grades sixth through twelfth by September 2020, and for kindergarten through fifth-grade students in September 2021." 
You have to wonder what will their sex education include? Bestiality? Pedophilia? Our government has swallowed postmodernism hook, line, and sinker. This has all happened with little resistance from the church, and we have to ask ourselves why is the church's voice so impotent? Well for generations we have been giving our kids over to be educated by the public schools, and so we should not be surprised that the number one provider of education for our kids has actually worked in accomplishing it goals. 
Trump admin announces action against California for forcing churches to fund abortions
https://www.lifesitenews.com/news/trump-admin-to-california-youre-breaking-the-law-by-forcing-churches-to-fund-abortions
According to Life Site News: "The Trump administration's Department of Health and Human Services (HHS) announced today that California is violating federal law by trying to force churches to pay for abortions.
The announcement comes the morning of the 47th annual March for Life, at which President Donald Trump is slated to speak. He will be the first U.S. president to ever attend the march, which is the largest human rights demonstration in the world.
A lengthy legal battle has been underway since 2014, when California enacted regulations forcing all employers to pay for health insurance plans that cover elective abortions, regardless of religious or moral objections to funding abortion deaths. Under these regulations, all abortions are considered "basic health care" and "medically necessary."
California regulations require "universal abortion coverage mandates on health insurance plans and issuers in violation of federal conscience laws". Statist are going to do what statist do, and when there is no God over the state, like we have, then the state is going to continue to require obedience at the point of the gun. Now we are fortunate to have our current administration who is willing to fight for conscience laws. 
Joe Biden claims that "transgender equality" is the "civil rights issue of our time"
https://disrn.com/news/joe-biden-claims-that-transgender-equality-is-the-civil-rights-issue-of-our-time
Sleepy Joe Biden tweeted out last week this: "Let's be clear: Transgender equality is the civil rights issue of our time. There is no room for compromise when it comes to basic human rights."
Let me submit this to you. Politicians are not to be trusted, and especially the Democratic Party is not to be trusted. Our politicians are the blind leading the blind, and when you add 60 million babies to that blindness, you have reached peak darkness. Remeber the Democratic Party was the party that supported the KKK, remember Civil Rights legislation passed because of Republicans not Democrats, remember that Bill Clinton signed DOMA (Defense of Marriage Act), rember the Democratic Party stripped refernces to God out of their platform the same year they enshrined abortion into their platform, and the list goes on. The Democrats have no sense of what is right or wrong, no clue of what it means to be a man or what it means to be a woman, and so why would we think they would govern our country well. If the Republicans don't repent, they are not far behind from falling into this kind of foolishness, the kind that we all justly deserve. So pray that our political leaders repent, and moral clarity is revived among these leaders.      
RIP Kobe
I left the saddest news for last. Many of you have already heard that NBA all star Kobe Bryant and his daughter Gigi died in a helicopter accident. Kobe was 41 years old and his daughter was 13 years old. Being an avid basketball fan, I really was sad to hear about this. God gives and God takes away, and I pray that Kobe's wife and remaining children find Jesus in this dark time. There are two things that struck me about this. First, is sports does a great job of honoring their fallen heros. There were reports throughout the NBA, where teams found ways of honoring Kobe during the games on Sunday. There is still a remnant of honoring life left in our society and especially in sports. Secondly, Kobe had a lot of life ahead of him being only 41 years old. Our lives are in God's hands, and part of what it means to be a Christian, is that every molecule in our bodies, every hair on our head, and every breath we take is under the Lordship of Christ. We are here on this earth to serve Him, and when the time comes to beckon us home, even when we think it is too early to leave this earth, our God is good in all the hard times and in all the good times. So blessed be the name of the Lord.      
This is Gabriel Rench with Crosspolitic News. You can find this show and all the others on the
Fight Laugh Feast Network at Crosspolitic.com or Fightlaughfeast.com. Support Chrisitan media and join our club at fightlaughfeast.com. We also hope to meet you at our first annual Fight Laugh Feast Conference in Nashville, TN October 1st through the 3rd. Go to fightlaughfeast.com to sign up for our conference email list. Thank you for listening and Lord bless.