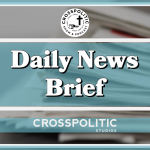 CrossPolitic Daily News Brief for Tuesday, January 28, 2020
The Left Takes Aim at Conservative Judges
https://www.dailywire.com/news/hammer-chief-justice-roberts-must-overrule-the-judiciarys-outrageous-assault-on-the-federalist-society
Josh Hammer, Editor at Large of The Daily Wire writes: "The Judicial Conference of the United States, an arcane body established by Congress and led by the chief justice of the Supreme Court, is responsible for helping establish the national policy guidelines that govern the administration of the federal courts. Alas, the Conference is arcane no longer. Over the past week, the Conference's Committee on Codes of Conduct, which oversees federal judicial ethics, has forced a national conversation by launching an absolute wrecking ball of a draft advisory opinion. The Committee, which is chaired by Judge Ralph Erickson of the Eight Circuit Court of Appeals, has 15 total members: Eight Democratic presidential nominees, five Republican presidential nominees, and two others.
The Committee's advisory opinion, if formally implemented by the Committee, would "advise[] that formal affiliation" with both FedSoc and the American Constitution Society (ACS), FedSoc's (much) more overtly political progressive counterpart, "is inconsistent with" the governing Code of Conduct for United States Judges. Specifically, the Committee states that "although neither [FedSoc nor ACS] is a 'political organization'" under the Code, "their activities nevertheless implicate [the Code's] broad prohibition against political activity" — whatever that is supposed to mean. What's worse, the draft opinion also holds that federal judges' law clerks and staff attorneys must not join either FedSoc or ACS. But on the other hand, membership with the leftist, remarkably biased American Bar Association (ABA) "does not raise these same concerns and is not necessarily inconsistent with the Code."
Hammer points out that the Federalist Society takes no positions on political issues, but exists solely in defense of an originalist interpretation of the Constitution, that is, that words have definite, objective meanings, and should be interpreted according to those meanings at the time of writing. This shared commitment leaves room for much discussion and debate among originalists. By contrast, the left-leaning legal associations, the American Constitution Society and American Bar Association frequently publish many legislative opinions across the political policy spectrum and generally hold that the Constitution is a "living document," and may be interpreted according to the changing whims of American culture. Hammer finds the notion that the ABA does not raise these same concerns "ludicrous." He also points out that the long term effect of something like this will discourage young conservative law students from joining the Federalist Society, leaving them with fewer networking opportunities, generally fewer jobs, and likely additional pressure to keep their opinions or questions to themselves. 
No doubt all of this is a result of Trump's aggressive work to re-balance the American judicial landscape. To date, he has nominated 239 individuals, of whom 187 have been confirmed by the Senate. As of January 2, 2020, there were 80 vacancies, and 35 had pending nominations. Most, if not all, of Trump's judicial nominations have been members of the Federalist Society. 
Sanctuaries for the Unborn
https://www.cnn.com/2020/01/25/us/sanctuary-cities-for-unborn-anti-abortion-texas-trnd/index.html
CNN: Ten towns in Texas have voted to declare themselves "sanctuary cities for the unborn," with most adopting ordinances that outlaw abortion within city limits. At least 13 cities are considering such ordinances, and three — Mineral Wells, Omaha and Jacksboro — have already voted against them. 
Most of the towns that have enacted the pro-life ordinances have populations of less than 6,000 people. None have abortion clinics.
The town of Waskom, with a population of 1,900, became the first "sanctuary city for the unborn" last June, according to the movement leading the charge across Texas. The town of Gary, with a population of 300, became the latest one last week.
While Mark Lee Dickson, leader of the Sanctuaries For the Unborn movement and the director of Right to Life of East Texas was quoted by CNN, claiming that criminal penalties would be retroactively applied if Roe v. Wade is overturned, I don't really trust CNN's ability to report news, but it hasn't generally been considered lawful to prosecute people retroactively.  
But regardless, there are at least two things to applaud here and encourage: First, the goal for sanctuary cities should initially be something like the underground railroad, and this means that cities that pass these ordinances should be thinking broadly about how they will support these ordinances as communities. The goal should be to have as many citizens and local businesses and lawyers and law enforcement officers committed to defending life and providing for those in need. These important steps toward resisting unjust laws need the support of entire communities. This support should be thought out in terms of providing for mothers in need, sort of city-wide Pro-life network that can provide shelter, counseling, prenatal care, food, clothing, and even assistance after the birth of children, and so on. Sanctuary cities need to give thought to how they will actually be sanctuaries for the unborn. 
It may not be long before mothers are literally running for help and support to these cities, and if that happens, you better believe that the legal pressure will come against these cities with even more force. And that leads to the second point, which is that we really do need civil magistrates who are willing to play chicken with the judges and federal enforcers of unjust laws. This need not come to violence, but there is a long and venerable history of peaceful civil disobedience that needs to be cultivated in our cities, with regard to abortion, sexual morality, and marriage, among other things. To our great shame, only Kim Davis, a Kentucky county clerk stood her ground in 2015 following the Supreme Court's hilarious Obergefell decision, claiming that two dudes can get married. 
Citing personal religious objections to homosexual marriage, Davis began denying marriage licenses to all couples to avoid issuing them to homosexual couples.[2][3] A lawsuit, Miller v. Davis, was filed, and Davis was ordered by the U.S. District Court to start issuing marriage licenses. She appealed to the U.S. Supreme Court, but her application was denied. Davis continued to defy the court order by refusing to issue marriage licenses "under God's authority";[2] she was ultimately jailed for contempt of court. Davis was released after five days in jail under the condition that she not interfere with the efforts of her deputy clerks, who had begun issuing marriage licenses to all couples in her absence. Davis then modified the Kentucky marriage licenses used in her office so that they no longer mentioned her name.
May the Lord be pleased to raise up thousands of Kim Davises who are willing to cheerful defy the insanity of our courts. This is what I mean by playing chicken with them. Make them come and stop us. Make them come and arrest us. And if whole cities and counties, and perhaps, Lord willing, whole states stand together, peacefully resisting the murder of unborn babies, and sodomite mirage, and drag queen story hours, it will at least make their lives really difficult. Which, I think is a very godly thing to do. 
The Wuhan Coronavirus is Making Headlines
https://www.cnn.com/asia/live-news/coronavirus-outbreak-01-27-20-intl-hnk/index.html
The US State Department has ordered personnel working at the US Consulate General in Wuhan to depart for the United States, a State Department official told CNN in a statement, with a flight currently scheduled to leave on Wednesday.
As of now 82 people have died and more than 2,700 cases have been confirmed, including 13 places outside of China. Nearly 60 million people are affected by full or partial lockdowns in Chinese cities. 5 cases have been confirmed in the U.S. China's health minister reported Sunday that the virus can spread even before symptoms show, making it even more difficult to contain. 
Coronaviruses are common in many different species of animals, including camels and bats. Rarely, these coronaviruses can evolve and infect humans and then spread between humans. 
This is why Coronaviruses are called "zoonotic," meaning they are transmitted between animals and people. Common signs of infection include fairly ordinary cold and flu symptoms, with somewhat more intense respiratory issues. And now everyone listening with a cold wonders if they're infected. 
Moments like these are good reminders that human beings are but a breath. The Lord took Kobe Bryant and his daughter and their friends in an unexpected moment this last weekend, and God rules every atom, every germ, every virus in His perfect wisdom. God has struck nations with plagues before, and there is no reason why He couldn't again. Despite all of our medical advances, for which we ought to be very grateful, God is still sovereign and men are smoke in the wind. While God has sent plagues in judgment on men for their wickedness, plagues have also been moments of glorious opportunity for followers of Christ to serve and love the sick and dying. In the early church, Christians became famous for their care of the sick and dying in various Roman plague outbreaks. When pagans left their family members behind, Christians cared for the abandoned, no doubt leading many to a saving knowledge of Christ in the process, and of course many succombed to the sicknesses themselves, not considering their own lives more valuable than the glory of laying them down for the cause of Christ.  Whatever becomes of this Wuhan coronavirus, may the Lord find us faithful at our tasks each day, gladly laying our lives down in obedience to our King, fearless of death, because our King has suffered in our place and now He holds the keys of Death and Hades, and we can never die. 
This is Toby Sumpter with your CrossPolitic Daily News Brief for Tuesday, January 28, 2020. You can find this show and past episodes and all the shows on the Fight Laugh Feast Network at CrossPolitic dot com. If this is a helpful resource for you, please consider sharing it with a friend and becoming a club member. Not only will you be supporting this work, you will also get exclusive access to a number of behind the scenes interviews, master classes, and more. See you tomorrow.