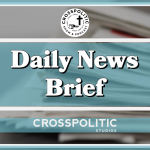 02/03/2020
This is Gabriel Rench with your CrossPolitic Daily News Brief for February 3rd, 2020.
Idaho Abortion Human Rights Act
Last week the Idaho Abortion Human Rights Act bill was printed and given a number HB361. This means that now, for those who are in Idaho, you can contact your senator and legislatures and tell them to get behind this bill and even become a sponsor. The best thing we can do is to get broad support in each district, so email and call your local legislatures and senators. You can find out more detail about this bill at http://www.abolishabortionid.com/, and follow Scott Herndon on his Facebook page (https://www.facebook.com/scott.herndon.5283) for regular updates. It sounds like we will also be seeing a heartbeat bill and a dismemberment bill this legislative session. Remember that our legislatures will not stand up, if you don't stand up, so take five minutes and reach out to them and encourage them to support HB361.
Impeachment Update
On Friday, before the weekend kicked in, the Senate voted to not to call witness in the Senate trial for Trump's impeachment trial. This vote become pretty contentious when "reports" surfaced in the New York Times that John Bolton's, Trump's former national security advisor, manuscripts of his upcoming book were leaked that revealed Trump supposedly wanted to continue freezing $391 million in security assistance to Ukraine until officials there helped with investigations into the Bidens. Now this was an unpublished manuscript by the former adviser and at minimum a great publicity stunt. But we need to take a step back and look at the bigger picture. First the impeachment process started in the House. Now the House put together a kangaroo process not allowing Trump to have lawyers present nor allowing the republicans to call any witnesses. This is a standard that no one would want to go through if it was your trial. You can't have any lawyers and you can't call any witnesses. This is absurd and sham trial in broad daylight.  Secondly, The democrats in the house had subpoenaed John Bolton to testify, in which Trump claimed executive privilege for John Bolton. John Bolton then went and asked a judge what he should do (should Bolton follow the rules of the subpoena or the executive directives of President Trump), but before the judge made a recommendation, the democrats removed their subpoena for John Bolton. So the Democrats could have pushed for the Bolton subpoena, but ultimately chose not to call John Bolton as a witness in the House impeachment trial. Now that the trial is in the Senate, the democrats are crying foul because the republicans control the senate, and as mentioned, voted on Friday to not call any witnesses…and this is important, because the House did not demonstrate sufficient burden of proof that the President committed High Crimes and Misdemeanors in the Ukraine phone call. So House Democrats complaining to the Senate republicans about witnesses is really a joke. The house democrats wont an elite lynching not a judicious trial.  
UK formally leaves the European Union and begins Brexit transition period 
This just gets all my Texan succession goosebumps tingling. According to CNBC: "The U.K. finally left the EU on Friday evening after 47 years of membership, marking one of the biggest political and economic shifts in modern European history.
Brexit brings about the end of a tumultuous three-and-a-half year departure process that has caused turmoil in the U.K.'s political establishment, economic uncertainty and heightened tensions between the U.K. and the EU — its largest single trading partner as a bloc.
The departure on January 31 also marks the start of a "transition period" in which the U.K. remains a member of the single market and customs union and begins negotiations with the EU to strike a free-trade deal. During the transition period, the U.K. will not have voting rights on EU matters but will still be bound by EU rules.
The U.K. government has set an ambitious (and some say, unviable) deadline of the end of 2020 in which a deal must be reached, otherwise it will leave the single market with "no deal" and will have to revert to World Trade Organization rules."
I have a number of friends in the UK that are excited about this, and I am with them, but I would also encourage you to google our interview we had with Peter Hitchens on Brexit several months ago. Peter cautioned that the UK did not have moral and courageous leadership to really handle Brexit, and I think he has a point there. Brexit is happening, and pray that God uses this the bring reformation and revival to the UK. 
Short Hunger Games Update
Today is the Iowa Caucus, which looks like Biden is going to take, but we will no for sure by tonight. We have three more states coming up, a democratic debate in February, and then that gets us to Super Tuesday, which is where there will be 16 primaries and caucuses. No matter how you slice this, Biden would be bad for our country, and #breadlinebernie/pocahontas would be worse. We have an interview with David Bahnsen coming up this Friday talking about his lates book on Elizabeth Warren, so be ready for that interview. It should give us a lot of insight on the extreme leftist agenda that #breadlinebernie/pocahontas are pushing.
This is Gabriel Rench with Crosspolitic News. You can find this show and all the others on the
Fight Laugh Feast Network at Crosspolitic.com or Fightlaughfeast.com. Support Christian media and join our club at fightlaughfeast.com. We also hope to meet you at our first annual Fight Laugh Feast Conference in Nashville, TN October 1st through the 3rd. Go to fightlaughfeast.com to sign up for our conference email list. Thank you for listening and Lord bless.