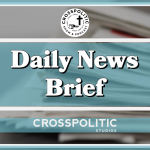 02/05/2020
This is Gabriel Rench with your CrossPolitic Daily News Brief for February 5th, 2020.
The Democratic Iowa Caucus
https://www.khq.com/news/in-embarrassing-twist-democrats-have-no-iowa-caucus-results/article_315e7594-471a-11ea-8aa0-0ff36a530335.html
https://thefederalist.com/2020/02/04/as-dem-caucus-faceplants-trump-wins-gops-with-97/
https://www.foxbusiness.com/money/iowa-caucus-chaos-linked-app-started-by-clinton-obama-campaign-veterans
On Monday night the Democratic Iowa Caucus ends with no results. Apparently the new app rolled out to tally caucus votes was experiencing some sort of a glitch. According to KHQ "the Iowa Democratic Party blamed a "coding issue in the reporting system" that it said has since been fixed." While the confusion rolled into the night, several candidates took the time to comment on their status in coming results:
Sleepy Joe said: "It looks like it's going to be a long night, but we're feeling good," 
#breadlinebernie said that he had "a good feeling we're going to be doing very, very well here in Iowa"… "Today marks the beginning of the end for Donald Trump,"
Pocahontas said: "Listen, it's too close to call,"…"The road won't be easy. But we are built for the long haul."
Pinko Pete said: "So we don't know all the results, but we know by the time it's all said and done, Iowa, you have shocked the nation,"…"By all indications, we are going on to New Hampshire victorious." 
And of course don't forget about our Commander in Chief's twittering about this: "The Democrat Caucus is an unmitigated disaster. "Nothing works, just like they ran the Country." He added: "The only person that can claim a very big victory in Iowa last night is 'Trump.'"
Trump is pretty much right about this, and regardless of the results that will have come out by the time this news brief drops, Iowa's results will be insignificant regardless of who wins. Any candidate now has the grounds for casting a shadow over the victor, and Iowa deserves it. So, Iowa is out of the race before any of the major Democratic candidates bowed out, and who would have predicted that. 
The other thing to not forget about, is that the current CEO of the tech company that flubbed the app is Gerard Niemira. Niemira served as Clinton's Director of Product during her 2016 campaign. Krista Davis, who served Hillary's campaign, is also the current CTO of the app company. 
I had a friend who is all in on Bernie say this about the Iowa fiasco:
"i'm inclined to dunk on all those libertarian know-it-alls who loudly repeat the article of faith that "big government is incompetent." or who trot out that quippy mantra of our first media star president: "The nine most terrifying words in the English language are: I'm from the Government, and I'm here to help."
the Iowa caucuses were a damn mess this year. a display of "Epic, raw incompetence." but not because the state government bungled the job. it was because the Democratic Party put their faith (&$) in a shadowy, private, for-profit tech firm that was gonna #disrupt the election industry, or whatever. even though the old school system of hiring a sufficient number of workers to answer the phones and record the data worked just fine in the past."
But this is how confused the Democratic party is right now. My friend does not like libertarians and he doesn't like fascism democrats (business in bed with politicians). But what is his solution? #breadlinebernie, who, if he had his way, would bring the US under a full on socialist agenda and heading right into communism. Included in this, is he wants to national electricity, raise the minimum wage, virtually destroy the stock market, force everyone to have government healthcare and so on. Meanwhile Michael Bloomberg has spent more money in a quarter ($200 million) than the NRA spends in a year ($194 million), and yet Bloomberg calls the NRA Goliath. 
So, while Pinko Pete declares himself the winner, the real winner is clearly President Trump. I never thought a democratic caucus would end in favor of a Republican president. 
Instagram generates more than a quarter of Facebook's revenue: Report
https://disrn.com/news/instagram-generates-more-than-a-quarter-of-facebooks-revenue-report
According to Discrn: 
"Instagram, the photo-sharing app bought by Facebook in 2012, generated more than a quarter of the company's revenue last year, according to people familiar with the matter.
The app brought in around $20 billion in advertising revenue during 2019. Instagram's revenue beat out YouTube, which brought in $15.1 billion in ads, according to a statement released by its parent company, Alphabet Inc., on Monday.
Facebook does not separately report its earnings from Instagram."
Instagram is interesting. You can't share someone's post with in the experience, and so you are largely locked into scrolling and liking. So, on Instagram you really are there for experience and to see what others are doing. Youtube on the other hand, has no real scrolling experience, and when you do share a Youtube video, it takes you outside of the platform. Now I tend to like Youtube's video experience over Facebook's video, and I would prefer Twitter's scrolling experience if they would clean up how comments and interactions are formatted. The point here, is that the tech world is still learning and figuring things out, and I believe in the next five years or so, we will see some major shakeup in the social media world. One more thing to note here: Since November, I have been banned from posting into groups and sharing user content on Facebook. I am in Facebook purgatory until February 22nd. I have no idea why I got into purgatory in the first place, and I have no one to appeal to either. As Christians, we really need to be thinking about building and owning platforms. Don't just think of Facebook as a platform, think of your blog, or distribution company, or book publishing company, our Fight Laugh Feast Network, or our upcoming Fight Laugh Feast Conference, etc… To put a little definition behind this, a platform is a group of technologies that are used as a base upon which other applications, processes or technologies are developed. Think of the more archaic definition of a platform, which is a raised surface that people stand on. How can you turn your company into a platform? Thinking in terms of platforms, I think is key to Christians building businesses that are strategically impacting our culture and economy as we apply the gospel to every area of our lives. This is why we didn't want to just start CrossPolitic, and why we went on to start the network. The network is a pipeline that distributes also sorts of Christian content, and not just CrossPolitic. As we have the time and resources, we want to create a network that includes competition for ESPN, sabbath feasting shows, sitcoms, family movies, and more. So think how your business can because that platform for your industry. 
This is Gabriel Rench with Crosspolitic News. You can find this show and all the others on the
Fight Laugh Feast Network at Crosspolitic.com or Fightlaughfeast.com. Support Christian media and join our club at fightlaughfeast.com. We also hope to meet you at our first annual Fight Laugh Feast Conference in Nashville, TN October 1st through the 3rd. Go to fightlaughfeast.com to sign up for our conference email list. Thank you for listening and Lord bless.