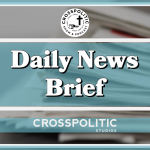 This is Toby Sumpter with your CrossPolitic Daily News Brief for Tuesday, February 11, 2020.
The Ninth Circuit Denies an Appeal to Rehearing Idaho Transgender Prisoner Case
https://www.nationalreview.com/bench-memos/ninth-circuit-denies-rehearing-en-banc-on-prisoner-sex-reassignment-order/
Ed Whelan at the National Review reports that the Ninth Circuit has denied a request that a case be reheard by the court "en banc," which means that the case reheard by the entire court of judges, not just a selection of justices. 
After the case was decided last August, 2019, eight dissenting judges joined Judge Diarmuid O'Scannlain's scathing opinion, which said in part:
"With its decision today, our court becomes the first federal court of appeals to mandate that a State pay for and provide sex-reassignment surgery to a prisoner under the Eighth Amendment. 
The three-judge panel's conclusion— that any alternative course of treatment would be "cruel and unusual punishment"—is as unjustified as it is unprecedented… Deliberate indifference is a high legal standard. It is, after all, under governing precedent one form of the "unnecessary and wanton infliction of pain" that is the sine qua non of an Eighth Amendment violation. Simply put, Edmo must prove that Dr. Eliason's chosen course of treatment was the doing of a criminally reckless—or worse—state of mind…. 
[T]he panel concludes that the decision to continue hormone treatment and counseling instead of sex-reassignment surgery for Edmo was "medically unacceptable under the circumstances" … 
Even were the panel correct that the only medically acceptable way to approach a gender dysphoric patient's request for sex-reassignment surgery is to apply the WPATH Standards of Care, we still could not infer a constitutional violation from these facts. As the Supreme Court has explained, the Eighth Amendment simply proscribes categories of punishment, and punishment is "a deliberate act intended to chastise or deter." "[O]nly the 'unnecessary and wanton infliction of pain' implicates the Eighth Amendment." …
We have applied the traditional deliberate-indifference standard to requests for back surgery, kidney transplant, hip replacement, antipsychotic medication, and hernia surgery. Yet suddenly the request for sex-reassignment surgery—and the panel's closing appeal to what it calls the "increased social awareness" of the needs and wants of transgender citizens—effects a revolution in our law! The temptation to stand at what we are told is society's next frontier and to invent a constitutional right to state-funded sex-reassignment surgery does not justify the revision of previously universal principles of Eighth Amendment jurisprudence."
Joaquin Phoenix Comes Out As Pro-Cow
https://www.hollywoodreporter.com/news/transcript-joaquin-phoenixs-speech-at-2020-oscars-1278278
Joaquin Phoenix accepted the 2020 Oscar for best actor for his role in Todd Phillips' take on the nihilistic villain, Joker at the Dolby Theatre on Sunday night, and then proceeded 
We have to] continue to use our voice for the voiceless. I've been thinking a lot about some of the distressing issues that we are facing collectively. I think at times we feel, or were made to feel, that we champion different causes, but for me, I see commonality. I think, whether we're talking about gender inequality or racism or queer rights or indigenous rights or animal rights, we're talking about the fight against injustice. We're talking about the fight against the belief that one nation, one people, one race, one gender or one species has the right to dominate, control and use and exploit another with impunity.
You might be forgiven for thinking that maybe Phoenix maybe, might, possibly be thinking of unborn human babies. But you'd be wrong:
We feel entitled to artificially inseminate a cow, and when she gives birth, we steal her baby, even though her cries of anguish are unmistakable. Then, we take her milk, that's intended for her calf, and we put it in our coffee and our cereal, and I think we fear the idea of personal change because we think that we have to sacrifice something to give something up. But human beings, at our best, are so inventive and creative and ingenious, and I think that when we use love and compassion as our guiding principles, we can create, develop and implement systems of change that are beneficial to all sentient beings and to the environment.
The massive blindness and hypocrisy is just insane, but at least Phoenix delivered this acceptance speech like an insane man. But come on, you can stand up and plead with Hollywood elites to use love and compassion to create, develop and implement systems of change that are beneficial to all sentient beings and the environment, and you can literally be talking about anything in the world (even cows) and you'll be applauded. But if you dare mention baby human beings, you're a literal monster.  
But wait, doesn't Phoenix know that baby cows grow up into adult cows, and they are creating the hole in the ozone layer that is causing the oceans to rise and climate change and the end of the world next week, if you don't give the government all the power and all your money and let them run your healthcare and how many times you flush your toilet right this minute? Phoenix, your pro-cow views are patriarchal, backwards, and anti-environment. 
Philip Rivers Finishes 16 Consecutive Seasons with Chargers
https://www.chargers.com/news/philip-rivers-to-enter-free-agency
The Los Angeles Chargers and quarterback Philip Rivers have mutually agreed that Rivers will enter free agency and not return to the team for the 2020 season.
"After stepping back a bit from last season, we reconnected with Philip and his representatives to look at how 2019 played out, assess our future goals, evaluate the current state of the roster and see if there was a path forward that made sense for both parties," said General Manager Tom Telesco. "As we talked through various scenarios, it became apparent that it would be best for Philip and the Chargers to turn the page on what has truly been a remarkable run.
"We agreed that making this decision well before free agency would allow everyone to put themselves in the best position for success in 2020.
"I've said before that Philip can still compete at a top-starter level and, in a perfect world, number 17 is your quarterback forever. Obviously, we live in an imperfect world where the only constant is change. I think Philip's tremendous perspective, both when it comes to football and when it comes to life, helped lend clarity to a very complex situation."
"I am very grateful to the Spanos family and the Chargers organization for the last 16 years," said Rivers. "In anything you do, it's the people you do it with that make it special. There are so many relationships and memories with coaches, support staff and teammates that will last forever, and for that I am so thankful.
"I never took for granted the opportunity to lead this team out on to the field for 235 games. We had a lot of great moments, beginning in San Diego and then finishing in LA. I wish my teammates and coaches nothing but the best moving forward.
"I'm not sure what the future holds, but my family and I look forward to seeing what God has planned for us next.
Rivers signed off his statement with his now famous Latin motto: "Nunc Coepi," which means "Now I begin," which is another way of saying, "I begin again." Rivers, a Roman Catholic and father of 9 children, has taken to putting that motto on his hats and clothing. 
Philip Rivers' tenure with the Chargers: 
* 59,271 passing yards (franchise record) 
* 397 passing TD (franchise record) 
* Led team to 123 wins 
* 8x Pro Bowler 
* 224 straight starts (ZERO ever missed) 
* 2013 NFL Comeback Player of the Year
This is Toby Sumpter with Crosspolitic News. You can find this show and all the others on the
Fight Laugh Feast Network at Crosspolitic.com or Fightlaughfeast.com. Support Rowdy Christian media and join our club at fightlaughfeast.com. Access to master classes on Christian business principles, raising sturdy kids, God and government, Proverbs Bible study, and behind the scenes interviews with many of our guests. Members also have access to watch our shows being recorded live and can interact with the hosts on chat. We hope to meet you at our first annual Fight Laugh Feast Conference in Nashville, TN October 1st through the 3rd. Go to fightlaughfeast.com to sign up for our conference email list. Have a great day.