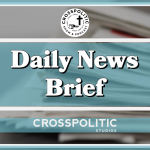 This is Toby Sumpter with your Crosspolitic Daily News Brief for Friday, February 14, 2020.
What Happened with Roger Stone?
https://www.nationalreview.com/2020/02/the-roger-stone-sentencing-fiasco/
Andrew McCarthy writes in the National Review: Some background: In a ridiculously overblown, overcharged prosecution, Mueller slammed the ineffable Stone with seven felony counts of obstructing Congress's Russia investigation. One of these involved tampering with a witness, left-wing radio host Randy Credico (through whom Stone sought a communications channel with WikiLeaks honcho Julian Assange).
At a certain point, Credico let it be known that he intended to cooperate with investigators. A ballistic Stone, warned the "stoolie" "rat" Credico to "prepare to die" and vowed to steal his pet dog. We should note that Roger Stone stopped short of calling Credico a "lying dog-faced pony soldier," but one wonders if he was thinking it. Even in context, these don't seem to have been real threats. (Stone added that his lawyers were anxious to "rip [Credico] to shreds," so any murder and dognapping was apparently going to await cross-examination.) And though Stone is patently guilty of witness tampering, Credico himself told the court that he did not take Stone's threats seriously.
Stone being the sort of Einstein who commits his obstructions in writing (the Credico contacts were mostly text messages), the jury convicted him in nothing flat. That meant DOJ would give the court its take on how the sentencing guidelines applied to the case, as it does with every convicted defendant.
With Mueller's shop closed down, the Stone prosecution was run out of the U.S. attorney's office for the District of Columbia. But it was still being overseen by two Mueller staffers, Aaron S. J. Zelinsky (on loan from the U.S. attorney's office in Maryland, where he had worked for Rod Rosenstein, who, as Trump's deputy attorney general, later appointed Mueller), and Adam C. Jed (an appellate lawyer from the Obama Justice Department who first came to public attention in 2013, arguing that the ban on same-sex marriage was unconstitutional). Also assigned to the case were Jonathan Kravis, a former associate White House counsel to Obama, and Michael Mirando, an experienced assistant U.S. attorney in the D.C. office.
This team of prosecutors filed a sentencing memorandum last Monday, laying out the guidelines and advising Judge Amy Berman Jackson that they called for a prison sentence of about seven to nine years, based on sentencing "enhancements" available to judges under particularly aggravating circumstances, like when the guy is associated with Trump. Ok, not that, but international crimes can invoke enhanced sentences, and this team of legal beavers went for the jugular.  
As is his wont, the president went bonkers on Twitter upon learning of the recommendation, calling it "horrible and very unfair" and a major "miscarriage of justice" because "the real crimes are on the other side" — i.e., the Russia-probe investigators — yet "nothing happens to them." While the Justice Department was obviously aware of the president's tweet, as well as press reporting about the harshness of the prosecutors' sentencing recommendation, the DOJ and the White House have had no communications about the case, according to both the president and a spokeswoman for the attorney general.
Nevertheless, the DOJ made it known that the sentencing memo would be rescinded and a new one filed. That announcement prompted the recusals of all four prosecutors, some of whom are quitting the DOJ entirely and some apparently just stepping aside from the Stone case.
Late Tuesday, the DOJ headed by William Barr filed a revised sentencing memo, which does not recommend a specific sentence but strongly suggests that a term calculated without the eight-point enhancement — i.e., between 37 and 46 months' imprisonment — would be just. 
Some pointed out that it is well within Trump's authority to commute or pardon sentences like this, and they wondered about the wisdom of Trump publicly ranting about the excessive sentence. It does create strange optics for William Barr, in that it could look like he's taking cues from the president via Twitter. In fact, the Wall Street Journal reported that Barr said as much in an ABC interview on Thursday. "I'm not going to be bullied or influenced by anybody… whether it's Congress, a newspaper editorial board or the president," Mr. Barr said. "I'm happy to say that, in fact, the president has never asked me to do anything in a criminal case," Mr. Barr said. "However, to have public statements and tweets made about the department… make it impossible for me to do my job and to assure the courts and the prosecutors in the department that we're doing our work with integrity." It's worth pointing out that William Barr did not call Trump a "lying, dog-faced pony soldier," so we're pretty sure everything is still good between the president and the Attorney General. 
Utah Senate Votes to Decriminalize Polygamy
https://www.sltrib.com/news/politics/2020/02/11/bill-decriminalize/
The LGBT Jihad insisted that gay mirage would never, ever, ever, in a million years, ever, lead to legalizing polygamy. What a stupid thing to think they said. No one would ever approve of that. That will never happen… until last Monday.
The Salt Lake City Tribune reports that the Utah Senate Judiciary, Law Enforcement and Criminal Justice Committee, heard testimony for and against the proposed bill SB102, and then proceeded to vote unanimously to endorse a bill that would effectively decriminalize polygamy among consenting adults. All hail the goddess of consent. 
No matter that a number of women who grew up in illegal polygamous homes shared their horror stories at the hearing. Ora Barlow, who was raised in a polygamous community, said she felt free when the leaders of her church were imprisoned and prosecuted. She realized that all her life she had been thought of as property, she said, but the law was on her side. 
Angela Kelly, Sound Choices Coalition director, compared polygamy to organized crime and slavery. To ease the criminal penalties, she said, would encourage more people to live that way. "To bring it down to an infraction, you're essentially saying this is an OK lifestyle," Kelly said. 
If SB102 becomes law, polygamy would be reduced to an infraction — a level below many traffic offenses. Infractions in Utah carry no jail time. Punishments can be fines of up to $750 and community service. Current Utah law makes polygamy a felony punishable by up to five years in prison. It can be up to 15 years if the defendant is also convicted of fraud, child abuse, sexual abuse, domestic abuse or human smuggling or trafficking. Those enhancements would be left intact by SB102.
Shirlee Draper, who grew up in a polygamous home, now works as a victim advocate, said she has encountered cases of abuse and violence involving individuals from a variety of familial and religious backgrounds, "those crimes are seen as tangential," she said. "No one has ever dared say that it's the family structure that causes those abuses." Ok, well let's say it. And the statistics robustly support us saying: a home with a faithful, married man and woman is the best, most stable atmosphere for long term happiness and success. Or how about: would anyone be willing to say the same thing about the institution of slavery? It's not the structure that causes abuses? What if someone voluntarily, "a consenting adult" says they want to be the slave of another person for the rest of their life? Are they allowed to? Is that legal? The Old Testament allowed such an arrangement in Exodus 21, Deuteronomy 15. There was even an ear piercing ceremony involved. I'm guess this will be next season's totally lit fashion move. Get a new piercing and become a lifelong slave. Oh wait, that's kind of what they're already doing. 
The bill now moves to the full Senate.
Education Department Investigating Harvard and Yale for Foreign Funding
https://thehill.com/policy/finance/482834-harvard-yale-under-investigation-for-failing-to-report-foreign-funding
The Education Department has launched a probe into Harvard and Yale, after it claims to have discovered that U.S. universities have failed to report billions of dollars in funding from foreign countries such as China.
The U.S. universities were described by in Education Department documents as "multi-billion dollar, multi-national enterprises using opaque foundations, foreign campuses, and other sophisticated legal structures to generate revenue," The Wall Street Journal reports.
Officials within the department suspect the pair of Ivy League schools of soliciting money from the foreign companies and governments that are openly at odds with the U.S. government. 
Education Department documents obtained by the Journal state that the money that is received by the universities "apparently does not reduce or otherwise offset American students' tuition costs."
U.S. officials have said that China has used a variety of methods to go after American academic institutions. Last month, Harvard's Chemistry and Chemical Biology Department chairman was arrested and charged with lying in federal court about receiving millions in funding for the department while the U.S. also gave millions of dollars in funding.
Both universities reportedly received letters from the Education Department on Feb. 11, in which they were asked to turn over any and all documentation pertaining to gifts and donations received from foreign donors in countries including China, Iran, Qatar, Russia and Saudi Arabia.
If the institutions refuse to hand over the documents, the Education Department can send its request to the Justice Department to pursue either civil or criminal action. 
Notice in addition to China and Russia, the middle eastern, predominantly Muslim nations of Qatar, Iran, and Saudi Arabia on that list. And then remember the exploding Islamic studies departments on these and many other American University campuses. Why do NBA players have such a hard time speaking out about human rights abuses in China and Hong Kong? Because the contracts with the NBA amount to bribes. And the same thing goes for Universities taking billions of dollars from these nations. Bribes blind you do justice. And suddenly everything becomes so complicated and complex. 
Speaking of which, how much money do you supposed is flowing from various Mormon bank accounts to the lawmakers in Utah right now? 
This is Toby Sumpter with Crosspolitic News. You can find this show and all the others on the
Fight Laugh Feast Network at Crosspolitic.com or Fightlaughfeast.com or on our brand new app, which you can download at your favorite app store, just search "Fight Laugh Feast". Support Rowdy Christian media and join our club at fightlaughfeast.com and get access to master classes on parenting, Christian business principles, God and Government, and backstage interviews with people like Voddie Baucham, Douglas Wilson, James White, and David French. We also hope to meet you at our first annual Fight Laugh Feast Conference in Nashville, TN October 1st through the 3rd. Go to fightlaughfeast.com to sign up for our conference email list. Registration will be opening soon. Have a great Valentine's Day.