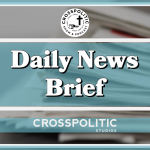 This is Toby Sumpter with your CrossPolitic Daily News Brief for Tuesday, February 18, 2020.
Three PCA Overtures from the Presbyteries Address Revoice
https://pcaga.org/resources/#overtures
Things are beginning to heat up in the PCA – the Presbyterian Church in America – the largest conservative Presbyterian denomination in the States. The 48th General Assembly will meet June 16-19, 2020 in Birmingham, Alabama and consider business from the nearly 2,000 congregations, around 90 presbyteries – comprising some nearly 400,000 members.  
Presbyteries may send overtures to the General Assembly, which are official requests for action. Three of the 10 overtures currently listed for consideration by the Assembly are related to the recent Revoice controversy in the PCA. Long time listeners of CrossPolitic will remember one of most popular interviews with Greg Johnson, the pastor of Memorial Presbyterian Church, a PCA church in St. Louis, MO back in July, 2018 just days before the very first Revoice Conference. The first Revoice Conference was hosted by Memorial Presbyterian Church, and Pastor Greg Johnson was heavily involved.  
https://crosspolitic.com/podcast/family-meeting-with-greg-johnson-pastor-of-memorial-presbyterian-church-and-host-church-of-revoice-us/
Revoice was a conference organized by individuals from several different denominations, but the uniting goal: "To support and encourage gay, lesbian, bisexual, and other same-sex attracted Christians—as well as those who love them—so that all in the Church might be empowered to live in gospel unity while observing the historic Christian doctrine of marriage and sexuality." The original mission statement included a plus sign and reference to sexual minorities, but apparently Revoice has closed its cold heart to other sexual perversions. 
Following that original conference Missouri Presbytery investigated Greg Johnson and 2019 did not find him or his session of elders guilty of any gross theological error. Added to this, Greg Johnson "came out" as a non-practicing homosexual in Christianity Today in May 2019. And then reiterated that identity on the floor of the 2019 General Assembly arguing against the Assembly's adoption of the Nashville Statement, which says in Article 7, "We deny that adopting a homosexual or transgender self-conception is consistent with God's holy purposes in creation and redemption." The Founder of Revoice, Nate Collins, has said that Revoice was inspired in part by the Nashville Statement. The Nashville Statement was affirmed by the 2019 PCA General Assembly by a vote of 803 to 541. While that was a substantial affirmation of biblical sexuality, it was also a substantial vote against it. 
With Missouri Presbytery exonerating Greg Johnson and the elders of Memorial Presbyterian, it should come as little surprise that two presbyteries have sent overtures to the General Assembly for the Standing Judicial Commission to assume original jurisdiction of the matter of Greg Johnson and his elders with regard to theological error and their involvement in the 2018 Revoice Conference. Another overture is from Lowcountry Presbytery requesting the General Assembly to amend the Book of Church Order to include a new clause specifically stating that "Men who self-identify as a "gay Christian," "same sex attracted Christian," and/or "homosexual Christian" shall be deemed unfit for ordination in the Presbyterian Church in America. 
It's a shame that such a thing need be stated explicitly, but given the lay of the land inside the PCA and our current cultural cesspool, this is absolutely necessary. Many have claimed that the PCA is not nearly as compromised as some think, and if that's the case this overture should pass the General Assembly like a Lebron James slam dunk. But if this barely passes or is outright rejected, I would call for hospice. The PCA is dead. 
 All Teaching elders are welcome to attend and vote at General Assembly, and every congregation is entitled to send two ruling elders for the first 350 members, and one additional ruling elder for every additional 500 members. Frequently, faithful churches are busy doing good work and do not have the time or resources to be very concerned with denominational politics. They (rightly) value the shepherding work in front of them, but sometimes you really do need to make the sacrifices necessary to guard the broader flock of God. I think it would be wonderful if thousands of faithful elders showed up in Nashville this June and put the kibosh on this sexual silliness. I highly suspect that the social justice hooks are also deep in the PCA, and a heavy dose of gospel common sense might disrupt a whole bunch of shenanigans.   
Things are Hot in the SBC
https://founders.org/2020/02/17/interesting-times-and-changing-times-in-the-sbc/
And speaking of shenanigans, Jared Longshore and Tom Ascol at Founders Ministries have been busy asking reasonable questions and throwing the SBC into a general panic. The plan was for the elites of the Southern Baptist Convention to slowly bring the largest evangelical denomination into the 21st century with soothing tones and warmed over bromides. But then, as often happens in these revolutionary moments, some one actually reads the fine print. And usually the fine print is not really all that fine or small, but it still takes reading, and when Tom Ascol read the now infamous Resolution 9 – affirming Critical Theory as a useful analytical tool, something went off and he led any attempt to defeat the resolution last year in Birmingham, AL. The Resolution passed, and the documentary By What Standard chronicles that story, which can be watched for free at founders dot org. 
And if things are heating up in the PCA, it seems things are already simmering in the SBC. Not satisfied with philosophical hash of Resolution 9, the high priests of the SBC have recently announced the speaking line up for the 2020 Pastor's Conference, meeting just prior to the annual convention in Orlando, June 9-10. This is the annual meeting for the nations largest evangelical denomination, with around 47,000 congregations and nearly 15 million members. 
Of course some folks are calling the Founders guys troublemakers, but Ahab called Elijah a troubler and Herod thought the same of John the Baptist and Paul was accused in Thessalonica of turning the whole world upside down. And I'm pretty sure the same thing happened to the boy who asked why the Emperor was so nekked.
Tom Ascol merely askes why a woman who is a teaching pastor is being headlined at this year's SBC Pastor's Conference. The Baptist Faith and Message says, "While both men and women are gifted for service in the church, the office of pastor is limited to men as qualified by Scripture." While the SBC is clear that each church is not bound by the Resolutions or the Baptist Faith and Message, it certainly seems strange to give a platform to a woman who is openly flaunting the stated conviction of the SBC. But there's more…
Ascol also asks why SBC Pastor David Hughes, pastor of Church by the Glades is being promoted, given his proclivity to use to sexual themes and innuendo in his sermons and evangelism. Some examples include a gospel tract entitled Victorious Secret, with large bedroom naughty eyes, as well as sermon series entitled The World's Largest Strip Club and the Bible's Game of Thrones. Apparently, there's another SBC pastor who will be speaking at the Pastor's conference who has a woman pastor at his church, and one the folks in the lineup features dancing Storm Troopers during his worship service from time to time. 
Every church that is deemed in cooperation with the SBC is entitled to send two messengers to the convention and up to a maximum of 12 messengers based on giving to the convention. And like the PCA situation, I think it would be great for a bunch of good old boy Baptists showed up at the convention this year in their Levis and cowboy hats and their BS detectors turned on high. 
And the thing not to miss about this news for today is that as the Church goes, so goes the world. The world is generally a lot better at logic than Christians. Christians have the distinct disadvantage of still caring about what people think. And so Christians can throw off the fear of God but are still trapped by the fear of man. Non-Christians know that if there is no God, then it doesn't matter who you sleep with, how you party, or how you do business. So the world is chugging along at 80 miles an hour stealing, killing, and destroying because about 60-80 years ago, the Church by and large announced that the Bible isn't really God's Word and even if it is, God's a senile old grandfather who will forgive you no matter what. So this is why church fights over sexuality and morality are public politics. Jesus said, we are the salt of the earth. We are the light of the world. As it stands, we are smoldering candle that isn't giving off much light at all, and that means that all the darkness in the White House and in the Supreme Court and in your State capital building is due to the darkness in the church. We aren't even sure if pastors can identify themselves as sodomites or not. Right, and that's why Pinko Pete Buttigieg is actually showing up in the polls.    
This is Toby Sumpter with Crosspolitic News. You can find this show and all the others on the
Fight Laugh Feast Network at Crosspolitic.com or Fightlaughfeast.com or on our brand new app, which you can download at your favorite app store, just search "Fight Laugh Feast". Support Rowdy Christian media and join our club at fightlaughfeast.com and get access to master classes on parenting, Christian business principles, God and Government, and backstage interviews with people like Voddie Baucham, Douglas Wilson, James White, and David French. We also hope to meet you at our first annual Fight Laugh Feast Conference in Nashville, TN October 1st through the 3rd. Go to fightlaughfeast.com to sign up for our conference email list. Registration is open now. Have a great day.
https://flfnetwork.com/coming-soon/